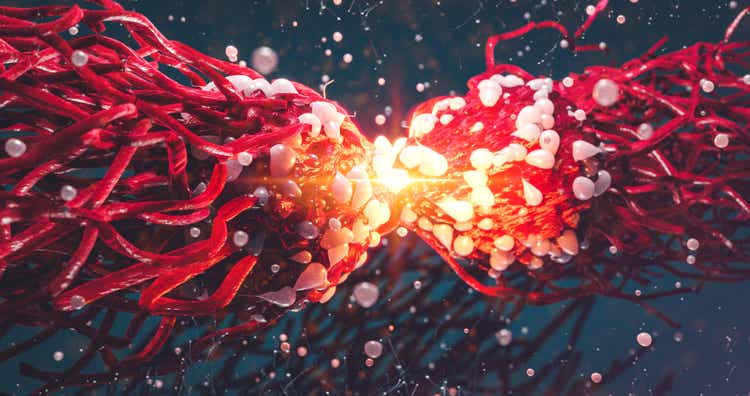 NovoCure (NASDAQ:NVCR) developed a novel therapy for solid tumors called Tumor Treating Fields, or TTFields. TTFields is already approved for several tumors, most notably glioblastoma, but the company is also engaged in 4 Phase 3 trials that could multiply its TAM in a few years.
The company is at an inflection point:
In Short
Treatment of GBM (glioblastoma) is already approved and is their core indication with 35%-40% of the US market.
There is ample room for expansion in GBM through academic centers and geographical expansion.
Multiple new indications in advanced clinical trials, the four P3 trials increase potential patients 10x-14x.
New generation more powerful device, P2 trial results later this year, but there is earlier evidence of increased efficacy, first of cadence of product improvements.
Their GBM business generates plenty of cash flow and the company has an additional $932M, plenty to finance growth initiatives.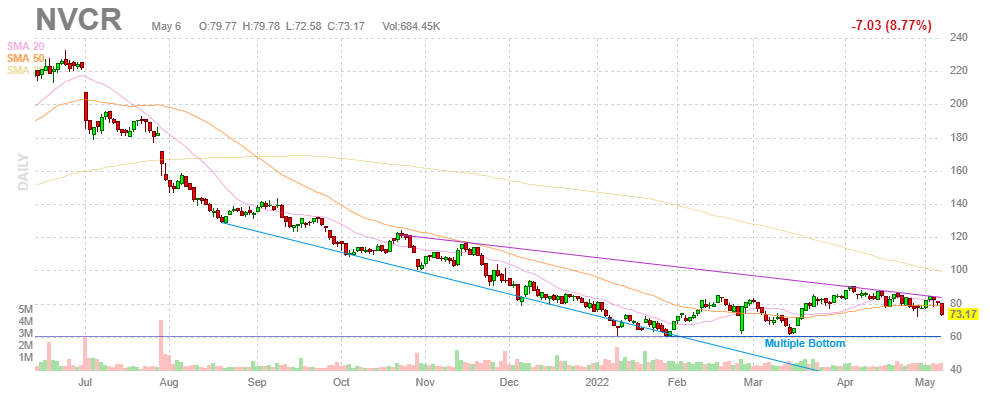 Growth
GBM further US penetration and geographical expansion
Use extension
New indications
Improving the device
In-person efforts like hospital visits and education/training remain the best avenue for increasing the uptake of the Optune therapy and the company is focused on Academic centers where they are underpenetrated.
One way to get a bigger foothold in Academic centers is through the multiple trials that are going on. Their 37 IST investigator sponsor trial programs is another way to engage and collaborate with academic oncologists.
The company is making progress with reimbursement in Germany and France and expects this later this year, although the material impact will not be felt before 2023 as it takes time to ramp.
Use Extension
There are opportunities for extended use of the Optune:
A high-intensity version (expected to be approved by year-end)
Use in conjunction with radiation therapy (rather than subsequent use)
Combination therapy (with temozolomide and pembrolizumab)
Here is SA contributor ONeil Trader:
For example, if the combination with pembrolizumab increases PFS to 10-11 months, and if high-intensity arrays extend PFS by 2-3 months, the pembrolizumab combo's PFS could end up being 13-14 months. And if adding Optune to radiation therapy adds another 2-3 months, the ultimate PFS could end up in the 15-16-month range compared to 6.7 months in the EF-14 phase 3 trial. As a result, the time on therapy could increase 100-150% from current levels and that alone translates to a 100-150% increase in revenue over the life of a single patient. And such improvements in PFS should lead to greater motivation of physicians to prescribe Optune and of patients to adhere to therapy.
And if these materialize, there could be a bit of a virtuous cycle as increased life expectancy results are likely to increase adoption as well.
P3 Trials
The company is engaged in four P3 clinical trials fostering new indications.
About the LUNAR trial (Q1CC):
Lunar is critical as it has the potential to unlock an entirely new patient population that can benefit from Tumor Treating Fields therapy. The Lunar protocol contemplates multiple global standards of care enabling Tumor Treating Fields to work concomitantly with a number of treatment regimens in non-small cell lung cancer, which vary by geographic region.
So there is plenty of stuff to get excited about as these trials could greatly increase the patient population that can be helped by TTFields.
Other Trials
Here is an overview of all their clinical trials:
The HEPANOVA trial for patients with liver cancer is the only one so far that seems to have disappointed somewhat (as the share price took a considerable dive) but this was not an easy trial with patients only receiving 10 weeks of TTFields therapy (together with sorafenib) and patients already in poor condition. The results were still considerably better than the baseline, from the Q2/21CC: "Historical control data shows objective response rate of 4.5% and disease control rate of 43% for patients treated with sorafenib alone. In 21 available patients, HEPANOVA showed a 9.5% objective response rate and 76% disease control rate as well as 5.8 months of progression free survival."
EF-31 pilot study investigating the safety and efficacy of TTFields together with chemotherapy in gastric cancer, which is prevalent in Asia with 500K diagnoses in China alone.
ZL-8301-001, for patients with gastric cancer that can't be operated on.
KEYNOTE B36, for patients who have yet to be treated for advanced non-small cell lung cancer.
Together, 10x-14x addressable patients.
There are two other trials for GBM:
TRIDENT, for treatment paired with radiation therapy and temozolomide in newly diagnosed GBM patients.
EF-33, evaluating the effectiveness and safety of TTFields with a new high-intensity transducer design of transducer arrays, as monotherapy in recurrent GBM, compared to using the standard transducer arrays.
Product Innovation
That EF-33 trial is testing an Optune able to produce higher intensity transducer arrays. There is actually a lot of evidence already that not only the length of time but also the intensity of the TTFields improve outcomes:
But this has to be buttressed by the EF-33 trial for FDA approval. The new version of the device also keeps the temperature lower and more constant, improving tolerance.
What this comes down to is that we have numerous milestones in the coming 24 months:
And the opportunity to dramatically increase the market opportunity:
However, we can't escape the fact that revenue growth in their core GBM market has slowed down considerably.
Growth Slowdown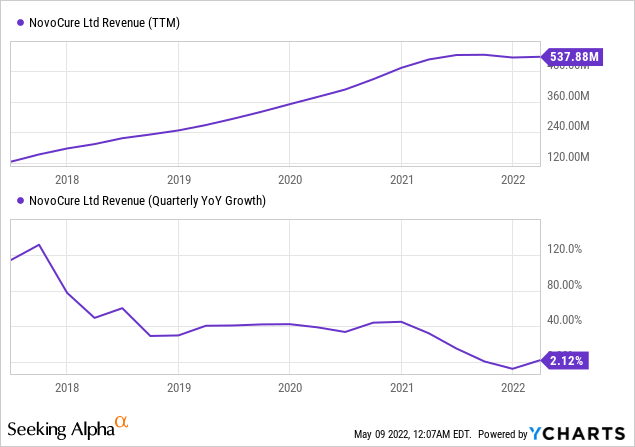 Growth has slowed down as a result of:
The pandemic as efforts to increase adoption mostly depend on in-person meetings (hospital visits, training, demonstrations, conferences, etc.).
The law of large numbers set in as the company achieved 35%-40% market penetration.
Patient reluctance (having to wear the Optune 18 hours a day and shave one's head).
Still, the Q1 figures came in a little better than expected.
Financials
While we wouldn't argue that financials don't matter, they matter less than for a good deal of other companies as what's important is that their core GBM business generates enough cash to fund efforts to increase adoption, multiple clinical trials, and improvements in their base technology.
There is no doubt that without these growth investments, the company would be very profitable, as it generates gross margins of 75%-80% and much of its OpEx would disappear.
Growth has slowed down as a result of the pandemic as efforts to increase adoption mostly depend on in-person meetings (hospital visits, training, demonstrations, conferences, etc.).
Still, figures came in better than expected, which is a nice change as EPS disappointed in the last four quarters, but Q1 delivered a $0.15 earnings surprise. This is somewhat surprising as there were quite a bit of foreign exchange headwinds with the dollar up against the yen and the euro:
Core GBM business revs +2% to $138M
patients +3% to 3549
Net loss $5M (EPS $0.04)
Adj. EBITDA $27M
Two reasons for the jump in net revenue per active patient per month in Q1: administrative ramp up and previously denied claims, but this is likely to fall back to Q4/21 levels for the rest of the year.
Outlook
FY22 active patient growth 2%-5% on some tailwind from previously denied and appealed claims. Q4/21 is the sustainable price point and baseline, no details on the backlog (denied claims) are given.
Net revenue per active patient will be roughly unchanged in FY22 from the Q4/21 level.
Margins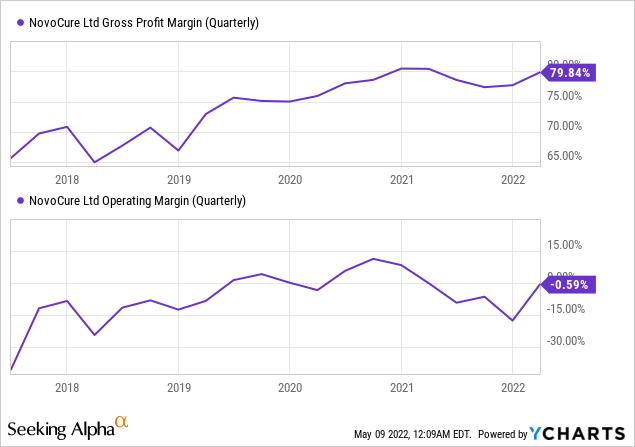 Gross margin increased to 80% in Q1/22 on lower purchases from Zai Lab
SG&A +9% to $68M
R&D at $42M (30% of which is spent in clinical trials)
Cash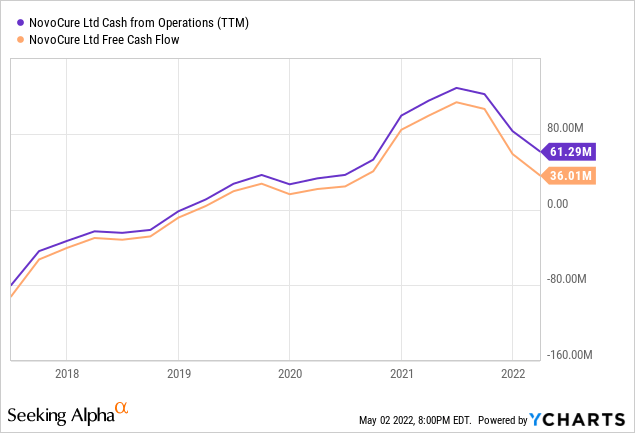 Their GBM business generates significant amounts of cash, enough to invest in multiple clinical trials in order to gain approval for additional indications and improve the technology. In any case, the company had cash and equivalents of $932M at the end of 2021; there is no shortage of cash to invest.
Valuation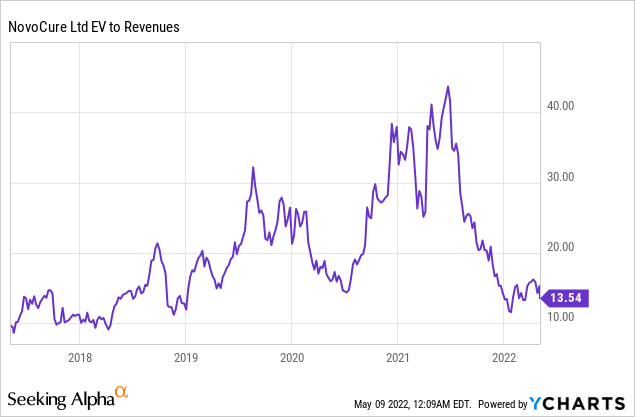 The shares are still commanding a pretty steep valuation, although not nearly as steep as a year ago and we're now close to the March 2020 pandemic depth.
Conclusion
The company could be rather profitable but investing in growth is clearly the best option as these investments have a high probability of delivering substantial, likely even an order of magnitude increase in revenue down the road and they have plenty of cash to fund these investments.
While it will take time for these investments to produce returns, these are likely to be very substantial as the TTFields technology has been proven safe and effective and for non-brain cancers, the burden of having to wear the device is less.
In the coming 12-24 months, revenue growth still has to come mainly from their core GBM market, but that is likely to be helped by overseas expansion, efforts to increase use domestically, and the introduction of a more powerful device.
Approval for up to four additional use cases is likely to follow in two years' time.