Gold and silver continue to change directions from gains to losses. Yesterday they ended in the green. Furthermore, this unclear trend has obviously been reflected in the price of the SPDR Gold Trust (NYSEARCA:GLD). Will this unclear trend continue? Today, U.S. Jobless Claims will be published, ECB President Draghi will give a speech, Bernanke will also give a speech, Canada's retail sales report will be released along with EU Manufacturing PMI.
The gold price moderately rose on Wednesday by 0.2% to $1,650; silver also traded up by 1.23% to $32.23; the GLD ETF was traded up by 0.05%. During March, gold declined by 3.56%, silver by 6.97% and the price of SPDR Gold Trust declined by 2.48%.
On Today's Agenda
ECB President Speaks: Following the ECB rate decision in which the rate remained unchanged at 1% the President of the ECB, Mario Draghi, will give a speech. He may refer to the recent Greek bailout and the progress of the Euro zone economy.
U.S. Jobless Claims: Initial claims decreased to 351,000 claims for the week ending on March 10th; the upcoming update may affect the strength of the US dollar and consequently gold and silver.
Forex / Bullion - March
The Euro/USD slightly declined on Wednesday by 0.07% to 1.3216; furthermore, the AUD also fell against the U.S. dollar by 0.21%. These rates are historically linearly correlated with the daily percent changes of bullion. Thus, if these rates will continue to decline today they may indicate gold and silver may also trade down.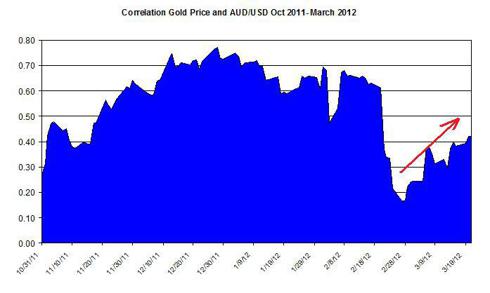 Daily Analysis
Precious metals continue to zigzag as they have changed direction from gain to loss each day of the past five business days. The news regarding the slowdown of China's manufacturing may adversely affect gold and silver. Since there aren't major news items today the progress of China may be the leading news to affect bullion.
Nonetheless, there are several news items from Europe and U.S listed above that could tilt the scales back so that bullion will trade up. These events and reports may affect the direction of the Euro/USD and consequently indirectly affect gold and silver.
Disclosure: I have no positions in any stocks mentioned, and no plans to initiate any positions within the next 72 hours.