A protected covered call search performed using PowerOptions tools, seeking to find the highest returning position for profitable value companies with a maximum loss of 8%, produced Terex (NYSE:TEX) as shown below:
Click to enlarge
Following closely behind Terex is Royal Caribbean Cruises (NYSE:RCL) and LyondellBasell Industries (NYSE:LYB).
If you've got a big job to do, Terex has the tools to do it. Terex manufactures and markets road building equipment, cranes and port equipment, aerial work platforms, construction equipment, processing equipment and equipment for utilities.
In the company's recent Q4 earnings call held on February 16, 2012, the company indicated an economic recovery taking hold in many major markets, but an area of concern was the European arena related to sovereign debt issues.
Additionally, economic uncertainty surrounds Latin America and portions of Asia, with China characterized as soft. North American housing and road building are projected to be weak in 2012. As a result of the weakness in road building, the company has temporarily pulled back efforts with respect to some products related to construction.
Terex recently acquired the crane and port equipment company Demag Cranes AG and does not plan for additional acquisitions in 2012, as the focus for the company will be on increasing operational performance and profit margins. To emphasize the company's strategy in 2012, Chairman and CEO Ronald DeFeo noted that "revenue is for vanity, profits is for sanity and cash flow is reality".
Competitors to Terex include Caterpillar (NYSE:CAT), Deere & Company (NYSE:DE) and Komatsu.
Terex's stock price took a nasty fall in the May-to-September timeframe and has recently begun to recover as shown below: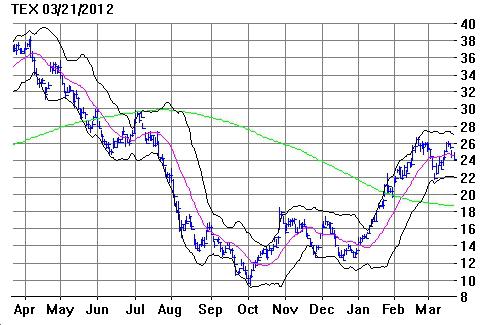 With Terex's 2012 emphasis on operations and profit margins and the headwinds in Europe and construction, the prospect of the company's stock going ballistic are unlikely. An income strategy can be used to potentially generate income for a company in Terex's situation. A protected covered call is an income generating strategy that provides for potential income if the company's stock price is stagnant or increases, and also provides protection in case the stock price drops significantly. A protected covered call may be entered by selling a call option against a stock and using some of the proceeds to purchase a protective put option.
The protected covered call shown in the table above has a potential return of 2.7% (31.8% annualized) and a maximum potential loss of 5.8%, even if the price of the stock goes to zero. The specific call option to sell for the Terex protected covered call is the 2012 Apr 24 at $1.50 and the put option to purchase is the 2012 Apr 22 at $0.60. A profit/loss graph for one contract of the protected covered call is shown below: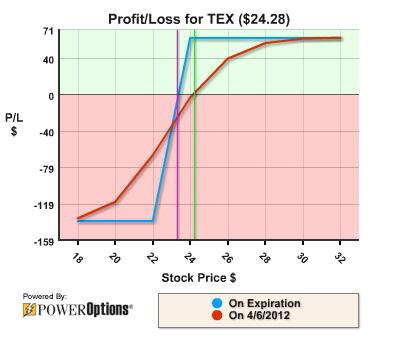 For a stock price less than the $24 put option strike price, the value of the position remains unchanged with a maximum potential loss of 5.8%. The search was performed for a maximum loss of 8%, as an 8% loss can typically be recovered fairly easily with income investing techniques. Profitable value companies were found using PowerOptions search tools by using a price-to-earnings (P/E) ratio of greater than "zero" and a price-to-sales ratio of less than 1.
Since Terex may be considered a value stock with its P/S ratio of 0.5, an investor might consider foregoing the protective put option in lieu of an unprotected covered call, which has a potential return of 5.4% (63.5% annualized). If the price of Terex's stock increases to around $28, the protected covered call and/or the unprotected covered call position can most likely be rolled in order to realize additional potential income.
Disclosure: I have no positions in any stocks mentioned, and no plans to initiate any positions within the next 72 hours.