There are numerous techniques for investing in the market. Some investors only look for high growth and ignore valuation. Others target companies trading at a steep discount with regards to intrinsic worth. Others play charts and ignore the company altogether.
I prefer to target strong companies with solid fundamentals and look to accumulate when the market is making a pullback in a broader uptrend. You need the right companies with the right valuations with the right technical entries. Let's look at a probable market-wide trigger point coming up along with five stocks you may want to consider accumulating if this forecast pullback occurs.
Buying the Bounce
Sometimes the simplest method is best. I do have a generalized market timing method that tracks forecast earnings trends in the S&P 500 for broad signals that might only occur once every couple years. For a more timely signal I look for key price levels on a chart.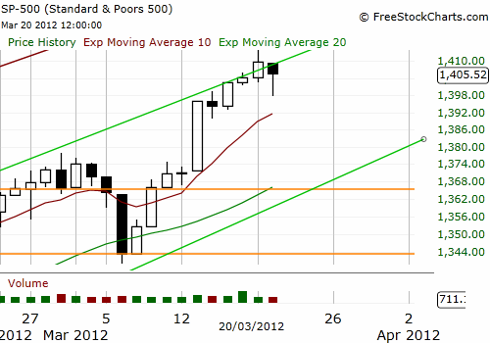 The S&P 500 recently broke past a resistance zone of 1343 - 1365 (orange lines). Prices will often retest following a breakout.
A trend channel has a peak of around 1,410 and a bottom around 1,365 (green trendlines). Prices typically bounce off the channel lines when trending.
With prices hitting the upper channel line right now and the lower channel line coinciding with a key support level, I find a compelling case for prices wandering down to the 1,365 level before we see another big advance. If this occurs, get ready to snap up a few good deals.
5 Stocks to Buy on a Bounce
Apple (NASDAQ:AAPL) - It seems everyone is abuzz with Apple these days. They have a good product, lots of vision, and decent value in share price. But why would I buy this on a market pullback? Apple trades close to the S&P 500 (NYSEARCA:SPY) as well it should since Apple makes up a huge part of the S&P 500 market cap. However, shares of Apple have higher relative strength than the market. This means that while Apple shares will surely fall with the price during a pullback, they will also rebound quicker and rise farther with the next leg up.
If the market pulls back, I'd wait for the 1,365 - 1,370 level to be hit and then grab some shares of Apple.
Heska Corporation (NASDAQ:HSKA) - This stock was trading just over $9 earlier this month when I wrote an article (Little Known Dividend Stock That Could Double in 2012) detailing why it is a strong candidate for a double-bagger this year. Prices jumped close to $12 over the past couple weeks since I wrote that piece.
What makes HSKA a timely buy in a pullback? HSKA announced a quarterly dividend of 10 cents per share last month. This shows confidence in future cash flows. The niche market of animal diagnostics gives HSKA strong buyout potential. Remember the pet diagnostic company Synbiotics that was bought out by Pfizer (NYSE:PFE) at three to four times the publicly traded value? Other big pharma companies may follow suit and target HSKA which has a strong upcoming pipeline of products.
A small pullback caused by the market would make an excellent time to accumulate shares for those investors that missed out on the first opportunity when shares were at $9 a few weeks ago.
Amazon (NASDAQ:AMZN) - Many were disappointed when Amazons earnings came out at 38 cents a share last quarter. Yes they beat analyst estimates. But this was way below the 91 cents in the comparative quarter the year previous. If earnings are tanking, why buy Amazon in a pullback?
I see an incredible opportunity in Amazon. The low earnings was a smoke screen that is starting to clear. What is really happening? Amazon is doing its best to saturate the market with the Kindle Fire at an ultra-competitive price. Are earnings going to hurt short-term due to the pricing that must have a razor thin profit margin? Yes. But once you have people hooked on your device the real money comes from books, movies, apps and anything else you can offer.
Is the above scenario playing out or is Amazon a dying company? Look to the revenue for your answer. Quarterly growth (comparing year over year) has been robust the trailing four quarters:
Rapidly growing revenue but artificially low profit margins - for now - means that when the product saturation phase is over the profit will start to pour in. Amazon is using the printer selling approach where the hardware is almost given away when the real money is made on the ink.
Investors are starting to realize the massive earning potential of Amazon and time is running out to accumulate. Since the beginning of 2012 Amazon has begun a new uptrend. There may be few opportunities left to pick up shares at these levels. If a small pullback comes with Amazon - take it.
Arch Cola (ACI) - I see coal as a deep value contrarian play right now as it is near 52 week lows. Coal, as a commodity, is well positioned for a comeback. Why? Natural gas prices are severely depressed and that won't last forever. China's demand is another potential driver for higher coal prices.
Short interest has jumped to over 20% making this a candidate for a short squeeze. On the next bounce up this could very well create a price spike.
What about current deep value? The 44 cent dividend is less than half of what they expect to earn in 1012 and a hair above one-third of what they expect to earn in 2013 with a current yield of 3.6%. This is a strong forward yield for such a low payout ratio. Dividend investors are liable to push prices up, and especially so when coal prices firm up. All of this points to a time-sensitive buying signal.
Loncor Resources (NYSEMKT:LON) - I wanted to round these picks out with a gold stock. Be aware that this Canadian company is mining for gold in the Democratic Republic of the Congo. Many investors stay closer to home.
What makes this stock a timely buy in a pullback? Gold prices are nearing a technical trend bounce around $1,550. This seems to be coinciding with the timing of a market pullback and bounce. This will give a boost to gold stocks from commodity and equity market increases.
On a firm specific level, based on 3 million ounces being mined over 12 years, a $1,500 gold price, a few hundred million dollars capital cost to start up the mine and a 20% discount on revenue, shares should be valued at $6 instead of the $1.50 they are today. Perhaps investors are merely waiting for the funding to be announced before driving prices closer to true value. Whatever the case, a small market pull-back would give you a more favorable entry for this stock that could easily double or triple this year alone.
Wrap-up
Remember, I am not saying that you should run out today and buy huge positions in all the above companies. Do you own due diligence and see if they are the right stocks for you. Wait for a market pullback. Investing is not just about finding great companies; you need to find quality stocks at the right price and for that you need to take advantage of market movements that will give you a better entry.
Disclosure: I have no positions in any stocks mentioned, and no plans to initiate any positions within the next 72 hours.