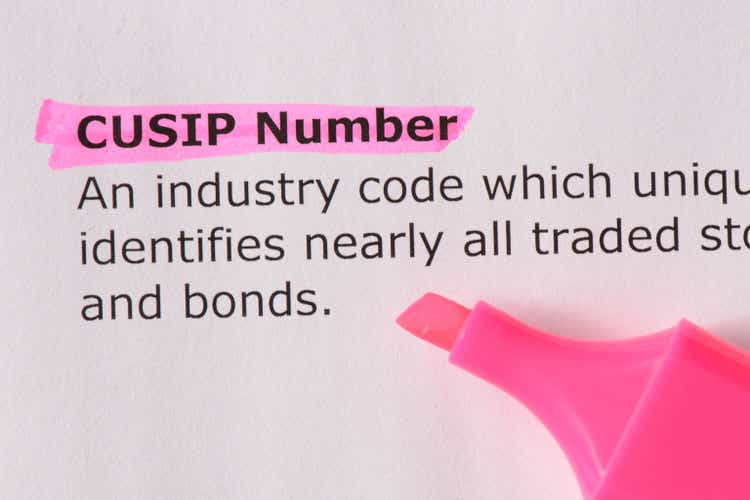 What Is a CUSIP? Meaning & History
The Committee on Uniform Securities Identification Procedures (CUSIP) assigns a unique number to individual financial instruments, so that they can be readily and correctly identified. CUSIP numbers are assigned to U.S. and Canadian stocks, commercial paper, mutual funds, corporate bonds, and U.S. government and municipal bonds.
The CUSIP is made up of nine letters and numbers. This system was established in 1964 and implemented in 1967. FactSet Research Systems, Inc. manages CUSIPs on behalf of the American Bankers Association (ABA). There are more than 10 million CUSIP numbers for U.S. and Canadian securities. CUSIPs help effectively facilitate trades and settlements of securities by providing unique identifiers.
How CUSIPs are Assigned
CUSIPs are assigned by the Committee on Uniform Securities Identification Procedures when a financial security registers as a financial instrument on an exchange. CUSIPs are unique identifiers, so there is no duplicate in the system. Each character in the CUSIP has a meaning.
The first six characters identify the issuer and get alphabetically assigned. The following two characters, the seventh and eighth characters, identify the type of security, with the last digit serving as a check digit.
What Gets a CUSIP Number
CUSIPs serve a wide range of U.S. and Canadian securities. You will find a CUSIP assigned for:
CUSIP Number Purpose & Uses
CUSIPs are used to settle and clear transactions properly. While most investors don't need to know the CUSIP number of a security they are buying or selling because they will use the ticker symbol, brokerage and clearing firms use them to ensure the transaction is recorded correctly.
The exception is regarding bonds. Investors should identify bonds with a CUSIP number to prevent confusion regarding bond purchases and sales. The reason is that one entity might have multiple bonds issued for different durations or interest rates.
CUSIP vs. Tickers
Both CUSIPs and ticker symbols are used to identify securities traded on public exchanges. The stock ticker symbol is an alphabetic representation that dates back to the 1800s when the New York Stock Exchange began. The symbols send trade and price information via teletype, referred to as a ticker. This is why they are called ticker symbols. CUSIPs were established in the 1960s and are better suited for computers to track trades.
The CUSIP is operated by Factset Research Systems Inc. Ticker symbols are registered by the New York and American stock exchanges.
Tip: Most investors only need the stock symbol for investment purposes. If you need the CUSIP, check the company's filed documents or website to find it.
How To Find CUSIP Numbers
There are many ways to get access to a CUSIP:
To access a complete list of CUSIP numbers, investors can subscribe to Standard & Poor's service.

Financial platforms such as Bloomberg offer CUSIP information for most securities.

Most publicly traded companies may list their CUSIP on their website.

Mutual funds will list the CUSIP in the prospectus.

Trade confirmations or annual financial statements show CUSIPs.

Another location to find CUSIPs is through the Municipal Securities Rulemaking Board (MSRB) through its Electronic Municipal Market Access (EMMA) system.

The Securities and Exchange Commission (SEC) has a query tool that accesses the database. Enter the company name and the symbol, then the CUSIP and company documents will appear.
Importance of CUSIP to Investors
The CUSIP number is a key identifying number used to help settle financial transactions. The CUSIP is used for U.S. and Canadian securities such as stocks, bonds, mutual funds, and commercial paper. This unique identifier helps market participants to readily and correctly identify specific securities.