How To Buy Ethereum Coin (ETH)
Ethereum is a decentralized platform that runs on an open-source blockchain. Ether (ETH) is the native coin to this platform. Investors can buy Ether from select brokerage accounts or on a cryptocurrency exchange. Investors should perform their own due diligence before investing in Ether since cryptocurrency is a highly volatile investment.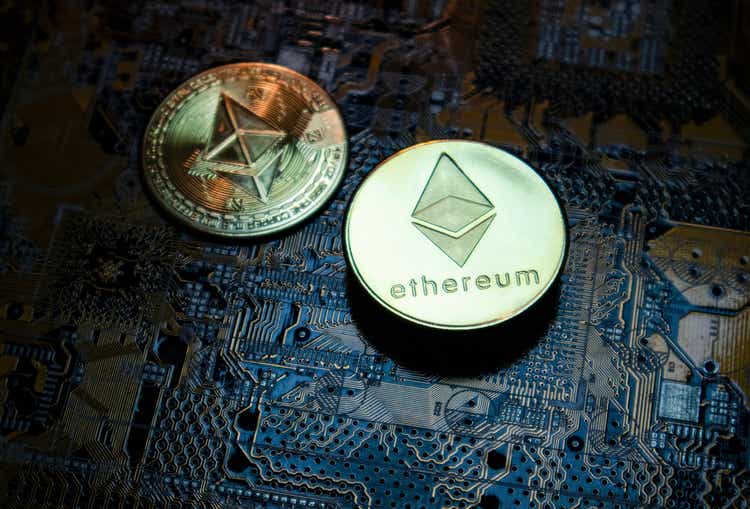 Ethereum: Basics, History & Investing
Ethereum followed the initial Bitcoin craze. It was developed by Vitalik Buterin, a Canadian developer looking to offer a platform where a new era of online transactions could take place.
He launched Ethereum in July 2015, with 72 million coins minted. His decentralized platform has grown and now offers smart contracts and decentralized apps (DApps). The network can be used in both permissioned and permissionless transactions. Permissioned blockchain uses a distributed ledger that is not publicly accessible whereas permissionless blockchain is an open network set for public participation.
In 2017, the Ethereum network moved from a proof-of-work (POW) system to a proof-of-stake (POS) system.
The PoW system requires miners to compete for coins by completing mathematical problems.
The PoS system is designed to be faster and more secure, using stakers who already have coins to process new transactions.
The new system is known as Ethereum 2.0.
Today, Ethereum is a popular choice used in the sale of non-fungible tokens (NFTs). Ether is considered one of the most popular cryptocurrency coins to invest in next to the original Bitcoin.
Ethereum vs. Bitcoin
While most people say they are buying Ethereum, they are really buying the coin, Ether. Both Ether and Bitcoin are digital currencies that operate in a decentralized system which means that they operate outside of the control of a bank or government. Both are bought and traded in online exchanges and are stored in cryptocurrency wallets. Bitcoin was the leader in the cryptocurrency movement and remains the primary coin people are aware of and invest in. Its market capitalization was $554.93 billion in May 2020. Ether's market capitalization was about half of that at $244.30 billion.
Note: Investors may consider adding Ether to their cryptocurrency portfolio along with Bitcoin and other popular coins. Diversifying a cryptocurrency portfolio is one way to reduce some risk. Before allocating any money to cryptocurrency, make sure to do the proper due diligence.
Choosing an Ethereum Wallet
A cryptocurrency wallet is a place to store Ether and other cryptocurrencies. There are different wallets to choose from.
1. Software Wallets
Software wallets are the first option. These are programs that generate, store, and manage cryptocurrency keys. These would be akin to having an online banking program monitor bank balances. Software wallets include web wallets, desktop wallets, and mobile wallets. Web wallets are popular because they make accessing coins convenient through an Internet connection, web browser, and your login credentials. Desktop wallets are stored on a computer's hard drive with the cryptocurrency keys stored locally. Mobile wallets combine the easy access of web wallets with software installed on mobile devices.
2. Hardware Wallets
Hardware wallets are the second option which can be thought of like a wallet in someone's back pocket. These wallets store the investors' keys in a physical chip inside the wallet device. Most devices are USB drives - investors insert a drive into a computer or mobile device to access their coins.
What Is Ether (ETH)?
Ether is the coin derived from the Ethereum network. Programs and services linked to the Ethereum network use computing power, which is not free. Ether is the token of payment for many network operations. Ether is the world's second-largest digital currency behind Bitcoin.
Types of Ethereum Coins
While Ether is the primary coin derived from the Ethereum network, it is not the only one. There are three other Ethereum-based coins:
You can buy these coins the same way you buy Ether.
Where To Buy Ethereum Coin
You can buy Ether from a crypto exchange, on certain brokerage networks, or cash applications. The top crypto exchanges are:
Coinbase

Crypto.com

Gemini

Kraken

Bisq
Other places to purchase Ether are:
Robinhood

PayPal

Venmo

CashApp
Note: While purchasing Ether from a brokerage account is a convenient option, keep in mind that the brokerage account is holding the coin on your behalf and there are limitations in regards to use. For example, buying Ether in a Robinhood account only allows you to buy, hold, and sell the coin. You can't use it for real-world purchases or accept coins from other people.
How To Invest in Ethereum (ETH): 5 Steps
This guide is not intended to recommend purchasing Ether. Instead, it is a guide on how to purchase it and is for investors who have already determined its suitability to meet their investment objectives.
Step 1: Evaluate Your Risk Tolerance
Every investment has a level of risk associated with it. Investing in cryptocurrencies has its own risks because of significant price volatility. From May to June 2021, Ether went from nearly $4,000 to less than $1,800. That's a significant drop for any portfolio in one month's time. As of May 2022, the coin was trading for just over $1,950 per coin. Investors should be prepared for the ups and downs of buying cryptocurrency.
Step 2: Choose a Cryptocurrency Exchange
In order to buy Ether, you need to have an account that will facilitate the transaction. If you plan on using crypto, you may want to use a formal crypto exchange like Coinbase. If you plan on only trading it, you may already have a crypto-ready brokerage account, such as a Robinhood account.
Tip: When choosing a cryptocurrency exchange, consider the fees for the transaction. Many crypto exchanges charge maker-taker fees. A maker fee is a percentage paid when selling crypto. A taker fee is a percentage paid when buying crypto.
Step 3: Get a Crypto Wallet
You'll need to store your Ether once you own it. While many exchanges offer crypto wallets, you may decide that you want a different way to store them. You might choose a hardware wallet that stores the coins offline for more security.
Remembering your login credentials to wallets is imperative. Because Ether is part of a decentralized system, losing your login credentials could be financially disastrous. More than one crypto investor has lost millions because they locked themselves out of their wallets. Make a plan and back up your credentials in a safe, secure place.
Step 4: Fund Your Account
Decide how much money you will invest into Ether and fund the account with it. Exchanges allow you to fund your account in various convenient ways, such as bank wire, debit transfer, credit cards, or PayPal funds. Be sure to check the fees associated with your funding method. For example, some exchanges may charge a fee for a debit card transaction but offer the wire transfer for free. Keep in mind that your bank may also have its own fees associated with the transaction.
Step 5: Buy Ether
There are no trading hours to buy and sell the coin because Ether is part of a decentralized system. You can purchase it around the clock. Once you have the funds in the exchange account, you can purchase them at any time.
Each platform's format is slightly different, so investors have to familiarize themselves with how to make a purchase on the platform of their choice. In general, look for the transaction section that allows you to "Buy" a coin. Enter "ETH" in the coin type section. Investors can purchase whole coins or fractions of coins based on a dollar value. For example, an investor may choose to purchase $500 worth of Ether even if it is trading at $2,000 per share, which would give them one-quarter of a coin.
Pros & Cons of Buying ETH
As with any investment, there are pros and cons.
Pros
Able to invest as much or as little as you want

Well-known coin from a large decentralized network

Platform lends itself to a growing list of permissioned and nonpermissioned transactions
Cons
More features of Ethereum can mean more vulnerabilities

Volatile cryptocurrency

Doesn't provide scarcity because the number of coins isn't capped
How To Monitor an Investment in ETH
Once an investor has bought Ether, they will want to keep tabs of the price. Follow the price of the coin on any of the exchanges. Investors will also want to keep track of their wallet's value since they may not have bought full coins. While monitoring the investment is important, remember that Ether is volatile, and investors may see wide fluctuations in price in short periods of time.
How To Sell ETH
Selling Ether is similar to buying it - just a reversed process. Here's the process:
Move the coins to your exchange account from your wallet.
Select the "Sell" option and enter ETH as the coin type.
Choose to sell either the whole coin or a fraction of one.
Select the currency that you want to use to cash out.
Complete the transaction, pay the applicable fees, and withdraw the money.
Bottom Line
Cryptocurrency is becoming a bigger part of more investors' portfolios as people learn more about the applications and uses of these digital coins. Investors like the decentralized aspect of this currency. Investors should consider the risks of investing in coins like Ether and make sure that it fits into their investment objectives.
FAQ
You don't need to buy a whole Ether coin. You can make a fractional purchase based on the dollar value you wish to invest.

Like all investments, investing in cryptocurrency comes with risk. Investors need to understand that there are wide fluctuations in price with coins like Ether and they must be willing to ride out the ups and downs of the price. In addition, cryptocurrencies are new technology and investors have a relatively high probabilitity (compared to a diversified portfolio of stocks) of permanent loss of principal invested.

Ether has hit as high as $4,800 in November 2021. As of May 2022, it was trading at around $2,000 per coin. This demonstrates the wide fluctuations in price that investors can see in the coin. Keep track of Ether prices on exchanges such as Coinbase.
This article was written by
Kimberlee brings professional experience to her writing. She started as a FINRA Series 7 broker and later transitioned her career into owning an insurance agency and preparing taxes.
Analyst's Disclosure: I/we have no stock, option or similar derivative position in any of the companies mentioned, and no plans to initiate any such positions within the next 72 hours. I wrote this article myself, and it expresses my own opinions. I am not receiving compensation for it. I have no business relationship with any company whose stock is mentioned in this article.
Seeking Alpha's Disclosure: Past performance is no guarantee of future results. No recommendation or advice is being given as to whether any investment is suitable for a particular investor. Any views or opinions expressed above may not reflect those of Seeking Alpha as a whole. Seeking Alpha is not a licensed securities dealer, broker or US investment adviser or investment bank. Our analysts are third party authors that include both professional investors and individual investors who may not be licensed or certified by any institute or regulatory body.