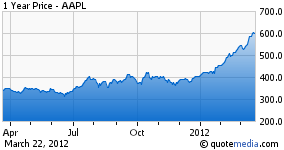 My colleague was telling me that he was listening to business radio on the drive home last night, and they were talking about Apple (NASDAQ:AAPL) (of course) and how heavily subsidized the iPhone is, and how the carriers are fighting to offer it. Apple has a heavy reliance on subsidies from wireless carriers to make its iPhones affordable to a wide range of consumers. In the U.S., carriers pay Apple an estimated $400 every time a customer buys an iPhone with a two-year contract, analysts say. The goal is to make it easy to buy the phone then make the money back and a profit over time on service contracts.
In a recent filing Verizon (NYSE:VZ) made with the FCC, the company claims that, at its current rate of traffic growth, which is roughly doubling each year, it will reach capacity thresholds on both its 3G EV-DO and LTE networks beginning in some markets by the end of 2013 and across its entire network by the end of 2015. The subsidies benefit Apple. The phone companies get the customer, but have to spend a fortune on upgrading the networks to keep it up. So I take a few things from this; Will the carriers reduce iPhone subsidies? Will they raise pricing on their monthly plans to pay for network expansion?
Either way that will mean higher costs to own an iPhone. Carriers have already ended their all-you-can-eat unlimited data plans, telling subscribers they will see much slower speeds if they exceed a new monthly usage cap. The way I see it - a tipping point is going to occur and one of two things are eventually going to happen from this. Either Verizon is going to suck it up which maybe means a profit squeeze and possible dividend cut at Verizon and other carriers that have to keep spending to build out and enhance the network spectrum. Or Apple suppliers are going to join together and start complaining to their elected officials that Apple is predatory and not allowing suppliers to make a buck. I am expecting the latter to happen, which will cut into Apple's margins and unit sales.
In 1991 an inquiry was made by the Federal Trade Commission over whether Microsoft (NASDAQ:MSFT) was abusing its monopoly in the PC operating system market. Microsoft settled with the DOJ in 1994, in which Microsoft consented not to tie other Microsoft products with the sale of Windows but remained free to integrate additional features into the operating system. Could a Department of Justice inquiry eventually be made into Apple? My guess is an industry trade group would quietly lobby their representatives. The government will be all over Apple or the carriers if they try and raise prices too far and too fast.
Apple suppliers revenues are increasing, but their earnings per share are not, as their margins are being squeezed big time. As an example, one of Apple's semiconductor suppliers - ON Semiconductor (ONNN) - recently reported record revenues for 2011, yet EPS were down from 2010. ON Semiconductor's GAAP gross margin for 2011 was 29.3% down from 2010 GAAP gross margin which was 41.3%. Perhaps this is the reason it took so long for Apple to announce plans for its cash hoard, because they may need some of that to acquire some of their suppliers and vertically integrate. Supplying Apple is like supplying Wal-Mart (NYSE:WMT). They cut a tough deal.
Disclosure: I have no positions in any stocks mentioned, and no plans to initiate any positions within the next 72 hours.