Do You Need A Financial Advisor?
Updated: Jun. 06, 2022
Written By:
Kent Thune
Reviewed By:
The obvious reason to hire a financial advisor is to handle complex financial matters. But there are other variables to consider. Learn the types of advisors, what they do, and if you may benefit from hiring one.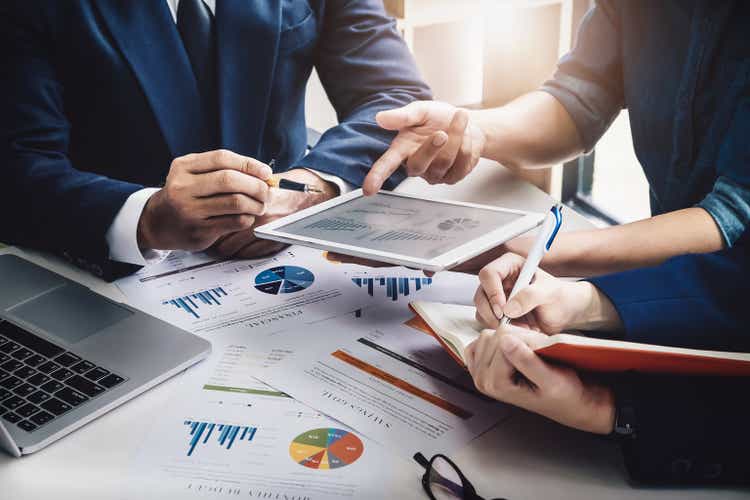 What Is a Financial Advisor?
A financial advisor is a professional who advises clients on financial matters such as taxes, insurance, retirement, or estate planning.
Financial Advisor Services
Services provided by financial advisors include:
Investment advice
Tax planning
Insurance planning
Retirement planning
Estate planning
Budgeting
Note: The term "financial advisor" is a broad term that can include a professional that provides financial advice or other financial services to clients. For example, although an investment advisor may not refer to themselves as a financial advisor, these two professional descriptions are often used interchangeably.
What Is an Investment Advisor?
An investment advisor is a company or financial professional who specializes in providing investment advice or investment planning services to clients. Investment advisors may include registered investment advisors (RIAs), stockbrokers, wealth managers, and portfolio managers.
Investment Advisor Services
Investment advisors research, analyze, and recommend investment securities to clients. They may also provide wealth management, which may include investment planning and portfolio management for high-net-worth clients, or brokerage services, such as investment advice and trade execution.
Services provided by investment advisors may include:
Investment advice
Investment planning
Wealth management
Brokerage services
Types of Financial Advisors
The types of financial advisors are:
Financial Planner: A CERTIFIED FINANCIAL PLANNER (CFP) or an advisor that offers one or more financial planning services, such as retirement planning, tax planning, or estate planning.
Broker: Usually associated with a full-service brokerage, which may offer investment advice, trade execution, and investment planning.
Investment Advisor/Manager: Manages financial assets for individuals or households, or some may manage wealth or investment portfolios for financial institutions.
Tax Professional: A Certified Public Accountant (CPA) or an advisor that provides tax advice or tax planning services.
Holistic Financial Advisor: A CFP, a Chartered Financial Analyst (CFA), or an advisor that has the knowledge and skills to provide multiple financial planning services to clients.
Important: The various types of financial advisors can provide one or many different advisory services, and they may offer a range of financial products. Therefore, when hiring a financial advisor, it's important to know what services or products they provide and how they get paid.
When a Financial or Investment Advisor is Helpful
A general reason for hiring a financial advisor or investment advisor is when one's finances become too complex to manage without help. However, there are several other reasons, such as marriage, divorce, the birth of a child, or an inheritance, that can make financial advice beneficial.
Some reasons to hire a financial advisor or investment advisor may include:
Marriage
Divorce
Birth of a child
Receiving an inheritance
Start of a new career
Receipt of a lump sum (i.e., stock options)
Home purchase
Debt problems
Retirement
Elderly parents
Lack of financial knowledge
How Financial Planners Get Paid
Before hiring a financial advisor, it's important to know how they get paid. Financial planners, investment advisors, and other financial professionals may charge clients in a number of different ways, including commission, fixed fees, or as a percentage of assets under management (AUM).
The main ways financial advisors get paid are:
Commission: Paid through the investments or other financial products that are sold to the client. For example, brokers may be paid by commissions for buying and selling stocks that they recommend.
Fixed fee: Usually a flat fee that is charged for a specific service, such as a financial plan, or for a period of time, such as hourly or annual. This arrangement is sometimes referred to as "fee-only" services.
AUM fee: Charged as a percentage of assets that the advisor is managing on an annualized basis. For example, a 1.5% AUM fee for $100,000 under management would amount to a total of $1,500 per year for advising on the assets, which are typically investments.
Salary: Some advisors are part of a staff of paid employees at a financial institution and are paid an annual salary.
Note: Some financial advisors can get paid by a combination of fee arrangements, such as base + commission, where an advisor or broker can be paid a base salary from their employer but also from commissions on trades they make for clients. Some advisors are not required to disclose all the ways they are compensated, so it's important to ask these questions directly before hiring an advisor.
Benefits & Costs of Hiring a Financial Advisor
Benefits
Professional advice: A financial advisor is a professional with the knowledge and skills to provide guidance where it is needed.
Financial gain: The right advisor can save clients money, help to prevent costly mistakes, and help clients grow their assets.
Save time: Even if you can do it yourself, you may not have the time to commit to financial planning or investment management, and a financial advisor can lift this burden.
Costs
Financial costs: Whether you pay through commission, fixed fees, or a percentage of assets under management, advisors cost money and the wrong advisor may not justify this cost.
Conflicts of interest: A non-fiduciary advisor can recommend investments, insurance, or other financial products that may or may not be in your best interest, yet the advisor may get paid a commission for selling you the financial product.
Management risk: In finance, management risk is the risk that a key decision-maker can cause financial harm through unethical behavior or irresponsible decisions. Even a well-intentioned fiduciary can make mistakes, such as poor investment selection, and this can result in financial loss for a client
Tip: Hiring a fiduciary can reduce some risks of working with a professional because fiduciaries are required to act solely for the benefit of their clients and must disclose all conflicts of interest. To learn more about financial advisor standards of conduct, read our article on suitability vs. fiduciary standards.
Should You Hire a Financial Advisor?
People hire financial advisors for a myriad of reasons, including marriage, the birth of a child, inheritance, or simply a lack of knowledge required to effectively manage complex financial matters. Since there are several types of financial advisors, it's wise to learn how they work and how they get paid before choosing which is best for you.
This article was written by
Kent Thune, CFP®, is a fiduciary investment advisor specializing in tactical asset allocation and portfolio management with a focus on ETFs and sector investing. Mr. Thune has 25 years of wealth management experience and has navigated clients through four bear markets and some of the most challenging economic environments in history. As a writer, Kent's articles have been seen on multiple investing and finance websites, including Seeking Alpha, Kiplinger, MarketWatch, The Motley Fool, Yahoo Finance, and The Balance. Mr. Thune's registered investment advisory firm is headquartered in Hilton Head Island, SC where he serves clients all around the United States. When not writing or advising clients, Kent spends time with his wife and two sons, plays guitar, or works on his philosophy book that he plans to publish in 2024.
Analyst's Disclosure: I/we have no stock, option or similar derivative position in any of the companies mentioned, and no plans to initiate any such positions within the next 72 hours. I wrote this article myself, and it expresses my own opinions. I am not receiving compensation for it. I have no business relationship with any company whose stock is mentioned in this article.
Seeking Alpha's Disclosure: Past performance is no guarantee of future results. No recommendation or advice is being given as to whether any investment is suitable for a particular investor. Any views or opinions expressed above may not reflect those of Seeking Alpha as a whole. Seeking Alpha is not a licensed securities dealer, broker or US investment adviser or investment bank. Our analysts are third party authors that include both professional investors and individual investors who may not be licensed or certified by any institute or regulatory body.