ADX: What It Is And What It Tells Investors
ADX stands for Average Directional Movement Index, a mathematical derivation used in technical analysis to assess the strength of a price trend in a financial security.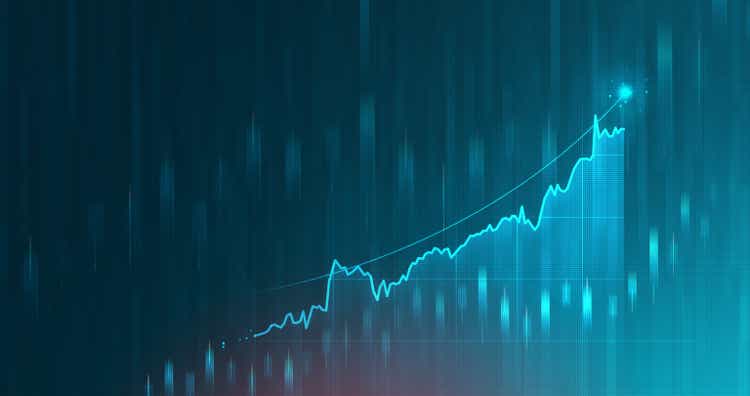 What's The Average Directional Index?
Investors often seek to identify price trends in stocks or other financial securities, especially when they intend to materially change their position over time. Trends become visible on charts as persistent price moves in one direction and can provide useful entry or exit points for investors and traders.
Trends can be elusive, however. And while they are rather easy to identify visually, using them to trade can be challenging. The task is made uniquely challenging by the fact that there is no way to know when a trend will end, or when a reversal has occurred until after it has already done so.
For these reasons, technical analysts have adopted various statistical indicators that can help to determine the strength and duration of a trend so that they can anticipate a potential change before it occurs. One such indicator is the ADX, or the Average Directional Movement Index (or simply Average Directional Index). The ADX works together with the positive and negative Directional Movement Indexes (DMI) that make up the Directional Movement System developed by Welles Wilder. Wilder's system attempts to measure the strength of price movement by using DMIs in conjunction with the ADX.
What Is DMI?
The Directional Market Indicator measures the moving average of the last 14 days of a security's price changes. Because it measures changes in price rather than absolute values of price, DMI is a type of oscillator that will take the shape of a sine wave moving back and forth from positive to negative over time.
Wilder's system calculates two Directional Movement Indicators (DMIs) as follows:
A positive DMI (DMI+), which is the difference between the current day's high price and the previous day's high price for the last 14 days.
A negative DMI (DMI-), which is the difference between the current day's low price and the previous day's low price for the last 14 days.
The two DMIs in Wilder's system are plotted on the same graph and used to indicate the strength of a trend by virtue of where they line up on a chart relative to each other. In general, when DMI+ is above DMI-, the price trend is currently moving up; and when DMI- is above DMI+, the price trend is currently moving down. Investors should bear in mind that a snapshot of DMIs over a few days may not indicate anything about trends that are weeks or months in duration.
ADX Charting
The chart below illustrates how Wilder's system would appear for a sample security. Between mid-January and early May of 2013, this security trended visibly upward and was supported by a strong value for ADX (above 30 from March to May) as well as a DMI+ (green line) tracking above the DMI- (red line).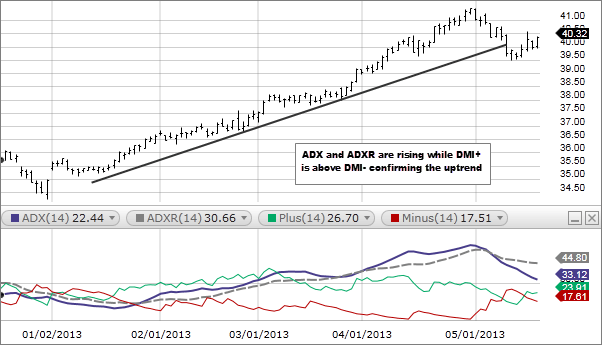 Best Setting For ADX Indicator
High and rising levels of the ADX, particularly above 25, suggest that the trend is strong.
Low and falling levels of the ADX, particularly below 20, suggest no discernible trend at all. (Note: A trendless market does not necessarily mean price is declining. It simply means there is little follow-up momentum to prices in either direction at the current time.)
How To Analyze The ADX
General rules for interpreting ADX are as follows:
When the ADX begins declining, the trend may be weakening or ending.
A sharp rise of 4 or 5 units in ADX could indicate that a new trend is forming.
A rising ADX indicates a strengthening trend. Its value, however, relates to the slope of the trend. That means a trend of consistent, albeit modest slope, may be a worthwhile trend, though characterized by a modest ADX value.
When DMI+ crosses above DMI- a buy signal is generally indicated. A sell signal is indicated when DMI- crosses above DMI+. The ADX can then be used to assess the strength of these signals.
ADX Indicator Strategies For Investors
ADX values can be used in different ways and can be combined with other indicators to support or reject an investment or trading strategy. Here are several ways to use ADX.
1. Analyzing Strength
The most direct use of ADX is to assess the strength of an observed trend or to validate one that may just be starting. By their nature, trends cannot be confirmed until they have already begun. That means that by the time one is determined to exist, much of it has passed. ADX values can help give investors or swing traders the confidence that a trend appears strong enough to continue vs. one that may be weak or suspect.
2. Analyzing Momentum
News or earnings announcements can inspire price moves on stocks, but not all such moves will necessarily expand into a meaningful trend. ADX can help differentiate brief news-related moves from more sustainable trends.
3. Analyzing Trends
Some stocks will have a tendency to trend differently or more frequently than others. ADX comparisons can be used across different stocks to identify those that offer more reliable moves in one direction or the other. They can also be used to help find trends in both directions for investors who may wish to hedge their portfolios.
Pitfalls Of Using The ADX
Technical indicators are based on statistics and probabilities that can be very useful for trading and investing. Nonetheless, they are never perfect. Investors using ADX should be aware of the following potential issues:
Indicators such as DMI and ADX should not be assumed to be accurate nor reliably consistent in all situations.
ADX may work better on some securities than others, and better on some trends than others.
ADX may be more of a coincident indicator than a leading indicator. It should be assumed to confirm the current status of a trend rather than predict the future status.
The nature of trends is that there are no rules governing them. The ADX can only report mathematical relationships - it cannot express subjective judgment.
Bottom Line
Chartists and trend followers may find ADX and DMI indicators to represent useful tools in assessing the validity and strength of a price trend. They can be used by themselves or in conjunction with other trend or oscillator signals to help affirm or reject a trading strategy.
This article was written by
Adjunct Finance Professor at UCLA and UC Berkeley (18 yrs), author of three investment books, Wall Street veteran and founder of Informed Assets, PBC. Helping people understand and invest in equities, options, and alternatives such as Cryptos, NFTs, collectibles, private equity, real estate, venture capital, etc.
Analyst's Disclosure: I/we have no stock, option or similar derivative position in any of the companies mentioned, and no plans to initiate any such positions within the next 72 hours. I wrote this article myself, and it expresses my own opinions. I am not receiving compensation for it. I have no business relationship with any company whose stock is mentioned in this article.
Seeking Alpha's Disclosure: Past performance is no guarantee of future results. No recommendation or advice is being given as to whether any investment is suitable for a particular investor. Any views or opinions expressed above may not reflect those of Seeking Alpha as a whole. Seeking Alpha is not a licensed securities dealer, broker or US investment adviser or investment bank. Our analysts are third party authors that include both professional investors and individual investors who may not be licensed or certified by any institute or regulatory body.