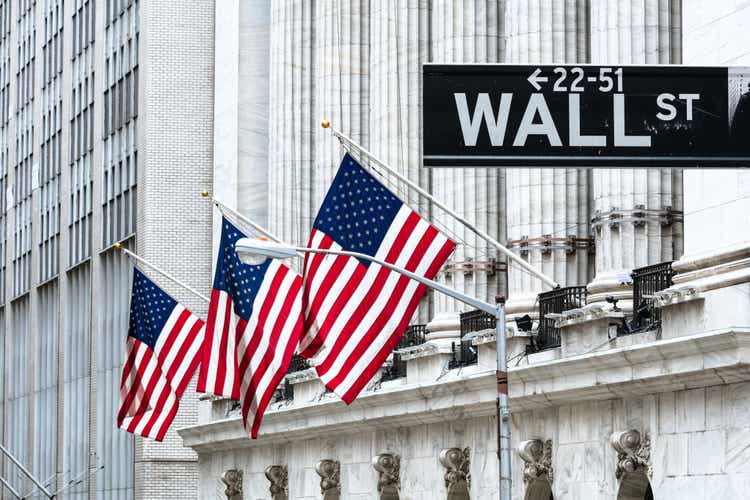 (This article was co-produced with Hoya Capital Real Estate)
Introduction
I better start by being absolutely clear that I like the SPDR S&P 500 Trust ETF (NYSEARCA:SPY), and consider it or other ETFs based on that Index as a core holding for most equity investors. My purpose is to see if including a total U.S. market ETF like the Vanguard Total Stock Market ETF (NYSEARCA:VTI) benefits investors beyond just adding 3500 more stocks to one's asset allocation.
A 1986 study published in the Financial Analysts Journal showed that asset allocation was responsible for 93.6% of the portfolio's quarterly returns variation. A statement in a paper by Roger G. Ibbotson & Paul D. Kaplan on this subject, said it depends on the question asked:
Does asset allocation policy explain 40 percent, 90 percent, or 100 percent of performance? The answer depends on what the analyst is trying to explain. According to some well-known studies, more than 90 percent of the variability of a typical plan sponsor's performance over time is attributable to asset allocation. So, if an analyst is trying to explain the variability of returns over time, asset allocation is very important.
Source: tandfonlinecom
Asset allocation is an investment strategy that balances risk and reward by allocating a portfolio's assets according to an individual's goals, desired risk level, and investment timeline. Asset allocation helps investors reduce risk via diversification as returns of various asset classes don't move in unison. The next chart demonstrates this.
A SPDR S&P 500 ETF Review
Seeking Alpha describes this ETF as:
SPY seeks to achieve its investment objective by holding a portfolio of the common stocks that are included in the index (the "Portfolio"), with the weight of each stock in the Portfolio substantially corresponding to the weight of such stock in the index. Benchmark: S&P 500 TR USD. SPY started in 1993.
SPY is one of the largest ETFs with $378b in assets, against which the managers earn 9bps. The ETF currently yields about 1.4%. S&P defines the Index used by SPY as:
The S&P 500 Index is recognized worldwide as one of the premier benchmarks for the U.S. stock market's performance. The S&P 500 does not simply contain the 500 largest stocks; rather, it covers leading companies from leading industries. The S&P 500 represents a broad cross-section of the U.S. equity market, including common stocks traded on U.S. exchanges.
Source: spglobal.com Index
SPY Holdings Review
As of the end of the first quarter, some basic statistics supplied by SPY include: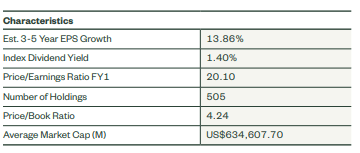 As has been the case for several years, Technology dominates the Index, thus ETFs that invest based on its composition. The top three sectors account for 52% of the portfolio.
Even though Amazon and Tesla are not Tech stocks, both companies are heavily dependent on technology to be successful. These 20 stocks equate to 37% of the market value of SPY, out of the 505 stocks owned.
SPY Distribution Review
SPY has experienced a 5% growth in its payout over the past five years. Seeking Alpha gives this ETF an "A-" rating for this feature.
A Vanguard Total Stock Market ETF Review
Seeking Alpha describes this ETF as:
VTI, from the Vanguard Group, seeks to track the performance of the CRSP US Total Market Index that measures the investment return of the overall stock market. The fund employs an indexing investment approach designed to track the performance of the index, which represents approximately 100% of the investable U.S. stock market and includes large-, mid-, small-, and micro-cap stocks. VTI started in 1992.
Source: seekingalpha.com VTI
VTI has $255b in assets under management ("AUM"), with fees of only 3bps. The ETF provides investors with a 1.4% yield. The Index provider defines their Index as:
CRSP US Total Market Index: Nearly 4,000 constituents across mega, large, small and micro capitalizations, representing nearly 100 percent of the U.S. investable equity market. Reconstitution occurs quarterly after the market close on the third Friday of March, June, September, and December.
Source: crsp.org Index
The Methodology document adds more details as to construction and maintenance rules, including this basic statement:
The index eligibility and investability screening process includes the application of restrictions in listing exchange, incorporation and headquarter location, organization and share types, and the application of investability screens – after which the broadest index, the CRSP US Total Market Index, is formed.
Source: crsp.org methodology-guide.pdf
VTI Holdings Review
Despite adding 3500 stocks, Technology stocks are still the largest sector allocation. Like SPY, the Top three sectors are over 50% of the portfolio.
Here, Top 20 still equate to 31% of the portfolio, even though there are over 4000 stocks held.
VTI Distribution Review
VTI 5-year dividend growth is slightly greater than SPY's. VTI also received an "A-" ratings.
Possible Benefits Of Owning VTI Instead Of SPY Analysis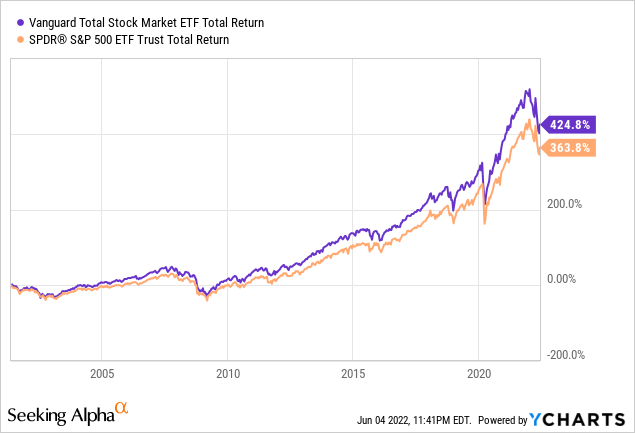 The one that really counts is CAGR, and VTI comes out ahead on this measure. That said, the past decade has seen SPY be the better ETF based on returns.
Both the 5- and 10-year StdDev show SPY was a little less risky. Sharpe and Sortino ratios were about even, with VTI better when using data back to 2001.
I used Vanguard's comparison tool for the next chart, so the data would be from the same source and date.
It appears adding stocks outside the ones held by SPY doesn't affect the sector allocations enough to benefit this portfolio factor. I was surprised that the Tech allocation did not drop more for VTI compared to SPY. That shows how much the large Tech stocks align in both ETFs despite VTI having 8X more holdings.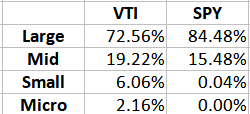 Diversification in market-cap might be the primary benefit of adding VTI to a portfolio, especially one without Mid- and/or Small-Cap focused ETFs. While not recently, non-LC stocks have better long-term CAGRs.
Another potential benefit would be if the two ETFs had different Value/Growth profiles. I used Morningstar data to look at that possibility.
While VTI has twice the Value weight below Large-Cap stocks, about half of that advantage came from just having more weight there as its Large-Cap Value weight dropped. Overall, there is a 1% difference. On the Growth side, the percentages are the same. While 3 of 4 ratios show VTI holdings being more Value-oriented, the differences are de minimis.
Conclusion
While others might be more generous in their assessment, here is how I read the data:
Biggest benefit for adding VTI is the increased weight in Mid-, Small-, and Micro-Cap stocks. Adding stocks didn't reduce risk data though.
A benefit that changes over time is return. If the non-LC stocks return to their historical performance relationship versus LC, VTI's performance would benefit.
Adding VTI did not change income earned, risk data, or Value/Growth, or sector weights enough to cause action to be taken.
Portfolio Strategy
Asset allocation as the major contributor long-term investing results was discussed at the start of this article. The article's results seem to indicate that worrying about market-cap allocation within the U.S. equity market might have minimal effect on an investor's long-term outcome. Changing the blend across both U.S. & foreign stocks, plus adding bonds and cash-like assets does have effects. Some investors will alter their allocation from Aggressive Growth to Conservative or Balanced as they age or their need for growth moves towards a need for income. The next chart shows how four such combinations have performed.
My purpose with this comparison was to see if including a total U.S. market ETF like the Vanguard Total Stock Market ETF benefits investors. My answer would be yes for market-cap diversify, possible return enhancement, but little to gain in other criteria investors might use in deciding whether to include an ETF into their portfolio. One exception would be for those just starting and looking for a U.S. equity ETF. For them, I would recommend VTI as a starting place.
Final Thought
I know some investors prefer to use the same manager for their ETFs, For those who prefer iShares, instead of VTI, there is iShares Core S&P Total U.S. Stock Market ETF (ITOT), which I last covered in here in this comparison article: VTI Vs ITOT: Two Total Market ETFs That Could Be Twins.