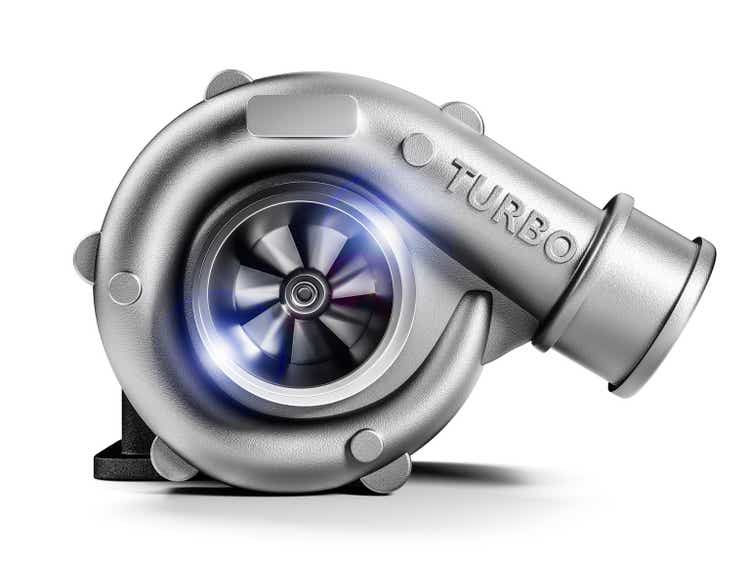 Garrett Motion (NASDAQ:GTX) continues to be undervalued, but the company is in even better place than it was nine months ago when I wrote my article on its emergence from bankruptcy. The balance sheet is now cleaner and about to be much more simpler in 2023.
The bad
Garrett's 2021 and 1st quarter 2022 results were not the best ones, due to some headwinds in the industry. But even so, the company is undervalued based on very conservative multiples for a company with GTX's competitive position.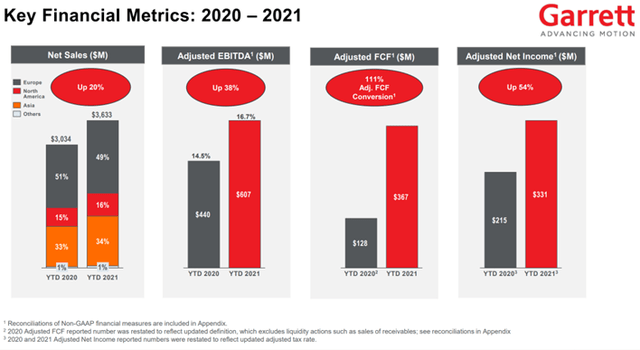 In 2021, net sales increased by 20%, mainly due to the impact of COVID-19 lockdowns in 2020 results. The company's Adjusted FCF increased to $367 million, a little bit short of my worst case scenario of $378 million in Earnings Power Value in my last article. The results for the first quarter of 2022 have not been very good also due to supply chain constraints and chip shortages for the auto industry. All these headwinds are patent on the company's new guidance for the year: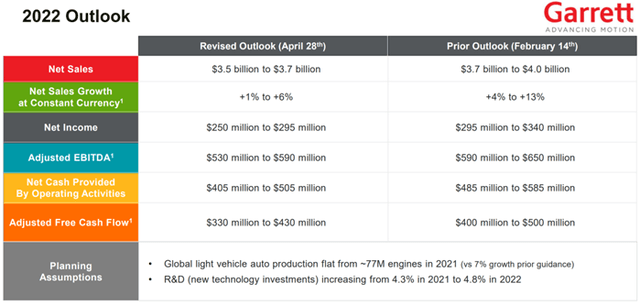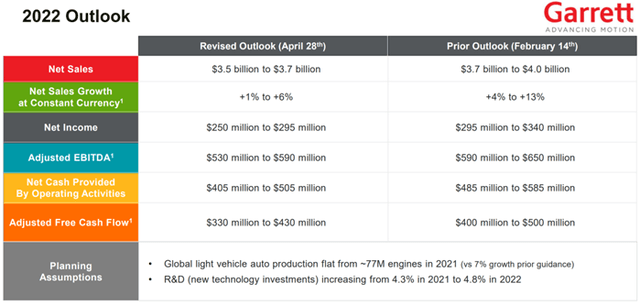 The company now is projecting lower sales and lower EBITDA and consequently lower Adj. FCF. Although the reasons for the new guidance are the supply disruption and chip shortage into second and third quarter of this year, the company sees a strong fourth quarter. There is still strong demand for light vehicles, so the problem is not demand, but a supply one. There are long waiting times to get a car these days, with several auto manufacturers with orders behind schedule because of the chip shortages and the pandemic lockdowns.
The good
A good problem to have is a fixable or a temporary one. In this case, the problem is external and temporary, so the company just has to execute during the rough times, waiting for better ones. These headwinds will disappear almost naturally, with COVID-19 restrictions easing around the world but more importantly in China and the chip manufacturing ramping up to catch up with old and new orders. Inflation pressures were also felt by Garrett, but it had the ability to pass some costs increases to its clients (OEMs), which really speaks about its pricing power. OEMs must be the most difficult clients in the world to discuss pricing, but Garrett products are crucial as turbochargers are highly engineered products for each powertrain, which requires a close collaboration between GTX and OEMs at an early stage of powertrain and vehicle design which normally takes place three to five years before the vehicle is consumer ready.
Another positive sign is the company execution in the last 9 months. The company paid $631 million in debt, the $835 million obligations from Series B given to Honeywell (HON) are now only $204 million. The company leverage decreased, with net debt to EBITDA going from 4x in 4Q2020 to 1.8x 1Q2022. Moreover, the company announced a $100 million buyback plan, but it still has $79 million left in it.
| | | |
| --- | --- | --- |
| Earnings Power Value ($ millions) | Worst Case | Base Case |
| Sustainable revenues | 3.560 | 3.667 |
| Sustainable EBITDA MG | 16,2% | 16,7% |
| Sustainable EBITDA | 578 | 614 |
| Depreciation | 107 | 110 |
| Implied EBIT | 471 | 504 |
| Implied EBIT MG | 13,2% | 13,7% |
| Taxes @ 21% | 99 | 106 |
| Maintenance Capex | 125 | 128 |
| Earnings Power | 354 | 380 |
| EPV Multiple | 12 | 12 |
| EPV | 4.253 | 4.555 |
| Debt | 1.208 | 1.208 |
| Cash | 346 | 346 |
| Series B obligations | 204 | 204 |
| Intrinsic Value | 3.187 | 3.489 |
| Shares outstanding (millions) | 65 | 65 |
| Series A converted shares (millions) | 246 | 246 |
| Fully diluted shares outstanding | 310 | 310 |
| Intrinsic value per share | 10,27 | 11,25 |
| Upside | 71% | 87% |
On a final note, a positive catalyst will be the conversion of A shares into common, which can happen automatically after April 2023 if:
Series B obligations are less or equal to $125 million
If the common stock trades 150% above the conversion price of $5.25, which means that it has to trade above $7.88
LTM EBITDA has to be $600 million or higher for two consecutive quarters.
I think the probability of an automatic event happening by the end of 2023 is high. Management has expressed the desire to pay down the series B fast, and the business should start growing in late 2022 and into 2023, and that will get EBITDA above the $600 million needed. The stock price is the wild card here, but with good business performance and good execution, it should go up. The setup is actually better than it was 9 months ago, since the business' ability to generate cash flows is holding and the leverage has come down significantly.