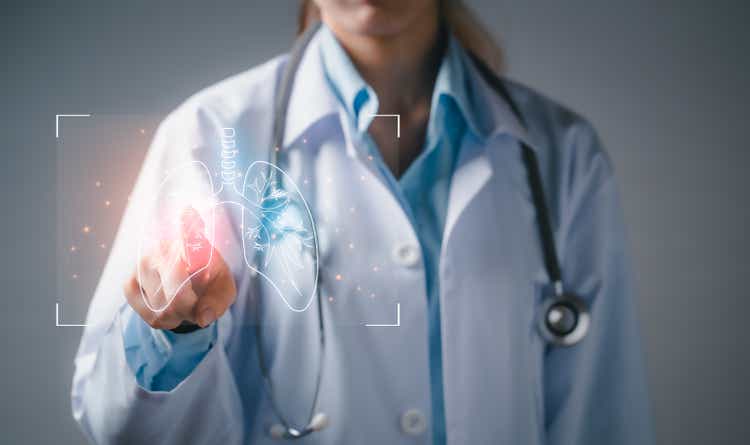 Investment Summary
We are constructive on ResMed Inc. (NYSE:RMD) shares noting there is near-term upside potential to be unlocked from competitor Philips' subsidiary, Respironics', device recall. With the competitor removed from the flow generator market until the 2023 at least, RMD is well positioned to deal with demand supply mechanics and now faces more demand than it can fulfil. This is compounded by supply chain headwinds currently plaguing the industry that support pricing benefits to RMD's product mix. In our estimation, product pricing is also likely to benefit from chip shortages, embedded cost premiums, and a more benign pricing environment with competition set to tighten. This, along with new product launches as a catalyst, provides the economic pillars for top line expansion over the coming years.
Exhibit 1. RMD 12-month price performance
Balancing the upside case are supply chain headwinds sweeping the industry and the company itself. Specifically, there are pressures to gross margins and operating income, plus other figures vertically down the P&L. As such, we've had to revise forecasts to the downside to reflect these pressures. Nonetheless, we feel the company's margins can hold the Maginot line, and despite impeding supply chain challenges and global chip shortages, we feel the company still has the prospects to unlock long-term value. We are seeking around 17% upside to a price objective of $245 in the next 6-12 months, and are bullish in the near term amid catalysts described above. Rate speculative buy.
Challenges are surface-level
Immediately turning to RMD's challenges, supply chain headwinds continue to impact the company's prospect for top-bottom line growth. These are primarily made of semiconductor shortages, logistical headwinds and of course, cost inflation. To this effect the company has invested time and capital in reengineering the AirSense10 unit so that it can function without a 3G/4G communications chip (semiconductor) that's been in notorious short supply. The move is positive because it apparently allows providers and physicians to manually upload sleep data to the AirView platform albeit through a memory card. It appears as if the company is redesigning other devices in this vein as well, with the hope of replacing components currently in short supply with more available substitutes. This may result in a ~300bps surcharge to overcome the embedded logistical costs, by our estimation. The company already implemented a similar surcharge in Q3 FY22' and has advised this will remain until these pressures soften.
However, these challenges are surface level, only slightly hurting forward earnings and free cash conversion, as discussed below. Firstly, we argue that as an immediate catalyst, the Philips device recall provides a near term inflection point investors must consider. The Respironics' suite is now absent from the flow generator market until 2023 at least. RMD has estimated it can capture ~$45 million of sales at the upper end from Phillips' withdrawal. However, this forecast has been narrowed, specifically due to the supply chain headwinds discussed above. RMD consequently lowered its estimates for total incremental revenue capture in FY22' down from $350 million at the upper end to a range of $200 million-$250 million. The Roughly 28% reduction was attributed to supply constraints by management, in particular the withdrawal of a major supplier in the third quarter. As such, management noted that visibility on the shortage of chips supply is still murky, with more "de-commitments "expected as a going concern. Therefore, the Phillips recall is a huge catalyst for the company given it frees up supply and creates elasticity in the market in RMD's favour.
Management expects demand for devices to exceed supply for the next 12 to 18 month period. In effect, we estimate this should generate a large patient backlog that may be realised in the years afterwards i.e. FY24' and beyond. It is therefore imperative the company continues building out its distributor network and provider network to ensure it can hold onto any market share it gains in Philips' absence. Turning to the quarter, Q3 device saw a ~14% headwind contracting ex-US sales. The shortfall was again underlined by chip shortages. Still, device sales growth was 30% within the US and international sales grew by 10%. Mask sales also came in line with street forecasts, with a ~700bps gain on the prior period. This was an above market growth schedule in the segment, suggesting the company captured additional market share.
ResMed holds up in macro climate
The current macroeconomic investment debate is marred by cost inflation and supply chain constraints. The latter is abundantly relevant to RMD. To offset pressures here, RMD has committed to a 5-pronged revenue stream approach. This includes ensuring the flow of existing components/parts, and seeking out new suppliers to ensure a constant flow of order delivery to overcome shortages. On the debate of inflation and cost management, gross margins contracted ~2% year on year in the latest falling to 56.82%. This is well below the industry median 64.2%. Plus, gross margins have normalised at 57% over the past three years, presenting a risk to RMD's ability to absorb costs at the margin level. Another potential risk is that gross margins have contracted by ~51 basis points geometrically for the past five years. Although, strengths are seen when moving down the P&L. Operating income of $234 million grew 4.8% year on year to Q3 FY22' and realised a 27.1% margin, ahead of the industry median's 16.3%.
Exhibit 2. RMD's gross margins have narrowed in recent times
Three-year operating margins also normalise at a~27% for RMD, ahead of the industry peer medians 20%, providing a bullish underweight to the investment case. However CFO contracted by ~40% year on year last quarter, still feeding ~$68 million below the bottom line in free cash flow. The company also printed free cash flow of $634 million in FY21', producing a trailing 12 month free cash flow margin of 10.3% - below the industry median. It was also below the company's 3-year average free cash flow margin of 19.6%, its self above the peer median. Investors have also realised a 12-month 1.2% free cash flow yield at the time of writing, below the industry, whilst free cash flow has grown at around 4.8% on average per year for the last five years, ~ 200bps more than the industry's 2%.
Exhibit 3. FCF History & Estimates
Strengths in free cash flow generation have carried well though to profitability for RMD. This provides an upside tilt to the risk reward calculus, seeing as profitability measures are underscoring equity returns in 2022. We're buying companies that show strong profitability for exposure to low equity duration, low rate sensitivity and ability to absorb cost inflation. To that regard, return on assets ("ROA") was 16.4% for RMD in the latest filing, well ahead of the industry median's 7.3%, and also ahead of the 3-year average ROA of 12.8%. Return on invested capital ("ROIC") was also 20%, 12 percentage points higher than the industry's 7.5%. ROIC has averaged at 17.23% over the past five years, well ahead of the industry. Asset turnover was also at around 0.75 cents for every one dollar invested into the asset base last period, and RMD's realised around 15% of EPS growth in the past three periods to date, outpacing the industry's median of 14.6%.
Importantly, earnings growth has outpaced sales growth at 14.7% versus 11% over the past three years, suggesting the company has a moderate degree of earnings leverage. That point is backed by a higher average normalised 3-year free cash flow margin, and fairly robust gross margins below the top line, as discussed. This has enabled management to grow book value per share geometrically by 11.4% a year over the past five years, still, behind the S&P 500's annualised 15% real rate of return in the same period. One has to question management's value creation for shareholders, in that regard, hence further analysis on real risk-adjusted returns is required, separate to this analysis.
Free cash flow conversion is supplemented by fairly robust management over liquidity and working capital. Despite supply chain headwinds and jumps to cost inputs, total debt has come down and tightened by 4% year on year in the last filing. Interest expense is more than 50X covered and even more than 41X covered when subtracting inventory from the picture. Meanwhile, equity to total assets is 66%, and debt to equity is a tad over 25% for the company. Total debt funds' ~20% of the capital base, whilst the company has a debt ratio of around 17%, itself sliding off a high of around 32% in Q2 FY20'. Short-term obligations are covered around 2.5X from short-term assets, however that drops to just 1X coverage without inventory and just 0.3X coverage from cash alone. Meanwhile CFFO is 31% as a function of liabilities, and CAPEX makes up just 2.4% of CFFO, slightly lower than longer term averages of 5-6%. We'd like to see RMD perform better here for greater certainty.
Working capital has flatlined over the last 2-year period on a quarterly basis. Accounts receivable turnover has curled up marginally to 6.85 YoY whilst days sales outstanding has come down from 67 days to 53 days in the same period. Inventory turnover has contracted slightly from 3.6X to 2.7X in the last 12 months, likely attributable to supply chain constraints mentioned. Days sales inventory outstanding has widened by around 34 days to 135 days, whilst accounts payable turnover surprisingly has also increased to around 13X. As such, the company is paying more in its working capital cycle than it is receiving in cash. This mismatch has seen a widening of the cash conversion cycle from 134 days 260 days year on year, and a similar increase in inventory to cash days to 188 days. Meanwhile, the Altmans's Z score of 18 indicates there is sufficient cash one way to last over the coming 2-year period for the company.
Exhibit 4. Changes in working capital Q1 2020 - Q3 2022
RMD averaged sales growth of 11% over the past three years and a similar amount over the past five years. We forecast sales growth of around 12% in FY '22 and around 12% the following year, calling for $3.58 billion and roughly $4 billion at the top respectably. From there we envision another period of high sales growth, before seeing sales growth pace back towards rolling 3-year averages of 7.4% in FY24'. FCF and earnings forecasts are discussed below.
Valuation
Shares are trading at ~84X FCF, well above the peer median of 33X and also above their 4-year normalised 54X. RMED also trades at 40x P/E, again ahead of the peer median, yet below a 4-year normalised 44X P/E. RMD trades at a median 50% premium to its GICS industry peers across key multiples.
The question is whether this premium is justified. Based on our analysis, that may or may not be the case. Gross margins have decreased on average ~50bps over the past five years, where sales growth has normalised at 12%, below industry median. It then becomes a question of cash conversion, because cash is king, as they say. Free cash flow margins have averaged around five percentage points higher than the industry median in the last three years, leading to a 5%, above industry geometric growth in free cash flow over the same period. Segment growth has been most sensitive in the company's sleep and respiratory care division, although there's been recent uptake in other reported segments over the past 2 years on a quarterly basis. So far, a 50% premium doesn't appear justified with these measures alone.
Exhibit 5. RMD FCF Marginal analysis
Adding weight to the case is RMD's growth in profitability measures. ROA and ROIC clearly outstrip appears on a 3-year normalised basis. There is also more certainty over the predictability of the company's future cash flows, given the withdrawal of Phillips from the flow generator market. That's also backed my fairly stable free cash flow and earnings growth as mentioned. However, a 50% premium still doesn't appear justified and with the company trading a premium to peer FCF multiples, we need to make an adjustment to correctly price the stock.
We feel the stock should trade more in line with the peer median, therefore assigning a 4-year normalised 44X to our FY22 free cash flow estimates of $934 million, and discounting this back to the present at a discounted rate of 12.5% - one that reflects the opportunity cost of holding the SPX plus long-term treasury-yields - gives us a price target of $249. Applying a 4-year normalised 44X multiple to our EPS estimates of $5.71 for FY22 gives the target of $251. Applying the same for earnings multiple to our FY23 estimates of $5.98, and discounting in the same fashion lends the price target of $235. Blending the three targets on an equal weighted basis values our price objective at $245 per share. The target offers a return objective of roughly 17% or $35 per share.
In short
There are risks to RMD's forward earnings profile that are centred on supply chain constraints and cost inflation. However, these are set to impact the entire industry, and RMD has taken steps to shore up its top-and-bottom-line growth for the coming periods. The company has compounded free cash growth in the recent years, underscoring healthy FCF margins and growth in profitability beyond net income alone. Most noteworthy is the near-term upside potential from the Philips product recall. The market has yet to price this in by estimation and the demand pull from the patient backlog is set to create an impulse effect to operating income and earnings in years to come, by estimation. That lag has yet to be realised by the market and is consequently waiting to be priced in.
Valuation is where the investment debate unravels for RMD as a 50% premium to peers on key multiples appears unjustified by our examination. Still, considering the sum of the parts in this investment debate, the risk/reward calculus remains tilted to the upside, leading us to a speculative buy on RMD, seeking a near-term upside potential of around $35 per share.