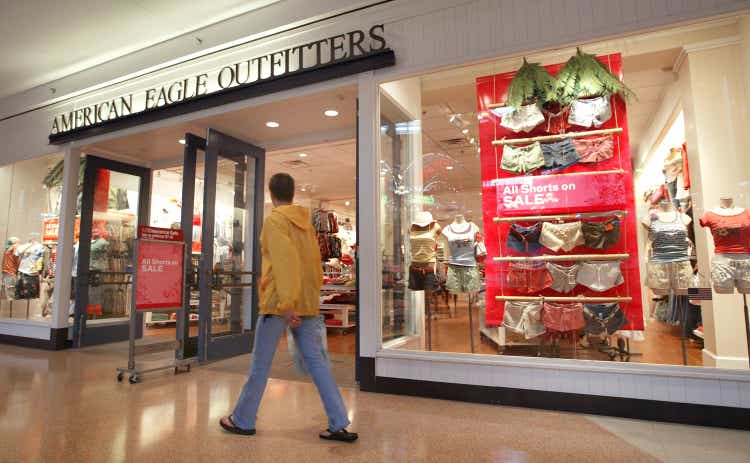 Purpose & Introduction
While American Eagle Outfitters, Inc. (NYSE:AEO) reported earnings that didn't meet analyst expectations, the company still has tailwinds that make it a compelling mid-cap retailer for a swing trade. The company's high growth brand, Aerie, continued to generate momentum throughout the quarter, and they strengthened their capital structure by redeeming the majority of their previously issued 2025 convertible notes.
My recent article on AEO showcased a bull view, and this quarter showed that most of those trends remain intact. While the macro environment will remain a bit challenged as stimulus payments are no more and supply chain woes drag on, AEO remains a good swing trade and I rate it a "Buy" with a $32 price target on an 18-month view.
Q1 Review
Total revenue hit $1.055B, while gross profit declined to $388MM, showcasing a margin deterioration of over 500 basis points vs. Q1 2021. The revenue jump of 2% from last year was more than offset by elevated costs in both shipping and SG&A, where the company had an increase of 13%. Given the high expenses amid low revenue growth, Jay Schottenstein, the CEO, noted that they plan to look "after our expense base in a more meaningful way."
The company only generated $42MM, but reaffirmed operating profit to beat 2019 levels in an updated guidance note. AEO did mention that they would discount sales in the second quarter due to unseasonably cold weather and high inventory, which increased 46%, but reiterated that inventory management would right-size before the end of the year. AEO also mentioned that CAPEX would be $275MM this year, increasing in the back half of the year after $58MM in Q1 spend. The company reiterated their plan to cut store counts in unprofitable areas and only increase its real estate presence where strategically suitable.
The company guided revenue to increase over 2021 figures by low single digits, while highlighting that Aerie, their female-focused empowerment brand, will continue to fuel growth and had doubled sales in under 3 years. AEO highlighted that digital penetration grew in the quarter to 37%, a recent high. The company recently started a spring campaign promoting happiness and had #AerieREAL as the number two trending hashtag on TikTok, generating billions of views.
A spinoff by Aerie, OFFLINE by Aerie, grew in the strong double digits, improving on triple-digit growth as it continued to scale its assortment and customer base. AEO also announced new customer accounts for their distribution platform, Quiet Logistics, stating that Fanatics and Saks Off Fifth had signed up with the platform. This segment continued to improve shipping times, and in in the first quarter, AEO saw further reductions in the number of shipments per order and a 13% reduction in delivery times. Quiet Logistics also announced, post-earnings, that they would connect with Pitney Bowes (NYSE: PBI) to optimize their supply chain. The company also disclosed that they are working with Roblox to advertise in the metaverse, and had now achieved 10MM visitors to date in their virtual stores/platforms.
AEO also announced a refreshed capital structure, by reducing the amount outstanding on their convertible notes and starting another stock buyback plan. While specifics weren't with respect to the mix of cash & stock repayment, the company reduced its convertible debt from ~$410MM to $70MM. AEO also entered into an additional accelerated stock repurchase plan with JPMorgan Chase (JPM) to repurchase $200MM worth of shares, which would constitute ~16.7MM at today's prices or 8% of the fully diluted float. The company noted this wouldn't affect their previously announced 30MM share repurchase plan. Both plans would be financed by cash on hand and an increase of an existing ABL credit facility from $400MM to $600MM, but cautioned that the facility update hadn't been approved yet.
Upside
While the macro environment weighed on earnings, AEO continues to distinguish itself from the pack both operationally and financially. While sales didn't grow as much as hoped, AEO continues to show brand strength, evidenced by being the #1 jeans brand among teens, while also achieving a top #3 position in total women's and men's apparel. Aerie also remains an exciting brand with consistent growth, and the company's ability to go viral in multiple ways is helpful in increasing market penetration.
It is reassuring to see AEO's management remaining committed to returning capital to shareholders, through increased stock repurchasing and CAPEX spend focusing on investments to fuel Aerie's growth and preserving balance sheet strength. Additionally, I appreciate their forward-looking ability to contacting consumers. Signing up customers to the Quiet Logistics platform will continue to help them see inventory mixes for other competitors, while making money via distribution. I am also intrigued by AEO's interest in gaining a foothold in the metaverse - time will tell whether that endeavor is successful, but management's forward looking focus is compelling. While their capital structure update didn't provide all the details concerning their updated share count and ABL loan terms, given their historical track record, I am not worried by these developments.
Areas for Improvement
While the global supply chain environment will remain difficult for the foreseeable future, there are two trends that pose some concern for the company. The first is elevated inventory - jumping 46% year over year. To sell through this inventory, there will be unavoidable discounting on spring apparel as we approach the summer. This will be difficult to navigate for the company, and will likely weigh on gross margins in Q2.
The other key issue was revenue deterioration for the American Eagle brand, dropping 6% year over year. While the brand had tough comparisons versus the previous year's blockbuster sales, this miss was staggering. While Aerie and Quiet Logistics will continue to grow, AEO needs to ensure this iconic brand remains strong, as its success will exponentially flow through to the rest of the company. The American Eagle brand remains the most iconic and valuable feature of this company, and while I believe they will navigate the choppy waters, there remains risk.
Model Still Shows Upside
AEO's stock price is poised to bounce back given the company's operating efficiency and focus on capital appreciation. Reducing the principal on the convertible note at 3.75% will free up interest payments and given their updated capital structure, their WACC shouldn't dramatically rise above 8.5%.

I forecast the terminal value of almost $6B, given a 3% blended revenue this year following updated guidance, before reducing four future years to 3% growth and a terminal growth rate of 2% due to concentration of just two brands in a sector that has consumer preference volatility. I still see SG&A expenses dropping 200 basis points within a 5-year period, as synergies from the Quiet Logistics/Air Terra acquisitions start to bear fruit. I hold all other key ratios mostly equal from the previous model, but adjust the gross margin downward after guidance of a 33% gross margin in 2022. As operating profit regains strength in the next few years, $32 per share can be supported with fundamentals. I don't change the number of shares outstanding, as the buyback plan and convertible note repayment terms have not been fully publicized. I also see total dividends remaining about the same, with elevated payout ratios over the next two years.
Conclusion
Even though American Eagle Outfitters had sluggish earnings that didn't meet analyst expectations, the company still boasts tailwinds that make it a compelling mid-cap retailer for a swing trade. The brand strength, management expertise, and shareholder focus make this stock a mid-cap retail pick for a bounce back. I see $32 a share within 18 months.