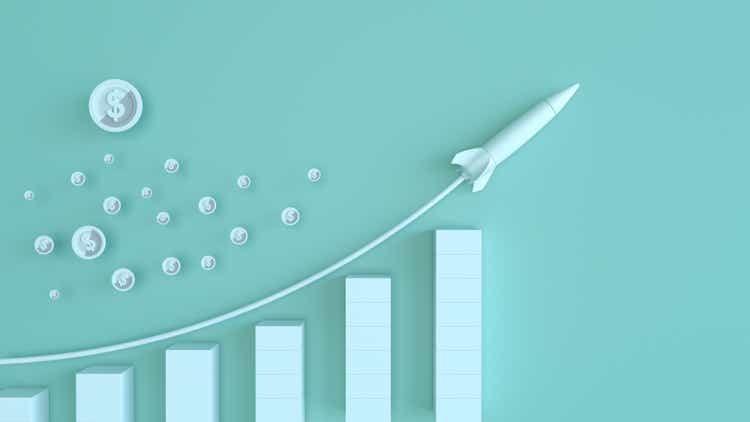 May was another month full of volatility that affects performance but also brings along new opportunities. I also made a start with re-evaluating my portfolio and this led to the addition of 1 new position and the exit of 2 positions. I will explain this more in-depth in the article but what it came down to is that these stocks were highly correlated with other stocks in my portfolio, and therefore did not add the diversification that I want. Besides the transactions related to the re-evaluation, I also added capital to 3 stocks, which were in my opinion heavily undervalued. In total I had 10 transactions of which 8 were buys and 2 were sells.
For the people that have not read my previous articles: I am a 25-year-old investor from the Netherlands who is trying to start early so that I will have the option to retire early or at least earlier (the current retirement age is 67 in NL and is trending upwards). If you are interested in previous updates on my portfolio, you can find them here:
My Portfolio April Update - 7 Buys
May Update
May was a month full of volatility and stocks rebounded after hitting a bottom around the 19th. This rebound came just before we entered an official bear market territory, which is when the market is down 20% YTD. Unfortunately, I did not buy new stocks on the day that the market hit the bottom but that is why I became an investor and not a market timer. This month I also tried to look for opportunities in Europe but not a lot has sparked my interest yet. The companies that are strong and pay a growing dividend are usually priced very richly, which makes them less interesting. Nevertheless, I will continue to look for interesting stocks that are not denominated in USD.
In the coming months, I will also continue to re-evaluate my portfolio. This is done for a few reasons, first of all, there are a lot of companies that are highly correlated and this does not give me the diversification that I aim for. Secondly, my schedule is a lot busier than when I started expanding my portfolio. Unfortunately, this means that I am not able to keep up with everything that is going on with the companies in my portfolio, which can have a significant effect on my performance. This month I started with this process and looked at my European real estate companies as well as my stocks with exposure to China. This led to the addition of CTP and the sale of DIC Asset and Alibaba (more on that later).
Regular readers are aware that I also participate in an investment competition through my study association. My team remains in first place in the investment competition with an M² of 10.54% (2nd place has an M² of 10.01% and we have limited our exposure to the market over the past month. We currently own two stocks which I also have in my portfolio as well as an ETF. The competition will end at the beginning of July so we hope to perform well over the coming month and win the competition. While I am writing about my study association, I also want to share a personal highlight. During the month of May, my student association organized an investment symposium and one of my articles was chosen for the free magazine that everyone got (the magazine contained 2 investment articles, among other things).
Transactions
Rules
Core

Value

Small-cap growth

Buy

Strong companies with revenue CAGR of +5% over the last 10 years

EPS CAGR of +5% over last 5 years

ROE above industry average or above 10 (at least 3 out of 5 years)

DGI stock dividend growth

ND/EBITDA below sector average or D/E below 1.

Buy when undervalued div yield theory + DCF (or what I think fits)

Dividend stocks: Chowder rule above 12 for normal, 8 for high yield

Sold off, without valid reasons

Undervalued compared to the broader industry

Margin of safety 25%+

MC below $6b

Revenue growth of 20%+

Undervalued based on FCF/EV revenue or other valuation methods deemed appropriate

Growing industry

reasonable debt levels

Net income positive within 3 years

Decent insider ownership

Reconsider

20% overvalued

dividend freeze

Though environment

High insider sell-off

Sell

Deteriorating industry

Rapid increase in debt (longer period of time)

Dividend cut dividend growth stocks (DGRO)

Loss of IG rating

Overvalued by 40%

back at reasonable valuation

Lose confidence in the ability of the company

Deteriorating fundamentals

Management proves itself to be untrustworthy
2nd of May
Morgan Stanley (MS) - Bought 3.9 shares for $81.73 each:
Last month I added to Morgan Stanley and this month I did it again. The reason for this is that I still view the stock to be undervalued. MS is one of the best-run banks and its ROTCE is proof of that. The company also treats shareholders well and continues to buy back stocks and raised its dividend by 100% last year. Even though I do not expect the company to raise its dividend by another 100% this year, I expect that a double-digit increase should be doable. My price target for the company is currently $99.75, which is approximately 15% above where it is currently trading.
10-16th of May
DIC Asset (OTCPK:DDCCF) - Sold 108 shares for €12.09 each:
This one might come as a surprise to some of the readers, as I added to the position last month. Nevertheless, after I re-evaluated my positions I noticed that there was a high correlation between my German RE stocks. As this means that it does not offer the diversification that I want and given that my time is constrained, I decided to sell DIC Asset. There are two main reasons why I close DIC Asset instead of other positions. First of all, the company's LTV is on the higher end compared to some of its peers. Secondly, the ill-timed acquisition of a majority stake in VIB Vermögen made me question management, even though it could still pay off in the future. This does not mean that I dislike the company, but merely that I liked the others more.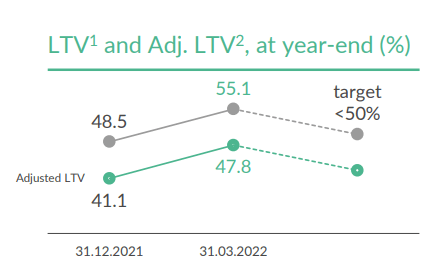 CTP N.V. (OTCPK:CTPVF) - Bought 89 shares for €12.53 each:
As I did not want to add too much new capital to my current German RE stocks, as they are already relatively big positions, I decided to add a new company. After doing more research into Eastern Europe (and visiting some countries there over the past year), I see a lot of potential for logistics and retail real estate. This left me with two candidates which were Nepi Rockcastle (OTCPK:NEPRY) and CTPNV. I chose CTPNV over Nepi for the following reasons: with the purchase of CTP I would keep my exposure to logistics real estate, the company has properties all over Europe, which makes it a one-stop-shop for its tenants, it had a larger undervaluation to my estimated fair value and the stock of Nepi is highly illiquid on the Amsterdam Stock Exchange. The fair value of CTP I estimate to be around €15.96, which gives it an undervaluation of approximately 25% over the price at the moment of writing.
Aroundtown SA (OTCPK:AANNF) - Bought 55 shares for €4.63 each:
As I did not want to add all the money to CTP, I also decided to add to my other European real estate stocks. Aroundtown is a company that owns a diversified portfolio of real estate mainly in the metropolitan regions of Germany and the Netherlands, which are two of the strongest economies in Europe. The company is trading at approximately 50% of its EPRA NTA and has been selling properties above book value to buy back shares, as it thinks that the discount is too extreme, and to buy back debt. I think that this shows the confidence of management in their own company and I also think that the discount is excessive. There is a limited supply of high-quality buildings in the city and especially in the Netherlands, there is not a lot of space left to build, which boosts the value of existing real estate.
Vonovia (OTCPK:VONOY) (OTCPK:VNNVF) - Bought 7 shares for €34 each:
Vonovia's stock has been on a rollercoaster this year, and the company has seen its shares fall down by over 20%. Part of the reason is that rising rates will hamper growth in the coming years and the company has decided that it will sell most of its development-to-hold units. CEO Rolf Buch mentioned the following about this:
You know that we have countered the development to hold business a part of our investment program. I think development to hold is more similar to an acquisition. And that's why if you apply our acquisition criteria, mainly FFO per share as value per share accretion, development to hold at the moment does not fit with our acquisition criteria anymore.
This also gives Vonovia the opportunity to lower its debt, which is a priority of the company given that the cost of capital has increased. Nevertheless, this will hurt growth in the coming quarters. Besides the switch from development to hold to development to sell, the company also wants to switch to a more "asset-light" business model, which means that the company will look to offer its services, skills, and experience to other companies. This would increase the company's profit margin but is a lot harder to forecast. I will keep an eye on this because I first and foremost bought the company to profit from the housing shortage and I think that holding real estate is a better play than offering services. Nevertheless, given that the company's main business is still holding and renting out residential real estate and has a significant discount to my estimated fair value, I will opportunistically add to my position in Vonovia.
Alibaba (BABA) - Sold 6.5 shares for $88.25 each
The second company that I decided to cut after evaluating my portfolio is Alibaba. Alibaba has been a very volatile stock due to the measures of the Chinese government and this has hampered my portfolio performance. In the end, it came down to cutting Alibaba or Prosus (see below), which owns almost 30% of Tencent. I expect Prosus to do better than Alibaba in the coming years as it works on closing its discount to NAV. Therefore, I decided to cut ties with Alibaba.
Prosus (OTCPK:PROSY) (OTCPK:PROSF) - Bought 6 shares for €43.95 each
The proceeds of Alibaba were partially used to increase my stake in Prosus. The reason why I like Prosus is that it is currently severely undervalued to its NAV. Based on the share price at the moment of writing, the company is undervalued by almost 100% compared to its stake in Tencent. Nevertheless, the company is much more than just Tencent, as it also has stakes in companies such as Stack Overflow, Remitly (RELY), Delivery Hero (DHERO), and Udemy (UDMY). I estimate the value of all Prosus' holdings to be around €110.65, after applying a discount of 30% (as most holdings trade at a discount and the volatile nature of the holdings), I end up with a price target of €77.45, which is a discount of over 60%. I will therefore continue to add to my position in Prosus. However, given its volatile nature, I will add the money over time.
Brookfield Asset Management (BAM) - Bought 5 shares for $47.36 each:
The remaining proceeds of the Alibaba sale were used to increase my position in Brookfield Asset Management. Brookfield Asset Management is a company that I expect to profit from the current volatility in the market. The company has shown its ability to grow its business and has spun-off many of its segments in order to realize value. I expect Bruce Flatt and the other members of BAM's management to continue to grow the business by using their value strategy. Therefore I will continue to add to my position in BAM as long as the company trades below my estimated fair value of $60.10 per share.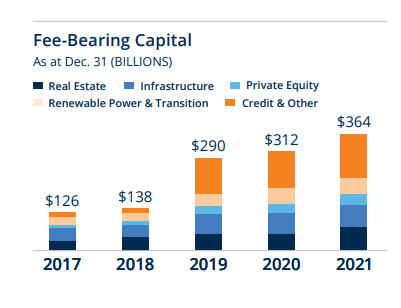 Visa (V) - Bought 1.3 shares for $198.30 each:
Visa is a company with a large moat that has been growing its business at a double-digit CAGR over the past 10 years. The company's business enjoys a high barrier to entry and it will be hard for new entrants to push out the incumbents. Given that the company usually trades at a large premium to my estimated fair value, it is one of the smaller positions in my portfolio. However, I try to add to the position when it falls below my estimated fair value (which is currently $226.98). As markets have been very volatile YTD, I have almost doubled my position over the past few months and I plan to add as long as the company is trading below fair value.
CareCloud, Inc. (MTBC) - Bought 40 shares for $3.83 each:
Every month I try to add to one of my small-cap stocks. These stocks are usually not profitable yet and have been very volatile. One of these stocks is CareCloud a tech company that focuses on the healthcare sector. The company provides its clients with solutions for business intelligence, robotic process automation, and telemedicine, among other things. During FY 21 the company turned net income positive and in January it started to redeem its 11% preferred shares, which should lower the company's cost of capital going forward. At the same time, the company is trading at an NTM P/E of approximately 4 and a P/S of 0.38, while it has been growing revenue in the double digits.
Interactive Brokers Group, Inc. (IBKR) - Received 0.148 shares
As I mentioned in previous updates, I switched to Interactive Brokers through a referral link. This means that I receive free shares whenever I put money in my account. I have to hold these for a certain time, but I am not planning to add money to this position at the moment.
| | | | |
| --- | --- | --- | --- |
| Company | Shares | Total price | Effects on dividend pre-tax |
| Morgan Stanley | 3.9 | $318.75 | $10.92 |
| DIC Asset | -108 | -€1305.55 ($1397.87) | -€82.08 ($87.88) |
| CTPNV | 89 | €1114.82 | €31.15 |
| Aroundtown | 55 | €254.65 | €12.65 |
| Vonovia | 7 | €238 | €11.48 |
| Alibaba | -6.5 | $573.62 | $0 |
| Prosus | 6 | €263.70 | €0.84 |
| Brookfield Asset Management | 5 | $236.80 | $2.80 |
| Visa | 1.3 | $257.79 | $1.98 |
| CareCloud | 40 | $153.07 | $0 |
| Interactive Brokers | 0.148 | $0 | $0.06 |
Dividends
May is usually one of my best months when it comes to dividends and this year was no different. In total, I received $191.69 during the month of May, which was the highest amount ever. This was mainly driven by my German stocks that pay their dividends on an annual basis. Forward dividend yield after tax is now at €869.19 ($933.90), which is down in Euros due to the sale of DIC Asset and the appreciation of the Euro vs the USD.
| | | | |
| --- | --- | --- | --- |
| Company | Dividend 2021 | Dividend 2022 | Difference |
| Altria Group (MO) | $15.48 | $0 | -$15.48 |
| Boston Properties (BXP) | $7.84 | $0 | -$7.84 |
| CVS Health (CVS) | $5.50 | $7.32 | $1.82 |
| AT&T (T) | $2.08 | $0 | -$2.08 |
| Shurgard (OTC:SSSAF) | €5.70 ($6.93) | $0 | - €5.70 ($6.93) |
| Vonovia SE* | €30.42 ($37.01) | €64.74 ($68.83) | €34.32 ($31.82) |
| New Work SE (OTCPK:XINXF) | €7.77 ($9.45) | €0 | -€7.77 ($9.45) |
| Fresenius SE & Co. KGaA (OTCPK:FSNUY) ** | €16.72 ($20.34) | €0 | -€16.72 ($20.34) |
| AbbVie (ABBV) | $0 | $22.00 | $22.00 |
| Reinsurance Group of America (RGA) | $0 | $13.21 | $13.21 |
| Morgan Stanley (MS) | $0 | $7.77 | $7.77 |
| DIC Asset (OTCPK:DDCCF) | $0 | €68.25 ($72.56) | €68.25 ($72.56) |
| Total | $104.63 | $191.69 | $87.06 |
* Payment date was 25th of May but hasn't been booked yet.
**will be paid in next month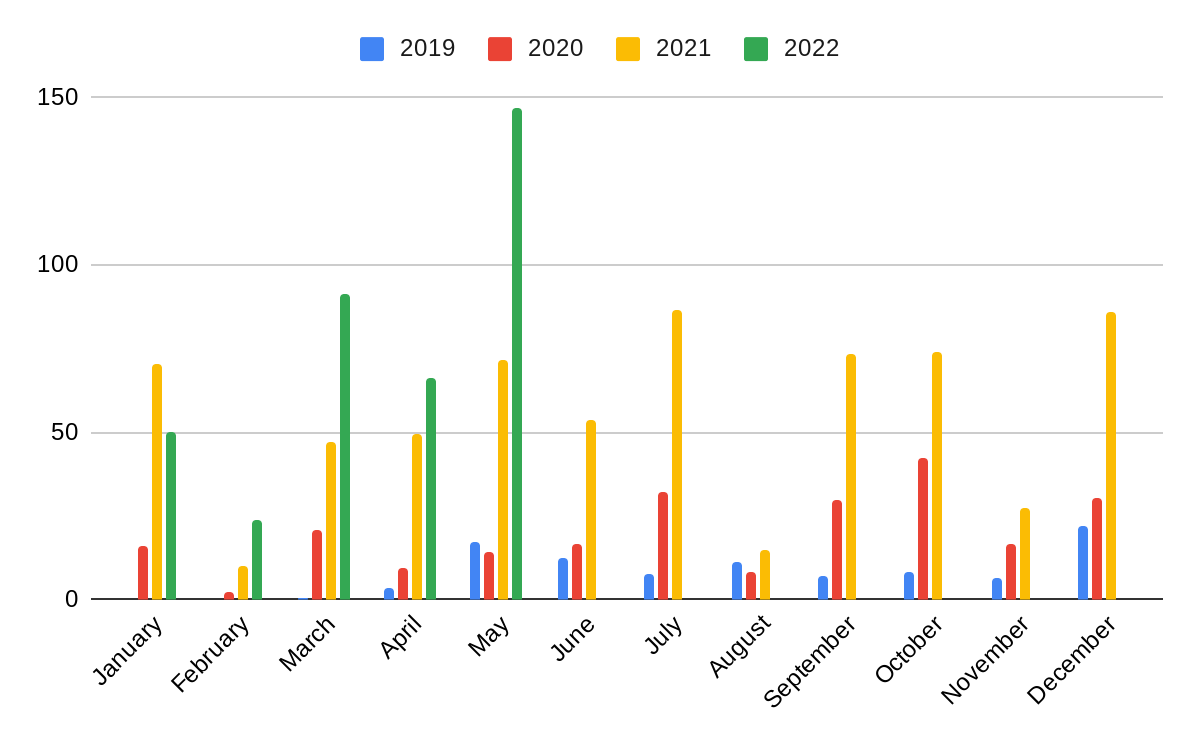 Sector Overview
What can be seen in the graph above is that I allocated more capital to financials. This was due to the extra capital allocated to both Visa and Morgan Stanley. There is also an almost 1% move in my REITs, this has to do with the fact that REITs (VNQ) underperformed the market (SPY) this month.
Current Holdings
| | | |
| --- | --- | --- |
| Company | Qty Held | Portfolio % |
| Enbridge (ENB) | 55 | 6.8% |
| AbbVie | 16 | 6.2% |
| Reinsurance Group of America | 18 | 6.1% |
| VICI Properties (VICI) | 73 | 6.1% |
| L3Harris (LHX) | 8 | 5.1% |
| Visa | 8 | 4.7% |
| CBOE (CBOE) | 16 | 4.7% |
| Vonovia | 46 | 4.7% |
| TJ Maxx (TJX) | 25 | 4.3% |
| Ahold (OTCQX:ADRNY) | 53 | 3.9% |
| Aroundtown | 306 | 3.8% |
| Netstreit (NTST) | 65 | 3.7% |
| Fresenius&CO KGAA | 40 | 3.7% |
| Prudential Financial (PRU) | 13 | 3.7% |
| Morgan Stanley | 15 | 3.5% |
| CVS Health (CVS) | 13 | 3.5% |
| Prosus | 23 | 3.2% |
| Broadcom (AVGO) | 2 | 3.1% |
| Brookfield Asset Management | 22 | 3.0% |
| Armada Hoffler (AHH) | 70 | 2.6% |
| Associated British Foods (OTCPK:ASBFY) | 43 | 2.5% |
| Intel Corporation (INTC) | 20 | 2.4% |
| CoreCard (CCRD) | 29 | 1.8% |
| Power REIT (PW) | 25 | 1.5% |
| CareCloud | 126 | 1.3% |
| Linkfire | 1121 | 1.2% |
| StoneCo (STNE) | 35 | 1.0% |
| The Hut Group (OTCPK:THGHY) | 189 | 0.9% |
| Interactive brokers | 4 | 0.6% |
| Tezos (XTZ-USD) | 50 | 0.2% |
| Hedera Hashgraph (HBAR-USD) | 680 | 0.2% |
| Bitcoin (BTC-USD) | 0 | 0.1% |
| Binance (BNB-USD) | 0 | 0.0% |
Going Forward
In the coming months, I will continue to add capital but I might put a little less capital to work as I will be traveling during July and August. I am mainly looking to add to my European stocks as I expect the other currencies to appreciate against the USD in the coming months, due to the fact that the EU will (finally) increase the rates.
Aroundtown
As mentioned before, Aroundtown is a real estate company that mainly focuses on properties in the two largest economies of the European Union: Germany and the Netherlands. The company has been selling some of its properties above book value and has been buying back shares as it continues to trade at a discount of over 50% to EPRA NTA. The fact that the company is able to sell its properties above book value makes me confident that their NTA calculation is in the right area and even if it would deviate a bit from the estimated value they would be able to sell it for, it wouldn't be in the 50% range. Additionally, the company has been buying shares in companies that trade at steep discounts to NTA. It has been increasing its stake in Grand City Properties (OTCPK:GRNNF) (residential real estate in Germany and London) over the past year and has started consolidating its results last year. It also bought a 60% stake in Globalworth (OTCPK:GLWHF) (one of the largest office landlords in Romania and Poland), in a joint venture with CPI. In my opinion, this strategy makes sense and I expect the company to eventually close the gap to its NTA.
Associated British Foods
Associated British Foods is a diversified company that has a sugar business, a grocery business, and owns the Primark brand, among other things. The majority of its revenue comes from its Primark brand, which is a fast-fashion retailer that sells its own brand. By selling its own brand the company is able to keep its prices low, and t-shirts can sell for as low as €3. I expect this part of the business to do well in the current environment. When costs rise, people are left with a lower disposable income and as many people got used to buying a new outfit every season, Primark's offering will look more attractive. Of course, inflation will also increase its prices eventually, but it will most likely remain under the price of most of its competitors. At the same time, the company trades at significantly lower multiples than a couple of years ago, making it an attractive proposition.
Ahold
Ahold is a Dutch grocery company that has operations in most of Europe, as well as in the U.S. The company gets approximately 60% of its revenue from the U.S., while it reports in Euros. This should be a boost in the short term as the USD has been trading at elevated levels against the Euro for most of this year. Furthermore, in the second half of the year, it will bring its e-commerce platform Bol.com to the Amsterdam Stock Exchange. The company expects this to unlock a lot of value and this could be a boost for the company's stock over the coming months. At the same time, you get a strong retailer at a P/E of approximately 11.8, which is lower than some of its peers including Carrefour (OTCPK:CRRFY), Tesco (OTCQX:TSCDF), and Kroger (KR).
Insurance companies
In the coming month, I will continue to re-evaluate my portfolio, and in June this means looking into my (re)insurance companies. I currently own two life (re)insurance companies, and these have a relatively high correlation. I am looking to cut one of the following two stocks: Prudential Financial (PRU) and Reinsurance Group of America (RGA). Both have advantages and disadvantages and I will look into which stock fits my requirements the most, and which stock I expect to perform the best in the current environment.
Financial service companies
The second group of companies that I will look into are my financial service companies. This group includes Interactive Brokers, Morgan Stanley and CBOE Global. Right now I am thinking about cutting Interactive Brokers, as it was never my intention to own the stock. However, if I decide to cut the stock I will have to wait until the stocks have vested as they are a result of the referral link that I used to sign up with the company.
Conclusion
May was another volatile month that brought along opportunities. I try to use volatility to my advantage by buying stocks during multiple moments throughout the month. In the coming month, I will mainly look to add to my European stocks, although I will also add to my US stocks if they become too attractive to ignore.
My dividends this month came in at $191.69 pre-tax and my forward dividend yield is currently approximately €870 ($934), due to new capital put to work.
I hope you enjoyed the update about my progress, and I would love to hear your thoughts on my portfolio and what you would like to see in future updates.