By Jay Jacobs
Key Takeaways
Interest in clean energy is surging due to three primary drivers:
Russia's invasion of Ukraine is a stark reminder of the challenges to achieving a just and orderly energy transition. And while it is driving near-term increases in demand for fossil fuels, a key question for investors is what the turmoil in Europe means in the long run.
Against this backdrop, governments — and investors — are renewing their focus on clean energy, a trend based on three factors.
Geopolitical Resistance
Clean energy systems are less susceptible to geopolitical turmoil. Clean energy sources require favorable natural conditions — such as wind, geothermal, hydroelectric or sun — muting the geopolitical dynamics that make fossil fuels-based energy systems unreliable. While environmental factors can vary by region and over time, optimized clean energy systems featuring multiple clean energy sources and supportive infrastructure like smart grids and energy storage solutions generally offer reliable and consistent access to energy.
Fossil fuel resources, conversely, are regionally concentrated and controlled by just a handful of countries. Most countries must power their economies with imported oil, gas, and coal, making them susceptible to geopolitical conditions that can sour.
Over half of the world's oil comes from just 5 countries.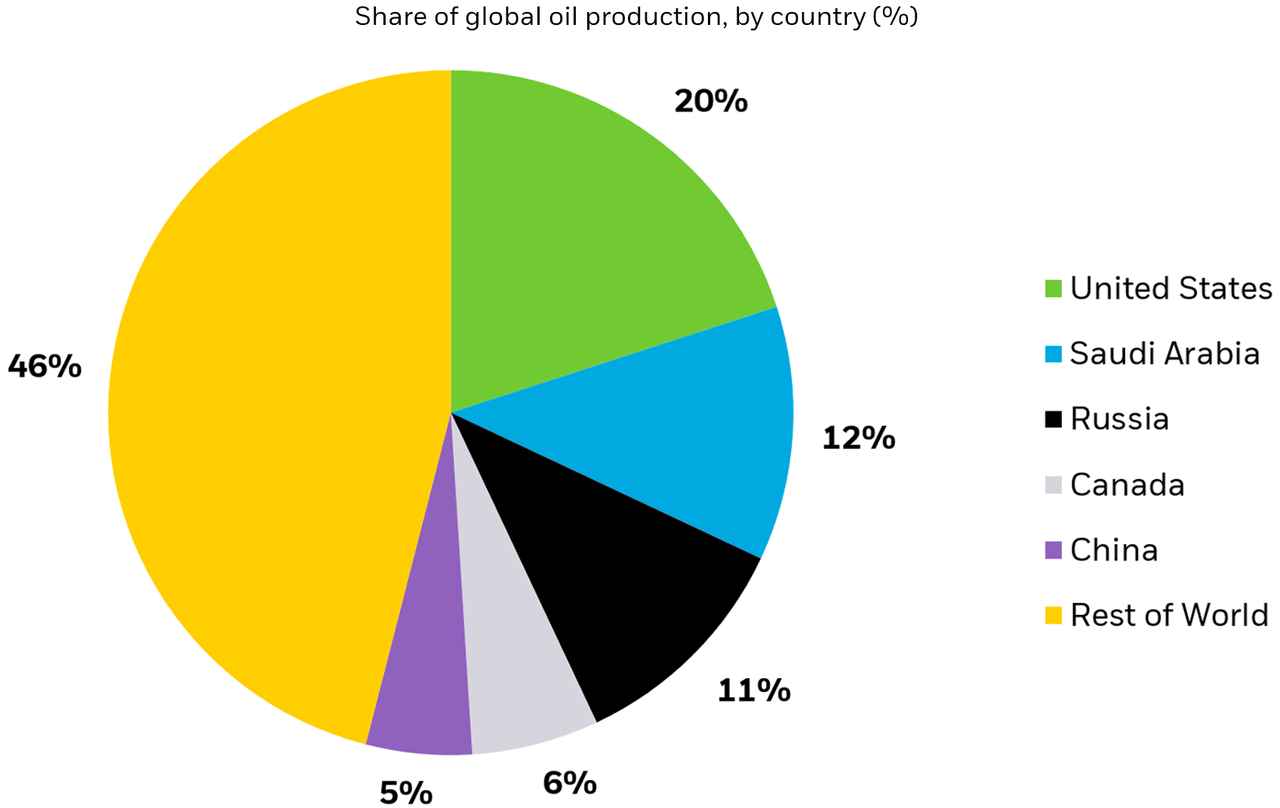 Affordable Clean Power
Clean power is now significantly more affordable than fossil fuel energy. Solar and wind power are now 1/3 of the price of coal and a little less than 2/3 of the price of natural gas.1
Clean power is more affordable than fossil fuel power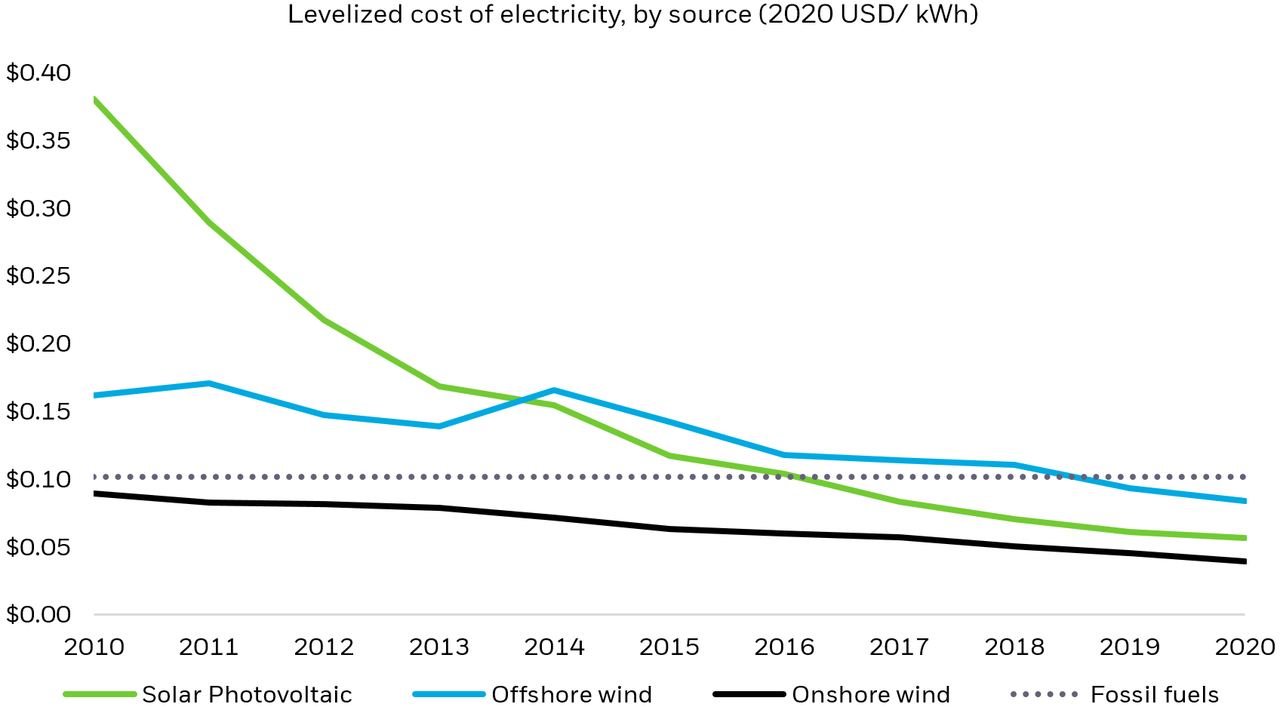 Clean power sources now generate 29% of all global electricity, up from the 17-19% share clean sources held from 1985-2009, a trend that has helped bring costs down.2 Two decades of increasing scale and efficiency for solar panels and wind turbines drastically lowered the cost of clean power components and project development.
Wind and solar energy generation accelerated as costs decreased.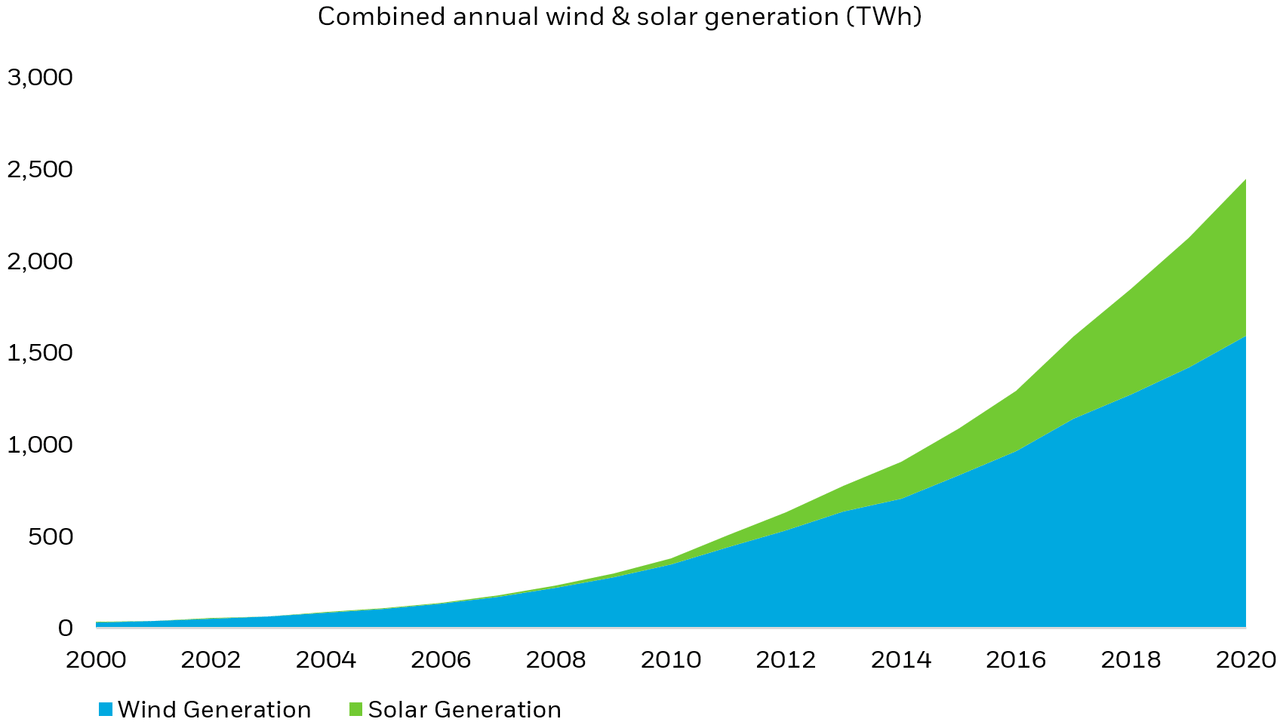 Demand For Clean Energy Is Growing
Demand for clean energy is growing. During the oil crisis in the 1970s, fuel shortages and soaring energy prices drove many countries to make commitments to scale then-nascent clean energy technologies. Denmark, for example, which generated 92% of its energy from imported oil at the time,3 now gets 56% from wind turbines.4 We are already seeing meaningful commitments to ramp up clean energy generation amid today's energy supply shock. In late-February, Germany announced its intention to fully transition to clean power by 2035, 15 years sooner than its previous target.5 And just a week later, the European Union announced plans to fast-track clean energy adoption and phase out Russian fossil fuels "well before 2030."6
We believe growing use of clean energy should continue to accelerate in the coming years. The International Energy Agency projects that global renewable electricity capacity will increase more than 60% by 2026, representing 95% of all new power capacity.7 The growing demand will likely incentivize significant investment.
Conclusion
The global transition to clean energy was already at an inflection point before the war. Now more reliable and affordable than ever before, we believe clean energy's potential to provide energy security may spur significant opportunities for investors.
© 2022 BlackRock, Inc. All rights reserved.
1 Lazard, "Levelized Cost of Energy Analysis – Version 15.0," October 2021.
2 Our World in Data, "Renewable Energy," 2022.
3 K. Johansen, "Wind Energy in Denmark: A Short History [History]," in IEEE Power and Energy Magazine, vol. 19, no. 3, pp. 94-102, May-June 2021, doi: 10.1109/MPE.2021.3057973.
4 International Energy Agency, "Denmark: Key Energy Statistics," 2021.
5 Bloomberg, "Germany Brings Forward Goal of 100% Renewable Power to 2035," February 28, 2022.
6 European Commission, "REPowerEU: Joint European action for more affordable, secure and sustainable energy," March 8, 2022.
7 International Energy Agency, "Renewable electricity growth is accelerating faster than ever worldwide, supporting the emergence of the new global energy economy," December 1, 2022.
Carefully consider the Funds' investment objectives, risk factors, and charges and expenses before investing. This and other information can be found in the Funds' prospectuses or, if available, the summary prospectuses, which may be obtained by visiting the iShares Fund and BlackRock Fund prospectus pages. Read the prospectus carefully before investing.
Investing involves risk, including possible loss of principal.
International investing involves risks, including risks related to foreign currency, limited liquidity, less government regulation and the possibility of substantial volatility due to adverse political, economic or other developments. These risks often are heightened for investments in emerging/ developing markets or in concentrations of single countries.
Funds that concentrate investments in specific industries, sectors, markets or asset classes may underperform or be more volatile than other industries, sectors, markets or asset classes and than the general securities market.
This material represents an assessment of the market environment as of the date indicated; is subject to change; and is not intended to be a forecast of future events or a guarantee of future results. This information should not be relied upon by the reader as research or investment advice regarding the funds or any issuer or security in particular.
The strategies discussed are strictly for illustrative and educational purposes and are not a recommendation, offer or solicitation to buy or sell any securities or to adopt any investment strategy. There is no guarantee that any strategies discussed will be effective.
The information presented does not take into consideration commissions, tax implications, or other transactions costs, which may significantly affect the economic consequences of a given strategy or investment decision.
This material contains general information only and does not take into account an individual's financial circumstances. This information should not be relied upon as a primary basis for an investment decision. Rather, an assessment should be made as to whether the information is appropriate in individual circumstances and consideration should be given to talking to a financial professional before making an investment decision.
The information provided is not intended to be tax advice. Investors should be urged to consult their tax professionals or financial professionals for more information regarding their specific tax situations.
The Funds are distributed by BlackRock Investments, LLC (together with its affiliates, "BlackRock").
The iShares Funds are not sponsored, endorsed, issued, sold or promoted by Bloomberg, BlackRock Index Services, LLC, Cohen & Steers, European Public Real Estate Association ("EPRA®"), FTSE International Limited ("FTSE"), ICE Data Indices, LLC, NSE Indices Ltd, JPMorgan, JPX Group, London Stock Exchange Group ("LSEG"), MSCI Inc., Markit Indices Limited, Morningstar, Inc., Nasdaq, Inc., National Association of Real Estate Investment Trusts ("NAREIT"), Nikkei, Inc., Russell or S&P Dow Jones Indices LLC or STOXX Ltd. None of these companies make any representation regarding the advisability of investing in the Funds. With the exception of BlackRock Index Services, LLC, which is an affiliate, BlackRock Investments, LLC is not affiliated with the companies listed above.
Neither FTSE, LSEG, nor NAREIT makes any warranty regarding the FTSE Nareit Equity REITS Index, FTSE Nareit All Residential Capped Index or FTSE Nareit All Mortgage Capped Index. Neither FTSE, EPRA, LSEG, nor NAREIT makes any warranty regarding the FTSE EPRA Nareit Developed ex-U.S. Index or FTSE EPRA Nareit Global REITs Index. "FTSE®" is a trademark of London Stock Exchange Group companies and is used by FTSE under license.
© 2022 BlackRock, Inc. All rights reserved. BLACKROCK, BLACKROCK SOLUTIONS, BUILD ON BLACKROCK, ALADDIN, iSHARES, iBONDS, FACTORSELECT, iTHINKING, iSHARES CONNECT, FUND FRENZY, LIFEPATH, SO WHAT DO I DO WITH MY MONEY, INVESTING FOR A NEW WORLD, BUILT FOR THESE TIMES, the iShares Core Graphic, CoRI and the CoRI logo are trademarks of BlackRock, Inc., or its subsidiaries in the United States and elsewhere. All other marks are the property of their respective owners.
iCRMH0522U/S-2204235
This post originally appeared on the iShares Market Insights.
Editor's Note: The summary bullets for this article were chosen by Seeking Alpha editors.