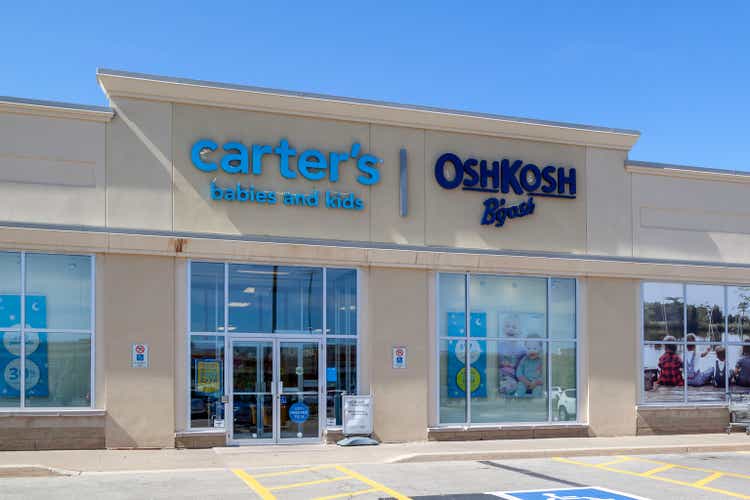 Lately the retail landscape has become a wasteland, with analysts slashing estimates in ways that impact almost all retailers in one way or another. For those who have customers on the lower end of the income spectrum, revenue estimates are being slashed as analysts expect inflation to keep store traffic down. While revenue estimates may be staying relatively steady for those with a wealthier clientele, earnings estimates are being slashed as higher input and transportation costs hit margins. Basically everyone is being impacted in some way with only select luxury brands being able to escape investors' wraths.
We have previously pointed out a few retail names which we like, specifically Tapestry (TPR) and Capri Holdings (CPRI), and continue to believe that investing in this space will require patience and the discipline to focus on the niche names in this industry. Which brings us to one name which came up while we were doing some research on the retail sector; Carter's Inc. (NYSE:CRI) - the baby and children's clothes retailer.
What's The Backstory?
According to Carter's website, the company "is the largest branded marketer in North America of apparel and related products exclusively for babies and young children." The company is uniquely positioned in this space as they have two major brands, Carter's and OshKosh B'gosh, and utilizes various sales channels (selling wholesale, online and via company-owned retail stores) to connect to consumers.
This is historically a pretty stable business with revenues falling below $3.4 billion only once since 2017 - and that was due to the pandemic's impact on the first three quarters of 2020. Carter's is also one of the few companies which has been able to leverage its brand awareness to form partnerships (and offer exclusive products) with Walmart (WMT), Target (TGT) and Amazon (AMZN). Striking a deal with just one of those major retailers is a coup for any company with a $3 billion market capitalization, but striking deals with all three is extremely impressive and demonstrates the brand power that the company has.
While we do like the company's approach to having multiple channels to reach consumers, we think that the company excels with their retail footprint and wholesale business but think that there is more work to do on the digital omnichannel front - which could be one way to help improve margins in the quarters ahead. To be clear, we do like what the company is currently doing online to drive engagement and awareness, but would like to see some more sales from digital.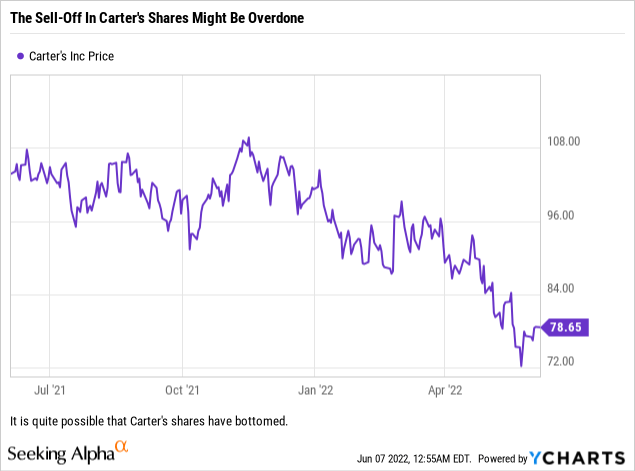 With inflationary pressures hitting the general economy, and impacting retailers on many fronts, Carter's has not been able to avoid the negative investor and analyst sentiment surrounding the industry. The company's stock is down 22.30% year-to-date and is currently trading about 10% above its 52-week low of $71.36/share.
So What's To Like?
Even with the added inflation the company is experiencing, namely higher cotton prices and transportation costs which continue to rise along with oil, the company guided for strong operating income and EPS for Q2. While the company's business remains strong, higher costs are being offset by continued improved price realization, lower interest expense from retiring debt and benefits from share repurchases. Importantly, when Carter's reported their Q1 results, the company guided for revenues of $750-$775 million in the second quarter (with growth of 2-3% for full year FY2022) and adjusted operating income of $95-$105 million (with growth for full year FY2022 of 4-6%). Carter's also stated that adjusted diluted EPS should grow 12-14% in 2022, powered higher by the company's share repurchase program which is targeting roughly $250 million in repurchases for FY2022.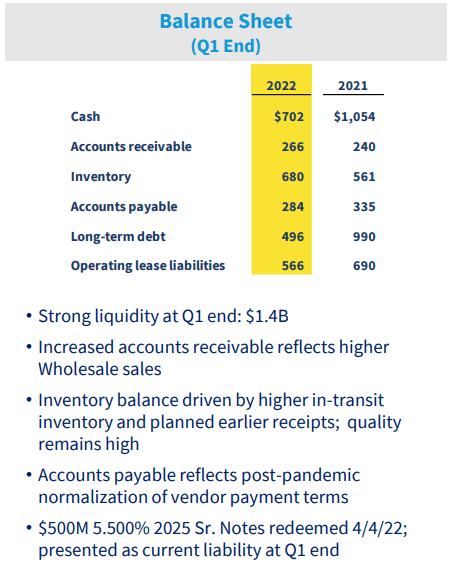 Utilizing its forecasted operating free cash flow of $275-$300 million for the year, along with cash on hand, Carter's share repurchase program goal for 2022 is reasonable, and at current prices the company could retire another 1.85 million shares, or just over 4.6% of the shares outstanding with the remaining $146 million they have not yet spent.
Also part of the company's shareholder return program is a respectable dividend. Carter's pays an annual dividend of $3.00/share, or $0.75/share per quarter. The dividend currently yields 3.81% and with the moves that the company is making, specifically the share repurchases, we do see further room for dividend increases. If the company is able to repurchase another 1.85 million shares through the end of 2022, then this would save the company over $5.5 million annually in dividend payments which is over $0.14/share in firepower to raise the dividend. We doubt that Carter's uses it all on enhancing the dividend, but we would not be surprised to see them utilize a portion of it in the quarters ahead to further reward shareholders.
Summary
We think that Carter's is a compelling buy at $78.65/share, as it is our opinion that most of the potential downside has already been priced in on weakness from competitors like Gap (GPS) with investors not factoring in the company's historically stable business - which currently appears to remain strong even with strong inflationary headwinds - which should be a positive in the current volatile environment. The $3/share dividend and management's stated goal to return roughly $250 million to shareholders via repurchasing shares (of which roughly $146 million remained as of April 2022) would appear to be stabilizing factors for the stock, and if management can deliver on their guidance while not disappointing against analysts' reduced estimates, then the share buybacks could help propel shares higher in the second half of the year.