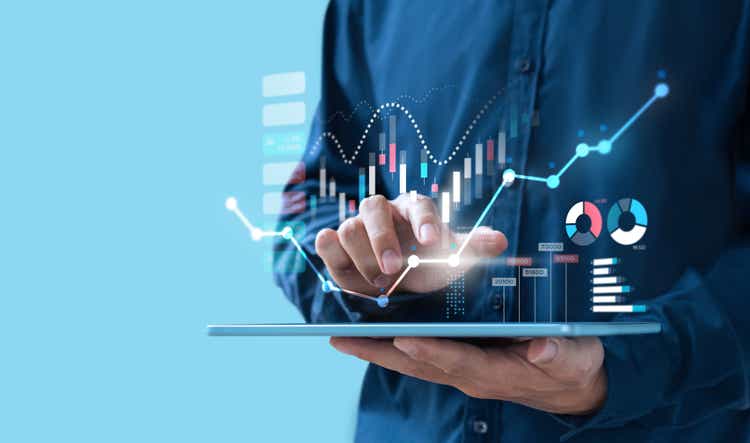 Since selling my Innoviva Inc. (NASDAQ:INVA) stock back in February, the shares are down about 22.4% against a loss of ~4.5% for the S&P 500. I've bought and sold this company a number of times over the past few years, so I thought I'd check in on them again to see if now's a good time to buy back in. After all, a stock that's 22.4% cheaper now is, by definition, less risky. I'll make this determination by looking at the most recent financial results, and by looking at the stock as a thing distinct from the underlying business. I'll also write briefly about the specifics of my current options trade here.
Welcome to the 'thesis statement" paragraph of the article. It's in this paragraph that I give you a sneak peek at what you can expect below. Consider this paragraph to be the "trailer" for my article. I write this so you won't have to go through the entirety of this screed to get to the essence of my thinking. You're welcome. Ok, so I think Innoviva's results were such that the shares would need to trade at a significant discount for me to consider buying again. The problem is that they're not trading at a discount. In fact, the current valuations are very similar to what they were when I last reviewed this name. When I last reviewed this name, the company was fresh from posting decent financial results. Not so today. For that reason, I'm going to remain on the sidelines. I strongly suspect the puts I wrote will expire worthless a week from Friday, but if they don't, that'll be fine as the strike price is attractive. This demonstrates the power of short put options. Before getting into the financials and the stock, I offer a thinly veiled excuse to brag disguised as a lesson for investors.
My Innoviva Track Record
If you've read my stuff on this site, you must be aware of the fact that I'm a bit of a braggart. If you're new here, I'll warn you. I'm a bit of a braggart. If you think I'm understating that odious tendency, or I'm bluffing, I've got an empty social calendar to prove it. Prepare for some very tiresome writing about my track record with this stock. I've gone to the liberty of creating a table for you to roll your eyes at below. Please also trust that I'm making a point, and that this isn't only about appeasing my fragile, immature ego.
I first took a position in this company in November of 2019, at a price of $12.68 per share. I've generated about $12.06 in profits on this name, in spite of the fact that the shares are only about $2.60 higher today than they were a little over two and a half years ago. I think there are two lessons to be drawn from this. The first and most obvious of these is that you don't want to "buy and forget" most of your investments. If you've got capital invested somewhere, you want to be open to letting it go when the market gets too optimistic. This means that you need to keep up to date about it, which means you should keep returning to Seeking Alpha. The second lesson relates to the power of short put options. Fully $1.65 (13.7%) of my profits on this name came from selling put options. If you have not yet learned about these powerful instruments that help you reduce risk while enhancing returns, I would urge you to do so. I characterise them as "win-win" trades because, if you only sell deep out of the money puts, the outcome is almost always positive no matter what happens. With this brag fest out of the way, let's have a look at the financials, shall we?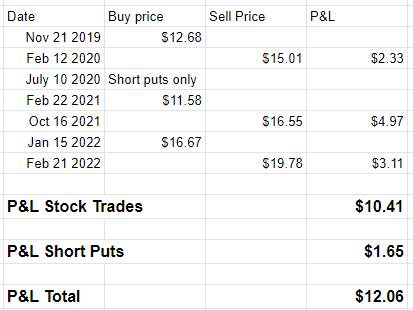 Financial Snapshot
When compared to the first quarter of last year, I think the first quarter of 2022 was troubled. Now that I've primed you to receive some negative news, allow me to enunciate the list of things I find troubling about the most recent financial quarter. While revenue was about $4.5 million, or 5.3% higher than it was this time last year, both income from operations and net income absolutely cratered, with the former down ~2.2%, and the latter down a whopping 83% from the year ago period. The drop in operating income can be attributed to a massive uptick in operating expenses, obviously. R&D jumped from $49 thousand in the first quarter of 2021 to $5.84 million during the most recent quarter, and general and administration expenses were up by 8.5% from $5.986 million last year to $6.492 million this year. At the same time, the capital structure has deteriorated significantly, with total liabilities up by just under $164 million relative to Q1 2021, while cash dropped by ~$66 million. All of this caused EPS to crater by 76% relative to the same period last year.
Given the above, the shares would have to be offered at a very significant discount to get me interested in buying back in.

The Stock
I've made the point that a stock and a business are very different so often that it must be tedious by now. If you thought "fear of being tedious" is something I worry about, though, think again! I'm about to repeat this for the benefit of the few new people among us. A business is an organisation that buys a number of inputs, performs value adding activities to those, and sells the results at a profit. In the final analysis, that's what every business is. The stock, on the other hand, is a traded instrument that reflects the crowd's aggregate belief about the long-term prospects for a given company. The crowd changes its views very frequently which is what drives the share price up and down. Additionally, the shares can be massively impacted by the crowd's views about a given sector, or the overall market. Thus, it's quite possible that there's a wide and growing disconnect between "the business" and "the stock", which is why I treat them differently. Before moving on, I'd like to also make the point that it's typically the case that the lower the price paid for a given stock, the greater the investor's future returns. In order to buy at these cheap prices, you need to buy when the crowd is feeling particularly down in the dumps about a given name. This is easier said than done.
I also want to make a related point that the only source of returns from investing in stocks comes from spotting a discrepancy between the crowd's expectations and future events. If the crowd is pessimistic, and the results aren't that good, the stock may not move much. At the same time, if the crowd is optimistic about the company and has bid the stock up as a result, there's little to be gained for the marginal buyer. We are looking for discrepancies between expectations and future events. I finally learned this lesson after many, many years. As I often say, "too soon old, too late smart."
Anyway, as my regulars know, I measure the relative cheapness of a stock in a few ways ranging from the simple to the more complex. On the simple side, I like to look at the ratio of price to some measure of economic value, like earnings, sales, free cash, and the like. Once again, cheaper wins, so I want to see a stock trading at a discount to both its own history and the overall market.
In the previous missive on this name, I turned neutral on the name because the shares were trading at a PE of about 7.2 and price to free cash was 5.2. We see from the below that the PE is basically the same level, and the price to free cash flow is only slightly improved from where it was. Remember also that the shares were trading at those levels after the company posted rather good results. The same can't be said of the latest results. For that reason, I can't recommend buying at current levels.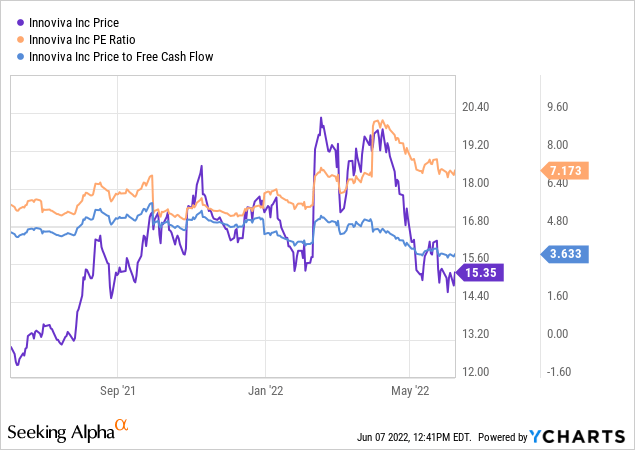 Options Update
In my previous missive on this name, I recommended selling the June 2022 puts with a strike of $13 for $0.60 each. This is the fifth such short put trade I engaged in on this company, all of which have done well. So, to remind you once again, if you haven't started using these I highly recommend it. Anyway, in terms of the current trade, unless something quite dramatic happens, I strongly suspect that these will expire worthless. When that happens, I'll review the trade, but I'll take no action at the moment.
Conclusion
I think investors are awarded for buying when others are too pessimistic. In my view, the market remains relatively sanguine about this business, and so I'm going to stay on the sidelines. I'll take no action with my short puts. Either they'll expire in 10 days, or I'll be obliged to buy at a reasonable price. I think part of my success with this name is that I only ever bought when the shares were compellingly priced, and they're not compellingly priced at the moment in my view.