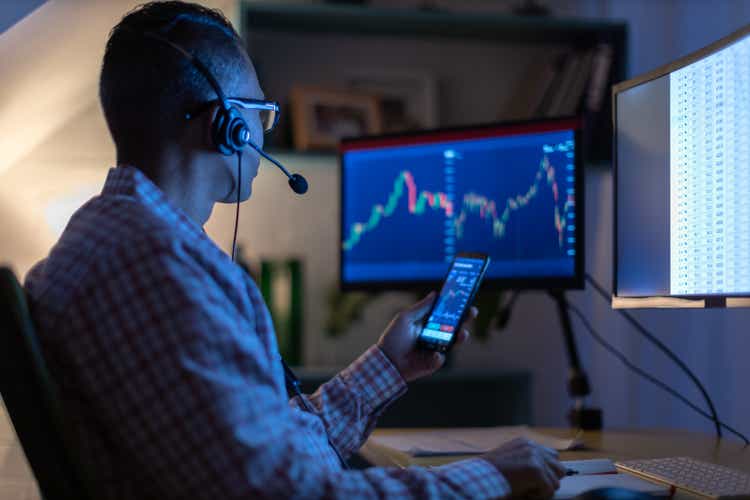 The rationale behind investing in REIT exchange traded funds (ETF) is the same as investing in Real Estate Investment Trusts (REIT) - profiting from passive investments in lucrative real estate properties, that are expected to generate higher returns than bonds or treasuries. Global X SuperDividend REIT ETF (NASDAQ:SRET) is one such ETF that invests heavily in mortgage REITs.
However, SRET has failed to generate returns throughout most of the time of its existence of more than seven years. This is despite a strong yield offered over the past seven years. It can be argued that income seeking investors might find this ETF useful. However, this ETF invests heavily on mortgage ETFs, and in a scenario of rising interest rates, this ETF may perform even more poorly, and thus its yield may decrease further.
Overview of Global X SuperDividend REIT ETF
This dividend REIT ETF invests in equity shares of 30 of the highest yielding REITs. A REIT is an entity that owns, operates, and/or finances income-generating real estate assets. Almost 39 percent of SRET's investments are in mortgage REITs, which invest in mortgages as opposed to the real estate itself. Another 51 percent is invested in Retail, Diversified, industrial and healthcare REITs.

In order to achieve geographical diversification SRET invests in REITs from around the globe. This strategy is helpful in managing its interest rate exposures. More than 53 percent of this ETF's assets are invested in companies from the United States, while another 33 percent is invested in Singapore. SRET was formed on March 16, 2015, and for the past seven years, this ETF has been paying regular monthly dividends with an annual yield in the range of 6% to 9%. However, the yield is on a declining trend.
Historical Performance
Despite such strong dividend yield, the stock has failed to generate returns to its shareholders. The price performance has been extremely disappointing over the past seven years. Its price dropped by 15%, 41% percent, 43%, and 45% over the past one year, three years, five years, and seven years, respectively. Price performance in 2022 has been negative too, and the simple moving averages (SMAs) suggest the trend will continue.
A closer look at its investments in US REIT stocks reveals that almost 53 percent is invested in 16 stocks. Unfortunately, only two stocks have been able to generate positive returns on a consistent basis. Gaming and Leisure Properties, Inc. (GLPI) and W. P. Carey Inc. (WPC) have generated strong returns over both long term as well as short term. Six other stocks - Physicians Realty Trust (DOC), Blackstone Mortgage Trust, Inc. (BXMT), New Residential Investment Corp. (NRZ), PennyMac Mortgage Investment Trust (PMT), Getty Realty Corp. (GTY) and Ares Commercial Real Estate Corporation (ACRE) - showed better returns in short bursts, but have been highly inconsistent.
The other half of US REITs have failed to generate returns throughout. These eight REITs - KKR Real Estate Finance Trust Inc. (KREF), Ellington Financial Inc. (EFC), Broadmark Realty Capital Inc. (BRMK), Annaly Capital Management, Inc. (NLY), Dynex Capital, Inc. (DX), AGNC Investment Corp. (AGNC), MFA Financial, Inc. (MFA), ARMOUR Residential REIT, Inc. (ARR) - have been highly disappointing. Keeping these stocks in a portfolio just because of dividend yield is a highly questionable strategy. However, being a passive fund, SRET doesn't have many options.
Peer Analysis
SRET benchmarks itself with the Solactive Global SuperDividend REIT Index (SRETN), which tracks the performance of the highest yielding REITs globally. This ETF has assets under management of $365.53 million, and an expense ratio of 0.58%. Being a passive ETF, SRET's expense ratio is quite high. The expense ratio of similar REIT ETFs such as SPDR Dow Jones REIT ETF (RWR), iShares Global REIT ETF (REET) and iShares Cohen & Steers REIT ETF (ICF) are comparatively low at 0.25 percent, 0.14 percent, and 0.33 percent respectively.
Average price multiples of these 30 REITs are relatively on the lower side. Price/Book (P/B) ratio of 1, Price/Sales (P/S) ratio of 6.8, and Price/Cash Flow (P/CF) ratio of 9 may suggest investor pessimism. Had the returns been positive, a high yield paying ETF deserved a better price multiple. Not surprisingly, these 30 REITs on average had a very poor sales growth (0.7%) and Cash flow growth (2%). On the other hand, the average book value had a negative growth.
Impact of rising interest rates
Last month, the Federal Reserve raised interest rates by 0.5% in order to control the worst inflation America has had in the past 40 years. Additional hikes are likely later this year. "Expectations are growing that the U.S. central bank will hike interest rates by a whopping 3 percentage points this year. By sheer number of hikes, that would be the most active Fed since 2005. But by the size and magnitude of each hike, it would be even more notable. The Fed hasn't adjusted interest rates that much since the 1980s — the last time inflation became a major problem for the financial system".
Higher interest rates will increase the cost of mortgage loans. This will most likely curb the demand for mortgaged properties, and will ultimately impact the revenue, earnings, and funds from operation (FFO) of the mortgage REITs. Thus, in a rising interest rate scenario, equity REITs are a safer bet than mortgage REITs. As almost 39 percent of SRET's investments are in mortgage REITs, this will surely impact the return of this dividend REIT ETF in a negative way. A portfolio reshuffling, thus, will be extremely beneficial for Global X SuperDividend REIT ETF.
Conclusion
SRET invested significantly in US based REITs, most of which have performed poorly on a consistent basis. Keeping these stocks in its portfolio just because of a reasonably good dividend yield doesn't make much sense. Despite a strong historical dividend yield, I am not hopeful that SRET will be able to generate strong or at least acceptable returns for its shareholders.
Historically its total return has been mostly negative, and there are more reasons to be pessimistic for the future. Huge portions of SRET's investments are in mortgage REITs, and rising interest rates will surely impact its return in a negative way. The Federal Reserve is expected to go for multiple interest rate hikes from time to time, which will make the mortgage REITs extremely vulnerable. In my opinion, investing in Global X SuperDividend REIT ETF is extremely risky and despite strong historical yield, isn't lucrative enough.