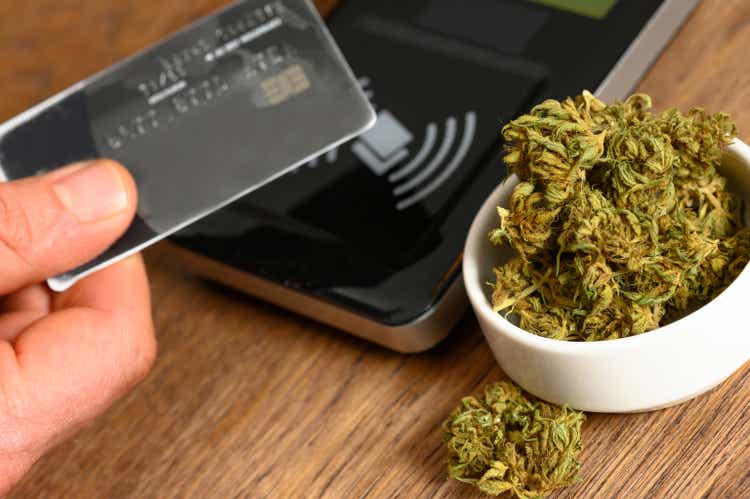 Introduction
POSaBIT Systems (OTCQB:POSAF) (also trades under the symbol PBIT.TO in Canada) is a leading provider of non-cash payment solutions in the cannabis industry. The company has nearly doubled revenue every year for the last 5 years and has consistently taken market share from existing inferior solutions, while also capturing a large segment of greenfield business as cannabis retailers and dispensaries have traditionally relied on cash payments.
POSaBIT trades at well under 3 times sales despite guiding for another year in 2022 of between 73-90% revenue growth to $37-40 of revenue in 2022. Although POSaBIT has had a couple of quarters of flat sequential growth, management has suggested on earnings calls that the company is seeing revenue re-accelerate recently as their guidance would imply. Not only is the cannabis industry picking up again, but POSaBIT is working on bringing on some larger multi-state operators that should provide very significant boosts to revenue once onboarded likely in the next quarter or two. I believe this re-acceleration combined with a low sales multiple, makes POSaBIT a compelling opportunity today.
POSaBIT's Tech
In addition to payment processing, POSaBIT also offers its customers a high-margin recurring revenue point-of-sale product. POSaBIT's technology has additional functionality such as POSaBIT's Connect API, a cash advance program, loyalty programs, SMS messaging, in-store kiosks, mobile and tablet in-store POS/app functionality, as well as back-end software to help businesses track and monitor data. The company is working on rolling out more features like B2B ACH, invoicing, HR and payroll, and more.
POSaBIT's stock price has sold off considerably with the recent sell-off in unprofitable growth companies. The share price has fallen over 60% from highs of nearly $2.00 USD per share back in October/November 2021 to $0.74 USD today (US listing in USD shown below, the Canadian listing trades in Canadian dollars).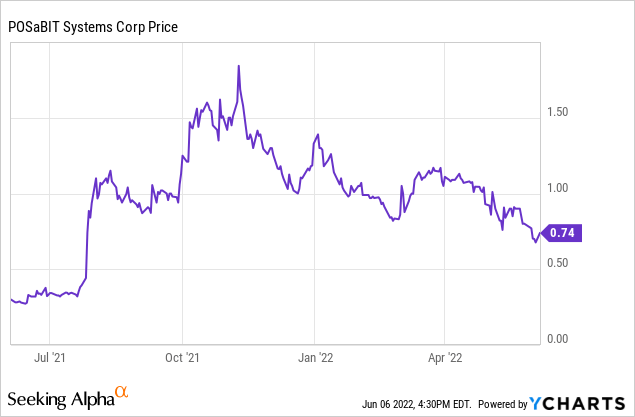 The Problem With Cash
Since 2012, when recreational cannabis was first legalized in Washington and Colorado, the cannabis industry has been mostly cash as traditional payment networks have avoided the industry due to complex legal and compliance grey areas. This has left the industry to operate on a mostly cash basis.
Cash brings with it several problems for both dispensaries and their customers. First, a customer is limited to spending only as much cash as they are physically carrying. Second, cash makes retailers and customers an easy target for armed burglary and/or theft. Third, cash is harder to track through a business and can result in accounting and tax errors, or worse, money laundering. Fourth, simply dealing in all cash is a problem for businesses as it makes paying suppliers, employees, and bills problematic, especially when proper banking solutions are limited.
Several papers have been written about the problems with cash in the cannabis industry, such as this one from Aite.
How POSaBIT Solves the Cash Problem
POSaBIT has developed a fully compliant payments solution for cannabis retailers and dispensaries. Posabit's technology helps process payments through debit, crypto, or credit via their unique solutions in partnering with state-level banks to facilitate payments. POSaBIT is a registered Money Services Business with FinCEN and is KYC and AML complaint, and last year (according to the CEO at least) passed an audit by FinCEN with 0 violations and 0 recommendations for changes.
To my knowledge, POSaBIT is the only company with this level of existing payment processing ability and compliance/regulatory offering, giving them a strong compliance and first-mover competitive advantage. I believe their compliance capabilities are a significant moat that other companies are unlikely to be able to match.
Furthermore, as cannabis remains federally illegal, the industry is considered to be high-risk. This is beneficial to a first mover in the space such as POSaBIT as larger payment processing companies like Block, Inc. (formerly Square, Inc.) (SQ) simply do not want anything to do with prohibited goods and high-risk industries such as cannabis. This leaves a wide-open market for a company like POSaBIT to bring on Cannabis retailers into the POSaBIT ecosystem early, where they'll likely remain sticky customers for a very long time.
Recent Developments
POSaBIT has grown extremely quickly its entire existence, that is, until the last couple of quarters where sequential growth has rapidly slowed in Q4 2021 and Q1 2022 compared to Q3 2021 (note that the chart below displays the incorrect month on the X-axis. POSaBIT's fiscal year is the same as the calendar year). Flat sequential revenue still represented substantial year-over-year growth of 60% and 70% respectively in Q4 '21 and Q1 '22.
On recent earnings and Q&A calls, management has stated that a slowdown in the cannabis industry has resulted in a slowdown in sequential growth. Despite this, POSaBIT has continued to land new merchants, including a few large MSOs (Multi-State Operators). These new customers are taking longer to onboard than smaller operations due to the greater complexity and scale involved.
Ultimately, POSaBIT landing larger MSOs rather than individual mom & pop shops means that revenue growth will likely be lumpier going forward, something management has pointed out, as these larger players are onboarded resulting in a large boost to revenue at once rather than a consistent increase as smaller players are onboarded.
POSaBIT's management has traditionally been conservative on guidance and has suggested in earnings calls that they are very confident in this year's guidance of $37 to $40 million of revenue in 2022. This represents substantial growth in the next couple of quarters as the company's current run rate would only result in around $26 million of revenue this year. Management has repeatedly stated that the pipeline of new customers remains strong. On the most recent Q1 2022 earnings call, management stated that cannabis sales were stronger in March, followed by further improvement in both April and May, which suggests we're about to see revenue re-accelerate starting in Q2 '22.
Another big piece of the puzzle here is that POSaBIT's existing customers (cannabis retailers/dispensaries) should grow as end cannabis consumers learn of non-cash payment options and inevitably make the switch from cash to credit, debit, or other non-cash payment methods. Not only will POSaBIT benefit from the mix shifting to non-cash, but they'll also likely see gross transactional volume overall from retailers/dispensaries increase as it has been shown that consumers tend to spend more when not limited by cash. Given that POSaBIT charges a % fee in addition to a small fixed fee, POSaBIT will likely benefit from increased gross transaction values from non-cash transactions.
Furthermore, management is pursuing an uplisting, specifically the NASDAQ. U.S. cannabis companies technically cannot list on the NASDAQ, but as POSaBIT is not a cannabis company directly, it is possible the NASDAQ allows them to uplist (this seems to be a grey area). POSaBIT mentioned on the Q1 earnings call that they're currently in talks with the exchange, but with no timeline for when an uplisting could occur. I suspect that if the NASDAQ does not allow POSaBIT to uplist, they'll look to uplist to another large exchange such as the Toronto Stock Exchange.
Valuation & Cash Burn
At the mid-point of management's guidance, revenue would come in for 2022 at $38.5 million USD. POSaBIT has 132 million shares outstanding (165 million fully diluted). At $0.74 USD per share, POSaBIT has a non-diluted market cap of just $97.7 million, or 2.5 times 2022 sales (just over 3 times 2022 sales on a fully diluted basis). They've also guided for $9-10 million in gross profit, so about 10 times 2022 gross profit.
If one believes, as I do, that POSaBIT can indeed return to strong growth and achieve guidance for this year, as well as continue to grow afterward, then 2.5 times this year's sales for a competitively advantaged company growth high double-digit percentages with a long runway is simply too cheap. Furthermore, POSaBIT has already demonstrated its ability to be profitable on an operating basis as they briefly achieved positive operating income back in Q2 2021. This is despite being sub-scale. As the business grows, margins (including gross margin) should improve.
POSaBIT was operating cash flow break-even in 2020 but burned through just over $2 million in 2021. In Q1 2022, they burned $1 million of cash through negative operating cash flow, meaning they're on pace for around $4 million of cash burn this year (although if revenue does re-accelerate, they may not need to go through as much cash). The company has $3.2 million in cash on the balance sheet. The company has run lean and avoided equity raises in the past by bringing in cash as employees exercise options. I expect they'll be able to keep doing this as there are over 30 million shares to get from the current share count to the fully diluted share count and thus they may not need to raise equity for at least another year or so. However, there could come a day when they do raise more capital through equity. Alternatively, the company currently has a negligible amount of debt (under $200k), and may choose to use debt instead if they need more cash.
Risks
POSaBIT is not without risks. First, with a market cap of just under $100 million, the stock is a microcap and is very illiquid. There have been days where just a few thousand shares can move the stock up or down 10% in a matter of a couple of trades. This stock is not for the faint of heart.
Second, POSaBIT's business is still small and subscale. It could one-day face competition from larger players, especially if cannabis is legalized on a federal level (though cannabis likely remains a high-risk industry once legalized, preserving some of POSaBIT's compliance moat).
Third, the cannabis industry is somewhat unpredictable and still very young. Things could develop rapidly. If POSaBIT can't keep up with its limited resources, they could end up being left in the dust.
Conclusion
POSaBIT is a leading competitively advantaged payments processor and technology provider in the cannabis industry. They've successfully grown the business, doubling revenue every year since its founding in 2016. The company continues to expand, including landing large new MSOs to its customer list. The pipeline of new potential customers remains strong as POSaBIT today has a little over 400 individual customers (according to their recent investor presentation) out of over 9000 retailers/dispensaries across the US. Furthermore, the company has plans to expand to Canada in the near future.
Although the last two quarters haven't quite met the high growth bar that POSaBIT has set in the past, it seems the business could soon be back on track to putting up strong growth. If that is the case, then the stock price, at a valuation of under 3 times sales, seems quite compelling to me.