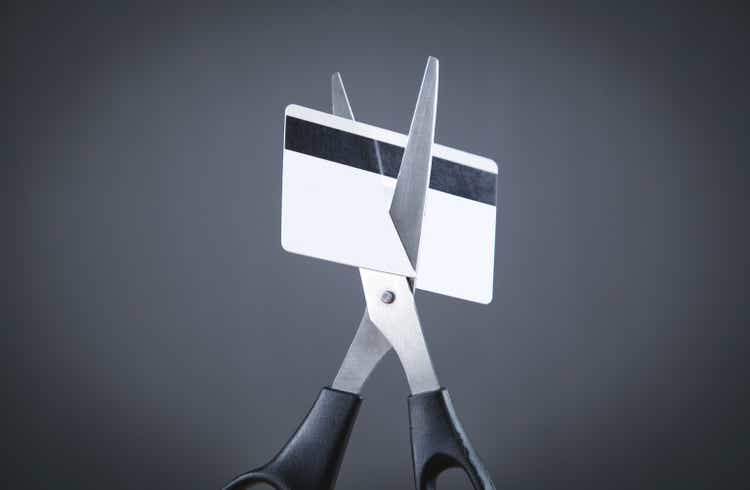 For an in-depth analysis of Affirm's (NASDAQ:AFRM) business, I'd like to direct readers to my Affirm deep dive article. This is a review of Affirm's Q3 earnings. Enjoy!
Investment Thesis
CEO Max Levchin recently released a note, discussing how Affirm's technology would help the company adapt and respond to an economic downturn. In essence, Affirm is challenging the status quo by disrupting the traditional credit card industry. This is achieved by 1) creating a powerful two-sided network; 2) preserving SKU-level data; 3) underwriting every transaction; 4) building a brand of trust and transparency and; 5) making its services widely available.
Traditional credit cards do not fulfill these five elements, and that could be the reason why buy now pay later (BNPL) will eventually achieve ubiquity, thus, declining the overall use of credit cards.
In Max's own words, Affirm "was conceived as something of an anti-credit card." And that is the ultimate bull thesis for Affirm.
Growth
Q3 Revenue was $355 million, a 54% YoY increase. This beat analyst estimates by 3%. Here's a breakdown of each of its Revenue segments:
Merchant Network — $121 million, up 24%. The underperformance of this segment is due to the reduction in the concentration of long-term 0% APR loans, which has the highest merchant fee among other products. On the hand, there's increased adoption of short-term Split Pay, which has lower merchant fees.
Virtual Card — $23 million, up 68%. The outperformance of this segment is due to the increased consumer adoption of virtual cards, which allows them to shop with merchants that are not fully integrated with Affirm. Marqeta (MQ), which powers Affirm's virtual card programs, processed 75% more Gross Merchandise Volume (GMV) in Q3, than the same period a year ago.
Interest Income — $135 million, up 42%. The underperformance of this segment is due to an increase of only 21% in the average balance of loans held for investment in Q3. Interest Income is correlated to the size of loans held for investment.
Gain on Sales of Loans — $52 million, up 221%. The outperformance of this segment is due to higher loan sale volume and pricing terms. In particular, Affirm sold loans with an unpaid balance of $2 billion in Q3, compared to just $757 million in the same quarter a year ago.
Servicing Income — $23 million, up 194%. The outperformance of this segment is due to the increase in the average unpaid balance of loans as mentioned earlier. Do note that Affirm retains servicing rights for all loans on its balance sheet, and Affirm earns servicing fees for being the servicer of these loans.
As you can see, growth was primarily driven by the issuance of virtual cards, sales of loans, and servicing income.
Revenue also grew due to robust GMV growth. In Q3, GMV reached $3.9 billion, up 73% YoY. Notice that GMV growth outpaced Revenue growth. Again, this is due to the increasing concentration of short-duration loans, which have lower merchant fees. Nonetheless, here are some highlights in terms of GMV growth:
General merchandise grew 448% YoY to $670 million. However, this is down by roughly $200 million from Q2, which is the holiday season.
Sporting goods and outdoors dropped 21% YoY or 20% QoQ, to $425 million due to a 40% decline in connected fitness merchants such as Peloton.
Ex-Peloton GMV grew by 97% YoY.
Travel and ticketing grew 122% YoY or 50% QoQ as the economy reopens.
PayBright GMV, Affirm's Canadian operations, grew 198% YoY.
GMV growth was due to Affirm's ever-expanding network. Active Merchants grew 1,700% YoY to 207k as Shopify (SHOP) merchants continue to adopt Shop Pay Installments powered by Affirm.
Active Customers growth also remained strong, growing 137% YoY to 12.7 million as buy now pay later continues to gain greater acceptance. In Q3, Total Transactions grew 162% to 10.5 million. As such, Transactions per Active Customer was 2.7 in the quarter, the highest it has ever been. Transactions from repeat customers also represented 81% of Total Transactions.
Despite explosive growth over the last few quarters, I believe that Affirm is still in its early stages. As mentioned earlier, Affirm is disrupting the credit card industry through its:
Powerful two-sided network
SKU-level database
Ability to underwrite every transaction
Brand of trust and transparency
Distribution strategy
That last component is the most important piece of the puzzle, the most crucial element in achieving ubiquity. Max Levchin understands this and that's why Affirm has been partnering with the biggest retailers in the US, enabling the company to address more than 60% of US e-commerce. These partners include Amazon (AMZN), Shopify, Walmart (WMT), Apple (AAPL), and Target (TGT). Management also mentioned that no partner has more than 10% of GMV or Revenue in Q3, so Affirm's BNPL penetration is barely scratching the surface here.
Here are some of the most notable partnerships as of recently:
Amazon — Affirm will be the exclusive BNPL provider for Amazon through January 31, 2023.
Shopify — Affirm extended its multi-year exclusive partnership with Shopify. According to BuiltWith, there are 3.9 million websites using Shopify. So far, Affirm in the US has enabled 100,000+ Shopify merchants to offer consumers to pay over time, which means very low penetration.
Fiserv (FISV) — Affirm will be fully integrated with Fiserv's Carat operating system, which will enable Fiserv's enterprise merchant clients to embed Affirm's Adaptive Checkout. This is an important development because it enables "thousands of financial institutions and millions of people and businesses worldwide" to use Affirm's technology.
WooCommerce — WooCommerce has about 3.7 million merchants on its platform. In my Shopify deep dive, I mentioned that WordPress owns WooCommerce and that it is one of Shopify's main competitors. Why? Because WordPress has a 64.1% market share in the content management systems category, compared to Shopify's 6.4% share. If Affirm extends its partnership with WordPress, that could bring powerful network effects for the BNPL provider.
Stripe — Stripe is a financial infrastructure juggernaut. According to Backlinko, there are 3.1 million merchants using Stripe. According to Stripe, the company processed $640 billion of payment volume and is now working with 50+ category leaders (companies that processed $1 billion+ in volume). With this partnership, Affirm's Adaptive Checkout will be available to Stripe users in the US.
Affirm has just established these partnerships, and therefore, could serve as strong growth catalysts for the company for the next few years. For Affirm, its distribution channels are incomparable. Affirm's industry-leading BNPL feature, coupled with a solid distribution strategy, will accelerate adoption to new levels, fulfilling its vision as anti-credit card.
In addition, Affirm has yet to fully launch its Debit+ card program. During the JP Morgan 50th Annual Global TMC Conference, CEO Max Levchin gave a teaser of what Debit+ could be in the future. This is well beyond what I expected, and it could be huge for Affirm:
Like I'm very, very committed to Debit+ vision, because I think it's the right thing for consumers. We haven't set a too loudly before, but one of things we're going to do is we're going to license out our partner with any card, debit card issuer who wants to add Debit+ functionality to their card.

Not so much because we see that as a massive profits out of it, because it is really the right thing for the end consumer. So if you're Credit Union or Regional Bank who don't have access to the yields that credit card issuers have, we will offer you our Tech Stack, we built it explicitly for that purpose. So our card is hopefully one of many Debit+ branded cards where Debit+ is the enabling technology and not to the underlying lenders.
Profitability
Turning to profitability, Revenue Less Transaction Costs, or Gross Profit, grew 37% YoY to $182 million. This is a 51% Gross Margin. Gross Profit as a % of GMV was 4.7%, which is higher than management's long-term target of 3% to 4%.
Gross Margin dropped from 58% to just 51%. The earnings release explains why this is happening:
Total revenue less transaction costs increased 37% to $182.4 million, primarily as a result of strong revenue growth, funding cost efficiencies, and a decrease in loss on loan purchase commitment, offset by increased provision for credit losses. Provision for credit losses grew from negative $1.1 million a year ago to $66.3 million, as the year-ago figure included a significant release of excess COVID-related loan allowance, while this year's figure reflects the more normalized credit environment. Excluding the provision for credit losses, revenue less transaction costs increased by $116.1 million or 88%.
For those who may not know, Provision for Credit Losses represents management's estimate of future credit losses. So, last year, management reduced the allowance for credit losses due to two reasons: 1) stronger-than-expected repayment performance and 2) transitioning to a new underlying data model.
And this year, management increased the allowance for credit losses due to the increase of higher risks loans on its balance sheet as well as the rapid growth of its platform fueled by recent partnerships.
As shown below, if we remove the estimated Provision for Credit Losses, Transaction Costs Ex-Provision as a % of GMV is actually improving. In fact, it's the lowest it has ever been, demonstrating that Affirm is benefiting from economies of scale.
Moving on, Operating Loss for Q3 was $(227) million, which is a painful (64)% Operating Margin. While it is an improvement from last year's (91)% Margin, the widening Operating Losses on an absolute basis is still concerning. This is due to a ramp-up of Sales and Marketing expenses, which includes a $102 million of expenses related to warrants granted to Amazon. In addition, Affirm spent $98 million on Share-Based Compensation in Q3, which is a 28% margin.
So adjusting for these two items, we arrive at an Adjusted Profit of just $4 million, which is a 1% Margin. This is certainly not the best margin profile, but at least the company is not burning extreme levels of cash.
On the other hand, Net Loss for the quarter was $55 million. The vast difference between Operating Loss and Net Loss was due to a $136 million gain based on the change in fair value of the contingent consideration liability associated with PayBright. Thus, there's nothing to be excited about.
All in all, Affirm seems to be showing signs of economies of scale. However, as expected, Affirm has yet to show consistent Operating profitability as the company is investing heavily in growth.
Financial Health
Affirm currently has $2.3 billion in Cash and Short-Term Investments, with about $4.2 billion of Total Debt. This puts the company's Net Debt position at $1.9 billion. The company also has a Current Ratio of 29x, which is very healthy.
Affirm ended the quarter with $9 billion of Funding Capacity which includes warehouse lines, forward flow agreements with whole loan buyers, and ABS securitization. In addition, Affirm just closed another $500 million ABS transaction and a $500 million forward flow agreement with a large insurance company. ABS securitization represents roughly $8 billion of volume. Affirm also mentioned that the company has attracted numerous blue-chip investors in its capital program, which positions the company well to expand its Funding Capacity through the $1.5 trillion ABS market. Following the recent transactions, Affirm's current Funding Capacity is at about $10 billion.
Affirm categorizes the risk profile of its Loans Held for Investment using its proprietary scoring system, ITACS. In a nutshell, the higher the score (max 100), the higher the credit quality of those loans. As you can see below, the ITACS score of loans rated 94 and above has fallen from 90% in FY2020 Q4, to just 81% in Q3 this year. This means that Affirm expects higher credit losses going forward. This may be concerning if the macroeconomic environment worsens, which could increase delinquency.
Here, we can see that delinquency rates have surpassed levels from each of the past three years — this could be a symptom of a larger issue.
Affirm is also still Free Cash Flow negative, burning $(190) million of cash in the last twelve months. However, Affirm has a large cash holding of $2.3 billion so the cash burn is more than sustainable. Furthermore, Affirm's weighted average term lengths of its loans are just 5 months, which is short in duration, and therefore, should present less risk for Affirm. Nonetheless, we can't ignore the potential damage that can rain down on Affirm during an economic downturn.
Outlook
Management provided the following midpoint guidance. Keep in mind that this does not take into account contributions from the launch of Debit+. I have also provided the YoY growth/margins to give further context to the numbers.
As you can see, management expects Q4 GMV to grow by 61% YoY to $4 billion. The slowdown in growth is due to tough YoY comps where GMV grew by 106% in Q4 last year, as well as lower GMV contribution from Peloton. For the full year, GMV is expected to grow by 82% to $15 billion+.
On the other hand, management expects Q4 Revenue to grow by only 34% to $350 million. This is due to the continued growth of short-duration installment plans, which generally have lower merchant fees than long-duration loans. In particular, Affirm expects Split Pay to contribute at least 20% of FY2022 GMV, with the largest contributor coming from Shop Pay Installments. For the full year, management expects Revenue to grow by 53% to $1.3 billion+.
Gross Margin is also expected to drop to 46% and 48% in Q4 and FY2022, respectively. My gut tells me that management is increasing Provision for Credit Losses as the company navigates through a tough macroeconomic environment.
As a public company, Affirm has a perfect track record of beating Revenue estimates, although the surplus is inching closer to zero. Nevertheless, the long-term growth story for Affirm remains intact. The rollout of Debit+, the continued momentum within existing partnerships (Shopify, Amazon, etc.), and the establishment of new partnerships (Stripe, Fiserv, etc.), may very well propel the company upward and forward, well beyond expectations.
Valuation
Valuing Affirm is extremely difficult due to four reasons: 1) Affirm is a recently-IPOed company; 2) BNPL is still a nascent category; 3) Affirm is still unprofitable; and 4) there are little to no comparable companies in the public markets today.
As such, we can only use valuation multiples to gauge whether we're paying the right price for Affirm. As you can see below, Affirm is trading at an EV/Sales multiple of 4.9x today, and the company has traded as high as 40x previously. Therefore, we can say that the selloff has at least provided investors with a large margin of safety.
The same goes for EV/Gross Profit multiples, the company now trades at 13.9x. Historically, that figure has reached a nosebleed valuation of 180x. Again, we can see that the multiple compression has provided compelling value for investors. Furthermore, Affirm is a much larger and fundamentally stronger company today given the rapid growth of its consumer-merchant-partner ecosystem.
Affirm has lost nearly 85%+ of its value in the last few months, and it seems that a lot of fear, uncertainty, and doubt has been priced in. Given Affirm's disruptive nature, proven business model, and top-class management, it may actually be a good time to accumulate shares of this anti-credit card company at current price levels.
Risks
Losing Partnerships — Part of Affirm's bull thesis is predicated on its partnerships with major players such as Amazon, Shopify, and Stripe. If Affirm were to lose any of these partners, the markets would punish the stock mercilessly. However, management is very confident that Affirm will continue to be close partners with them due to its deep technological moat and high customer satisfaction as a result of using its technology. For example, during the JP Morgan 50th Annual Global TMC Conference, CEO Max Levchin talked about the company's partnership with Amazon:
If you look at Amazon's reviews by the way, Amazon's reviews everything like I – I'm not sure there's something they don't review, but they have reviewed program for their payment instruments. I believe at least last I checked, we were the highest reviewed way to pay for anything on Amazon, and that is the enabling condition for Amazon say, you know what this is a partner we'd like to invest with or invest into bringing out to more consumers. So I feel very, very bullish on where that goes.
Competition — There are other BNPL providers such as Klarna, Afterpay, PayPal (PYPL), Sezzle, and so on. While competition may be a headwind for growth, CEO Max Levchin remains confident about Affirm's competitive positioning given the struggles some of its major competitors are facing:
Well I think if your competitors are going from 100% year-on-year growth to 15% year-on-year growth, a merchant might think twice about integrating with them, because they're clearly choking their growth engine which means that their approvals are going to go real down. And the other, I mean competitor who partner with has just on a massive layoff. So between those two, I feel extra good about my competitive options today.
Rising Default Rates — As mentioned earlier, Affirm's delinquency rates have risen above 2019, 2020, and 2021 levels. If the economy worsens, delinquency rates may spike to unsustainable levels. On the contrary, CEO Max Levchin believes that an economic downturn would actually be a tailwind for Affirm. At the same time, Affirm underwrites every single loan application so its technology will be able to discern, with high probability, which loans will be repaid or not, thus minimizing delinquency. These are his closing paragraphs in his recent note Underwrite or Lose (Money)!:
I should mention that during the very brief recession of 2020, we saw applications nearly quadruple at many of our merchants almost overnight. Looking ahead, we believe that the secular trend for paying over time without fees and gotchas will continue to strengthen across cycles.

It is our mission to improve people's lives, and we fully intend to rise to the occasion and meet this demand — and we absolutely plan to maintain strong unit economics by only extending credit that we believe can and will be repaid. Hopefully, this gives you a pretty good sense of what one might expect from Affirm in a downturn.
Conclusion
During the JP Morgan 50th Annual Global TMC Conference, CEO Max Levchin mentioned the following:
The way disruption works is, you find an opportunity where someone has made it their business to not do the right thing by their customer, and you show up with a better product, but you also align yourself with that customer interest.
Credit cards are in fact great products. But they're never really aligned with customer interest. They are notorious for their hidden fees, late fees, overdraft fees, interchange fees, interests, commissions, ATM fees, and so on.
That's why Affirm was born — to deliver honest financial products that improve lives.
Affirm's platform is powered by its two-sided network, SKU-level database, granular underwriting ability, trustworthy brand, and unmatched distribution strategy.
All these elements, combined together, will pave the way toward ubiquity, toward being the go-to anti-credit card payment option for everyday consumers.