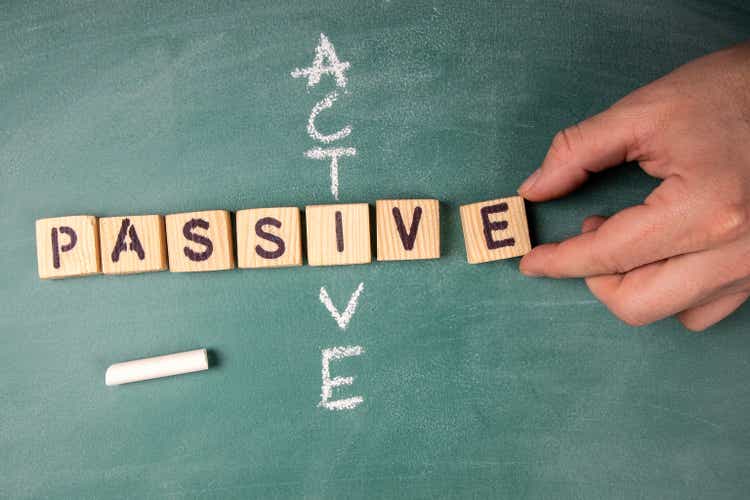 2022 has thus far seen a sizable pullout from passive index funds like the SPDR S&P 500 Trust ETF (SPY) in favor of actively managed funds. While this might be surprising to those who believe that the logic is bullet proof that passive index investing is a superior method of investing to active investing, when you take a look under the hood at what funds like SPY really are, the trend away from such funds in favor of actively managed funds in the current environment makes much more sense. In this article we will look at what is driving this trend and the ramifications for investors in the current environment.
Over the past decade, investing in low-cost passively managed index funds like SPY, the Invesco QQQ ETF (QQQ), and the Vanguard S&P 500 ETF (VOO) has exploded in popularity. The incredible rise in the assets under management for both of these funds says it all: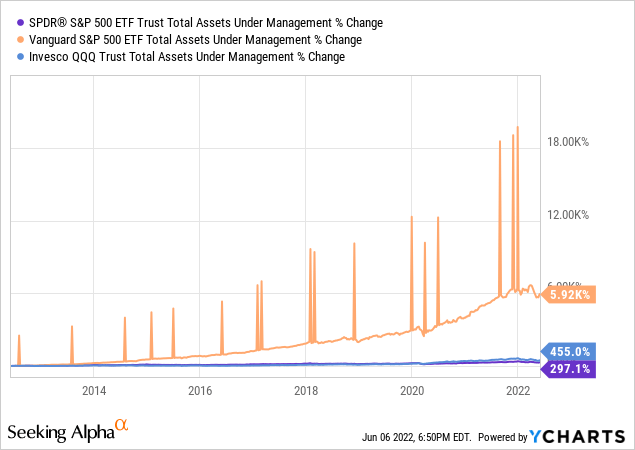 The three main tailwinds for the rise of this trend were as follows:
Investing in a large passive index fund is extremely easy. Virtually all brokerages and financial advisors offer these products, it requires no real research or homework on the part of the investor, it is an extremely liquid investment, it has a lengthy proven track record, and is extremely easy to monitor since all of the mainstream news channels and websites cover the major indexes.
A decade of quantitative easing, low interest rates, and low inflation along with rapid technological advancement and continued globalization led to prosperous economic conditions. This meant that many consumers had plenty of excess cash flow, which made saving easier than ever. With the stock market booming, investing in the stock market became increasingly popular as a means of compounding wealth.
Last, but not least, the internet, several popular products like the book The Simple Path To Wealth, the FIRE (financial independence retire early) movement led by cult-like heroes such as Mr. Money Mustache, and even a famous bet by world-renowned investor Warren Buffett popularized investing in low-cost passively managed index funds. The logic behind all of these infomercials for this investing strategy is essentially that the market is largely efficient, making it extremely difficult for any single fund manager to consistently outperform the market. Furthermore, since passive index investing is simply rules-based and can be run entirely by computer algorithms, it is inherently cheaper than virtually all forms of active investing. As a result, since by definition the pre-expense performance of the total stock market equals the total pre-expense performance of all combined active investors, it is a simple mathematical fact that passive investment will outperform active investment in general.
While the case for passive investing is certainly compelling and served low-information retail investors quite well over the past decade, over the past few years active investing seems to be making a comeback. This comeback is especially intriguing given that in recent months passive investing strategies have seen assets under management decline meaningfully while active investing strategies continue to see large inflows.
For example, year to date, SPY has seen assets under management decline by over 18% and QQQ has seen assets under management decline by an even greater amount:
While some of this is simply due to the stock market declining, in the case of SPY particularly, there has been a clear ~500 basis point decline in excess of just the stock price movements: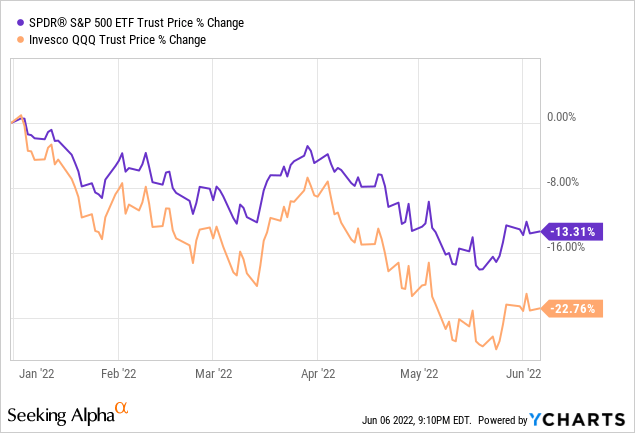 In contrast, actively managed ETFs reportedly have had net inflows for 25 straight months. In April alone, actively managed ETFs had $10.44 billion in net inflows and year to date the net inflows to these funds have totaled $43.42 billion.
The reasoning behind this shifting behavior is revealed when we see the top four actively managed funds by net new assets in April:
JPMorgan Equity Premium Income ETF (JEPI)
Hwabao WP Cash Tianyi Listed Money Market Fund
JPMorgan Inflation Managed Bond ETF (JCPI)
Invesco DB Optimum Yield Diversified Commodity Strategy No K-1 ETF (PDBC)
One of these is a low-risk money market fund designed to serve as a safe haven during a market downturn, two are inflation hedges (JCPI and PDBC), and two are income-oriented (JEPI and PDBC).
As we recently discussed, in the current environment of high inflation, rising interest rates, and increasing likelihood of recession, a diversified portfolio of high quality high yielding stocks and defensive inflation-resistant assets are likely to outperform the broader market, especially high multiple growth stocks.
This reality is what exposes the main weakness of the large passive index funds like SPY right now: they are almost always market cap weighted. After the massive run-up in big tech stocks over the past decade, the S&P 500 is dominated by mega cap tech stocks which are proving to be more sensitive to current macroeconomic trends than commodities and high yielding quality defensive dividend stocks. Amazon (AMZN), Netflix (NFLX), Meta (FB), Tesla (TSLA), and even Apple (AAPL) have all underperformed year to date, weighing heavily on the performance of SPY.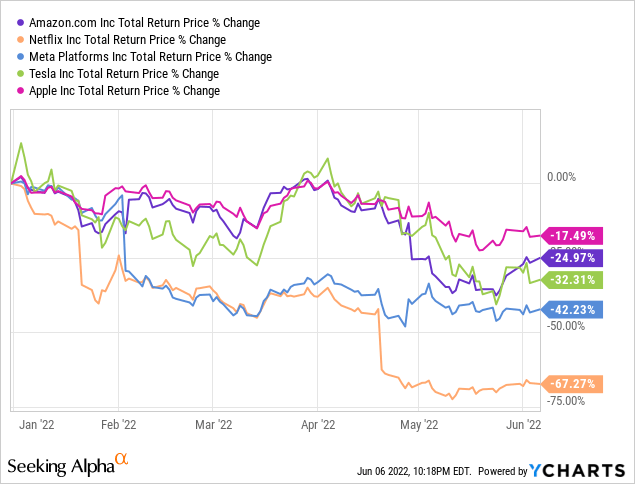 It is the simple fact that a passive investment in SPY is really an overweight bet on mega cap tech in an environment that is proving to be anything but friendly to that sector that is likely pushing many investors out of index funds like SPY and into actively managed funds that are focused on fighting inflation and generating reliable income.
Investor Takeaway
Passive investing in S&P 500 index funds is no longer roughly equivalent to a balanced bet spread across the entire economy. Rather, due to the significant concentration of stock market returns in mega cap tech companies over the past decade, market cap weighted index funds have become heavily concentrated in these very same companies.
Now that we are in an environment that is less favorable for higher multiple growth stocks that pay out little to nothing in dividends, funds like SPY are suffering underperformance relative to sectors like commodities, energy (XOM), and defensive high yielding stocks like REITs (VNQ), MLPs (AMLP), and utilities (XLU).
The takeaway here is that retail investors who thought they had cracked the holy grail of investing by simply buying and holding a passively managed market cap weighted index fund like SPY can no longer live under the illusion that such an investment is truly "buying the whole market." Instead, they are really primarily betting on mega cap tech. As a result, in environments such as the one we currently find ourselves in, investors might be better served looking to build a portfolio more heavily weighted towards high yielding stocks spread across inflation and recession resistant sectors.
Investors should note, however, that both the Hwabao WP Cash Tianyi Listed Money Market Fund and JCPI are unlikely to deliver outsized long-term returns as they are both conservative bets for hedging against certain macro-economic outcomes. Meanwhile, JEPI uses a covered call strategy to harvest attractive options premiums during periods of elevated volatility, thereby offering investors a juicy yield at a pretty low expense ratio. Finally, PDBC is a leveraged bet on commodities via futures contracts, so over longer periods of time it can be a highly risky investment. As a result, while these funds are seeing massive inflows of capital in the current environment, they may not be suitable for those looking for a strategy that they can stick with for a long period of time.
Instead, investors might want to build a diversified portfolio of investment grade, undervalued, and recession and inflation resistant high yielding income stocks like W. P. Carey (WPC), Energy Transfer (ET), and ATCO (OTCPK:ACLLF) similar to what we are doing at High Yield Investor. This method has also weathered the current market tumult very well and we expect it to continue delivering strong results for years to come.