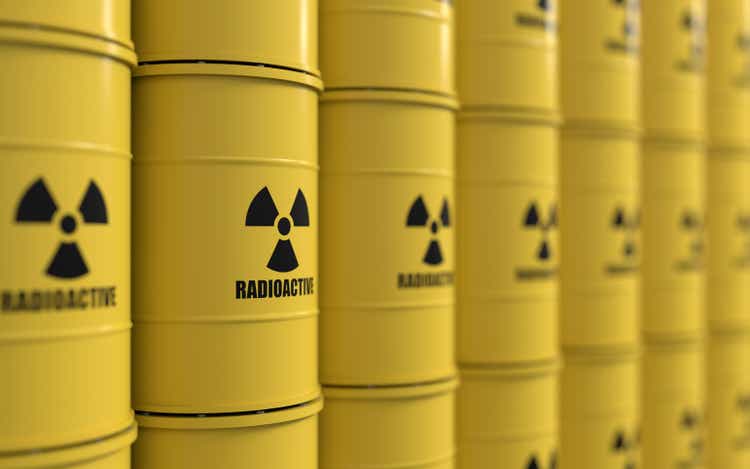 Investment Thesis
Cameco Corporation (NYSE:CCJ) is going to be one, of a group of uranium stocks, to benefit if Congress passes a bill to sanction the import of uranium from Russia.
Yesterday there was a key development that saw a lot of interest return to this area of the market.
I remain bullish on Cameco, noting that if Russian uranium sanction takes place, this is going to meaningfully change the supply-demand balance of the equation, and investors could be very well setup to benefit from this valuation.
I rate the stock a buy.
Recent Developments Pique Investor Interest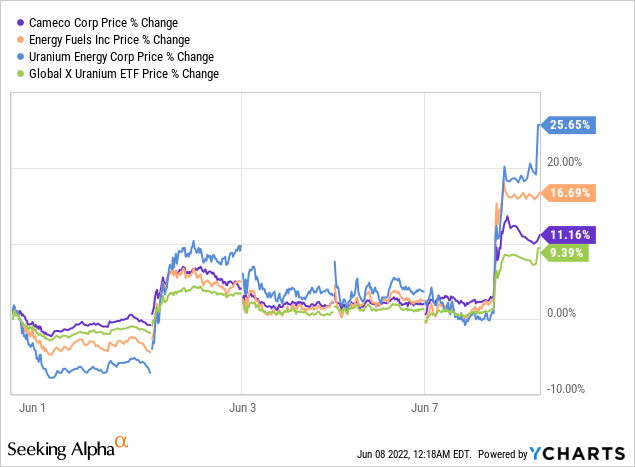 Late yesterday there was a development that affected most uranium stocks. On the one hand, it was nothing fundamentally new in the story. It has been talked about for some time about the need to get beyond the reliance on Russia's enriched uranium.
Ever since the Russian sanctions got started, US utilities' demand for uranium, had somehow, stayed under the radar.
And what we now know is that with populistic politics front and center, there is going to be an increased thrust to get this bill approved by congress.
As you may recall, there's a difference between mining for uranium and enriching uranium. US-based utility companies use about 5% of enriched uranium in electricity generation.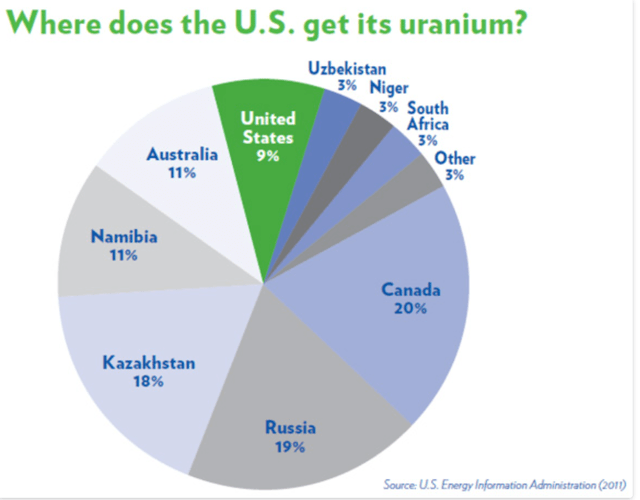 Getting hold of uranium is one thing. But getting hold of enriched uranium is another thing. Russia makes up 23% of the enriched uranium needed to power US commercial nuclear reactors.
Yet, up until now, despite countless sanctions against Russia, nuclear fuel has not been on the sanction list. That being said, there is some supply disruption in getting hold of this uranium.
Firstly, if you are going to insure a ship coming out of Russia with enriched uranium, it now becomes cumbersome and costly.
Secondly, Kazakhstan, one of the biggest uranium exporters in the world, has typically exported uranium out of St. Petersburg, Russia. And this has the possibility of running into the same logistical problems.
Together, it could be said that the two countries make up about 40% of the uranium exports in the world. And they are now ''offline''.
Indeed, consider Kazatomprom (London listed stock), Kazakhstan's national operator for the export of uranium.

The stock has gone practically nowhere in the last few months. That's despite the uranium spot market starting to move higher. Albeit with a lot of volatility.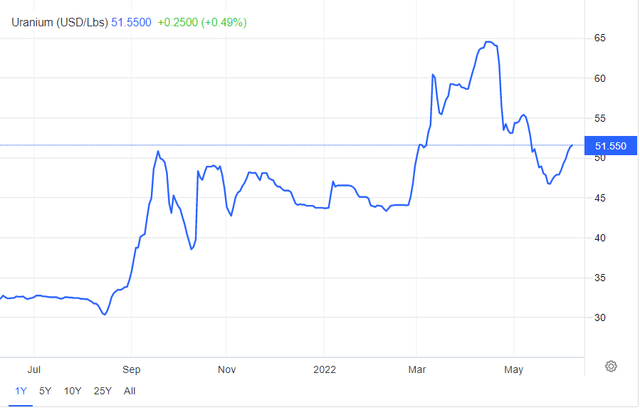 And the reason why Kazatomprom hasn't gone anywhere is that investors are now starting to consider the business' near-term prospects aren't looking all that rosy.
Meanwhile, if you follow this space you'll know that Sprott Physical Uranium Trust (OTCPK:SRUUF) has been set up to sequester excess uranium.
However, given that from April into May there was a decidedly ''risk-off'' approach to equities, this caused investors to sell off from Sprott. And this, in turn, stopped this long-only uranium spot ETF market-buyer, to spot purchasing uranium.
So now, you are getting a lot of different forces acting together, in what was already a tight market.
I'm not saying that this stock is for investors looking to make a killing in 2022. That's not what I'm saying. I'm saying that the stock is attractively priced.
CCJ Stock Valuation - 5x Sales
Cameco is priced at approximately 5x this year's revenues. On the surface, this doesn't seem all that interesting. But this multiple considers no upside potential for this key crucial development.
I believe that right now, there's only some flimsy evidence on the fringes starting to emerge. There's nothing tangible. But at the same time, investors right now are not being asked to pay for anything tangible.
During a recent conference call, Cameco's management said that the uranium industry is in ''the early innings of a contracting cycle''. Why is this important? Because uranium isn't as fluid a market as that for other commodities.
Until utilities start to contract for uranium, there's no bid in the market, so there's no way of really knowing what the ''true'' price of uranium actually is.
The Bottom Line
You can view an investment in Cameco as an option. Clearly, paying 5x sales is much more expensive than an option. But with an option, if you are wrong, you lose your capital. And most options traders do end up losing their capital.
With Cameco, if Congress doesn't pass the bill and events don't develop favorably, the downside is relatively muted. After all, this is hardly a very exciting area of the market.