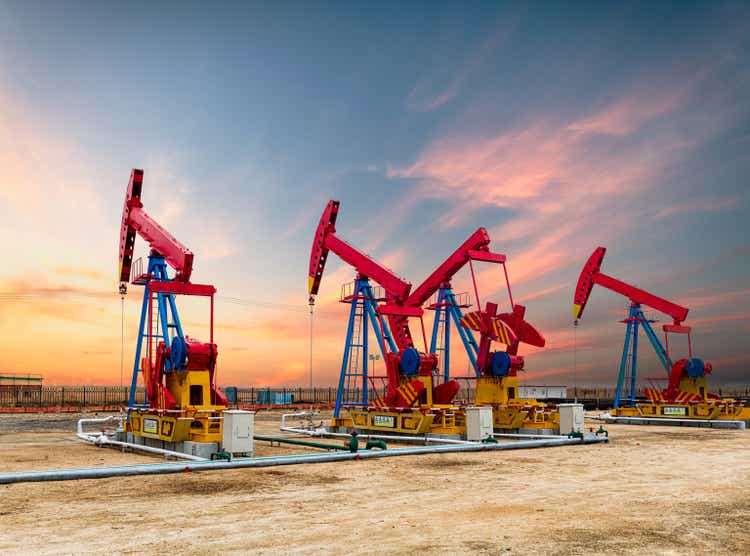 Investment Thesis
Gran Tierra Energy (NYSE:GTE) is a company focused on oil and gas exploration and production in Colombia and Ecuador.
Yesterday, Gran Tierra announced that it had substantially improved its debt profile.
I remark that the one detraction from my bullish investment thesis is that Gran Tierra intends to operate with 25% to 40% hedged production. I'm not entirely convinced this is the right strategy, particularly in light of its improved balance sheet.
That being said, at approximately 3x free cash flow, there's a lot of potential for Gran Tierra's stock to positively impress shareholders.
Consequently, I rate Gran Tierra a buy.
Gran Tierra Energy's Near-Term Prospects
Yesterday, Gran Tierra noted that it has begun to ramp up production in the latter half of Q2 2022.
The newly drilled Acordionero and Costayaco oil wells assisted Gran Tierra's last 16 days' average to increase to 33,140 BOPD. This is a 74% y/y increase in production compared with 18,976 BOPD in Q2 of last year.
For further context, this is a 12.9% sequential increase from Q1 2022, when Gran Tierra's production was an average of 29,362 BOPD.
More oil production together with high oil prices, when combined with a low stock valuation is often a good combination.
Capital Allocation Policy
In my previous bullish article on Gran Tierra, I noted that the company had no capital allocation policy.
For now, Gran Tierra is focused on deleveraging its balance sheet. When Gran Tierra reports its Q2 results, it will have about $550 million of net debt or less.
To put this figure in context, Gran Tierra intends on exiting 2022 with a net debt profile of 0.8x, with year-end net debt of under $400 million.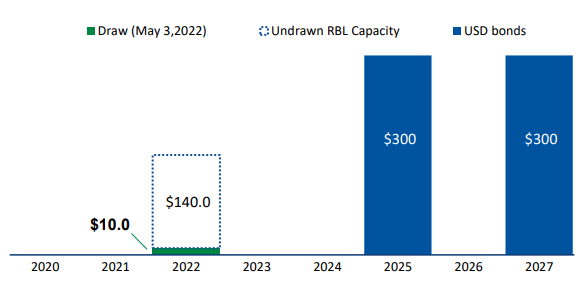 What's more, as you can see above, Gran Tierra has no debt stack until 2025. And the debt that is due in 2025 and 2027 has a weighted average interest rate of approximately 7%.
Accordingly, I see no sudden urge to pay down debt carrying mid-single digits interest rates when Gran Tierra's equity yield is reach close to 30%.
One Negative Consideration to Keep in Mind
Gran Tierra is openly stating that it will hedge 25% to 40% of its oil production on a rolling basis.
If you are a low-cost operator, with practically no near-term debt, why would you want to hedge out your upside potential?
Yes, it does give you more visibility into your cash flows. But I'm not sure that at this point in the cycle investors want to ''pay'' for visibility.
GTE Stock Valuation -- 3x Free Cash Flow
Depending on where you see Gran Tierra listed, you may have to convert its market cap into USD.
Back in May, Gran Tierra believed that it could see around $200 million of free cash flow this year. That is a high-end figure announced at the time, see below.
What we know today is that brent is at $120. That's 26% higher than the base case listed above.
We also now know that Gran Tierra's average production has reached 33.1 kbopd, which is 1.8% higher than the high end of its previous guidance.
Altogether, I believe that means that on a run rate, Gran Tierra could make around $250 million of free cash flow, rather than the $200 million previously expected.
This would put the stock priced at about 3x free cash flow going forward.
The Bottom Line
WTI is sizzling higher. And the bearish thesis is that with oil prices moving higher, we'll soon reach demand destruction. If that would happen, oil prices would sell-off.
Furthermore, if we end up in prolonged economic contraction, Gran Tierra's share price would dramatically and rapidly implode.
That being said, despite acknowledging those bearish considerations, I continue to believe that demand for oil will remain elevated. And until enough supply floods the market to balance the demand side of the equation, WTI prices will continue to be strong.
What's more, if at the start of 2022 investors believed that this oil price boom would be short-lived and at the maximum likely to sustain itself for the whole of 2022, right now investors are starting to scratch their heads and reconsider this point of view. Right now, investors are starting to weigh up whether or not high oil prices are likely to remain all the way into 2023.
In the case of Gran Tierra, investors are now asked to pay for 3 years' worth of cash flows at these prices. After that, Gran Tierra provides all its cash flows up until terminal value for free. Something for you to ponder over.