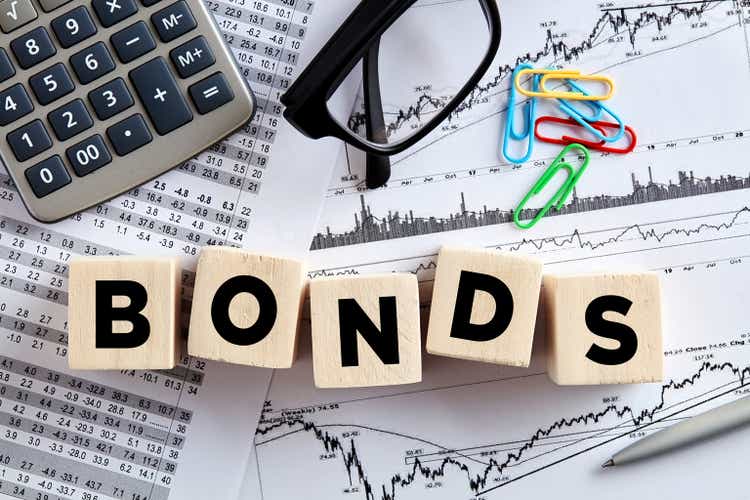 Thesis
John Hancock Investors Trust (NYSE:JHI) is a closed-end fund ("CEF") focusing on corporate fixed income. The fund's primary objective is to generate income with capital appreciation as a secondary objective. The fund has a bar-belled high yield / investment grade vehicle:
The Fund may invest up to 70% of its net assets (plus borrowings for investment purposes) in debt securities rated below investment grade, commonly known as "junk bonds." [...] The Fund will not acquire any additional preferred securities or common stock if as a result of that acquisition the value of all preferred securities and common stocks in the Fund's portfolio would exceed 20% of its total assets.

At least 30% of Fund's net assets (plus borrowings for investment purposes) will be represented by A) debt securities which are rated, at the time of acquisition, investment grade (i.e., at least "Baa" by Moody's Investors Service, Inc. ("Moody's") or "BBB" by Standard & Poor's Ratings Services ("S&P")) or in unrated securities determined by the Subadvisor to be of comparable credit quality, BB) securities issued or guaranteed by the U.S. government or its agencies and instrumentalities, and C) cash or cash equivalents.
Source: Annual Report
The current fund composition is reflective of its mandate, with over 60% of the portfolio invested in high-yield credits. As we can see from the fund literature, the vehicle also has the ability to invest up to 20% in preferred securities, but that allocation is fairly muted currently, accounting for only 4.13% of the fund. Please note that JHI has a global mandate, and one can observe that more than 20% of its underlying issuers are international corporates currently.
The fund is down more than -20% year to date due to the violent rise in risk-free rates and embedded leverage in the vehicle. JHI is now trading toward the bottom of its 5-year range, levels not seen since the last time we had a significant shift up in the yield curve coupled with a corporate spread widening, namely the end of 2018. The vehicle is also now trading at a significant discount to NAV of -5.13%, although not a historic wide level. We feel that for a buy-and-hold retail investor, JHI represents a compelling proposition that exposes long term results that compare very favorably with larger and more well known peers such as BTZ and JNK. We therefore rate it a Buy with a 2+ years holding period in mind.
CEF Metrics
AUM: $0.13 bil
Leverage Ratio: 39%
5Y Sharpe: 0.26
St Dev: 13.12
Premium/Discount: -5.13%
Z-Stat: -1.78
Fund Type: Hybrid (IG/HY Allocation)
Holdings
JHI is a corporate bond fund and that is the largest allocation: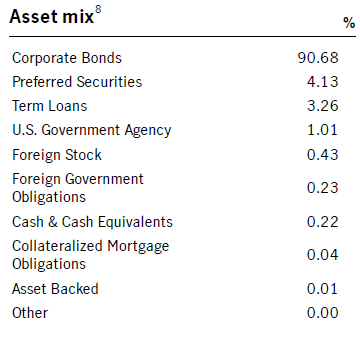 The fund has a broad mandate and it can allocate up to 20% of its portfolio to preferred securities, but we have seen the managers maintain a constant focus on corporate bonds. On the rating split, we can see the bar-belled approach with over 60% of the portfolio in high yield credits while approximately 26% of the issuers are investment grade: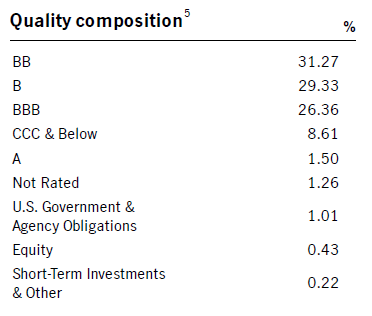 Although not present in the fund fact sheet, the fund does disclose its underlying issuers' country of domicile in its annual report:
We can see that JHI is a U.S. centric fund, with over 70% of the underlying issuers being U.S. entities. In terms of foreign jurisdictions, please note that the fund invests usually in large well known names - for example, most of the Mexico exposure is constituted by Pemex bonds held by JHI. Pemex is the Mexican state-owned petroleum company managed and operated by the Mexican government and a name that has a large presence in the USD corporate bond market.
A closer look at the top issuers in the fund by concentration reveals many well-known North American corporates:
Performance
Just like all fixed income CEFs, JHI is down on a year to date basis:
We are comparing JHI here with an investment grade bond CEF, BlackRock Credit Allocation Income Trust IV (BTZ), and with a well established robust high yield ETF in SPDR Bloomberg Barclays High Yield Bond ETF (JNK).
JHI compares favorably to the competition on a 5-year time frame:
We can see that JHI has a similar performance to BTZ when looking at total returns in the past 5 years. Both funds outperform the unleveraged high yield ETF JNK.
During the past 5 years we can see that the fund has a nice established trading range that spans $14 - $19/share. The trading range was breached only during the Covid-19 market panic when high yield was priced for substantial defaults. The only other time the bottom of the range was visited occurred during the rate hike regime of late 2018.
Distributions
Unlike other CEF peers, John Hancock Investors Trust has a quarterly distribution. Furthermore, the distribution is variable: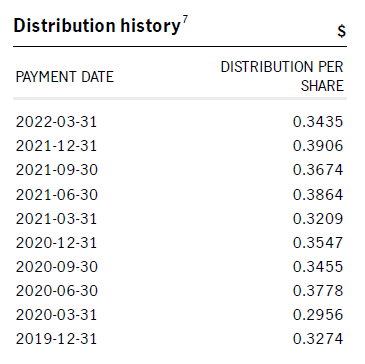 The quarterly distributions come from investment income, while capital gain distributions, if any, are typically distributed annually.
We like the fact that the fund has a variable distribution policy because it lets the managers to adjust distributions based on the underlying assets cash-flows. However, the fund does exhibit return of capital traits / NAV destruction:
We can see that on a decade-long basis, the fund NAV has decreased by -20%, which translates into an annual give-up of -2%. This means that an investor is not really getting the fund dividend yield, but in actuality the yield minus 2%. The NAV destruction is the result of poor trading decisions by the fund and / or return of capital actions (when a fund pays more dividends than the underlying assets generate).
In this day and age, many funds have changed to have a managed monthly distribution so that they can attract more retail capital through a well-defined dividend yield. We like the fact that JHI is more "old-school" and has not changed its policies to become more marketable, but at the same time the NAV give-up on a long term basis does not speak very favorably around getting this concession.
Premium / Discount
The fund is currently trading at a -5.13% discount to NAV with a -1.78 z-stat making it an attractive buy:
We can see that historically the vehicle has alternated between premiums and discounts. The fund traded at a premium during 2021 on the back of the zero rates environment, but has now reverted to a discount on the back of higher risk free rates. The most significant discounts to NAV have been observed during monetary tightening cycles, as observed in 2015 and 2018.
Conclusion
JHI is a small fund ($130 mm AUM) with a hybrid corporate bond allocation. The vehicle currently has a bar-belled allocation where approximately 60% of the portfolio is represented by high yield credits while 26% of the names are investment grade. JHI is now trading towards the bottom of its historic 5-year range due to the violent rise in risk free rates in 2022. The fund has also reverted to a discount to NAV from the premiums seen in 2021. With a robust long term performance that compares favorably to the more well known peer BTZ and unleveraged high yield ETF JNK, we feel that JHI is a compelling proposition for a retail investors with a 2+ years' time-frame. We thus rate it a Buy.