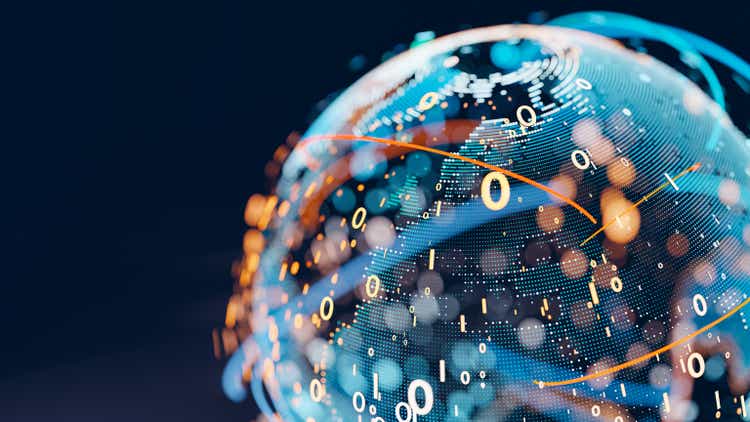 Gamma Communications plc (LON:GAMA) (OTCPK:GAMCF) is a leading UK Telecom and Technology Provider. The company is poised to ride three major technology trends; Hybrid Working, Cloud Contact/Call Center Solutions and Customer Experience (CX). The company is generating strong recurring revenue (89%) from their legacy business as a Telecom's supplier to a range of Universities and Public sector organizations.
The Cloud Contact center market alone is forecasted to grow at a rapid 25.8% CAGR till 2025 and reach $35 billion in Market value. Gamma is poised to attack this market strongly, after a recent acquisition.
Gamma was founded in 2002 and had their IPO in 2014 on the London Stock exchange that same year. Since then, the stock price increased by ~1,000% up until August 2021, and has now corrected down by 47% along with the broader technology market. The stock is now undervalued relative to historic multiples and intrinsically. Let's dive into the Business Model, Financials, and Valuation for the juicy details.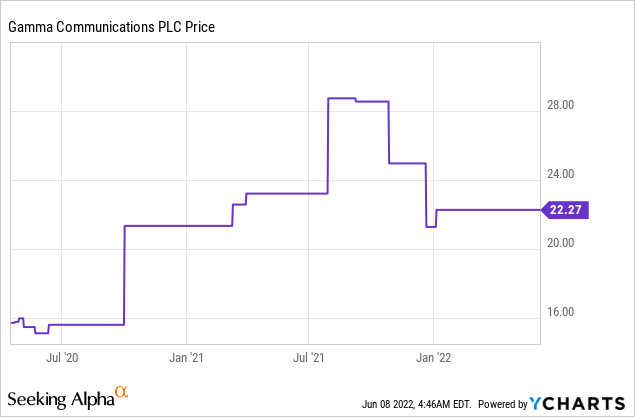 Evolving Business Model
Gamma is a leading provider of Telecoms and Unified Communications as a services (Ucaas). Their services include:
Strategic services: Hybrid Collaboration, Cloud Call Centers, Cloud PBX, SIP Trunking and Inbound Call Control services;

Enabling services: Ethernet, Broadband, Network and Mobile; and

Traditional services: Phone Calls and Lines.
Gamma PLC helps businesses connect through technology. Many organizations don't know where to start when it comes to setting up a phone system, Internet or Hybrid work setup, which is suitable for their needs. Gamma PLC acts as a sales/solutions provider and works with a network of partners, such as Microsoft (MSFT), 8x8 and the Three Mobile Network.
They currently employ 1,745 people in seven countries. Their Customers include Small Medium Sized Businesses, Enterprises and the Public Sector. Specific Customers include; The British Heart Foundation, the University of Gloucester, Essex University, and the Open University.
60% of the company's sales come via their over-1000+ sales partners (UK indirect). This is followed by 24% direct sales to Enterprises and the Public Sector. Then a further 16% of sales through their European channels.
During the first half of 2021, the company launched their Cloud Contact Center product called (Horizon Contact), which was developed in house. A traditional Contact or Call center has high overheads (office rental) and is generally inflexible, whereas a remote distributed setup is flexible and operates at a lower cost. In March 2021, Gamma acquired Mission Labs for £47 million ($59m), which further strengthened their offering in Cloud Contact centers. Mission Labs is an established partner of Amazon Connect, AWS's (AMZN) cloud contact center offering. Gamma makes their revenue both from software license fee's and professional services associated with the development of the product.
Gamma has also recently launched a Microsoft Teams Direct Routing product (Operator connect) to their Channel Partners. This is a game-changer, as it allows employees to make and receive phone calls on any device using Microsoft Teams.
In 2020, The company formed a Gamma CX (Customer Experience) function, which aims to incorporate User Experience (UX) and product design into their offering for customers.
Financials
Gamma generated revenue of £447 million ($559m) for FY21, up 14% from the prior year (including acquisition revenue). 89% of their revenue is recurring , which is fantastic and gives predictability to their financials. This was down slightly (3%) from 2019 but not a major decrease yet. They generated profit before tax of £67.2 million ($84m) down 10% from the prior year. This was mainly due to an "exceptional gain" after the sale of "The Loop" a Fibre optic network provider based in Manchester, UK.
Note: Gamma Communications PLC also trades on U.S. exchanges under the ticker symbol (OTCPK:GAMCF). The Y Charts are based upon the U.S. stock (dollars) as the UK listed stock isn't available. However, the Financial results and the valuation will be primarily in the native currency Great British Pounds (GBP).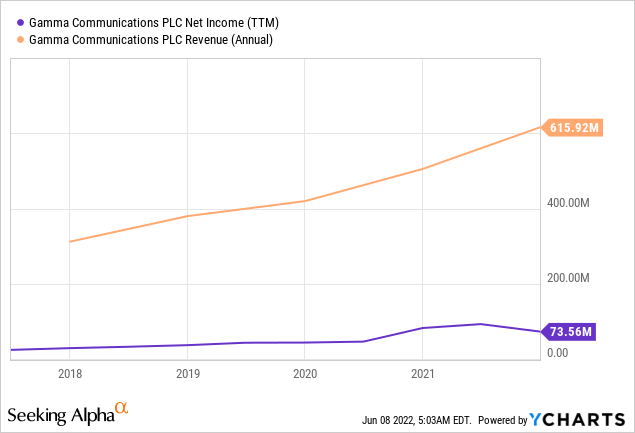 They generated strong Adjusted EBITDA of £95.4 million ($119m) up a rapid 21% or £16.4m. Earnings per share decreased by 17% to 55.2 pence, again this was due to the higher EPS resulting for their subsidiary sale in 2020.
Gross Margins held steady at a strong 51% and their operating margin was a healthy 15%.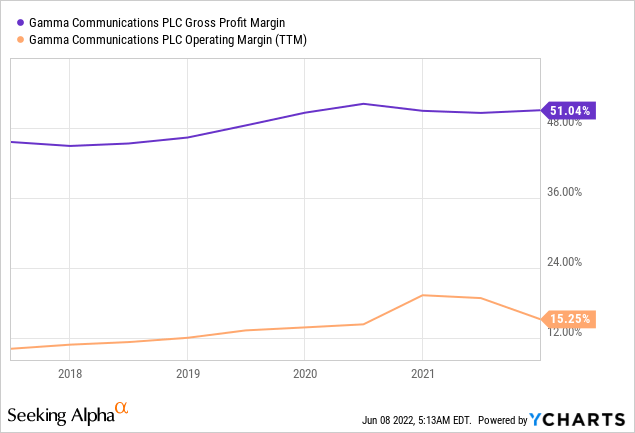 The company has a strong Net Cash balance of £49.5 million ($61.9m), which was up slightly from £48 million. Despite investing £49.3m on acquisitions, spending £16.8m on capital expenditure and paying £11.7m in dividends (1.17% yield). Their Long Term Debt equated to just £12.3 million ($15.4m) and is thus very manageable .
Valuation
In order to value Gamma PLC, I have plugged the latest financials into my advanced valuation model. I have forecasted revenue to grow by 9.6% next year and 11% for the next 2 to 5 years inline with analyst estimates.
I have forecasted their operating margin to increase slightly to 17% over the next four years as the company reaches greater scale and focuses on more software products.
Given these factors I get a fair value of £16.8 per share, the stock is currently trading at £11.93 per share and thus is 29% undervalued.
Note: Ignore the Dollar sign ($) the valuation model inputs/outputs and financials are in the native currency Great British Pounds (GBP) (£).
The company trades at a Price to Earnings ratio = 29, which may seem fairly high but is cheaper than historic levels.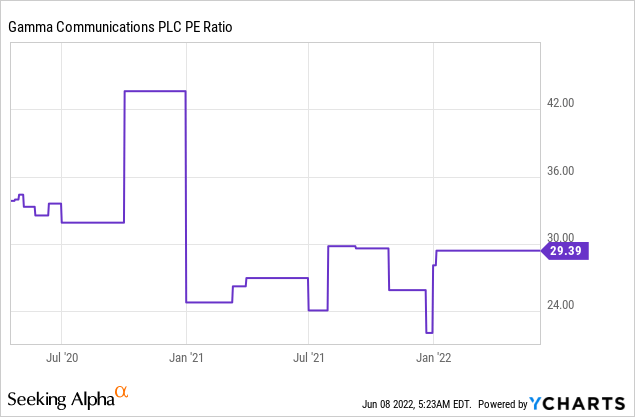 Risks
Competition
Competition is a major risk for any business but especially for a reseller of primarily other peoples products. Resellers don't really have a strong competitive advantage as companies can seek to contact suppliers such as Microsoft directly and save a little on commission. However, the relatability and local support of a provider "on the ground" could be their unique selling point. Their competitors (and also partners) include 8x8 (EGHT), CityFibre (LSE:CITY), Private company Placetel, and more.
Rising Interest Rates
The rising interest rate environment has decimated growth stocks and increased inflation is expected to squeeze company profits. This may cause a reluctance for businesses to invest into new technology and also will mean the stock price of companies may remain depressed. For example, industry peer 8x8 has seen their strong price decline by over 78% since March 2021. For Gamma, some may argue that a Price to Earnings ratio = 29 is not exactly "cheap," given the average P/E for the FTSE 100 (UK index) is just 15.
Final Thoughts
Gamma Communication is a fantastic company which is poised to benefit from the trend of digital transformation across businesses. Their growth by acquisition strategy is proving successful so far and their high recurring revenue offers stability. The stock is currently undervalued intrinsically and thus could be a great long term investment. The risks include the rising interest rate environment and competition in the industry.