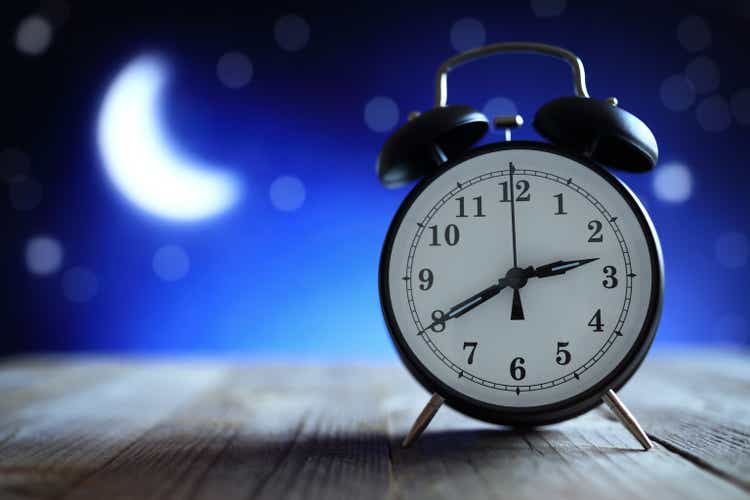 Jazz Pharmaceuticals (NASDAQ:JAZZ) missed the Q1 2022 revenue and EPS consensus estimates, but the company increased the full-year revenue guidance range by $40 million at the midpoint. The stock continues to hold up well despite a very challenging biotech tape, and the company continues to execute well against its long-term goals.
The launch of Xywav in idiopathic hypersomnia looks particularly encouraging as this indication already represents nearly 10% of all Xywav-treated patients, and this bodes well for the long-term potential in this indication.
First Quarter Revenue Miss And Increased Full-Year Guidance
The $40 million revenue miss in the first quarter has not impacted the 2022 outlook and management actually increased the full-year guidance range by $40 million at the midpoint – from a $3.46-3.66 billion range to a range of $3.5-$3.7 billion.
The oxybate franchise had its best quarter in terms of year-over-year growth (up 5.5%) in nearly two years, thanks to the launch of Xywav in idiopathic hypersomnia ('IH'). At the end of the quarter, there were 750 IH patients on Xywav, up from 250 in Q4 2021 (it was launched in November of last year). And while Jazz is not providing net sales per indication, the implied annualized net sales run rate in the IH indication (assuming the same net price per patient as the narcolepsy indication) is already around $70 million.
My peak sales estimate range for the IH indication is $400 million to $500 million, and it appears I would need to make upward revisions if the launch continues to look as good or better in the following quarters.
And there is plenty of room for growth in the IH market, as Jazz estimates there are approximately 37,000 patients who could take Xywav. Management remains optimistic and believes this could be as large an opportunity as narcolepsy in terms of the number of patients on therapy, which means peak sales could be more than $1.5 billion, significantly above my estimate range.
A far more successful IH launch would bring Jazz a lot closer to its 2025 goal of $5 billion in revenues because the most questionable part for me was the oxybate franchise due to the expected launch of generic Xyrem and the increasing competition.
And regarding the competition, it is worth noting that Avadel Pharmaceuticals (AVDL) received a proposed, final label, and medication guide for FT218 from the FDA and that it expects tentative approval of the FT218 NDA with potential full approval on or before the expiration of the REMS patent on June 17, 2023. This means Avadel cannot launch FT218 before June 17, 2023, unless it receives full approval sooner if "the REMS patent is delisted from the FDA's Orange Book, a court determines the patent is invalid, not infringed or otherwise unenforceable, or a court determines that FDA erred in requesting a certification."
This is good news for Jazz as it provides additional time without another competitor, but it only delays the inevitable by (up to) 12 months.
Moving on to the other products, Epidiolex performed well in the first quarter, although net sales grew just 7% Y/Y. This was due to the $18 million inventory buildup in Q4 2021 which inflated Q4 sales by the same amount and resulted in lower net sales in the first quarter. Adjusted for the inventory buildup, Q1 net sales grew nearly 20% year-over-year.
Rylaze's launch looks better than I expected as it generated $54.2 million in Q1 on top of $85.6 million in 2021 (it was launched in the summer of 2021).
Zepzelca sales grew 9% Y/Y to $59.3 million, and it continues to look like this product has peaked in this indication. Longer-term, there is room for more growth if Zepzelca is successful in the clinic in other indications.
On the financial side, the debt burden remains high, but the company is pushing toward the goal of ending 2022 with a debt to EBITDA ratio of 3.5.
Business Development Activity Picked Up In The Last Few Months
Jazz was active on both sides of business development.
It sold the commercial rights of Sunosi to Axsome Therapeutics (AXSM) for $53 million upfront and high-single digit royalties on net sales. It appears Sunosi was more of a distraction for Jazz considering its heavy focus on the oxybate franchise.
On the buying side, Jazz announced two transactions:
In April, the company paid $15 million upfront to Werewolf Therapeutics (HOWL) and committed to paying up to $1.26 billion in milestone payments and royalties on net sales for WTX-613. WTX-613 is in preclinical development, and Jazz expects to submit an investigational new drug ('IND') application to the FDA in 2023. WTX-613 is "an engineered interferon-alpha 2b cytokine pro-drug that is activated specifically within the tumor microenvironment, where it can stimulate IFNα receptors on cancer-fighting immune effector cells." The aim of the candidate is to minimize the severe toxicities that have been observed with systemically active recombinant IFNα therapy and maximize clinical benefit when administered as monotherapy or in combination with other agents. This sounds like an interesting concept, but it will take quite some time to get clinical data and even longer to reach the market.
In May, Jazz acquired the U.S., Europe, and rights in other territories for Sumitomo Pharma's (OTCPK:DNPUF) DSP-0187, a potent, highly selective oral orexin-2 receptor agonist with potential application for the treatment of narcolepsy, idiopathic hypersomnia, and other sleep disorders. The molecule is now called JZP441. Sumitomo initiated a phase 1 trial in Japan last year and based on the clinical findings, Jazz expects to rapidly advance the development of JZP441. The company believes this mechanism may be complementary to oxybate therapy and could further strengthen the positioning of its oxybate franchise in the second half of the decade. Jazz paid $50 million upfront, and Sumitomo is eligible to receive milestone payments of up to $1.09 billion and tiered, low-double digit royalties on net sales.
With a high debt position, these are exactly the type of deals Jazz should be making in the near term – limited upfront financial commitment and significant long-term upside.
Conclusion
Jazz's first quarter results look better than the top line miss suggests, and it was enough for the company to increase the full-year product revenue guidance range.
The oxybate franchise delivered the highest growth rate since mid-2020 thanks to the strong launch of Xywav in idiopathic hypersomnia, and Epidiolex performed well when adjusted for inventory changes in the last two quarters.
Jazz also continued to build its pipeline with two deals in the second quarter, and we also saw the divestment of Sunosi.
Thanks to the good launch of Xywav in idiopathic hypersomnia where I see room for upward revisions to peak sales estimates, I am now more optimistic about the company meeting its 2025 revenue goal of $5 billion. Better-than-expected growth of Xywav in this indication would also reduce its reliance on narcolepsy sales, given the expected launches of generic Xyrem and Avadel's FT218.