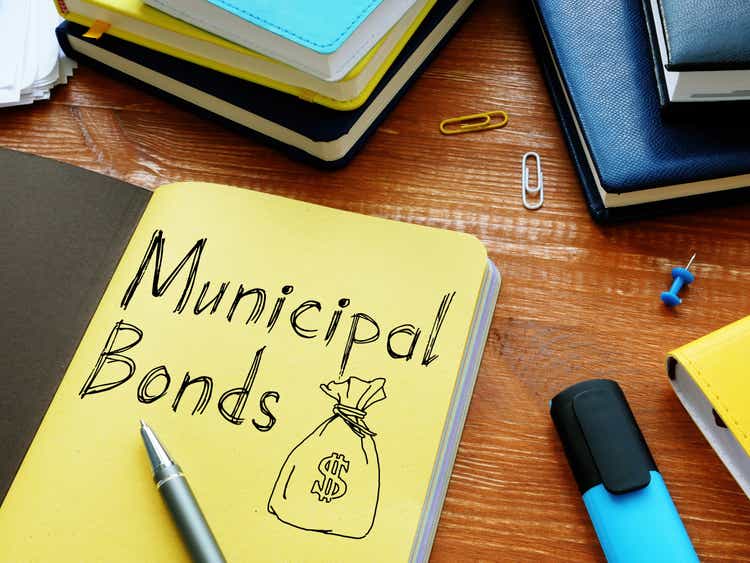 Written by Nick Ackerman, co-produced by Stanford Chemist. This article was originally published to members of the CEF/ETF Income Laboratory on May 25th, 2022.
VanEck CEF Muni Income ETF (BATS:XMPT) is an interesting way to gain municipal exposure. It is a fund of funds approach, where XMPT invests in an underlying portfolio of municipal bond closed-end funds. It is a passive ETF, as the majority are, tracking the S-Network Municipal Bond Closed-End Fund Index. (CEFMX). This is a rules-based approach that reconstitutes semi-annually and rebalances quarterly.
Muni bond investments are particularly interesting at this time for income investors as yields have been going up quite materially. Of course, that means that the underlying price is going down on these bonds. At the end of the maturity, par should still be paid back, so as these portfolios mature and reinvest; they should be able to do so into higher-yielding bonds. It will eventually lead to higher income generation. However, muni bonds have such long maturities that translate into higher durations. That's why they get punished more when interest rates are rising.
Investing through XMPT takes the approach of investing in CEF muni funds which have their own complications that one should be aware of too. There is discount widening, and often, they are highly leveraged.
The Basics
Dividend Frequency: Monthly
Dividend Yield: 4.87%
Expense Ratio: 2.32% (including acquired fund fees and expenses)
Leverage: N/A
Managed Assets: $157 million
Structure: Passive ETF
XMPT seeks "to replicate as closely as possible, before fees and expenses, the price and yield performance of S-Network Municipal Bond Closed-End Fund Index (CEFMXTR), which is intended to track the overall performance of the U.S.-listed closed-end funds that invest in U.S. dollar-denominated tax-exempt market."
This is a rules-based index with several eligibility criteria that I'll try to summarize with the main points:
The CEF must be in one of the four categories: leveraged municipal fixed income, leveraged municipal high yield fixed-income, unleveraged municipal fixed-income or unleveraged municipal high yield fixed-income.
Must trade on a recognized North American stock exchange
Minimum market cap has to be over $100 million
Any CEF trading over an average premium of 20% for 10 days prior to the second Friday of the reconstitution will be excluded
A non-constituent must maintain a management fee below 1.25%, while a current constituent must maintain a management fee below 1.5%
A target-date fund must have a termination date of three or more years to be eligible
There are many more rules, but these are the main and most relevant ones. They then take these eligibility criteria and screen them for weightings to be included in the index. This process is done by the adjusted net assets of the CEF. Here is how they are adjusted.
Net assets are multiplied by a factor of 1.3 for CEFs trading at a discount greater than 6%
Net assets are multiplied by a factor of 1.2 for CEFs with a discount greater than 3% but less than 6%
Net assets are multiplied by a factor of 1.1 for CEFs trading at a discount of 0% but less than 3%
They are then multiplied by a factor of 0.7 for funds trading at over a 6% premium
The factor is 0.8 for CEFs with a premium between 3% and 6%
Then finally, the multiple factor is 0.9 for funds at a premium of 0 to 3%
Essentially, to sum up, the deeper the discount for the fund, the larger emphasis - the more expensive the CEF is, the less weighting it'll have. They then include an 8% cap for any CEF. As well as a 45% cap on the entire portfolio with fund weights greater than 5%. They also never allow the number of positions to fall below 25.
This all means that there is some fairly strong diversification in these funds in terms of getting different muni CEFs in the index.
XMPT overall is quite a small fund with only around $157 million in total assets. That generally limits liquidity for investors. With the average daily volume of over 81k, it could still be sufficient for most retail investors.
The fund's expense ratio isn't terrible at 0.40%. For such a small and unique ETF, that seems fairly reasonable. However, this then balloons to 2.32% because of the acquired fund fees and expenses. The reason for this is that CEF expenses are so much higher usually. This is also including the leverage expenses of these underlying funds.
XMPT isn't leveraged itself, but the underlying positions are going to be carrying a lot of leverage. This is important for a couple of reasons. The first point is that it is a riskier fund with higher volatility. The second point worth considering is that while interest rates rising can be a good thing as yields go higher and more income is generated, on the CEF side of the equation, it also means their interest expenses will be climbing too.
Performance - Tough 2022
For comparison purposes, I wanted to run the performance of XMPT against the Nuveen Quality Municipal Income Fund (NAD) and Nuveen AMT-Free Quality Municipal Income Fund (NEA). These are actually the top two positions for XMPT. They are some of the largest CEFs, and that makes sense given the way the index is constituted that they'd have top positions here.
For this first one, we are looking back at the last ten years of total return performance. What we see is that NAD and NEA come out on top. This is both on a total price return and NAV return basis.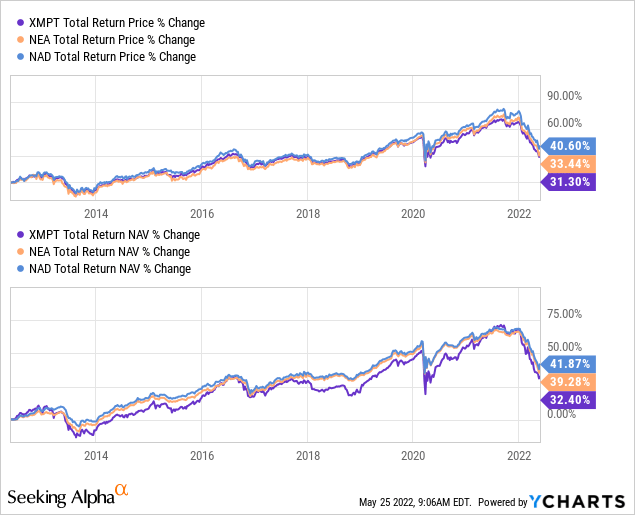 Next, we will look at the YTD period of performance between these three names. This shorter-term period shows us a time when the fixed-income and even broader equity markets have been getting hammered.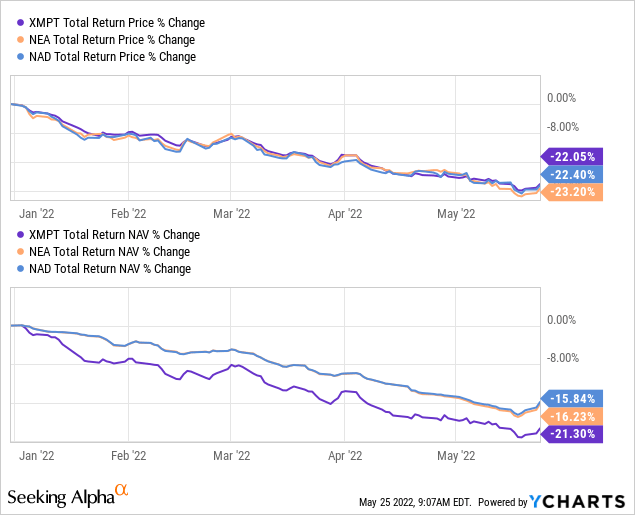 Now, what is interesting here is that one might point out to how well NEA and NAD are doing on a total NAV return basis. This highlights exactly the opportunities we try to present in CEFs when discounts widen.
For NEA and NAD, their total share price return is reflecting the widening discount. However, the total NAV returns have been meaningfully better (i.e., the underlying portfolio is performing better as investors sell-off the share price to a greater extent.)
Remember, though, XMPT is holding the CEFs, and this fund will get its NAV valued at the share price and performance of the underlying CEFs and NOT the NAV returns of the CEFs. That sets up a scenario that makes XMPT look like it is performing incredibly badly on a total NAV return basis, but its total share price is still similar.
I hope that wasn't too confusing. To summarize, XMPT's performance reflects the share price performance of the underlying CEFs. Due to discount widening, it is making XMPT appear that it is doing much worse than it really is.
Combining this discount expansion in the underlying CEFs and the overall declines in the muni space is what is driving the potential attractiveness for XMPT at this time. A 4.87% yield that is tax-free on the Federal level is nothing to scoff at with the safety of muni bonds.
Dividends - Taxable Equivalent Rates
XMPT lists the 30-day SEC yield at 5.32%. They then use this metric to show us the taxable equivalent yields. This again highlights the power of investing in muni bonds at this time. Of course, the higher your tax bracket, the better yield equivalent you will receive.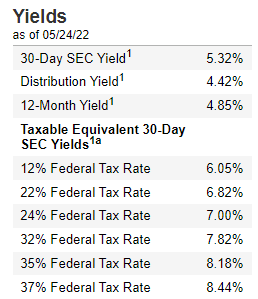 Since the fund's inception, the monthly dividend has been trending lower and lower.
This is a trend that could reverse over the next several years if rates continue to rise. As mentioned above, the underlying funds should receive par back once these bonds mature and then reinvest at even higher yields now. That should translate into higher income generation, with the caveat that interest expenses will be rising too. With the longer maturities in muni bonds, this will take longer to play out. So I wouldn't expect to start seeing higher dividends in the next year or two, but several years down the road.
XMPT's Portfolio
One interesting note that investors might find interesting is that the portfolio composition is listed as 99.77% stocks and 0.23% cash. The reason for this must be that CEF shares are actually stock and are getting accounted as such. They aren't actually breaking down what the underlying CEFs are holding. Not that it really matters, as it will be 99% muni bonds.
Looking at the daily holdings for XMPT as of May 23rd, 2022, we see NAD and NEA come in at the top by a wide margin.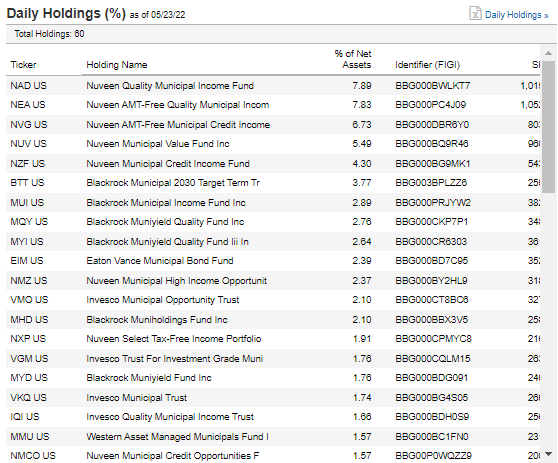 The top ten represent a fairly hefty 46.69% of the portfolio. In fact, after the top five holdings, weightings start to fall rather dramatically. The top of the portfolio is overwhelmingly in Nuveen names. BlackRock and Invesco also make a significant contribution of holdings to the top twenty positions listed here.
One of the reasons that larger fund sponsors will be showing higher representation is the simple fact that they can raise more assets typically. Nuveen holds the title of most CEFs on the market, and BlackRock holds the title of most AUM in CEFs on the market.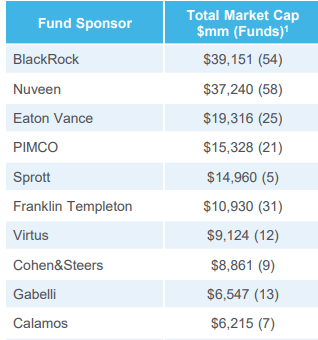 Eaton Vance holds its own but offers only a fairly a few national muni funds. Most of their assets come from the various equity funds they offer. Invesco is the opposite. They aren't even listed as a top sponsor in terms of AUM or number of funds, but their CEF offering is mostly muni funds.
Looking at the top five names, we can see the general trend that I've been highlighting throughout this piece: the discount widening we have been experiencing in 2022. These funds are right near their low discount markets on a YTD basis.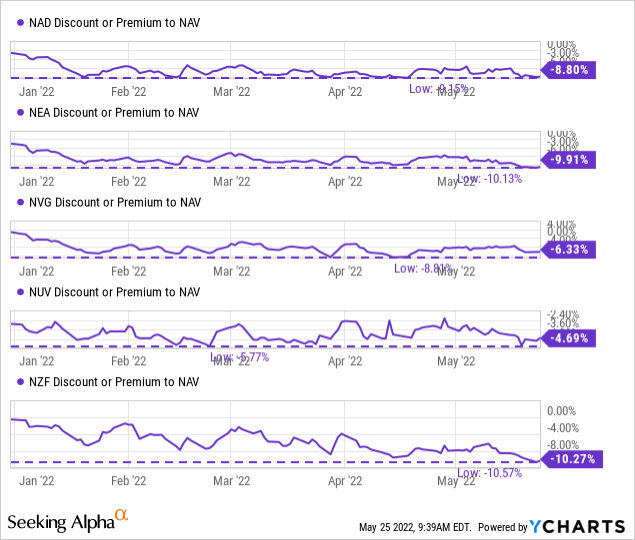 Conclusion
XMPT offers investors exposure to the muni space via closed-end funds. With closed-end funds selling off and discounts widening up, the opportunity is there to snag some attractive tax-free yields. Of course, the yields can continue to get even more attractive from here. However, looking at a 7% yield if you are in the 24% Federal tax bracket isn't too bad for a rather safe asset class. Safe in terms of one getting the capital back at the end of the maturity.
The risks to consider that aren't typical for an ETF are discount widening and being highly leveraged. These are brought about by the CEF structure of the underlying portfolio.