Since the last time I wrote about Appian Corporation (NASDAQ:APPN) on March 26, when I was bullish, the stock has lost 18% of its value. This is despite the fact it beat both revenues and earnings estimates during its last reported quarter. Also, the downside in its stock price illustrated by the blue chart below contrasts sharply with the uptrend in the quarterly revenues as shown in orange.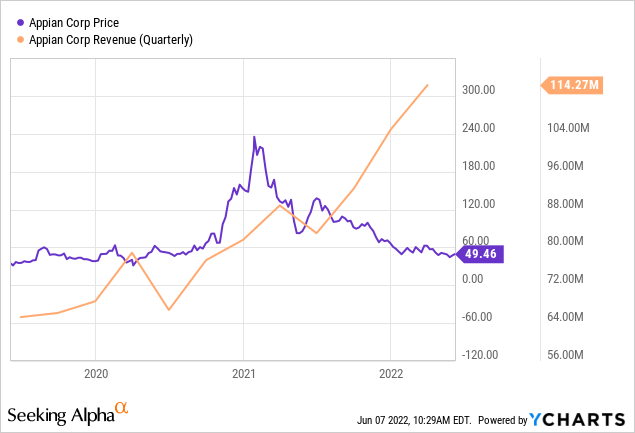 Thus, those who bought the shares of the company on the basis of its growth profile have been disappointed. My objective with this thesis is to elaborate on other metrics like profitability and debt by focusing on the financial results of the first quarter of 2022 which ended in March.
I start by assessing how Appian's low code platform is faring.
The Low-Code Platform
Appian basically operates a low-code development platform (LCDP) through which clients can develop applications without the need for software developers. The approach is towards providing a user-friendly interface while having a lot of AI in the backend to render the task of developing software easier. "Ease of use" are keywords here, namely in empowering employees to carry out the development of applications themselves instead of having to engage with IT software developers as per the conventional way.
To be realistic, AI is not yet intelligent enough to replace software developers altogether. Thus, in addition to reducing coding, Appian's real innovation is the ability of its platform to combine features like process mining (diagram below), which consists of identifying job functions with the objective of improving them, namely through the removal of bottlenecks.
Furthermore, adding in workflow and automation features as is now commonplace for software vendors through the use of analytics tools renders the experience better, to such a degree that employees who own the process themselves are motivated to improve them.
For Appian, this success at motivating employees to use its product has translated to more sales, with its last two quarters seeing revenues increasing by 28.6% on a year-on-year basis as shown in the table below.
Revenues Increasing, But Expenses, Too
This represents an acceleration compared to the previous quarters despite tough competition. For this purpose, there are several companies, from software development to consultancies, that have the capability to combine AI with process mining.
This competition explains why SG&A, which includes marketing expenses, has also grown rapidly, at a faster rate than the revenues themselves, or at 40.36% during the last reported quarter. Research expenses have even outpaced sales and administrative expenses. As a result, total expenses have grown faster than revenues, resulting in an operating loss.
Now, to sustain a quarterly loss in the range of $23 million to $26 million as incurred during the last four quarters, the company needs money. For this purpose, it had cash and equivalents of $104.1 million after negating debts at the end of its last reported quarter. This is enough for covering operational expenses for a few quarters, but is not sufficient to make acquisitions as is normally the case with companies like Appian which aim for high growth. For this matter, the company acquired Lana Labs, a company excelling in process mining technology, back in November.
This could be one of the reasons for which the stock has been out of investors' favor. With rising interest rates, borrowing costs should also rise further, and with the Federal Reserve proceeding with quantitative tightening, there is also less liquidity. This may put pressure on the company's ability to raise capital through equity financing. Along the same lines, the guidance was for a 33-37 cents a share loss for the second quarter, or more than the 30 cents a share industry analysts had forecasted.
Now, in a stock market where the value strategy is reigning over growth, any bad news related to profitability puts pressure on the share price.
However, not everything is as bad as it seems.
The Improvements
First, when the company reported earnings on May 5, its non-GAAP EPS of -$0.06 beats by $0.07. This was made possible through additional revenues of $114.27 million in Q1 over last year. Also, the company has beaten revenue estimates during the last eight quarters as a result of upbeat cloud subscriptions. These are the type of stable monthly or quarterly revenues that SaaS companies like Appian look forward to, at the expense of less predictable annual sales. This transition is facilitated by the fact that Appian sells its products through a cloud-based platform using a subscription model whereby customers can rapidly sign in and consume.
Additionally, looking ahead to Q2, sales from subscriptions are forecasted to be in the range of $55.8- $56.3 million, or year-over-year growth of 31%-32%. This is slightly up from Q1's figure of 31%. Now, the fact that subscription revenues constituted around 71% of total revenues in Q1, and are growing faster than total revenues (which grew at 28.6%) signifies that the company is smoothly shifting to a SaaS revenue model.
Second, the cloud subscription revenue retention rate was 117% in Q1, or an increase of 1% over the last quarter of 2021. As per the executives, this is within the company's target rate of 110% to 120% and signifies that existing customers have expanded their use of Appian's platform in terms of upgrades or cross-selling.
Third, there has been an important development whereby the company has been awarded $2.036 billion of damages after a ruling by a Virginia court against Pegasystems (PEGA) in a trade secret case. The effect the news update had on the stock is shown in the chart below, with the upside in Appian's share price coinciding with Pega's downside on May 10.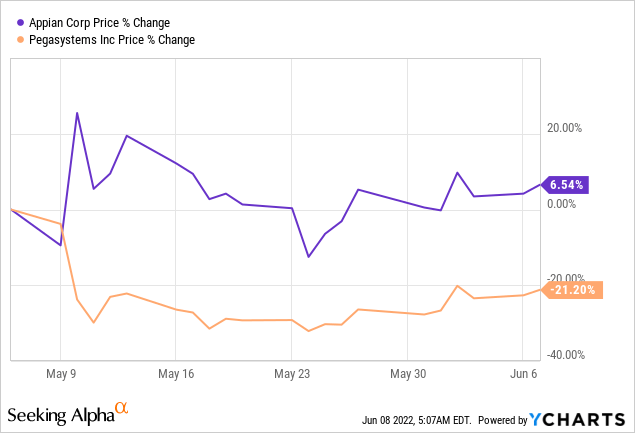 Subsequently, Appian has been outperforming its rival by more than 25%, but Pega's management does not agree with the ruling and has strong reasons to make an appeal against the court decision. This is a process that could take years to resolve.
Valuations And Key Takeaways
In the meantime, court-related expenses and higher staff costs have resulted in the company consuming more cash in operations during the first quarter. One reason for incurring more staff expenses could be higher wage inflation amid a tight labor market for IT skills.
Staying within the realm of inflation, the fact that the company is managing to increase revenues at such a pace suggests that it also has some pricing power. It certainly has some levers to squeeze more sales out of its customers, given that it proposes a suite of products. Hence, by proposing one product like RPA (robotic process automation) on a free basis, Appian can charge higher for another one, like process mining for example. Alternatively, it can charge more on a usage basis after the customer has become accustomed to a product. Eventually, a lot depends on how it is able to spark new demand, and as seen by the retention rate, it has seen success in upgrading the plans of existing customers to obtain more revenues.
Going one step further, since low-code systems, workflow and automation are all about attaining better operational efficiencies, Appian's products should find a sweet spot in a corporation's strategy to reduce costs. Therefore, as inflation bites harder, the company could show resiliency.
As for valuations, despite the downside, Appian's trailing price to sales multiple of 9.16x is 190% overvalued with respect to the IT sector. Still, in a show of confidence, Abdiel Capital Management, which owned about 10% of the company, bought about $2.6 million worth of Class A common stock on April 12. However, I will not issue any buy recommendation based on this fact. Instead, with the double-digit growth and pricing power balancing out its operating loss status, Appian is more of a hold, while it charts a course to profitability and generates cash from operations.
Finally, after the company reaffirmed its guidance for Q2 and FY-2022, and proceeded with a strategic management change, the stock should be on your watchlist for the long term. There is also a potential $2 billion court bonanza, which could add some glow to the company's account.