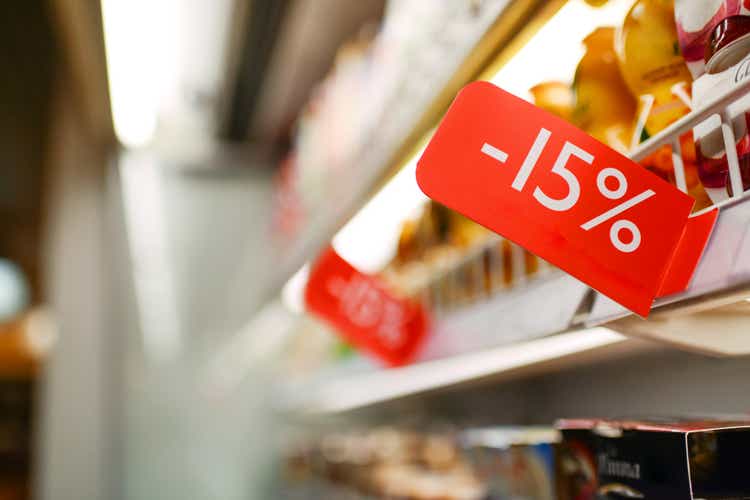 Co-produced with "Hidden Opportunities"
Introduction
With recession and bear market fears all around us, investors should note that even the steepest downturns are only temporary. The average bear market is a lot shorter than the average bull market. Hence, selling your equity positions and accumulating a significant cash position is usually ill-advised for two reasons:
You will miss the inevitable rebound - even the sharpest traders cannot accurately predict the absolute bottom.

If inflation is the most troubling factor in today's market, then accumulating cash is counterproductive.
Did we not learn anything from the 2020 market crash? Investors who picked up high-quality dividend stocks like Enviva Inc. (EVA), Iron Mountain (IRM), Bank of Nova Scotia (BNS), Occidental Petroleum (OXY), and many others collected steady and well-protected dividends, slept well at night, and rode the recovery with multi-bagger capital gains. This is precisely what we will do during this bear market.
Small caps outperform following Fed rate hikes
Calculations based over the last 40 years show us that small caps outperform in the near term following Fed rate hikes.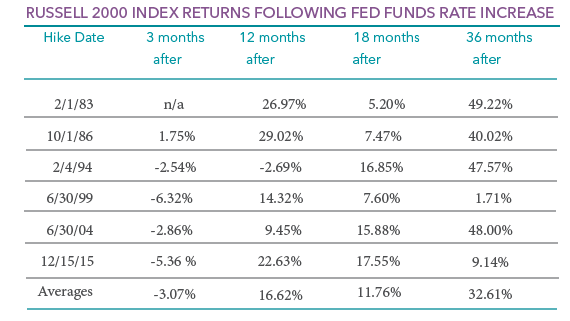 During each of the last six instances, small-cap returns (measured by the benchmark Russell 2000 index) have provided strong average returns during the 12, 18, and 36-month periods following Fed tightening.
Specific market sectors are well-positioned to rebound strongly
A review of past recession-driven bear markets shows that defensive areas such as industrials, REITs, and tech are among the sectors that tend to do well during the recovery phase.
With the Fed raising rates and the market fearing a recession, fear is in the air and driving prices lower. As long-term investors, we know that such fear never lasts forever. You want to be buying so that you own more shares when the rebound occurs. With strong fundamentals supporting them, we expect value stocks to outperform growth during the rebound. To capitalize on the rebound, with a focus on small-cap Value stocks, we bring to you Royce Value Trust (NYSE:RVT). RVT is a CEF (Closed-End Fund) built as an amalgamation of elements that position your portfolio for soaring investment returns as the markets recover.
Attractive Portfolio Composition
RVT is built to last with a highly diversified portfolio of over 487 securities in the small-cap value segment. Industrials and Information Technology represent the largest portion of this CEF (almost 45%), and we saw earlier that these sectors tend to do well in a market recovery.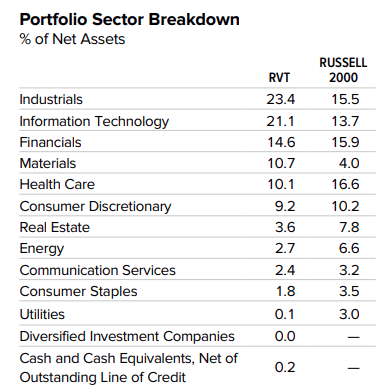 RVT's portfolio is built overwhelmingly with U.S.-based companies (90% of the portfolio). Canadian securities represent ~7%, and companies from all other countries do not individually form more than 0.5% of RVT's portfolio. The U.S. is home to the largest stock exchanges globally and continues to be the investment oasis of the investment world. Strong exposure to U.S. companies positions RVT for better and quicker recovery when the bearish streak ends.
Rising interest rates have the spotlight, and investors are cautious about the overall leverage employed by the CEF. RVT shines in this aspect as it is mildly leveraged at 4%. Let us now review who we have at the driver's seat for RVT, steering our income growth during good and bad times.
Experienced Management Team Vested In Our Success
RVT was founded in 1986 by Chuck Royce, one of the pioneers of small-cap investing.
Our task is to scour the large and diverse universe of small-cap companies for businesses that look mispriced and underappreciated, with the caveat being that they must also have a discernible margin of safety. We are looking for stocks trading at a discount to our estimate of their worth as businesses. - Chuck Royce
Mr. Royce has been closely involved with his firm's funds since the Nixon administration. At the age of 82, he has ceded his lead PM role. Nevertheless, RVT remains in the hands of experienced professionals who are well-positioned to carry forward his legacy in value investing.
RVT comes at a modest 1.15% expense ratio. You are paying management to achieve market-beating results, and they have consistently done so in over 36 years of the fund's existence. A significant reason we like RVT is that management eats its own cooking. Management fees are determined based on RVT's performance relative to its benchmark S&P SmallCap 600 Index. If the fund outperforms, the fee is increased. And if the fund underperforms the benchmark, the fee is reduced from the base. With RVT, we have a management team that is incentivized to work hard for your returns, and RVT's historical performance tells us that management is doing an excellent job.
No matter how experienced the fund managers are and how carefully they craft RVT's portfolio, its stock price movement will correlate with the broader market. The CEF isn't immune to bear markets and steep corrections. However, we discussed before that RVT is one of the best amalgamations of those sectors that outperform during a broader market recovery. As such, the CEF has demonstrated consistent outperformance following past bear markets and steep corrections. Over the long haul, RVT has a proven ability to outperform the Russell 2000 index.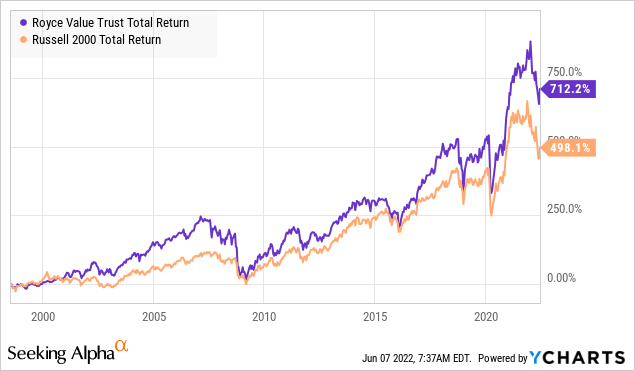 Sustainable High Yields
RVT's distributions are variable due to its managed distribution policy. The quarterly distributions are calculated at an annual rate of 7% of the average of the prior four quarter-end NAVs. In the fourth quarter, RVT will pay out extra if it is required by IRS regulations as a year-end special distribution. These are most common in years following a crash as RVT has excess gains during the recovery.
The best part about the Income Method of investing is that your returns are hard cash. Once paid, they don't go away due to the whims and fancies of Mr. Market. RVT is an ideal CEF for sustainable distributions through NAV preservation over time. When NAV is high, shareholders are rewarded immediately. When NAV declines, the distribution will reduce ensuring that RVT is not forced to sell shares in a down market, protecting NAV so they benefit the most from the rebound. At the same time, the strategy of using an average of the past 4-quarters means that there is reasonable stability. The dividend doesn't simply collapse because of one bad quarter, it will drift down, and then when NAV recovers it will start drifting back up.
Shareholders can be assured that the dividend is not eating NAV into oblivion, while also knowing that when the good times come they will be rewarded with a generous rising dividend.
Attractive Valuation
Growth stocks have seen a significant valuation shrinkage in the past six months. In comparison, the value sector has outperformed and will continue to do so in the near term as the market continues its chaotic moves.
Price is what you pay. Value is what you get - Warren Buffett
When there is uncertainty, buying high-quality value stocks is the best course of action. Warren Buffett has done extraordinarily as an investor by doing just that. Today, you can buy RVT at a ~5% discount to NAV.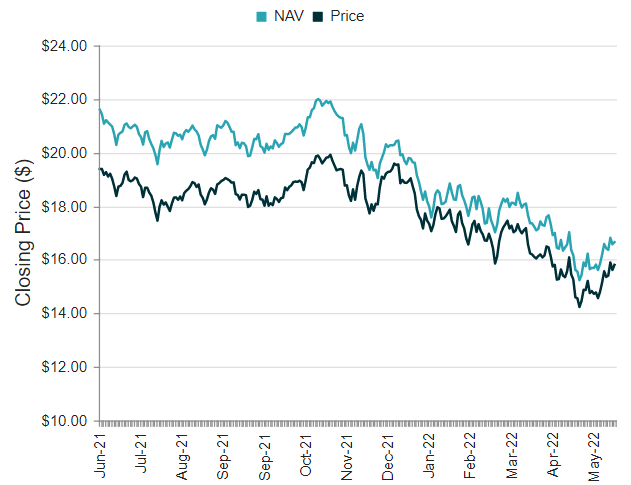 The chart above shows us that the discount has already shrunk from its former ~12% level through this volatile trading period and is set to disappear soon. It is time to hop on to the small-cap value train before it departs the station.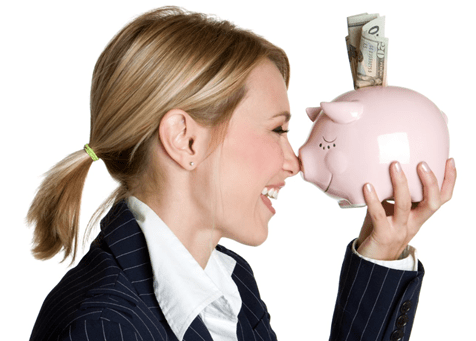 Conclusion
Today's market turmoil strongly indicates a rally in the value sector when the recovery begins. Rather than tiring your eyes and mind with endless chart patterns to pick the bottom, why not sit back and collect dividends while the market does its thing? This is what we do at HDO with our income method. We find attractive investments that pay us to wait for the catalysts to kick in.
If history is any guide, market recovery often begins in the small-cap value camp. As such, Royce Value Trust is a CEF that is built to outperform during market recoveries. RVT is a tried and tested CEF with outstanding shareholder value generation over three decades of the fund's existence and is managed by some of the best in the value investing space.
RVT is built to last. Its active management and diversification strategy has ensured NAV preservation while paying handsome distributions to shareholders. Management is incentivized to ensure consistent outperformance as their bonuses are contingent on RVT beating benchmark indices. The fund trades at a sizable discount to NAV and is set to pay distributions amounting to a ~8.7% yield. The rotation to value is underway, and this is the time to load up on RVT. This is a bargain that won't last long.