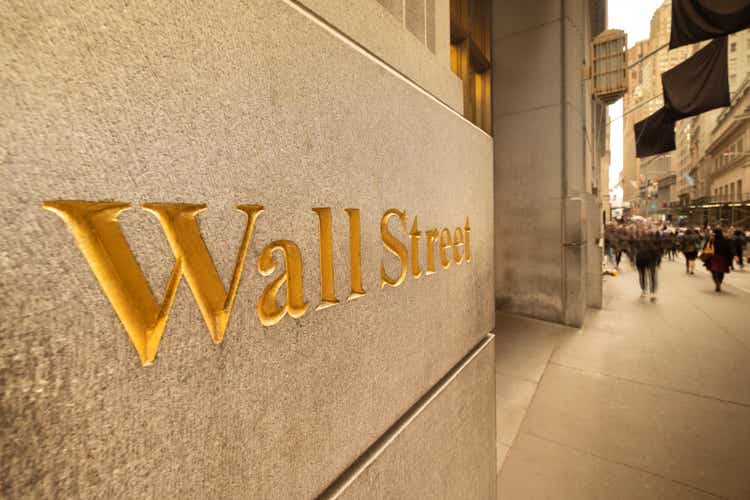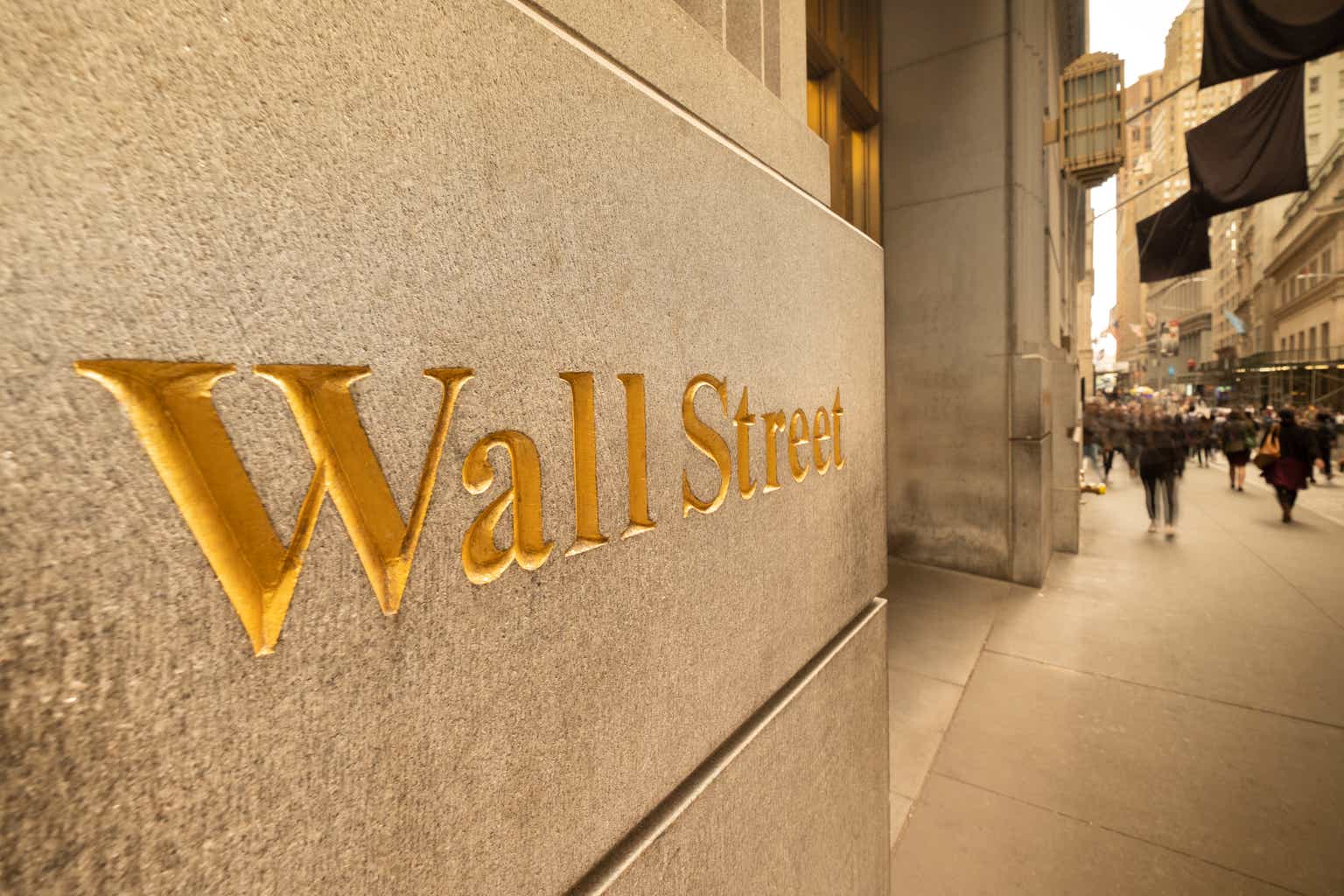 The Necessity Retail REIT Inc. (NASDAQ:RTL) is a United States based small-cap diversified real estate investment trust ('REIT) focused on acquiring and managing primarily service-oriented and traditional retail and distribution related commercial real estate properties. This REIT was founded in 2013 with the name of American Finance Trust. It has a market capitalization of approximately $1 billion, and enterprise value of $3.3 billion.
More than 30 percent of common equity shares are held by three large asset management companies - BlackRock Inc., Vanguard Group Inc., and State Street Corporation. Some other financial institutes hold almost 25 percent of common equities, while public holding is exceptionally high at 44 percent. This REIT is highly diversified in terms of clients and industry segments. It has leased out its properties into 40 industries, and in no single industry segment it has leased out more than 7 percent of its total properties.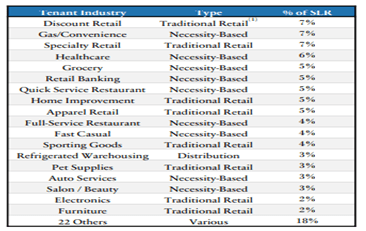 Portfolio of RTL's Properties
The Necessity Retail REIT Inc is primarily invested in retail commercial properties. Its portfolio consists of freestanding single-tenant properties as well as multi-tenant retail properties, such as power centers and lifestyle centers. Single tenant properties are leased to tenants in the grocery, restaurant, fitness, retail banking, gas, convenience, pharmacy, and automobiles.
The occupancy level in multi-tenant leased properties is quite high at 87.6 percent and is expected to increase further. The Multi-tenant Leasing Pipeline is expected to add over 164,000 square feet, and almost the entire pipeline has received signed letters of intent from interested tenants. If the interested tenants converted into actual tenants, the overall occupancy will reach almost 92 percent.

Financials
RTL's weighted average interest rate is 3.7 percent and less than 1 percent of RTL's debt matures through 2024, resulting in a weighted average debt maturity of 5.3 years. Almost 85 percent of RTL's debt is under fixed rate of interest. As we know that the interest rate is on a rising trend, such a high proportion of fixed rate debt will surely be beneficial for The Necessity Retail REIT Inc.
RTL's financial performance has shown remarkable improvements in the first quarter of 2022. On a year-on-year basis, revenue from tenants and adjusted EBIDTA rose by 20 percent and 18 percent, respectively. Cash net operating income (NOI) rose by 17 percent, while adjusted funds from operations (AFFO) rose by 24 percent over the same period. Considered to be a true indicator of a REIT's operating performance, RTL's AFFO is calculated by subtracting net interest income and gains on sale of assets from its net income and then adding back depreciation, amortization, and losses on sales of assets.
Historical Price Performance
The price performance has been extremely disappointing. Over the past six months, one year, and three years, its price dropped by 12 percent, 17 percent, and 27 percent, respectively. As the long term simple moving averages ((SMAs)) are placed over the short term SMAs, RTL's price may fall further. A probable reason behind the negative price growth of RTL is establishing an "at the market" equity offering program for Class A common stock (the "Class A Common Stock ATM Program").
American Finance Trust initiated this ATM offering in May 2019 and aimed to raise up to $200 million in the open market through sales agents, without any prior intimation. In addition, the company also initiated an ATM program for series A preferred stock of $200 million, and series C preferred stock of $200 million. As a result of which, the number of equity shares and preferred shares kept increasing. Thus, despite a growth in key financial metrics, the earnings per share (EPS) didn't grow proportionately.
High Yield and its Sustainability
Low and falling prices resulted in an exceptionally high yield for RTL's shareholders. Shares of The Necessity Retail REIT Inc. have been in effective trading for almost four years, and it has generated quite a high yield. It started paying monthly dividends in August, 2018, but changed it to quarterly dividends in 2021. Even at the time of monthly dividend payment, dividends for three months used to be declared on a single date at the very beginning of the quarter.
The average yield since 2019 has been in excess of 10 percent. The yield over the trailing twelve month (TTM yield) is 11.32 percent. Without a doubt, this REIT aims to generate high yield for its investors. However, The Necessity Retail REIT Inc. has not increased the dollar value of its dividend. In fact, on a quarterly basis the dividend amount has been reduced from $0.2751 to $0.2125 during Q3, 2020.
Since the time the dividend has been reduced to $0.2125, it has been lower than its Funds from operations (FFO). Prior to that the dividend amount exceeded its FFO, but that was marginal. For example, when the dividend was $0.2751 on a quarterly basis about two years ago, the FFO was in the range of $0.21 to $0.26. Thus, the only reason behind its exceptionally high yield is the falling price. In case the stock starts moving up and it enters a bullish phase, I expect the yield to come down. In other words, this exceptionally high yield is not sustainable. However, the drop in yield will be compensated by the rise in price. It may not happen in equal proportion, but will compensate to a larger extent.
Conclusion
Raising $600 million by a company having market capitalization of less than $1 billion is significant. The equity shares are getting diluted every time the ATM program is exercised. Not surprisingly, this has demotivated investors to invest in this stock. However, the program is in existence for the past three years, and a significant amount of capital has already been raised. Hopefully, the shareholders stake will not be diluted significantly for a much longer period of time.
RTL's yield is extremely attractive. This REIT is well diversified within the retail commercial sector and delivered strong financial performance. In a scenario of rising interest rates, 85 percent fixed rate of debt provides further assurance of continuity of such higher yield. As recession is looming over the US economy, and inflation is at a 40-year high, opting for high yield stock seems to be a very good option. As the stock is trading at a very low price of $7.5, selling this stock at this point doesn't seem to be a wise idea. If invested, I would hold this stock for a longer term, enjoy the high yield, and wait for the market to bounce back.