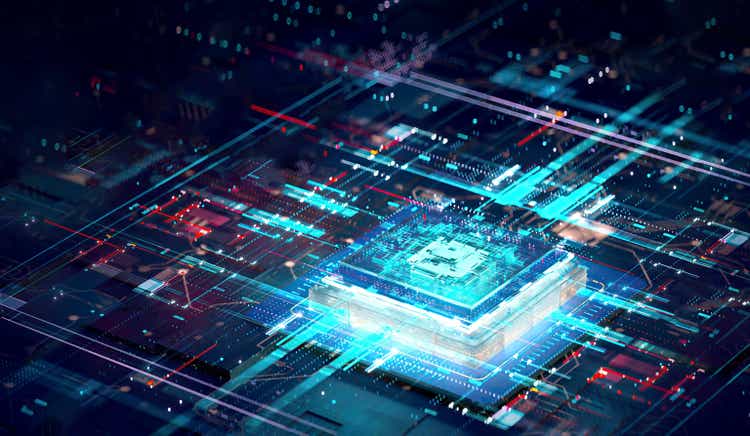 Cadence Design Systems, Inc. (NASDAQ:CDNS) is a very interesting company as it provides computational technology for the design of today's electronic systems. With a strong focus and culture: created by engineers, for engineers, the company is at the forefront of computational software for these intelligent systems.
Greatly Positioned
The company is greatly positioned to benefit from a few megatrends, benefiting growth in the semiconductor industry. This includes the relentless rise of data science, machine learning, hyperscale computing, autonomous vehicles, 5G Communications, Industrial IOT and healthcare.
To handle the great increase in demand on the entire architecture, this involves great system design, AI/ML and IP and chip EDA. With Cadence being so well-positioned, it is no surprise to see that the business has steadily grown from about $2 billion in sales in 2017 to around $3 billion in 2021, all while non-GAAP operating margins have expanded to 37% of sales.
A huge portion of the revenue base is recurring, up to 90% of revenue streams and with a backlog which totals more than $5 billion, there is great visibility in near to medium term revenue conversion.
The problem is that, despite this great positioning and solid performance of the business, valuations have more than reflected the solid outlook, even when I looked at the shares in April 2020, a time when the pandemic was in full swing
At the time I labeled Cadence as a very steady, yet very expensive share. The predictability of the business attracted investors with shares trading around 40 times earnings at the time as Cadence caters just a small, yet very crucial segment of the semiconductor market, needed to deliver on the future promises of the megatrends discussed above. This has benefited the company in a huge way with shares up from $2 in 2008 to a high of $80 in February 2020, as shares only fell back to $70 in April of that year.
At the time the company guided for 2020 sales at a midpoint of just over $2.5 billion, implying 10% year-over-year sales growth. Adjusted earnings were seen at around $2.50 per share, with GAAP earnings coming in a dollar below that number. Adjusting for stock-based compensation expense, a realistic $1.80 per share number translated into sky-high valuations at nearly 40 times earnings.
In the end I concluded that Cadence likely becomes a great long term play, yet the elevated valuation made me a bit cautious, certainly in the short to medium term.
Solid Execution
Fast forwarding two years in time, shares of Cadence have seen huge returns as shares nearly doubled in 2020 to end the year in the $130s, as shares rallied to a high of $190 towards the end of 2021, now trading at $160 per share.
Forwarding to February of this year, Cadence posted its 2021 results as revenues rose by a solid 11% to $2.99 billion. Reported income from operations (based on GAAP accounting) rose 21% to $745 million, for margins equal to 25% of sales, as this translates into GAAP earnings of $2.50 per share. While the company posted adjusted earnings of $3.29 per share, the vast majority of the difference stems from stock-based compensation, which I am not happy to adjust for, as realistic earnings coming around $2.70 per share by my math. Net cash of three-quarter of a billion translates into a net cash position of more than $2.50 per share.
With shares now trading at $160 per share, the unleveraged business trades at 58 times realistic earnings. While the positioning is great, I am very hesitant to apply even higher multiples to such a business (compared to 2020), certainly given the backdrop in valuation of technology names and higher interest rates.
This is despite a solid outlook for 2022 which calls for sales at a midpoint of $3.35 billion, with adjusted earnings seen at a midpoint of $3.75 per share, as GAAP earnings are not showing much progress. Part of this might be the result of solid first quarter results, as reported in April, as the company hiked the full year sales guidance to $3.41 billion and earnings at midpoint of $3.93 per share.
And Now?
Even if I use a realistic $3 earnings per share number of the year, the company trades at 50 times forward earnings here. This is far too steep for me to get comfortable with, as investors are arguably pricing in years of steady and high sales and earnings growth.
Steady results come as higher prices and chip shortages force many industry participants to get back to the drawing board and come up with better designs, as Cadence is essentially one of the few beneficiaries of such a boom, as this could actually result in accelerating sales growth. This is more or less seen in the 2022 guidance, with sales growth set to accelerate to the mid-teens here.
While this is very solid and growth rates could continue at >10% for years, I am still a bit fearful about the valuation here. The earnings yield has collapsed to just 2% this year, less than risk-free interest rates, making me a bit cautious and not interested at this point in time.