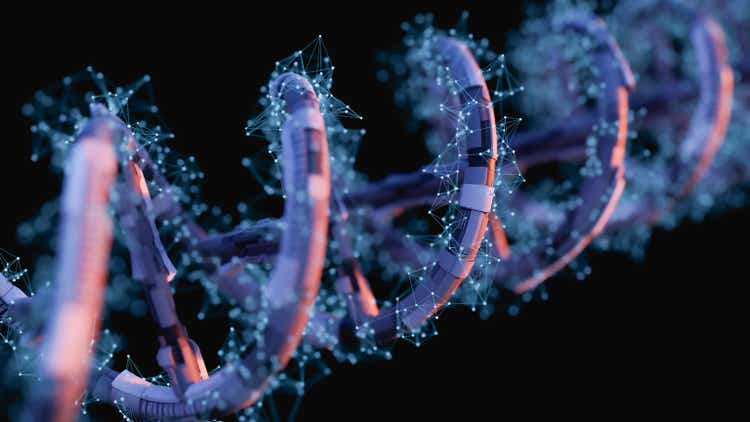 A good act does not wash out the bad, nor a bad act the good. Each should have its own reward."― George R.R. Martin
It has been just over a year since last took an in-depth look at Voyager Therapeutics (NASDAQ:VYGR). This is a name that comes up from time to time in comments from Seeking Alpha followers. Given that, it is time to circle back on this small biotech concern. A full analysis follows below.
Company Overview:
Voyager Therapeutics is based out of Cambridge, MA. The company is a developmental concern that is focused on developing treatments for patients suffering from severe neurological diseases. Voyager is using the adeno-associated virus or AAV approach to develop its gene therapy candidates. The shares currently trade around $5.50 a share and sport an approximate market capitalization of $205 million.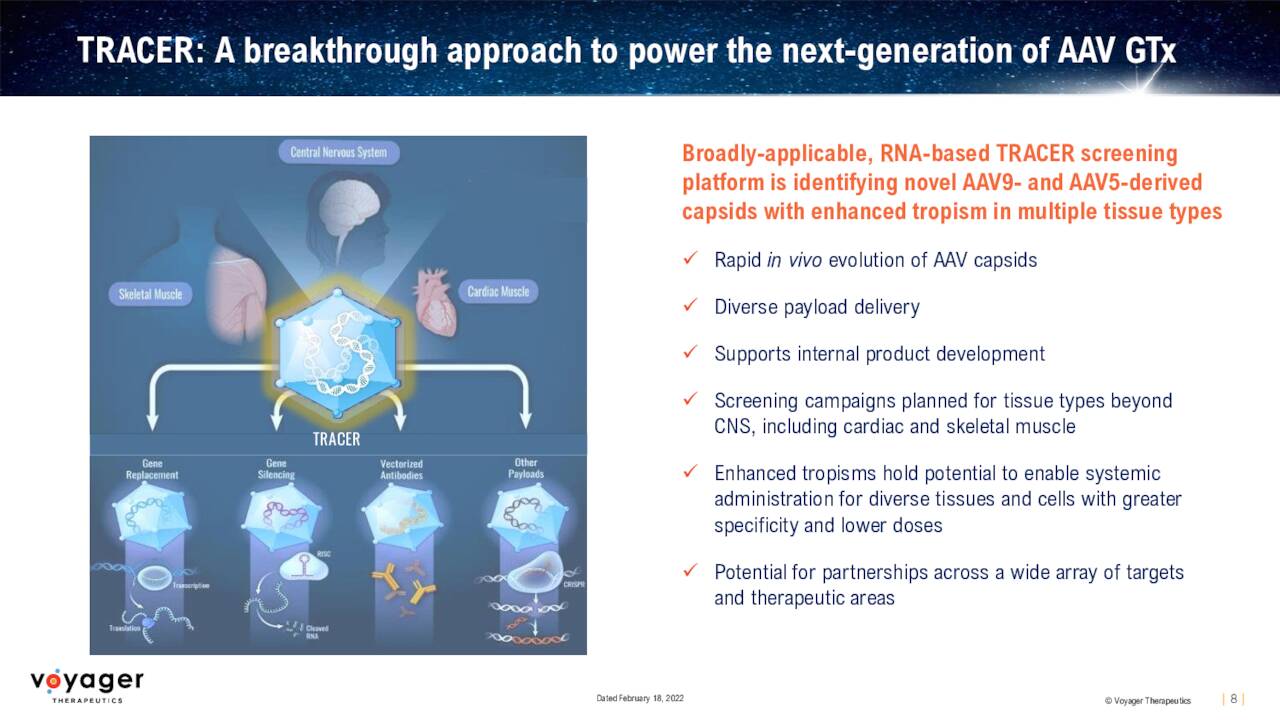 Voyager's research has also created promising genetically engineered AAV capsids (protein shell of a virus). The company believes it has the platform (TRACER) to develop the next generation of these therapies. However, all of its efforts are very early stage.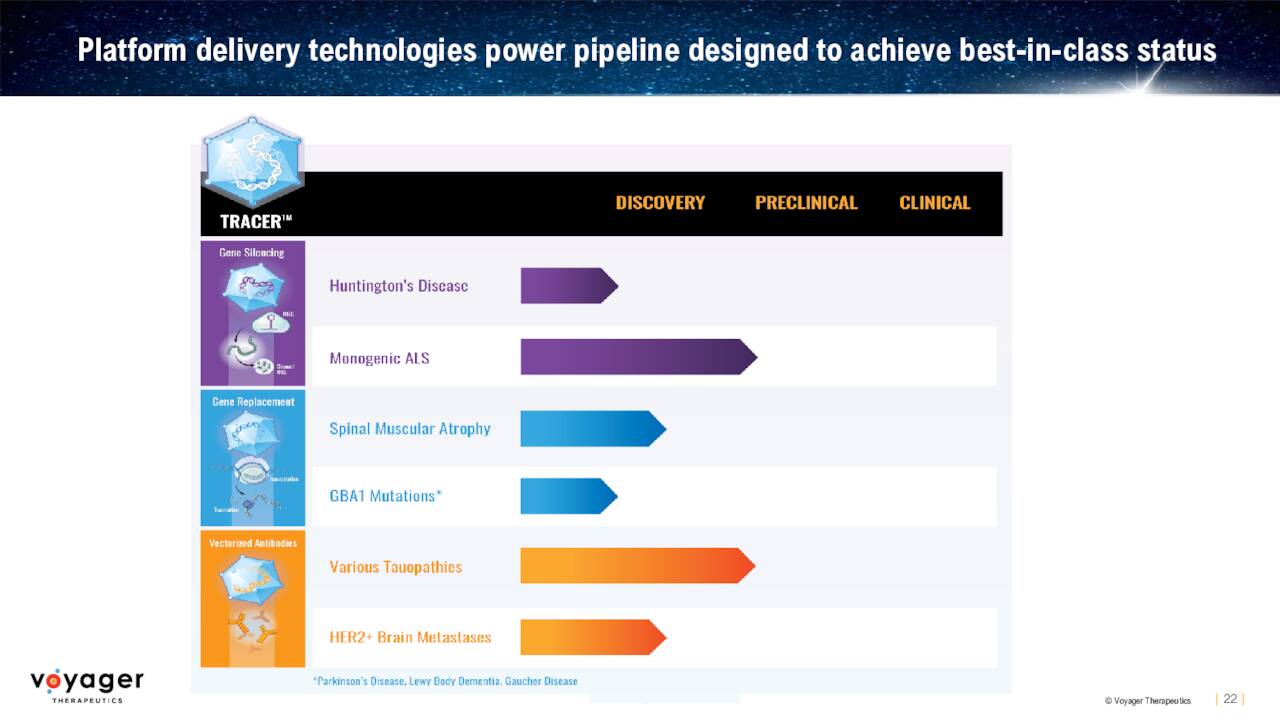 Recent Developments:
There have been some key developments since we last visited Voyager in June of last year. In mid-April of this year, the company announced that two of its board members would not stand for re-nomination due to too many other commitments. This was not the first time company has seen management departures in recent years. In May of last year the company replaced its CEO in an effort to refocus pipeline development and expand investment into its innovative, next-generation AAV capsid platform called TRACER (Tropism Redirection of AAV by Cell-type-specific Expression of RNA).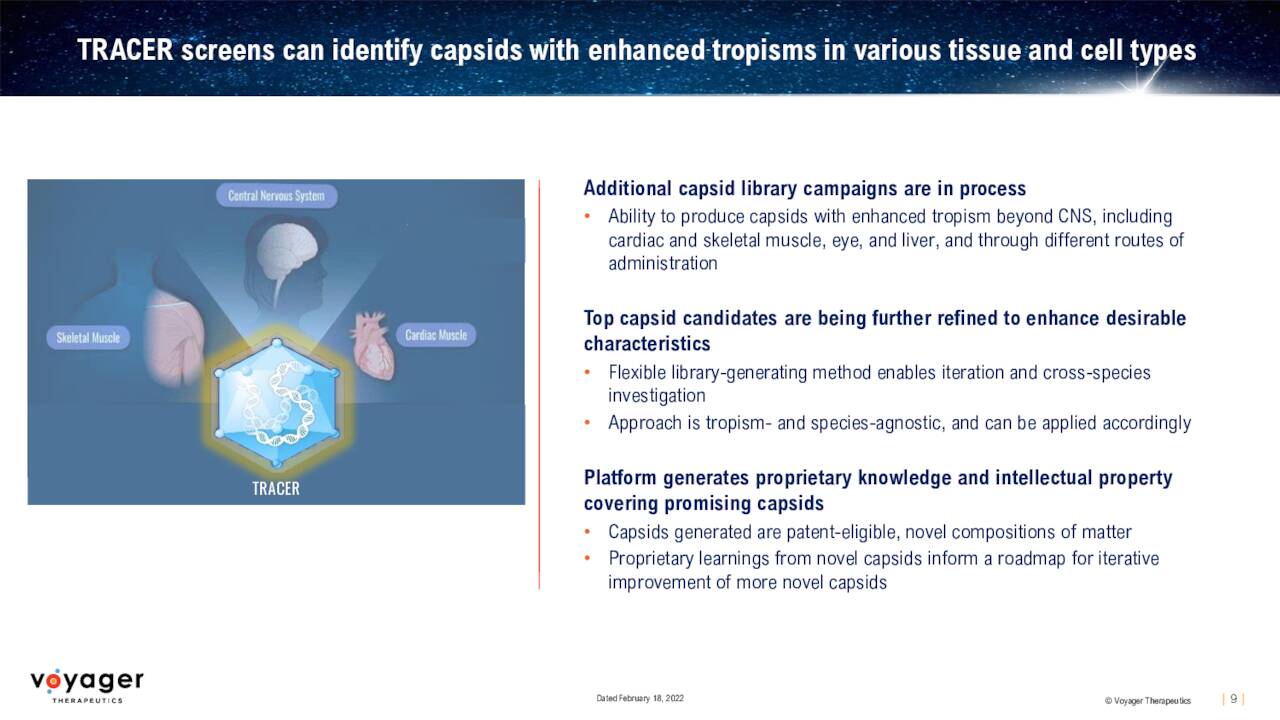 This shift in focus has resulted in some positives over the past year. In early October of last year, the company reached a deal with drug giant Pfizer (PFE) to license some therapeutic candidates developed from the company's TRACER platform. Voyager received $30 million upfront. It also could garner potential option exercise fees ($20 million per candidate) and milestone payments worth up to $600 million in addition to mid-to high-single-digit tiered royalties based on net product sales. This deal caused Robert W. Baird to upgrade the shares to Outperform and bump its price target to $16 from $9 previously. Baird's analyst said at the time that the agreement 'strongly validates the company's TRACER technology, potentially leading to other deals'.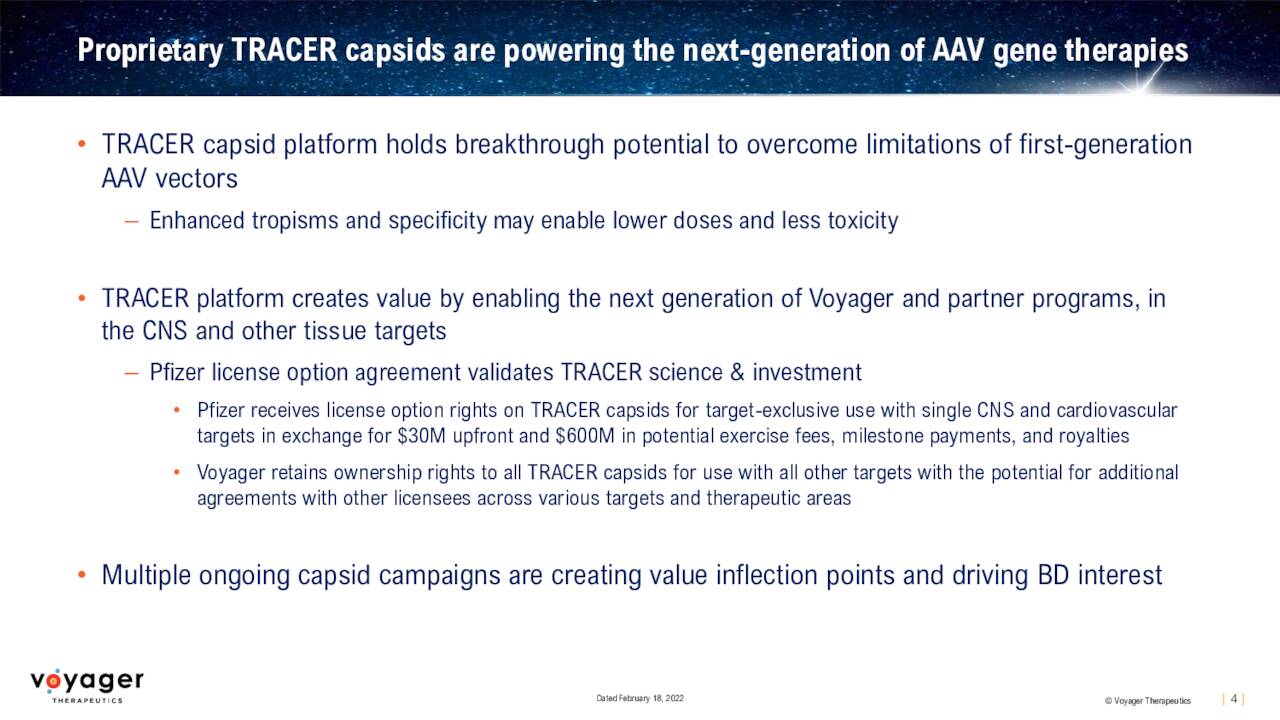 Baird's view turned out to be prescient when Novartis (NVS) in early March signed a license option agreement around TRACER adeno-associated virus capsids for gene therapy development with Novartis. This time voyager received $54 million in upfront cash as well as milestone payments of up to $1.7 billion plus product sales-based royalties. The company can also receive up to $37.5 million in exercise fees for options for three initial CNS (central nervous system) targets. These have to be exercised by Novartis within one year of the deal.
Analyst Commentary & Balance Sheet:
Analysts are largely negative on the shares at the moment. Over the past four months, four analyst firms including Wedbush and Raymond James have reissued Hold ratings on the stock. Robert W. Baird ($9 price target), Eight Capital ($13.50 price target) and Canaccord Genuity ($10 price target) have maintained Buy ratings on the stock.
There have been numerous but small insider sales by several company insiders throughout 2022. No insider buying has been seen so far this year. The company ended the first quarter with just over $165 million of cash and marketable securities on its balance sheet. Management stated at that time that funding is 'sufficient to meet Voyager's planned operating expenses and capital expenditure requirements into 2024'. Approximately six percent of the outstanding float is currently held short.
Verdict:
Approximately 80% of the company's current market cap is represented by Voyager's current net cash. Obviously, investors and the markets are not putting much value on the company's pipeline. And that is with two potential lucrative deals with large drug makers over the past year.
That is somewhat understandable given the glacial pace of development in Voyager's internal pipeline as well as some management changes over the past year. Other than some potential option exercises on new candidates or another licensing deal, there doesn't seem to be any significant potential catalysts on the near or medium term horizon. The company is many, many years from any potential commercialization. And given the horrid sentiment on small biotech stocks since the start of 2021, it is hard to blame analyst firms or investors for remaining on the sidelines even as deals with Pfizer and Novartis seem to validate the long term potential of the company's developmental platform.
The state calls its own violence law, but that of the individual, crime."― Max Stirner