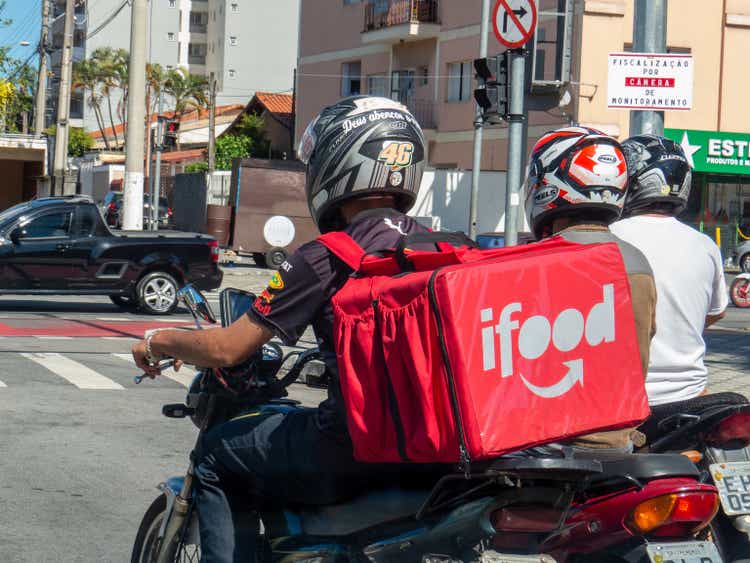 At this price, Just Eat Takeaway.com N.V.'s (OTCPK:TKAYF) enterprise value is for a big portion made up by its 33% stake in iFood, showcasing how undervalued the company is on a sum of the parts basis. Especially considering the company has 28.2 billion euro in gross total value excluding iFood - a big minority (majority after Grubhub disposal) coming from EBITDA-positive markets like Northern Europe and Canada.
iFood
This article is an update to my previous article about iFood, which is worth a read. That article is the first article or publication on iFood's value as a percentage of JET; since Cat Rock has also publicly talked about the huge value of iFood as % of JET's EV.
Since Uber Eats (UBER) has left the market, iFood's market share has reached huge proportions, 95+%. The benefits of a large market share are that the marketing cost per order is significantly lower than that of the competitors which drives competitive advantages and long-term profitability. Ever since iFood rolled out logistics (1P) in 2018, iFood has brutally expanded market share showcasing the strength of a hybrid of marketplace and logistics offerings. The strong profitability of the marketplace can be used to invest in logistics and acquire new profit pools. This expands competitive advantages by having the best offering and the lowest marketing cost per order.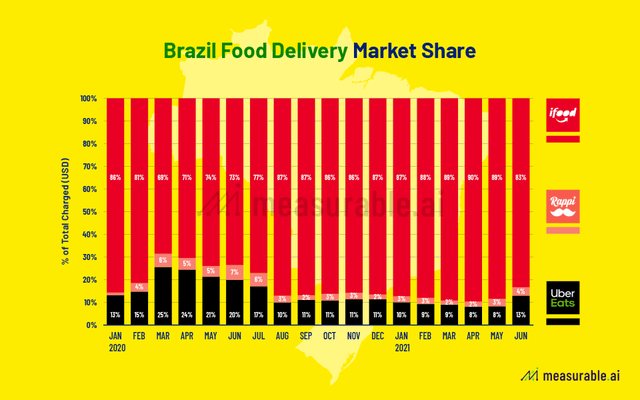 Below, one can see the financials of iFood in euros; I note since the euro has significantly depreciated.
There's much reason to believe iFood is set to hit a gross merchandise value exceeding $10 billion in 2022. First of all, compared to 2021, the Brazilian Real has experienced a significant rally relative to the US dollar. The average exchange rate for the Brazilian real in 2021 was 0.1855, now it is 0.205, representing a rise of a bit more than 10%. Second of all, the gross merchandise value already reached $6.57 billion in 2021 taking exchange rates of today. Third of all, the Q4 annual run-rate of iFood already approached $10 billion, which can be calculated since Prosus (OTCPK:PROSF) (OTCPK:PROSY) and Just Eat Takeaway report in different periods.
Let's say our estimate of iFood's GMV in 2022 is $11 billion.
I am going to do something different. I am going to value the iFood marketplace revenues as a standalone business, using the EBITDA margins from 2018 as a starting point. In 2018, iFood started rolling out logistics across Brazilian cities which led to a significant decline in profitability. After, I will attempt to value iFood's logistics business too.
Above you can see that 60-65% of iFood orders are marketplace in FY 2021 (September 2020-September 2021).
In 2018, before the logistics rollout, iFood's EBITDA margin was 15%; since the take rate has decreased from 13 to 11%, but orders also doubled for 3 years in a row; it is logical to assume that the EBITDA margin for iFood marketplace standalone has significantly expanded. If we assume 50% of the GMV in 2022 is marketplace GMV and if we then assume the EBITDA margin of the iFood marketplace standalone company would be 35% in 2022; the EBITDA would amount to $211 million at the 11% take rate; with a 30 EV/EBITDA multiple, this implies a valuation of $6.4 billion. 30 EV/EBITDA seems lika huge multiple but 26 EV/EBITDA is the average EBITDA multiple for the retail internet sector. iFood has negative working capital, an asset-light business model, a strong market position and huge growth rates. 30 EV/EBITDA seems like a fair conservative valuation; it should probably be higher.
Then the question is what value one puts on the 1P and groceries business. This is more difficult as profitability is further away. The most logical thing is to take a focused, leading logistics-based food delivery platform as a basis for valuation. DoorDash (DASH) and Swiggy come to mind.
With $45 billion in gross merchandise value, DoorDash is the clear leader in the field and the most logical choice. DoorDash is selling at 0.5 EV/GTV 2021. If you put this multiple on the iFood 1P and groceries business one gets a valuation of $2.25 billion. This is pessimistic, since iFood 1P and groceries is growing significantly faster than DoorDash historically: iFood grew this business by more than 100% YoY while DoorDash grew 36% YoY in 2021. iFood also has a bigger market share than DoorDash. Let's make it $3 billion.
When you sum up the valuations one gets $9.4 billion, with a 33% stake that implies 2.9 billion euro. My valuation is based on estimates and sometimes even guesses because we miss numbers on iFood business. Still, it is clear that iFood is a wonderful business with a steep valuation
With JET's enterprise value of 6 billion euro, it is clear iFood is approximately 50% of the enterprise value. Then you have Swiggy, which raised at 3 EV/GMV in January 2022, and Zomato, which sells at huge valuation multiples.
With their valuation multiples, iFood makes up all of JET's EV. I discussed last time why a case can be made that iFood should get a premium for the sake of having a 90+% market share instead of 40-50% seen in the Indian counterparts. But if you take their multiples as Cat Rock showed a couple of months ago (since Zomato declined by 10% but JET declined by more), the effect is crazy. JET's 28.2 billion gross total value with Northern Europe and Canada is valued at practically nothing.
Conclusion
The unprofitable heavy growth market has seen a significant correction in valuation. iFood's counterparts Zomato and Meituan remain strong on the stock market, probably because these also have strong underlying profitability and a big runway of growth. My point with my calculations is to showcase that iFood's hefty valuation is not made up of the hope of a fool paying too much but driven by the strong underlying profitability of the marketplace, and a reasonable valuation for its logistics business.
Since Prosus owns 66%, it is up to them to make a bid that reflects the fair value of iFood.
The CEO of Takeaway gets a lot of criticism, but in retrospect, the Just Eat merger through which JET acquired iFood in addition to many more good assets was a genius decision. And not selling iFood at garbage prices is also a genius decision.