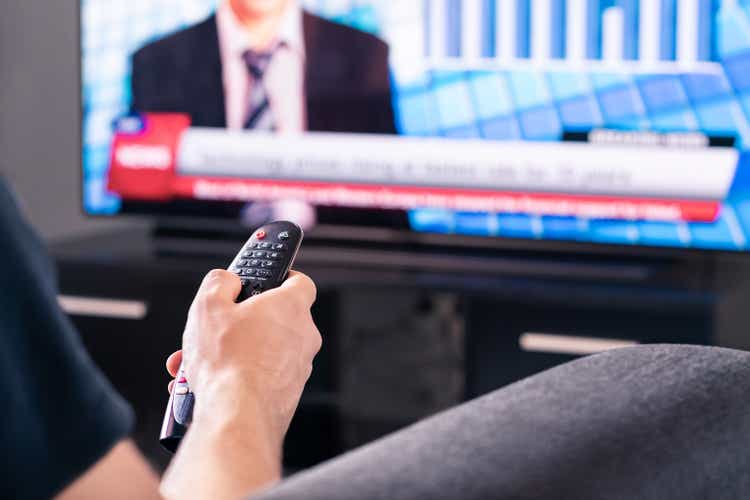 With the rapid changes that we have seen in the multimedia space, particularly with streaming in recent years, some investors may be worried that traditional old-school television stations are on their way out. But one company that has managed to perform exceptionally well considering the disruption occurring in this space is Gray Television (NYSE:GTN). Although the company has experienced a lot of volatility from a profitability and cash flow perspective, the overall trend for revenue has been positive and shares are trading at fundamentally attractive levels. So long as these trends continue, I fully suspect the business will go on to generate attractive returns for its investors. As such, I have decided to rate it a 'buy' at this time.
Tuning in to Gray Television
The management team at Gray Television describes the enterprise as a multimedia company that operates as the largest owner of top-rated local television stations in the US. Its television stations serve 113 television markets that reach an estimated 36% of all US television households. Its portfolio also includes 80 markets where it operates as the top-rated television station, as well as 100 markets with either the first and/or second-highest-rated television station. On top of these operations, the company also owns a few video program companies such as Raycom Sports, Tupelo Honey, PowerNation Studios, and Third Rail Studios.
During the company's 2021 fiscal year, its largest source of revenue was from advertising. Sales came in at $1.23 billion, with $934 million of it coming from local advertising activities. National advertising made up a further $256 million worth of revenue that year. In addition to this, the company also generates some revenue from political advertising. But this is highly volatile, with the amount of revenue generated related heavily to election cycles. For instance, in 2020, the business generated $430 million from political advertisements. Last year, this number plummeted to just $44 million. The company also generates revenue from other sources. $1.05 billion came from retransmission consent, while $73 million was associated with its production companies. A further $57 million came from other miscellaneous activities.
Over the past few years, the revenue picture for Gray Television has been quite bullish. Sales increased in each of the past five years, climbing from $883 million in 2017 to $2.41 billion in 2021. While the company does seem to be growing organically, a good portion of the increase in sales seems to be related to different transactions that the company has engaged in. For instance, in August of 2021, the company acquired Quincy in exchange for $936 million. That company operated television stations across 16 different markets. However, at that time, the company also divested another entity for $401 million. In December of last year, the firm also acquired Meredith in a deal valued at $2.8 billion. That deal brought with it 17 television stations across 12 local markets, adding 11 new markets to the company's operations. Also in 2021, the company purchased some land in Atlanta for $80 million with the intent of using it for future studio production facilities. This was followed up shortly after by the acquisition of Third Rail Studios for $27 million.
On the bottom line, things have been rather volatile. Income fell from $262 million in 2017 to $127 million in 2019. It then spiked to $358 million in 2020, largely as a result of the influx of political advertising revenue. Then net profits in 2021 tanked to just $38 million. The picture for operating cash flow has been a bit different. It alternately increased from $180 million in 2017 to $652 million in 2020 before plummeting to $300 million in 2021. Even if we adjust for changes in working capital, it would have followed a similar trajectory, rising from $200 million in 2017 to $713 million in 2020. Then, in 2021, it would have totaled $350 million. A very similar trend can be seen when looking at EBITDA as well. It ultimately peaked at $926 million in 2020 before dropping some to $720 million last year. Even so, that's comfortably above the $293 million reported back in 2017.
For the 2022 fiscal year, the picture continues to improve. Revenue of $827 million dwarfs the $544 million experienced in the first quarter of the company's 2021 fiscal year. Much of this improvement came as a result of the aforementioned acquisitions the company made. Net profits also improved, climbing from $26 million in the first quarter of last year to $49 million this year. Operating cash flow fell from $147 million to $141 million. But if we adjust for changes in working capital, it would have risen from $98 million to $152 million. Over that same window of time, EBITDA also increased, climbing from $169 million to $252 million.
Management has not provided any guidance for the 2022 fiscal year. But if we assume that results from the first quarter are indicative of what the company should achieve for the entirety of the year, then investors should anticipate adjusted operating cash flow of roughly $542.9 million and EBITDA of around $1.07 billion. Taking this data, we can effectively price the company. Using our 2021 results, the firm is trading at a price to adjusted operating cash flow multiple of 6.1 and at an EV to EBITDA multiple of 12.5. In the event that my 2022 estimates are accurate, these multiples decrease to 3.7 and 8.4. To put the pricing of the company into perspective, I decided to compare it to five similar businesses. On a price to operating cash flow basis, these companies ranged from a low of 2.9 to a high of 127.9. Even being more conservative and using our 2021 figures, only two of the five companies were cheaper than Gray Television. Meanwhile, using the EV to EBITDA approach, the range was from 0.9 to 9.2. In this case, Gray Television was the most expensive of the group. This is due to the significant amount of debt the company has and the $650 million in preferred stock that's also on its books.
| | | |
| --- | --- | --- |
| Company | Price / Operating Cash Flow | EV / EBITDA |
| Gray Television | 6.1 | 12.5 |
| iHeartMedia (IHRT) | 8.1 | 9.2 |
| Sinclair Broadcast Group (SBGI) | 2.9 | 0.9 |
| AMC Networks (AMCX) | 127.9 | 2.5 |
| The E.W. Scripps Co (SSP) | 6.2 | 9.2 |
| Corus Entertainment (OTCPK:CJREF) | 3.7 | 2.1 |
Takeaway
Based on all the data provided, I must say that I am impressed by what Gray Television has achieved in recent years. The company continues to increase its exposure to local television stations and while many may view that as a dying market, the company is doing well nonetheless. That is rather high, with a net leverage ratio of 9, a number that still comes in at 6.1 on a forward basis if my 2022 estimates are accurate. In addition to that, the firm is trading on the pricey side relative to similar players when we discuss valuation from the perspective of the EV to EBITDA approach. But on an absolute basis, the stock does not look any worse than fairly valued and is likely underpriced to some degree at this time. Because of this, I have decided to rate the enterprise a soft 'buy', with the stipulation that investors should continue to monitor the company's debt situation.