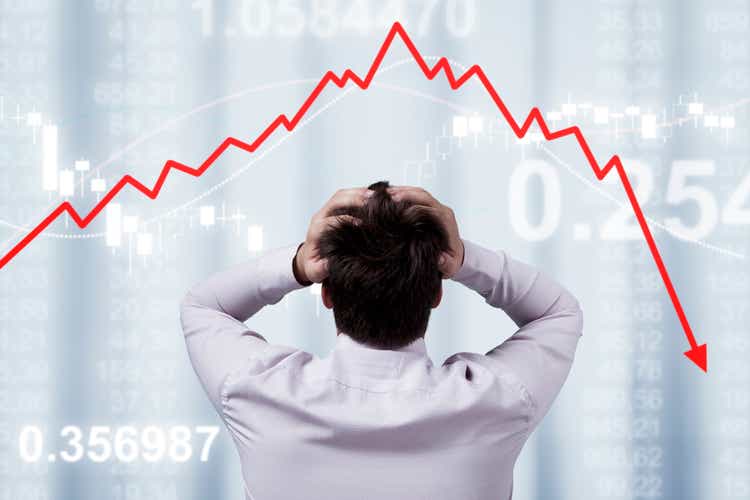 Few ETFs have captured the zeitgeist of the post-COVID investing era more than the ARK Innovation series. With astronomical returns in 2020 and 2021 that suddenly disappeared in 2022, it's understandable why investors are optimistically monitoring the ARK funds' next moves. But should they be so positive?
I'm bearish on ARK funds. In fact, you could argue I'm more bearish on the flagship ARK Innovation ETF (ARKK) than Charlie Munger is bearish on Bitcoin. Still, of the four most popular ARK funds, I'm least bearish on the ARK Autonomous Technology & Robotics ETF (BATS:ARKQ). I'd write an article about my issues with ARKK, but at least ARKQ has a chance to survive.
The Long-Term Bear Case
I should clarify why I like ARKQ over the others. Below is a Fama-French five factor regression for the four most popular ARK funds. In addition to ARKK and ARKQ, the ARK Next Generation Internet ETF (ARKW) and the ARK Genomic Revolution ETF (ARKG) are included. Rm-Rf is a measure of market beta, SMB is for size exposure, HML for value, RMW for profitability, and CMA for investment. Alpha is basically a regression coefficient which can possibly indicate manager skill or luck.

Analyzing risk factors that have historically correlated with equity returns can be a good start to understanding the expected long-term performance of diversified portfolios. Larger positive numbers tend to be a good thing, but this is not always true with market beta; high-beta stocks have historically underperformed low-beta stocks. The high-beta anomaly is claimed to have been resolved with this five factor model, but the proof hasn't yet been published. In the meantime, I'm skeptical of market betas significantly over 1. ARKQ already looks pretty good here with its beta being closest to 1.
ARKQ has the best profitability and investment factor exposure of all the funds and is basically on par with ARKW in value exposure. All of the monthly alphas are statistically insignificant at the 95% level, so it is difficult to discuss them in-depth, and certainly it would be dubious to attribute them to manager skill. Overall, I'm comfortable saying that ARKQ is going to beat these other funds in the long term.
That being said, positive size exposure and negative value and profitability exposure are absolutely not risk factors that I'd want to see in my portfolio. It's well researched that small cap growth has performed dreadfully over the last century. According to Morningstar, there's a pretty heavy tilt towards this cursed asset class.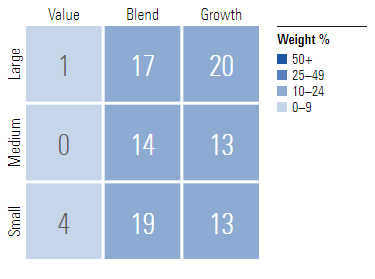 Small cap growth stocks, specifically those with low profitability, give such low returns that they make small caps stocks as an asset class look bad. While active management can often beat small cap growth indices, as ARKQ has demonstrated, that's still not enough reason to invest in small cap growth. Dr. William Bernstein expresses my view on this nicely. "Whether your approach is active or passive, the best advice about small growth investing is to just say no."
Much of the low profitability small cap growth phenomenon is due to lottery-like returns. In fact, I'm not surprised at all that a fund betting on disruptive technology is going to have lottery-like behavior. But, if I were looking for lottery tickets, I wouldn't want to hold 30-50 of them in equal proportions; I'm not looking at ARKQ for diversification. Fortunately, ARKQ does weigh some certain securities very highly, as shown in the pie chart below. I agree with this design choice as a sensible means of targeting what this fund is trying to achieve.

For a long-term hold, and by that, I mean 10-20 years, I'd wager that ARKQ is going to be the strongest ARK fund. It probably will make you money and is unlikely to go to zero, but that's not very high praise. I'm also wagering that it's going to lose to the S&P 500, and by a lot.
The Short-Term Bear Case
It still might be worth holding ARKQ in the short term if market conditions are right. After all, growth is still outperforming value, and the NASDAQ 100 is still beating the S&P 500. ARQ was definitely riding momentum during the COVID recovery, but probably not anymore. Morningstar agrees that momentum is at an all-time low. ARKQ's 40% drawdown is still better than ARKK's 70% drawdown but losing 40% of investor money in under a year isn't exactly something to be proud of even in comparison to a worse-performing sister fund.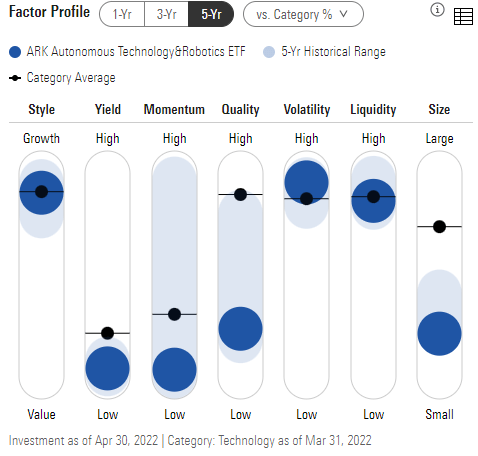 Given the recent underperformance, it might be tempting to buy into ARKQ as a reversion to the mean play. I wouldn't count on this either. If anything, ARKQ is still exceeding its lifetime expectations as predicted by risk factors, which means there's still plenty of room to crater.
ARKQ is also prone to sector risk. Sector risk probably means nothing in the long term, but I would be very wary about the possibility of a tech crash if I held a fund with over 50% weighting into technology companies.

It may also help to analyze individual securities and see where they are headed over the next few years.
Tesla, Inc. (TSLA)
This one is obviously going to be divisive. In an article from Professor Brad Cornell, he attributes the meteoric rise of TSLA's share price to a narrative that TSLA has influence in the artificial intelligence and robotics space. This is very interesting because it's entirely possible that Cathie Wood's inclusion of TSLA into ARKQ drove this narrative, hinting that TSLA's share price is being held up in part by ARKQ instead of the other way around. That aside, Cornell and Professor Aswath Damodaran converge on a similar fair value price for TSLA in the $150-175 area. I can't help but be bearish on a company that trades at 58x earnings, especially when valuation experts are in agreement.
Trimble Inc. (TRMB)
TRMB has matched S&P 500 returns over the last 5 years and underperformed over the last 10 years. Its P/B is now back to typical historical levels, which makes me think that it might not be the worst pick in the world. However, the price still got bid up to skyscraper levels in 2021, and the market is still trying to figure out how high it overshot fair value. Seeking Alpha author Daniel Jones has reasons to believe the stock is still slightly overvalued, and I tend to agree. Little bearish on this one, but not very much so.
Kratos Defense & Security Solutions (KTOS)
KTOS is very interesting. It has consistently negative net income and investors seem to be running away from it. In the last 10 years it has underperformed the S&P 500 by a cumulative 50% despite having a good run in 2021, and even after all of that it's still criminally overvalued. Yet, Seeking Alpha authors are somehow bullish. I don't see the hype. I'm a huge fan of the products and services they deliver, but every financial metric predicts abysmal returns. This seems like a classic case of buying a great company at too high of a price; I'm getting Palantir Technologies (PLTR) vibes. I would only invest in KTOS because Kratos is a cool name. I'd consider working for them, though.
UiPath (PATH)
I was not able to find a P/E ratio on Seeking Alpha, but Zacks claims it's 646x, and the NASDAQ website claims it's -20x. There is no way I would invest in a company with a negative P/E ratio. I can't help but think PATH was added solely for thematic reasons, in which case I'm worried that in this instance ARKQ was a bit careless. If I wanted a no-frills thematic ETF, I'd rather choose an index fund.
KMTUY is actually a solid company trading at an attractive price. Since 2006, KMTUY has netted over $1 billion in profits nearly every quarter according to Seeking Alpha charting data. It's also based overseas, which adds to international diversification. In the event of a P/E contraction, while companies headquartered in the US would get swamped, KMTUY is likely to survive. I would go as far as recommending this company as a chunky holding. Very bullish and a solid pick for ARKQ.
Of ARKQ's top 5 holdings, I'm only bullish on the 5th largest. I can't see any of the other companies holding up too well over the next few years. For that reason, I can't see ARKQ having a pleasant ride.
The Behavioral Bear Case
The behavioral case is the most important because staying invested is the most important task there is. You can hitch a ride on ARKQ to its apex, but if you sell in one moment of weakness, then your entire investment is potentially ruined.
I don't like trusting my money with other humans unless I understand what they're doing. Preferably, they'd be using transparent and reproducible methods that give me confidence that we, as if I myself am involved in the decision-making process, are doing the right thing. From that perspective, it's irresponsible to trust my money with someone who loses 40% of it in a year while everyone else is doing just fine. The only reason I'd want to buy into ARKQ, apart from being a diehard robotics bull, is if I thought it were going to the moon because of past performance. Such a strategy leads to performance chasing and high turnover. If I wanted to do that, I'd do it with the more evidence-based iShares Edge MSCI USA Momentum Factor ETF (MTUM).
You must have guts of steel to not capitulate a fund that appears to lack fundamentals both in theory and in practice. It's a fun ride when you're beating everybody for a few months but hurts twice as bad when the tide turns. Holding on for dear life is hard enough while indexing, let alone with a high-beta fund. I don't have it in me to do this, and I suspect most investors don't have it in them either. But, if I had to choose between any of the ARK funds, I'm going with ARKQ. At least the drawdowns aren't so soul crushing.
Should You Buy ARKQ?
No, but it's better than buying ARKK.
Seeking Alpha's Quant gives ARKQ a Sell rating with 2.14/5. It's nice when the human and the AI agree on a bearish outlook, especially if you're also bear. The Quant seems to agree that momentum is poor, and the risks are largely uncompensated. It also highlights that investors are indeed running for the door as one of its core five metrics.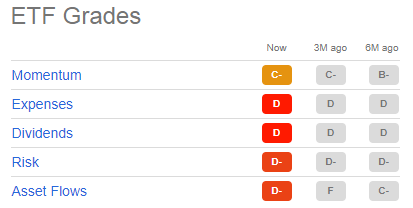 All in all, I don't see a compelling thesis to invest in ARKQ, and the AI clearly doesn't either. I'd first thank myself for not choosing ARKK, and then I'd lock in my profits and get out. Sell.