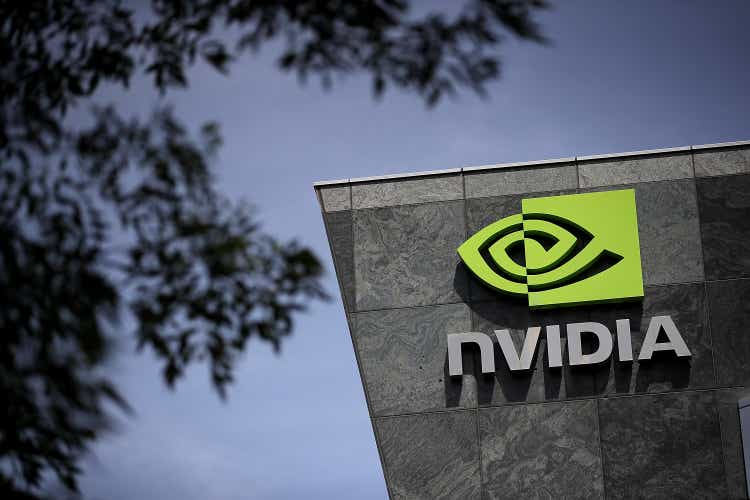 Investment Thesis
Nvidia (NASDAQ:NVDA) stock has been battered massively, falling more than 45% below its November 2021 bull trap. Given its embedded growth premium, it has also suffered the brunt of the recent semi stocks sell-off, as investors bailed out of high multiple growth stocks. Furthermore, Nvidia's growth could be slowing moving forward, as the consensus estimates were reduced markedly.
Notwithstanding, the Street's analysts remain bullish on NVDA stock, with 35/43 Buy or Strong Buy ratings. We were neutral on the stock for most of 2021, but turned bullish in 2022. We had anticipated that the digression in its November bull trap could have been completed, but we were wrong. The following bull trap in March, following its Spring GTC, was significant, as it set the stage for NVDA stock to move into negative flow (bearish momentum).
Moreover, NVDA remains mired in negative flow (bearish momentum), even though it's at a near-term bottom, with a validated bear trap. Therefore, we have also revised its fair value, considering the most updated estimates.
Accordingly, we believe it's time to turn cautious (not bearish) as we await the re-test of its near-term resistance. We will reassess our rating after observing more constructive signals from its re-test.
Consequently, we revise our rating on NVDA stock from Buy to Hold.
What To Expect After Earnings?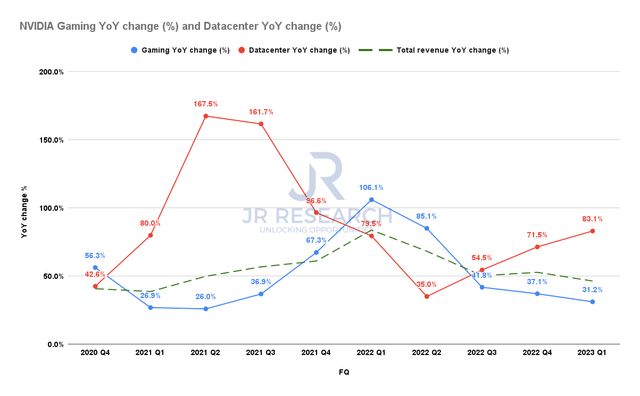 Nvidia's growth momentum from 2021 has clearly decelerated as it laps challenging comps and lower ASPs for its gaming cards. As seen above, data center's 83.1% YoY revenue surge in FQ1'23 was insufficient to lift its declining revenue growth trend. Furthermore, Nvidia was caught flat-footed by China's COVID lockdowns and stoppage of sales in Russia.
Notwithstanding, the recent easing of lockdowns in China should help lift the market sentiments. However, we believe the market has already anticipated the lifting of lockdowns in its recent May bottom, with its validated bear trap. As a result, we don't think investors should expect a further lift-off in NVDA stock despite the upturn in China's COVID fortunes.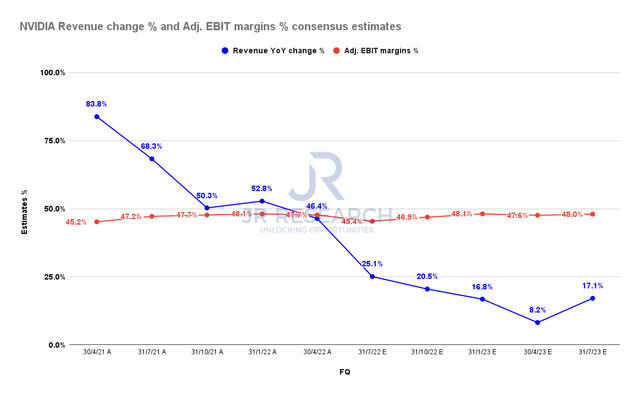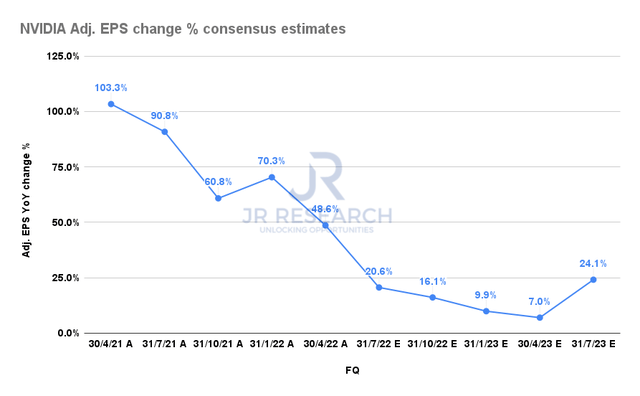 Also, investors need to consider that Nvidia's revenue and adjusted EPS growth could continue to decelerate significantly moving forward. As a result, it could put pressure on Nvidia's ability to gain leverage, even though its adjusted EBIT margins are expected to remain consistent.
However, we think the consensus estimates have baked in a bullish bias on their base case, given the Street's consensus Buy rating.
Notwithstanding, the bulls could argue that the 45% drop from its November highs could have accounted for its impending deceleration. But, the bears could counter that Nvidia stock is still priced at a steep premium.
Is Nvidia Stock Undervalued?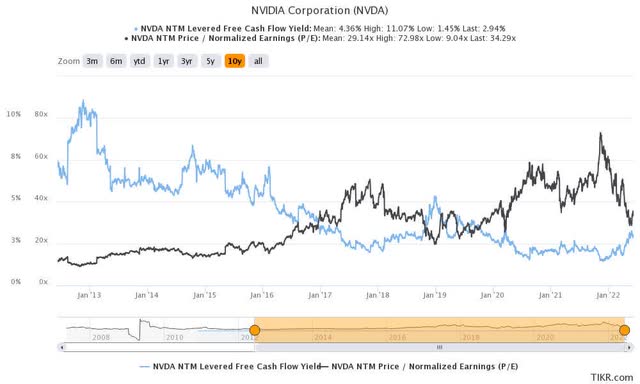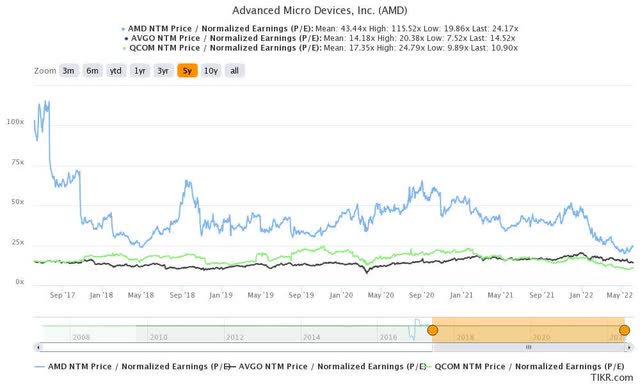 NVDA stock last traded at an NTM normalized P/E of 34.29x (Vs. 10Y mean of 29.14x). It also posted an NTM FCF yield of 2.94% (Vs. 10Y mean of 4.36%). Therefore, it's arguable that the market still expects Nvidia to deliver more robust growth than its long-term average.
Nvidia posted a 10Y revenue CAGR of 21.1%. But, the consensus estimates suggest its revised revenue growth could slow to 16.9% in FY24. Therefore, caution is warranted as NVDA continues to trade well above its 10Y mean.
Furthermore, NVDA stock is also valued significantly above its semi peers, as seen above. Even AMD (AMD) stock trades at a nearly 30% discount against NVDA's NTM normalized P/E. Therefore, we think Nvidia could struggle to justify its embedded growth premium with much lower than long-term average revenue growth over the next two years.
Price Action Suggests A Near-Term Bottom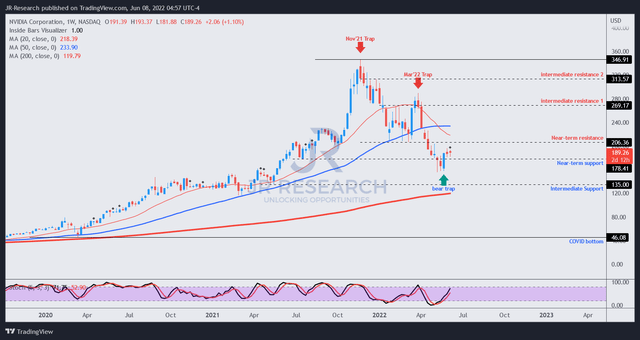 Our price action analysis of NVDA stock suggests a pretty strong near-term bottom. It also has a validated bear trap, further undergirding the robustness of its near-term support, as seen above.
However, March's massive bull trap has continued to stymie the recovery momentum of NVDA stock. As a result, the stock remains mired in negative flow, which doesn't bode well for its re-rating. However, if NVDA can continue to sustain its bear trap and not break lower lows, we think it could form a constructive base moving forward.
Notwithstanding, we believe its fundamentals and valuations do not support a near-term re-rating to higher levels. At this point, we think the risk/reward profile has changed markedly from the price action perspective.
However, we don't think the outlook is bearish for NVDA stock. But, we believe the stock could underperform its peers, which has materially impacted its risk/reward profile.
Is NVDA Stock A Buy, Sell, Or Hold?
We revise our rating on NVDA stock from Buy to Hold.
Our price action analysis suggests a near-term bottom with a validated bear trap. However, it's not a double bottom bear trap, which could portend a higher potential for reversal.
Nimble investors can use the bear trap for a swing trading opportunity (with an appropriate profit/stop-loss trade management). However, we do not observe an attractive risk/reward profile for investing at this point.
We will reassess our rating if we see a more constructive development in its price action or if there is a deeper retracement in the stock moving forward.