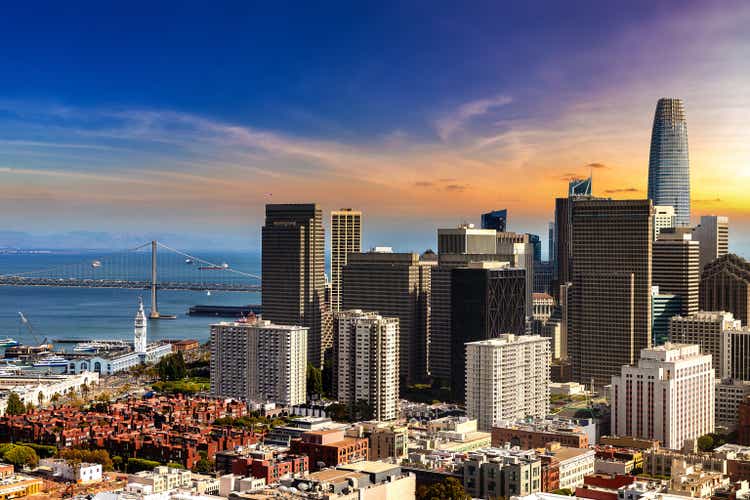 At the beginning of the year, I wrote "VNQ: Commercial Property Prices May Plummet As Interest Rates Rise," which detailed my bearish take on the commercial property sector. The core thesis was that the end of the Federal Reserve's Q.E program would cause mortgage rates to rise and, over time, dramatically lower the Net Asset Values of most REITs. At the time, it also seemed that the popular Vanguard REIT ETF (NYSEARCA:VNQ) had additional issues due to its high exposure to "specialized REITs," which carry abnormally high valuations.
Since then, VNQ has declined by around 10%, and mortgage rates have risen dramatically from 3% to over 5%. A key source of office renters, the technology sector has also seen a material downturn, with layoffs rising back toward early 2020 levels across many startups. The San Francisco Bay Area, where property valuations are among the highest, is, by far, the current leader in technology layoffs. On the one hand, these are new trends, so it is not yet guaranteed that the commercial property sector will see a significant downturn. On the other, these trends are rapid and extensive, so I expect they will continue.
VNQ and REITs, in general, are not good hedges against the type of inflation we're seeing today. If inflation were driven by strong economic growth coupled with low interest rates (where demand is rising faster than supply), real estate could be a decent hedge against rising prices. However, today inflation is driven by sizeable persistent commodity shortages where demand is high (but falling or not growing), and supply is low. In this environment, interest rates will need to rise significantly in order to slow the economy to the point where demand falls back below supply. This situation is troublesome for REITs since they depend heavily on a healthy level of economic growth (to drive rental demand) and low interest rates (to keep capitalization rates from rising). In my opinion, as these trends continue to accelerate, VNQ may be headed for another, likely larger, decline.
The Boom and Bust Of Commercial Real Estate
The years leading up to 2020 were a goldilocks period of stability and growth for the commercial property market. Real estate sales volumes were substantial and backed by low interest rates and a healthy rising trend in economic demand. The effects of the pandemic, and the economic response to it, complicated the industry as sales volumes crashed and a surge in work-from-home led to a sharp reversal in demand. However, seemingly paradoxically, commercial property prices managed to rise in 2020 as the severe decline in mortgage rates held capitalization rates down. These gains were extended in 2021 as average U.S capitalization rates plummeted again from 6.1% in 2020 to 5.4% at the end of last year.
Before this year, when commercial mortgage rates were generally below 4%, and capitalization rates were around 5 to 6%, property investors could earn a healthy profit on the 1-2% spread, specifically, by borrowing at 4% and receiving a net operating income equivalent to 5 to 6% of a property's purchase price (i.e., capitalization rate). Today, however, commercial mortgage rates are much higher, generally ranging from about 5% to nearly 7% (CMBS rates), while capitalization rates are generally unchanged. Thus, a new commercial property buyer must borrow at around 5-7% while receiving 5-6% in net operating income. As such, in most instances, a new commercial property buyer cannot make a material profit using borrowed money, paying nearly all net operating income to interest. For would-be investors to turn a profit, assuming NOIs will not rise dramatically and mortgage rates are unlikely to fall, commercial property prices must decline (i.e., cap rates must increase).
The commercial property market reacts slightly more slowly than the residential market. Most of the commercial property market data also come out more slowly; however, the fundamentals regarding pricing and valuations (compared to rates) between the two are very similar. As with the residential market, commercial property sales volumes were substantial during the beginning of Q1. However, it is likely pending commercial property sales are declining, using current housing market metrics as an indicator: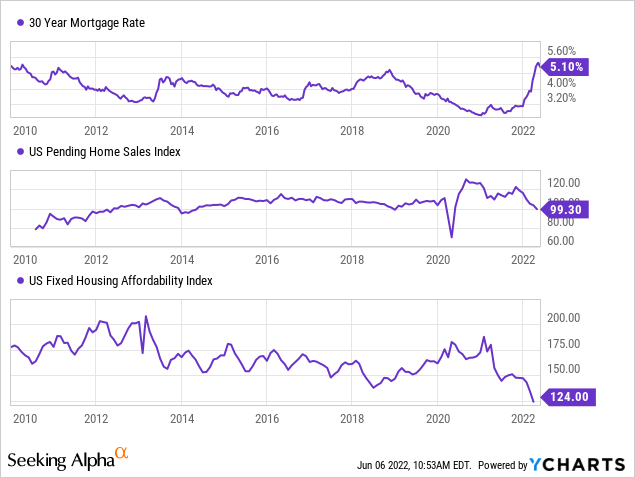 Unsurprisingly, as mortgage rates skyrocketed, home affordability and pending home sales plummeted. Again, considering 2021's capitalization rates are now generally at or above mortgage rates, commercial property investors cannot turn a profit unless prices decline dramatically.
On the flip side, it is possible that the strong pace of inflation could cause commercial property revenues to rise fast enough to offset the cost of high interest rates. Indeed, this factor may keep commercial property sales temporarily moderated even as the housing market shutters. As homes become more expensive, rental demand may rise. That said, nationally speaking, rents are falling compared to the CPI after booming for over a decade: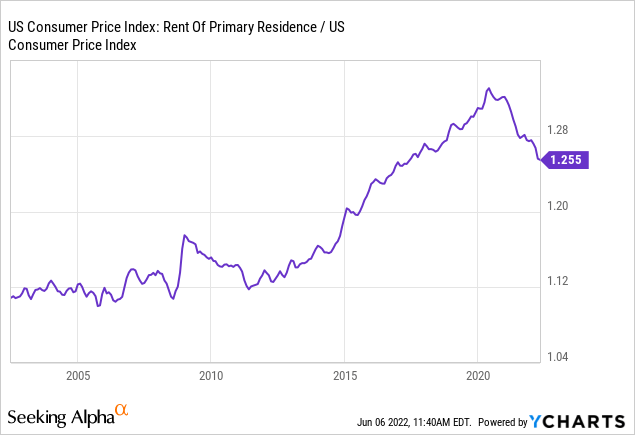 Generally speaking, the rental market is the most robust segment within the commercial property sector, with multifamily properties selling at sub 4% capitalization rates last year. However, the homeownership rate rose dramatically during the 2020-2021 period of ultra-low mortgage rates, likely causing rents to decline compared to prices. Of course, real average incomes and personal savings are falling while consumer credit is skyrocketing, so many multifamily properties may soon see a spike in non-paying tenants.
Additionally, we must keep in mind that while rising inflation may increase commercial property revenues, it also increases overhead. The property management sector is currently in a significant labor shortage, and contractors are becoming more expensive. This factor will likely keep all new commercial property construction delayed, but it will also mean much higher overhead costs for commercial property owners.
Overall, I believe it is now clear that the macroeconomic environment has sharply turned against the commercial property industry. Multifamily residential aside, the demand for office, travel and retail properties remain low and, I expect, will continue to weaken with the slowing economy, rising technology sector layoffs, and skyrocketing gas prices (a double-whammy for lodging). Healthcare and industrial REITs may fare better, but the sharp rise in interest rates will likely boost capitalization rates.
Specialized REITs in VNQ May Add to Woes
Overall, VNQs value and dividend potential is tied to the macroeconomic situation. Most of the fund's assets are spread between "normal" commercial property market segments. As of the end of April, residential made up 15%, industrials 12.7%, and retail 10.5%, while office, healthcare, hotel, and others were all below 10%. However, "specialized REITs" are the most significant overall segment at 36.7%. Examples include the cell-tower giants American Tower Corp (AMT) and Crown Castle (CCI), collectively making up around 11% of VNQ's assets. Other examples include the data-center REIT Digital Realty Trust (DLR) and similar firms.
Typically, the "specialized REITs" have higher valuations with "P/FFO" measures often in the 25-35X range. Many of these firms have had higher organic growth rates and played well into the technology trend. I've had doubts about whether or not those trends will persist, particularly regarding cell tower REITs that I have been bearish on since last fall. While my view is still speculative, overall U.S demand for cellular data, or data in general, might be verging on a peak, leading to the overdevelopment of data centers and cell towers.
My bearish view on data demand stems from the fact that most people in the U.S are already fully inundated with technology, and "Moore's law" of improving processors has reached its physical limitations. While this may hardly seem relevant for VNQ, most of its assets are in data-centric REITs. Notably, most of these data REITs do not have a liquid market to sell to if they need capital as there are very few companies in the market. Additionally, many still have abnormally high valuations and have dramatically stretched their leverage.
The Bottom Line
VNQ currently has a relatively high weighted-average "P/E" of 33X and a price-to-book of 2.9X. The latter measure is not critical, but it does imply many of VNQ's REITs own properties with Net Asset Values far above the original purchase price. In my view, those NAVs are not very relevant as they will likely come down as the full effect of higher mortgage rates and a slower economy impact the commercial property market. On that note, VNQ's TTM dividend yield is only 3% which is well below the current inflation rate. As you can see below, the spread between VNQ's yield and the 10-Year Treasury rate is also at an extreme low: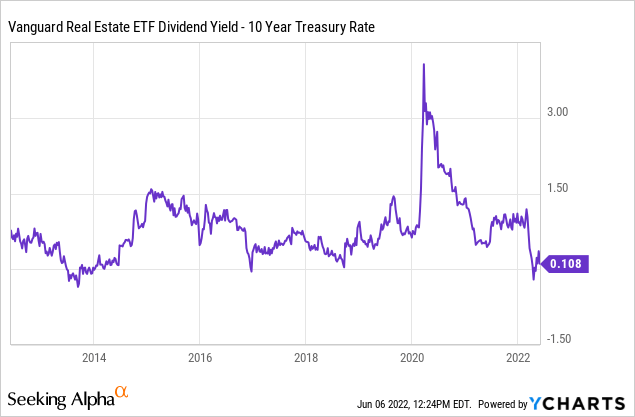 The spread between VNQ's yield and Treasury rates may be the clearest signal that VNQ may be headed for another decline. In my view, the fund is significantly overvalued if we account for the potential impact of higher interest rates on commercial property valuations. Given it is doubtful property NAV's rise, investors would probably be better off with a 10-year Treasury bond as it pays a similar yield.
With the economy weakening, its dividend is unlikely to sustain a rise as it seems many commercial REITs may see cash flows decline. Interest rates may even rise higher given inflationary pressures, potentially exacerbating the expected strain on capitalization rates. Overall, the combination of these factors makes me very bearish on VNQ, and I would avoid the fund at least until its dividend yield is 1.5% above the 10-year Treasury rate.