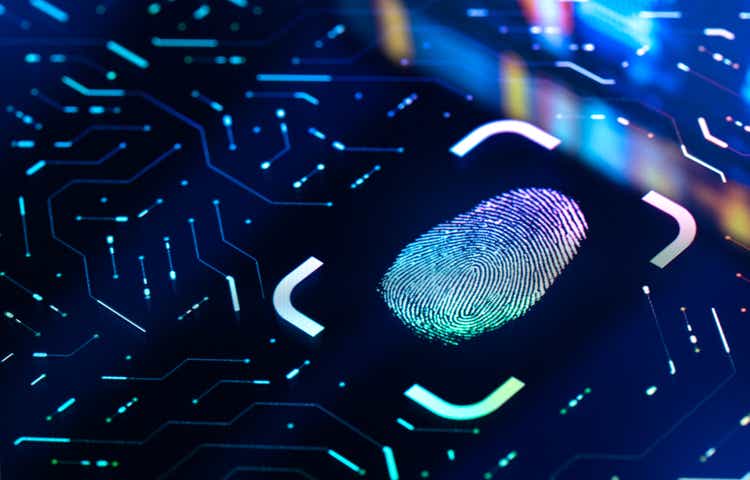 Investment thesis
Okta, Inc. (NASDAQ:OKTA) posted strong revenue figures for the FY23Q1 quarter; however, remaining performance obligations (RPO) showed some signs of weakness. Profitability has sunken further deep into the red, but management hinted on positive turnaround for the second half of the year.
If the company manages to reach its FY2026 targets, current valuation seems to be quite conservative. The decisive question is, how can Okta maintain its strong sales growth with spending proportionally less on S&M. At current share price levels, I think it's worth it to take the risk and invest in the shares, because the share price could double or even triple in 3 years from now, if everything goes as planned.
Strong revenue growth, seasonally weak quarter for RPO
Okta unveiled strong revenue growth dynamics within its FY23Q1 earnings release, which showed that the Q1 data breach didn't affect the business materially. Remaining performance obligations were not that convincing, but this should rather result from seasonality and not signal trouble for the business.
Okta posted good results for its FY23Q1 quarter with revenue reaching $415 million growing 65% on a YoY basis. Street consensus was around $390 million anchored by Okta's previous guidance of $388 million, which they managed to beat by the usual 6-7% margin:
This was the last quarter where the Auth0 acquisition distorted revenue growth figures significantly, investors should expect the YoY growth rate to level off to around 35-45% in the upcoming quarters.
Okta guided for $429 million revenue for Q2, which would mean ~35.7% YoY growth. If the company would beat its own guidance again by the ~6.5% margin, revenue would grow 44.5% YoY, which would be impressive.
If we look at QoQ sequential revenue growth rates below, we can see some deceleration in the last three quarters. If Okta manages to "only" reach its guidance for Q2 it would mean a further strong deceleration in sequential growth to 3.4% YoY (A version). This would be troublesome in my opinion, even accounting for seasonality, which shows that the second half of the year is usually the strongest. However, if Okta beats its guidance by the usual margin again (B version) - which is my base case estimate - sequential revenue growth would jump to ~10% again:
Considering all these factors I think Okta reported strong revenue figures for Q1 and provided a guidance for Q2, which gives cause for optimism. This shows that for the first sight the security breach didn't have any material impact on fundamentals. With this the company is on its way to reach its recently raised FY23 revenue guidance of $1.81 billion, which if it grows further by at least 30% every year until FY26, it will reach its $4 billion long-term target set for that year.
If we look at RPO, which includes all contracted future revenue streams (providing a good indicator for future revenue growth) we see a slightly different picture. RPO grew ~43% YoY, significantly slower than revenues (65%) and stayed flat sequentially at ~$2.7 billion after growing 5.1% and 14.6% QoQ in FY22Q3 and FY22Q4, respectively. Historically seen Q1 was the weakest link for sequential RPO growth (FY21Q1: 2.5%, FY22Q1: 5%), so I wouldn't read too much into this. However, it is important to give extra attention to this metric in the Q2 earnings release, because if it fails to grow further QoQ at least in the 5-10% range, it would mean bad signs regarding future growth.
Although current RPO (RPO to be recognized in the next 12 months) showed a somewhat better picture growing 57% YoY and 4.6% sequentially, the same observations apply here. Luckily Okta's current RPO guidance of $1.485 billion for Q2 was a fair enough reassurance, that there are no problems on the backlog side either. This guidance would mean 5.1% sequential growth, which could end up significantly higher, if we factor in the conservativism embedded in the guide.
FCF margin is too volatile, focus on operating profitability (loss)
Okta continued to increase its losses in the FY23Q1 quarter as it spends aggressively on S&M further. For now, sales efficiency shows that S&M spending is still able to generate sufficient additional revenue, however, some improvement is needed to justify continued aggressive sales push in my opinion. Based on management comments, profitability trends should improve in H2, but because of seasonality, in Q2 no substantial turnaround is expected.
The bottom line of Okta remained deeply in the red in FY23Q1 after non-GAAP operating margin reached negative 9.9%, the lowest in the past two years: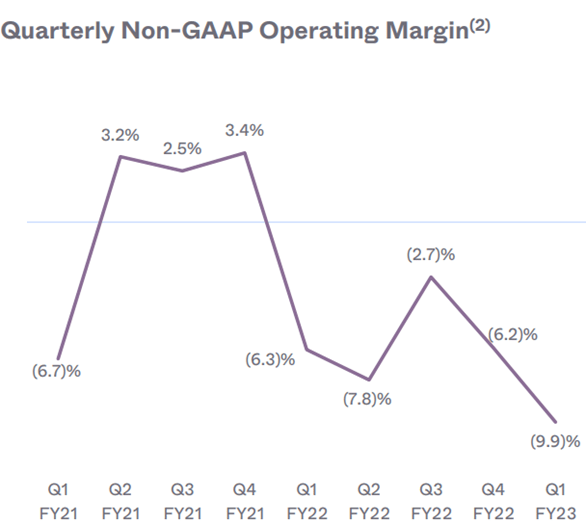 This was driven by S&M spending, which is by far the largest expense category and increases the most dynamically at the same time:
In FY23Q1 non-GAAP S&M spending made up 48.7% of revenue, which is an increase from ~46% in the last two quarters. However, it is a slight decrease from 50% in FY22Q1, which I think serves as the best comparison. Still, the current trend is not encouraging:
The same is true for R&D and G&A expenses in my opinion. I think Okta is already quite large at scale with revenue reaching almost $2 billion this year. The fact that even G&A expenses are not declining as % of revenue is not a good sign from an expense management standpoint. Perhaps the Auth0 acquisition put some additional financial burden on the company, but I think investors deserve at least to see some signs, that Okta is on its path towards profitability. I hope we will see evidence for this soon, however, based on the companies' earnings call we shouldn't expect this for Q2, rather than the second half of the year.
I was curious whether Okta has a good reason the spend so aggressively on S&M indeed, so I calculated the Magic Number for the company, a popular sales efficiency metric for SaaS businesses. I have compared the annualized growth in Okta's subscription revenues in any given quarter with the previous quarter's non-GAAP S&M spending. This gives a hint on how one dollar of S&M spending translates into future revenue growth.
If we look at the chart we can see that the ratio stood at 0.65 in FY23Q1, which is a mediocre value in my opinion (FY22Q1 data is distorted by the Auth0 acquisition). Most professionals say a metric between 0.5 and 0.75 is the minimum that should be reached to justify continued spending on new customer acquisition. However, it is important to add that there is some seasonality in the number as subscription revenues grow usually in Q4 at the strongest pace, which is followed by a seasonally softer Q1. Comparing current quarters' ratio of 0.65 to FY22Q1 quarter's 0.59 shows some improvement YoY, which can be probably explained by the beneficial effects of the Auth0 acquisition. If we go back to levels around 0.8-0.9 in the upcoming quarters, I think Okta's aggressive sales push can be justified. It's another story whether investors like it or not.
If we want to gauge Okta's profitability on a quarterly basis, I think the discussion above focused on operating profitability is what mostly matters. Looking at quarterly free cash flow margin can be very misleading in my opinion as there are many components of it (e.g., deferred revenues, accounts receivable, accrued compensation, …), which show considerable fluctuation from quarter to quarter. As an example, Okta's free cash flow margin improved to 2.7% in FY23Q1 from previous quarters' 1.3%, but this was accompanied by a 3.7% decrease in non-GAAP operating margin to negative 9.9%.
Finally, I have focused on non-GAAP expenses, which exclude stock-based compensation expense. I think this is the right way to analyze underlying profitability trends, while the effect of stock options leading to future shareholder dilution should be considered in the valuation section.
Valuation shows large upside, if Okta reaches financial targets
If Okta manages to reach its long-term financial targets current valuation is very conservative in my opinion.
Based on Okta's current market cap of $16.1 billion and expected revenue of $1.81 billion for FY23 the company trades at a forward P/S ratio of 8.9. If the company manages to achieve its $4 billion revenue target for FY26, it would trade at a forward P/S ratio of ~4 for the beginning of FY26 (which equals calendar year 2025) based on its current market cap. If we factor in the possible ~10% dilution resulting from stock-based compensation (16 million outstanding stock options and restricted stock units compared to current ~158 million share count) and calculate with a market cap of $17.7 billion, we would get a forward P/S of 4.43 for the beginning of CY2025 applying the current share price.
Even in the current growth-off stock market environment, tech companies like ServiceNow (NOW) or Dynatrace (DT) with ~25% expected revenue growth for the upcoming years and a positive bottom-line trade at a multiple of 11-13. So, if Okta manages to reach its $4 billion revenue target for FY2026, keeps its ~30% revenue growth rate and most importantly, reaches steadily growing operating profit, shares should trade at 2-3 times their current price in 3 years' time.
Looking at the strong long-term growth prospects for the entire IAM space and Okta's good ~76% non-GAAP gross margin, I think this could be a real possibility. This makes the shares of Okta a very good investment opportunity at current valuation levels in my opinion as the risk/return profile is quite appealing.
Risk factors
Looking closely at the company level the most important risk factor in my opinion is how Okta will be able to balance revenue growth and profitability. As I have shown previously the company spends huge amounts on S&M to fuel strong sales growth, which results in large operating losses each quarter. The big question is whether Okta will be able to keep its ~30-40% revenue growth rate by simultaneously reducing the proportion of S&M spending to revenues. I hope we will get a better picture of this in the second half of the year, where profitability should begin to improve based on management comments.
Although there are no signs of deteriorating fundamentals in the SaaS space resulting from the current uncertain macro environment, this could change within a few quarters, if things get worse. This could be another important risk factor, which is worth to monitor.
Further risk factors include continued shareholder dilution, strong competition - especially from Microsoft (MSFT) - or Okta's volatile share price, which are also worth to consider.
Early signs of bottoming share price
As a closing note I want to provide some information on the technical picture of Okta shares. The chart below shows that shares have been trading in a descending trend channel for 5 months. However, the price action of recent weeks showed that a base has been formed between $77 and $111, which is typically the first sign of a trend reversal. This could signal that the share price has fallen enough, and it's time for an uptrend to emerge.
Conclusion
Okta shares provide a riskier than usual long-term investment opportunity and also promise a larger than usual return. The main question is whether Okta will be able to maintain its strong revenue growth rate with proportionally decreasing S&M expenses.
At current valuation levels I think it's worth it to take the risk, because the share price could double or even triple in 3 years' time, if the company manages to deliver FY2026 financial targets.