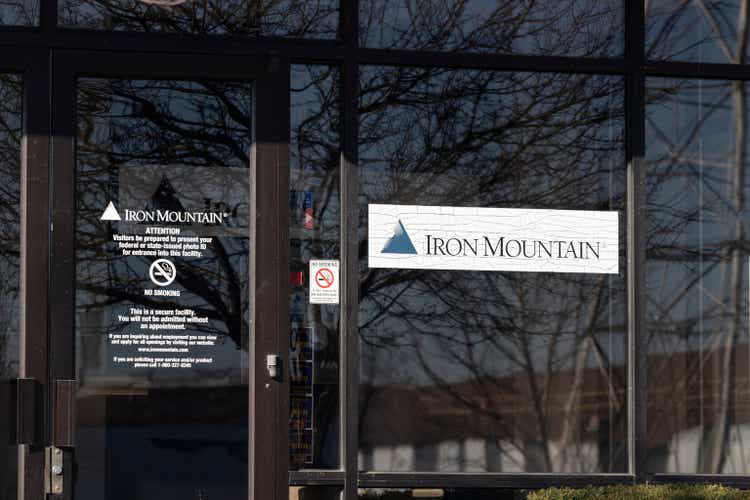 Iron Mountain (NYSE:IRM) has become a solid cornerstone of my personal portfolio over the past several years. Since I first added the stock to my portfolio a couple of years ago, I thought it would be a good idea to take another look at the company to see if they are still on a positive path forward.
Many older readers may know Iron Mountain as the company that took your paper records away and stored them safely for years, until you needed to retrieve them again. While the company is still the leader in physical records storage and management, it has recently been undergoing a transformation into an innovator in digital data management and solutions. Much of the world has been trending toward paperless transactions; the company has recognized this shift and has developed a very strong portfolio of data centers to take advantage of our increasingly digital world.
Over the past decade, the company has generated annualized revenue growth of 4.1%. Over the past five years, that annualized growth rate is 5.0%. In the most recent year, revenues increased 8.3% over a challenging 2020.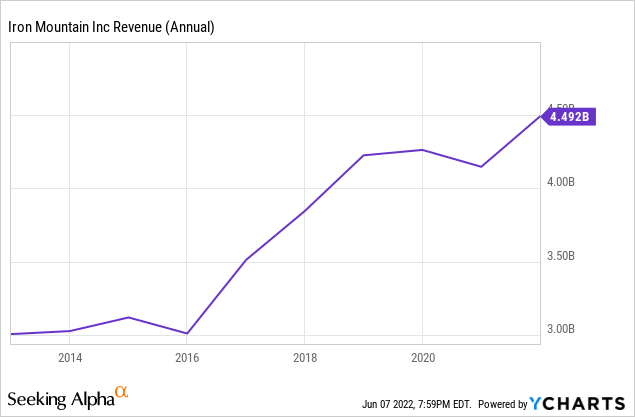 The Global Data Center segment posted 15.5% growth in 2021, compared to 5.2% growth for the Global Records and Information Management segment. Iron Mountain's future lies in data centers, and it has been quickly building capacity over the past few years. As of the end of first quarter 2022, the company reported 177 MW of leasable capacity, compared to 136 MW a year ago. Total potential capacity was 613 MW, compared to 446 MW of total potential capacity one year ago. Furthermore, during the first quarter of 2022, the company leased an additional 35 megawatts (MW) while increasing the annual guidance from 50MW to 130MW of new capacity for the year.
Finally, during the most recent quarter, the company closed on the acquisition of ITRenew, which further bolsters their Asset Lifecycle Management business. While still early in the integration, during the Q1 earnings call, management noted that the acquisition is currently exceeding their expectations, which is certainly a positive sign.
Growth in the data center business as well as the full integration of the ITRenew acquisition will continue to fuel the overall company's growth going forward. Management has provided guidance indicating growth of over 15% for 2022. I am not expecting this type of growth for the foreseeable future. However, I think it is reasonable to expect mid to high single digit growth over the long term.
This strong revenue growth is important as it allows the company to scale its business, which helps to maintain healthy margins. Iron Mountain has been able to maintain operating margins in the high teens over the past five years. In 2021, operating margin was 20%, just above the five-year average of 19.1%. At the bottom line, net profit margin rose to 10.0% in 2021, well above the five-year average of 7.5%.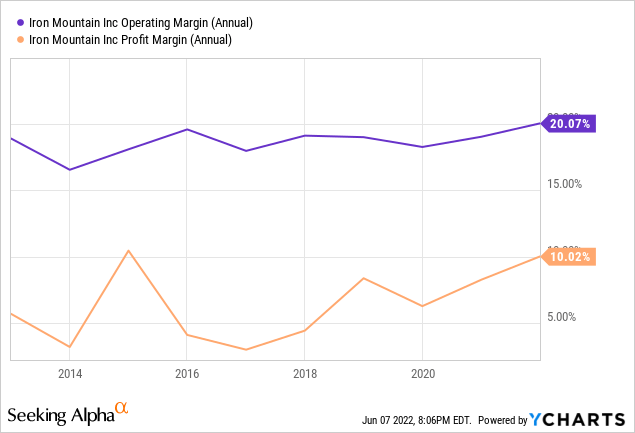 I would expect the company to be able to sustain these profit margins in the near future, particularly as the benefits from Project Summit, a plan announced in 2019 to streamline business and operations, simplify the structure, rebalance resources and position the company for future growth, come to fruition beginning in 2022.
IRM is registered as a Real Estate Investment Trust, or REIT. As such, it is required to distribute at least 90% of the REIT taxable income as a dividend. Investors who are looking for strong income streams are sometimes attracted to REITs, which often pay hefty dividends. As Iron Mountain has been working through Project Summit and dealing with a challenging economic backdrop, dividends per share have remained flat since 2020. My expectation is for the company to increase the dividends per share soon. Despite the flat dividend, the yield on the stock was recently a very healthy 4.66%.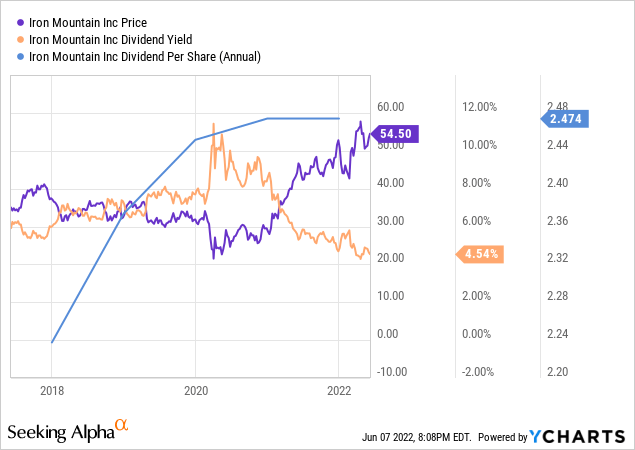 Also specific to REITs is the concept of Funds from Operations (FFO). This is an excerpt from the company's latest 10-K report:
Funds from operations (FFO) is defined by the National Association of Real Estate Investment Trusts (Nareit) as net income (loss) excluding depreciation on real estate assets, gains on sale of real estate, net of tax, and amortization of data center leased-based intangibles. FFO (Nareit) does not give effect to real estate depreciation because these amounts are computed, under GAAP, to allocate the cost of a property over its useful life. Because values for well-maintained real estate assets have historically increased or decreased based upon prevailing market conditions, we believe that FFO (Nareit) provides investors with a clearer view of our operating performance. Our most directly comparable GAAP measure to FFO (Nareit) is net income (loss).
In a nutshell, it's a form of "free cash flow" for REITs. IRM, like many REITs, provides an alternate measurement of FFO, AFFO, which they believe more closely represents their business and operating activities. During the 1st quarter earnings call, management provided guidance of AFFO growth of 7%-11% in 2022. This is important because the company has reported that the trailing four-quarter dividend/AFFO ratio is about 69%. The company will begin increasing its dividend per share when this ratio gets to the low/mid 60s.
Based on the current annualized dividend ($2.47/share) and expected mid-range AFFO ($3.76/share) in 2022, the ratio is 65.7%. It would appear that investors could expect an increase in the dividend sometime either in late 2022 or early 2023. If AFFO per share increases in 2023 by just 5% from the current 2022 guidance, AFFO in 2023 would be about $3.95 per share. Assuming a 65% payout ratio, the dividend per share would be estimated at $2.57, which is a modest 4% increase over the current annualized dividend.
At a recent price of $54.49, the stock is down 7.0% from its 52-week high, compared to the S&P 400 Mid Cap index is down over 12% and the S&P 500 index is down almost 14% from its high.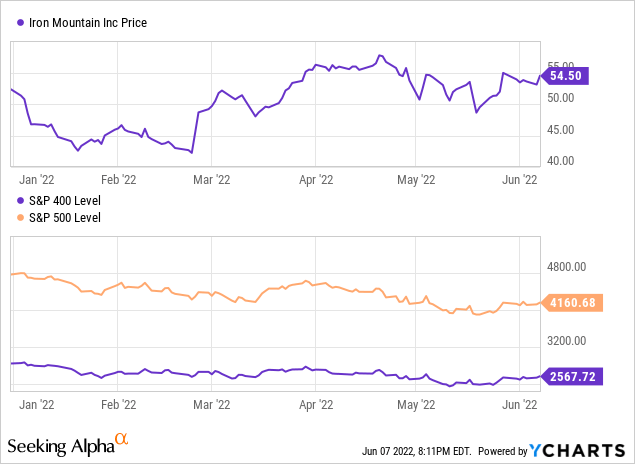 The stock has shown resilience while the broader indexes have been very weak this year. One valuation method popular for REITs is the Price/AFFO ratio. Over the past five years, the average Price/AFFO ratio for IRM is 11.2x. Based on the current price and the 2021 actual AFFO of $3.48 per share, the ratio is 15.7x. Using the mid-range of management's guidance for 2022, the ratio is 14.5x which is still historically high.
Additionally, the current yield is 4.66% compared to the average yield over the past five years of 7.1%. The stock would have to fall to $35 to yield 7.1%.
Based on these metrics, the stock does appear to be on the expensive end of the historical range. However, management has guided to strong double-digit revenue and EBITDA growth and the aforementioned AFFO payout range of low to mid 60s. Given that guidance, I think the yield is relatively safe at these levels with the expectation that future growth in AFFO will drive future dividend increases. By comparison, the current yield on the S&P 500 is 1.5%, and the 10-year US Treasury yield is about 3%.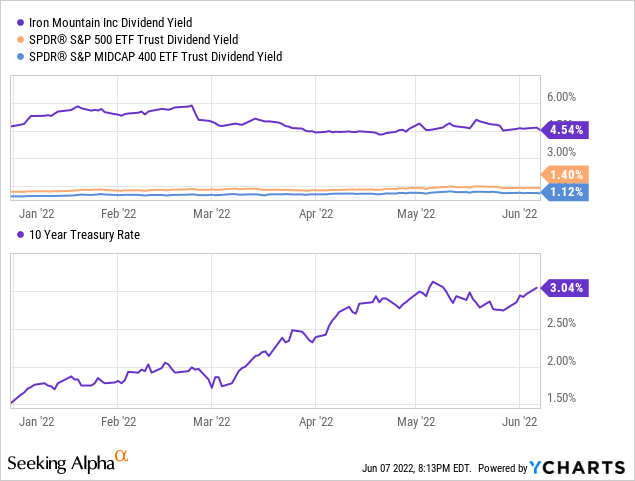 By that broader comparison, the yield on IRM looks very attractive. Finally, I did a modified dividend discount model on projected dividends over the longer term, given the current management guidance. Assuming the company can continue to grow revenues by low to mid-single digits and maintain their current operating margins over the long-term, I calculated that the stock price could potentially see an increase of 18%, which would put the stock price in the low 60s. While the market could see a broader leg down as volatility remains high, it is certainly possible that IRM could fall with it. However, the stock has managed to hold up well during the recent wave of selling that has hit equities over the past several months.
Based on the recent performance and management expectations, I continue to believe that IRM is a good quality company. Good revenue growth, high margins, strong cash flow, and a healthy dividend. Management is adapting to a more digitized business world and has been able to increase revenues during a difficult pandemic/post-pandemic/European war period. While the current yield is much lower than it has been in recent years, this is more a reflection of the company growth via a higher stock price than an issue with the dividend payout. The company still supports a hefty dividend, which has been stagnant of late, but should continue to grow later this year and beyond.