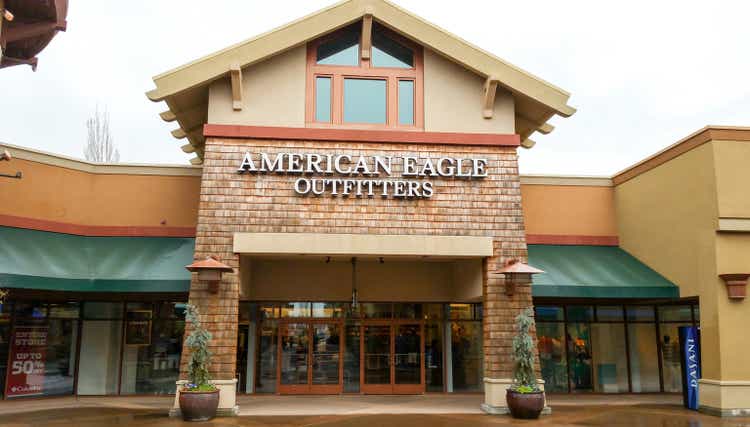 It's been a tough earnings season thus far for the Retail Sector (XRT), which isn't surprising given the difficult year-over-year comps faced by most companies related to last year's stimulus. Unfortunately, American Eagle (NYSE:AEO) not only had difficult comps but came into the year a little too optimistic, resulting in weaker sales performance than expected and higher inventories. This will be a drag on Q2 margins. However, with AEO down 67% and heading into this difficult macro environment in better shape than in previous instances, I would view any pullbacks below $11.60 as buying opportunities.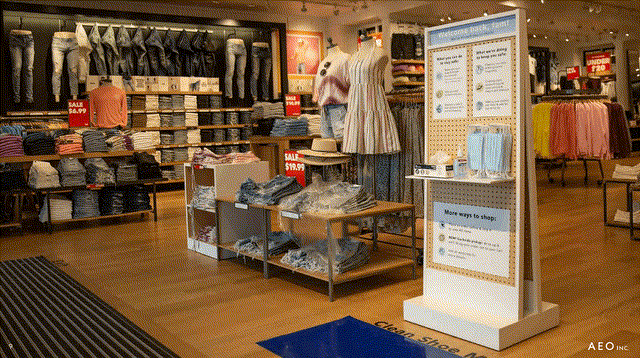 I wrote on American Eagle just more than 10 months ago, noting that while the stock was putting up blowout results, there was reason to be cautious. This is because the stock was trading at ~1.60x sales and nearly 18x forward earnings, which has typically been a good time to sell the stock, not chase it into strength. Since then, the stock has plummeted more than 65%, with little lift from the much weaker than expected Q1 results. Let's take a closer look below: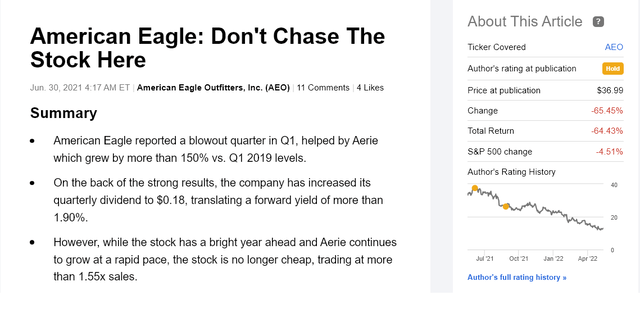 Sales Performance
American Eagle released its Q1 results last week, reporting quarterly revenue of $1,055 million, a 2% improvement from the year-ago period. However, after adjusting for its supply chain acquisitions (3% growth), brand revenue was down 1% year-over-year, which was well below expectations. It's important to note that American Eagle and other retailers were up against very difficult year-over-year comps due to government stimulus and wardrobe refresh, and cooler weather didn't help its swim category at Aerie. That said, American Eagle confessed that it was too optimistic heading into the year, and the results certainly didn't meet its upbeat FY2022 outlook.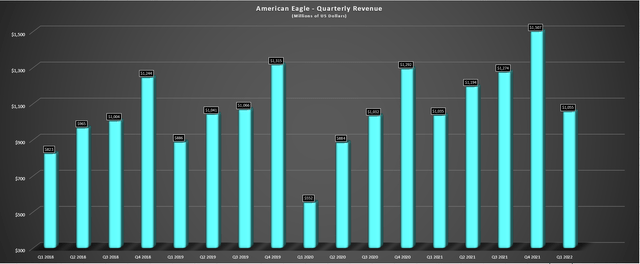 Looking into the results a little closer, we can see that FY2021 was a phenomenal year for American Eagle and Aerie, with sales for both segments up well above pre-COVID-19 levels. However, although Aerie continued its growth in Q1, up 8% vs. Q1 2021 levels, and has more than doubled vs. Q1 2019 levels, its core AE brand limped into 2022. This was evidenced by a ~6% decline in AE Q1 net sales, dragging on total brand revenue due to AE's size relative to Aerie (~65% of revenue). While it's easy to be pessimistic about these results, Aerie is sporting a ~27% three-year revenue CAGR, more than offsetting the barely negative three-year revenue CAGR for AE.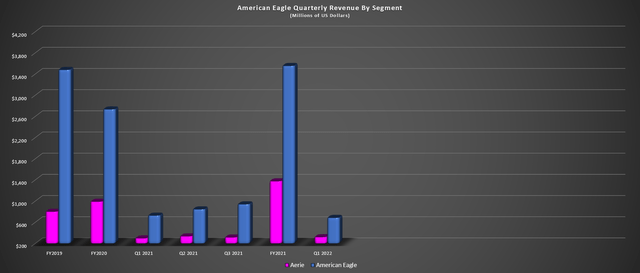 While the mediocre sales performance is excusable, especially considering the difficult comps, the excess optimism that led to higher inventories likely led to minimal upside momentum in the stock post earnings. As noted above, management confessed to coming into the environment a little too optimistic, leading to a 46% increase in inventory, which was partially related to higher costs. American Eagle noted that it will clear through excess spring goods in the quarter that were well above plans, which will have some margin impact in Q2. The good news is that it will clear the excess the right way, without over-promoting, and lighten up profitably.
Margins
While sales performance was soft, there wasn't a lot to like from a margin standpoint either, with gross margins being cut down by over 500 basis points to 36.8%. This was related to higher freight costs and a 120 basis point impact from is supply chain acquisition as this is integrated, leading to slight de-leveraging. Meanwhile, SG&A costs were up 270 basis points, related to higher store wages and increased hours. In total, this led to a significant decline in quarterly earnings per share, which fell to $0.16 from $0.48 in the year-ago period.
On the positive side, American Eagle will see some relief on freight later in the year due to less air freight usage, and it's working to reduce costs through diversifying production facilities. However, the benefit in the back half from lower freight costs will be partially offset by higher input costs (cotton). Hence, investors should prepare for another very weak quarter ahead (Q2) before a better H2. Still, even with a margin recovery in H2, we will see a sharp decline in annual EPS year-over-year. The silver lining is that with a more optimized AE footprint with further work ahead, higher digital penetration (37%), and Aerie's momentum, this is a stronger business than pre-COVID-19.
Earnings Trend
Looking at American Eagle's earnings trend below, we can see that the company has grown annual EPS meaningfully since FY2014, reporting a new high in annual EPS last year ($2.19), translating to a ~19.5% compound annual EPS growth rate (FY2014-FY2021). However, with declining margins this year, annual EPS is expected to decline considerably ($1.32) based on estimates, wiping out its double-digit compound annual EPS growth rate over the past eight years. Meanwhile, over a longer look-back period (FY2007-FY2022), American Eagle has seen limited annual EPS growth, making it difficult to call this a growth story, even if Aerie is on fire and has helped the 10-year earnings trend (2012-2022).

The good news is that annual EPS is expected to recover to $1.68 in FY2022 based on forecasts, which will be slightly above pre-COVID-19 levels ($1.48). Hence, this is not a new downtrend in annual EPS that could extend for years, as we saw in 2008 through 2012. Still, this is a slightly dampened outlook than previous forecasts and well below that of management's recent FY2022 outlook in its year-end results. Therefore, investors shouldn't be surprised by the stock's recent multiple contraction and underperformance vs. other retail names. Let's look at the valuation to see whether this is priced into the stock at current levels:
Valuation
Looking at the chart below, we can see that American Eagle has historically traded at ~14x earnings (10-year average), and has found itself trading at just ~5.8x earnings after its recent correction. However, it's important to note that annual EPS is expected to fall off a cliff on a year-over-year basis ($1.29), making these figures stale. Meanwhile, only a slight recovery is expected in FY2023 ($1.68). Hence, while there's no question that the stock has become much more reasonably valued here after a 65% decline, I wouldn't call it a screaming buy by any means.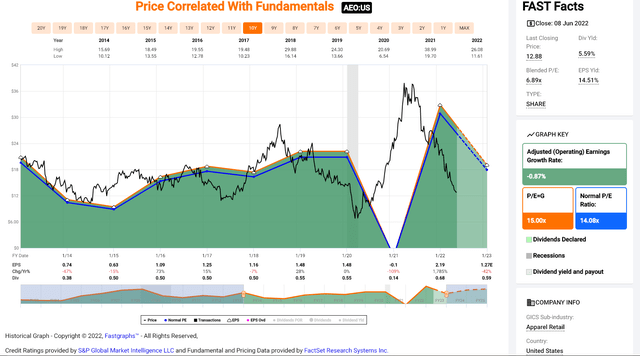 Given American Eagle's lack of sustainable annual EPS growth over the past 15 years, which makes it difficult to label the stock as a growth story, I would argue that a more conservative earnings multiple is 10. If we multiply this figure by FY2023 annual EPS estimates of $1.68, we come up with a fair value for the stock of $16.80 (18-month target price: 32% upside from current levels). However, when it comes to mid-cap names, I prefer a minimum 30% discount to fair value to justify entering new positions. So, while there's undoubtedly value here, AEO would need to dip below $11.80 to become compelling from a value standpoint.
Technical Picture
Moving over to the technical picture, American Eagle remains in a steep downtrend after topping out in June 2021 and now has resistance levels stacked overhead at $18.15 and $23.50. While this increases the probability of sharp rallies being sold into, given that momentum remains to the downside, the stock is getting close to approaching oversold levels. In addition, it's also approaching a multi-year support level at $10.60, an area where I would expect the stock to find strong support if this weakness persists. Hence, this falling knife could continue a little longer - the odds are beginning to tilt in favor of the bulls.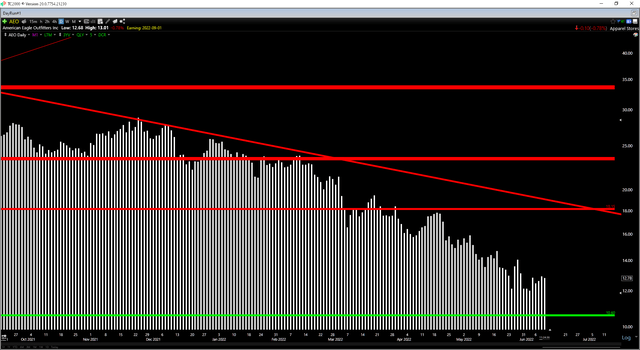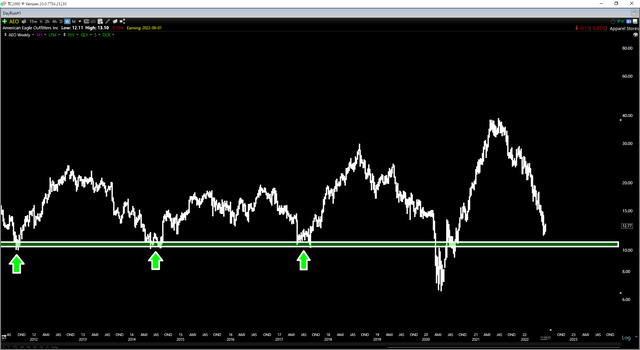 If we look at the above multi-year support level, we can see that AEO has found support between $10.20 and $10.60 without fail over the past decade, with the only exception being the major liquidity event in March 2020. I would argue that the business is much stronger than it was in 2011, 2014, and 2017, with Aerie being a home-run and more than offsetting the more stagnant performance in its core American Eagle business. Hence, if this market turbulence, I would expect this area to be a floor for the stock.
So, is the stock a Buy?
When it comes to low to no-growth mid-cap stocks, I prefer to wait for a 6.0 to 1.0 reward/risk ratio to justify entering new positions. Based on American Eagle having resistance at $18.15 and support at $10.60, the stock's current reward/risk ratio comes in at 2.60 to 1.0. This does not quite meet the criteria for what I would consider a low-risk buy point. Having said that, if AEO were to dip below $11.60, the stock would enter a low-risk buy zone and also likely trigger an oversold buy signal. The above reward/risk is based on a potential upside of $5.45 to resistance, and a potential downside of $2.10 to support, from a current share price of $12.70.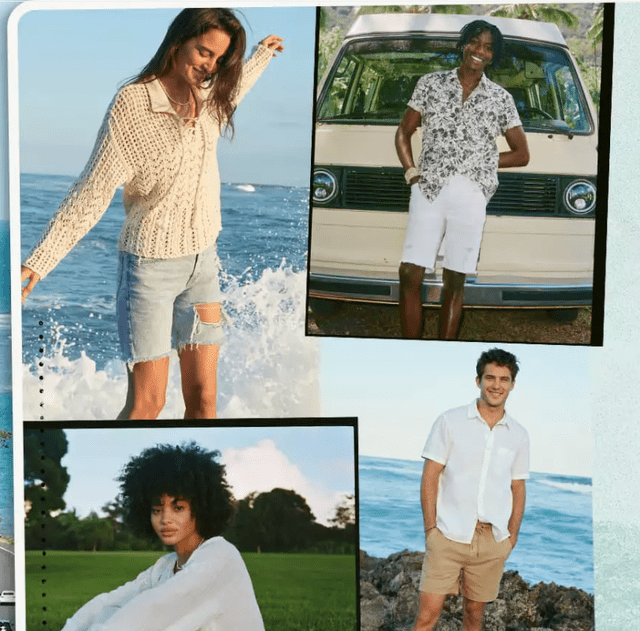 It's been a rough few months for investors in American Eagle, and the steep decline shouldn't be surprising, given that the stock was up against difficult year-over-year comps heading into a weaker macro environment. However, with the stock down sharply from its highs and now trading at just 10x forward earnings with a ~5.7% dividend yield, I believe the stock is worth keeping an eye on if we see further weakness. For now, I remain on the sidelines, but I would strongly consider starting a new position in the stock on any pullback below $11.60.