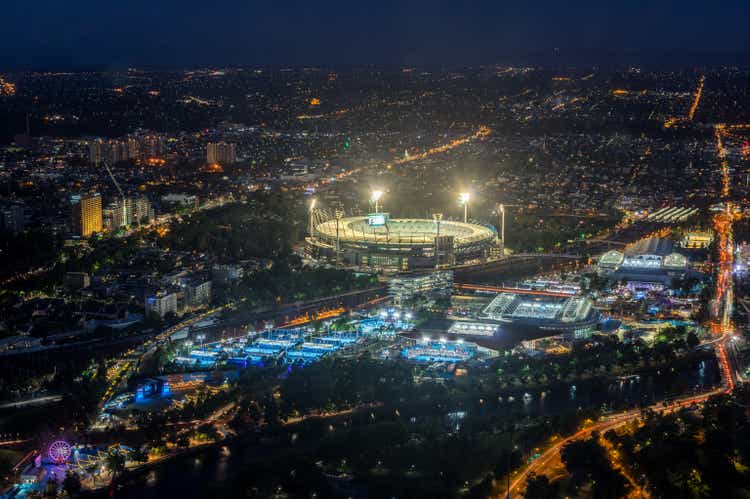 Main Thesis & Background
The purpose of this article is to evaluate the iShares MSCI Australia ETF (NYSEARCA:EWA) as an investment option at its current market price. This fund is managed by BlackRock (BLK), and its objective is to "track the investment results of an index composed of Australian equities". This is an easy way for U.S.-domiciled investors to gain exposure to Australia, and is a fund that I often write about to give my take on the state of things "down under". Back in January, I suggested readers give this fund some consideration. In hindsight, this view was spot-on, with EWA seeing gains while the S&P 500 has registered losses: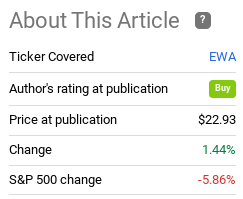 Given this performance divergence, I wanted to take another look at EWA to see if I should continue recommending it for the second half of the year. After review, I do believe we may see more gains ahead. As a result, I will be keeping my 'buy" rating in place, and will explain why in detail below.
Macro-Conditions Look Stable
To begin, I want to take a broad perspective on the Australian economy. This is important, because I tend to focus on developed markets (whether US or non-US) because I like the relative stability they provide. Emerging markets can be a great tool for growth/risk-on plays, but the bulk of my portfolio centers around more stable economies.
With respect to Australia, this is absolutely playing out near-term. Similar to the U.S., the country is experiencing a strong labor market, and GDP growth continues to come in positive as well. The latter point is actually pretty attractive when comparing it to our domestic situation in America:
As you can see, GDP growth slowed somewhat in Q1 this year, but it is still positive and relative in-line with how the second half of 2021 performed. Further, the unemployment rate has been historically on the low-end and stable for a while, so that suggests sustainability on this metric as well.
Overall, I view this graphic favorably. The international environment is difficult right now - whether in North America, Europe, or the Asia Pacific. So investors need to be discerning. But Australia is signaling growth and stability, and those are two factors we cannot take for granted at the moment. For me, this continues to suggest the Australian economy is very investable.
Americans Appear Worried
Expanding on the point above, I want to emphasize one of the reasons why I am even looking outside the U.S. for investments. As my followers know, I am heavily weighted towards U.S. equities, but I do tend to invest in Canada, Europe, and Australia over time. This is one of those instances, primarily because I think the market is under-estimating some of the risks we face now. With mid-term elections looming, I think we will see some Washington-induced volatility in the coming months, and the U.S. is also facing the headwinds of high inflation and rising interest rates. To cap this off, consumers here are feeling more pessimistic than ever. In fact, consumer sentiment is at a very weak level right now, weaker than it has been in a decade:
The thesis I am drawing here is that Americans are quite pessimistic, and this is likely to flow through to retail sales, home purchases, and perhaps even stock prices. We have seen some clear weakness in our equity markets in the past few months, and that has me a bit on edge. While I still remain very long U.S. markets, I like the idea of continuing to diversify across countries and regions. Australia, and EWA by extension, gives me a way to do that.
EWA Saw Strong Dividend Growth
Another attribute I find appealing with respect to EWA right now is the fund's dividend. As a "Dividend Seeker", this should not be a surprise. Australian large-caps have had a reputation for delivering above-average income streams for a long time, although the past couple years put that to the test. Fortunately, we look to be back on track in this regard, with EWA seeing its June distribution come in at almost twice what it was this time last year:
There is not a whole lot to say here besides from the fact this is an overwhelming positive. The fund's dividend yield is now near the 4% mark, and the growth represents underlying strength in the portfolio holdings. This metric in isolation keeps me very upbeat about EWA in particular.
Financials To Benefit From Rising Rates
My next thought looks at the underlying holdings in EWA. As those who follow Australia closely probably know, the economy relies heavily on materials, metals, and other natural resources, and its stock market is heavily reliant on the Financials sector. This is reflected in the sector weightings of EWA, with over half the fund's assets tied to Financials and Materials:
Personally, I see the top sector, Financials, as a good place to be right now. This is for two reasons. One, the S&P 500 is not overweight Financials domestically, so this offers some sector diversification right off the bat, in addition to the banks being foreign and not American. Further, Australia's central bank, the Reserve Bank of Australia (RBA), has taken on a more hawkish tone of late to combat high inflation rates.
In fact, just this past week, the RBA lifted its cash rate target by 50 basis points to 0.85%. This took the market by surprise, as it was the biggest increase (in one meeting) by the RBA in years. Going into the meeting, the market has been predicting a 25 or 40 point increase, but the result was markedly larger than that:
The takeaway here is straightforward that higher interest rates tend to be beneficial to financial institutions like banks and other lenders. All other things being equal, this is a net positive for EWA's top sector.
Of course, rising rates present challenges of their own. The downstream impacts can be softened consumer spending and higher defaults on loans as consumers and households cope with the higher interest expense. However, I am not overly concerned about this right now for a few reasons. One, even with the rate hike, rates are still near historic lows for the country. Two, the broader macro-points I discussed earlier - GDP growth and low unemployment - are strong enough that Australia should be able to contend with the RBA's decision. Three, the Australian consumer has been very resilient of late, again suggesting there is room for absorbing higher rates.
To expand on the third point, readers should note that Australian retailers recorded a fourth consecutive month of sales gains. This suggests that high savings rates from the pandemic and rising wages are faring well enough against the inflation pressures facing Australia:
The thought here is the Australian consumer continues to support the economy and can handle slightly higher rates. If rates keep pushing markedly higher, I may have to revisit this, but for now I believe EWA remains a decent bet.
Bottom-line
Australia has been a good move in 2022, especially in relation to U.S. stocks. This is a story I believe has the potential of continuing. This makes me remain bullish on EWA. The fund has a reasonable valuation, strong dividend growth, and underlying holdings that will profit off higher interest rates.
As I noted in my last review, the demand for raw materials and other inputs will also boost EWA's holdings. Commodities, metals, and other inputs remain in high demand, which is a key reason why Australia has held up as well as it has. When I couple all this with its distance from the geo-political risks of a continued military conflict in Europe, I see plenty of value in OZ. As a result, I continue to suggest readers give this fund some consideration at this time.