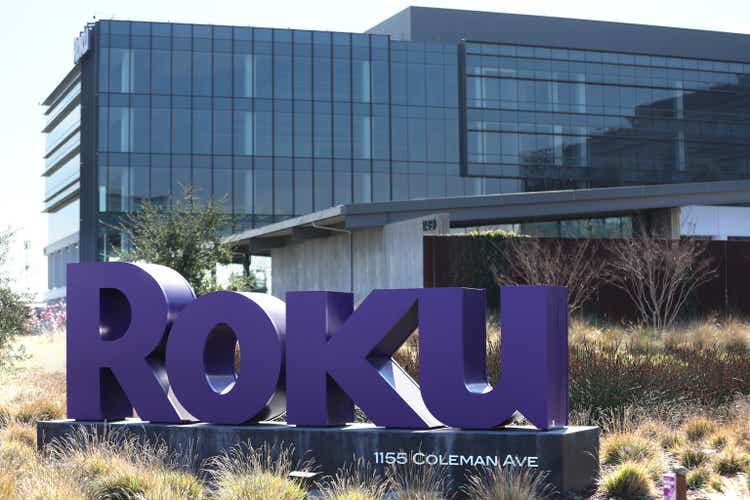 Streaming as an industry has always been evolving… basically from go.
And as such we've reached a point where naturally the question becomes when are we at max capacity?
To some, we're there and that means that consolidation is inevitable. We see it every few months and usually it involves rumors around some combination of Netflix (NASDAQ:NFLX), Disney (NYSE:DIS), Apple (NASDAQ:AAPL), Comcast (NASDAQ:CMCSA) and Paramount (NYSE:PARA), making a move to buy a rival or sell themselves to one.
Personally, I've been in the camp for years that the idea of any of these companies merging is not in the cards. Whether it's for logistical, financial or legal reasons these companies are better off as they are but that doesn't stop the rumor train from leaving the station on a regular basis.
And that takes us too now.
Reports surfaced this week that Netflix may be on the verge of acquiring Roku (NASDAQ:ROKU) and naturally the market responded with a mix of buzz and skepticism that one might expect. Although while shares of Roku popped on the news, investors may want to put the cork back the in the bottle because on the surface this could be a case of buyer beware.
First as always, some background.
I understand the enthusiasm and thinking behind a possible Netflix and Roku deal. Both companies have been hit hard in 2022 and some see this as a marriage of convenience. After all - Netflix is a streaming/content driven company looking to get into ad-support content and Roku is a hardware company with a built-in understanding of the ad space, so it's a natural fit.
Except that's not the case.
Netflix is definitely a streaming/content driven company but Roku has long had its eyes on expanding beyond the hardware sector. Many forget it has a number of streaming FAST channels and over the last year began to (slowly) grow its base of originals, which at its core is the Quibi catalog.
It will take a while but it can eventually make a play to grow its presence in that space. Doing a deal now is the equivalent of just giving up after investing a lot of resources in a short period of time.
Where Roku actually has the advantage over Netflix is it doesn't have a one-track revenue stream as its ad deals are significant… hence why some believe this is the perfect deal.
Again, that's not the case.
Netflix's recent poor earnings report has forced them into cost-cutting mode. The streamer has been slashing jobs and content trying to fix its financial woes. It also recently updated it corporate policies to say one of its internal directives for its employees is to "spend our members' money wisely."
So after laying off workers and pulling back on its content output it seems only logical to spend billions on an acquisition right?
And that's part of where the skepticism is in this potential deal.
This splurge doesn't track – the deal would likely be the biggest in the history of the company and coming at a time where every dollar is being watched.
Also remember Netflix head Reed Hastings has long railed against the sheer number of peripherals and how the company would also only enter that space if it felt it could add value.
Now granted he said the same thing about an ad-tier option and they're now fast tracking that plan but implementing that won't come close to what it would cost to buy Roku.
Yes, buying Roku on the surface seems like a quick fix, but investors should hope Netflix has realized there's no quick fix here and cutting corners could put them even deeper in a hole.
It also is important to point out these rumors are coming from Roku employees because they had their window to sell stock halted. While that's usually a precursor of big news it's by no means an indicator that they're about to be acquired by the leader in streaming.
It's more wishful thinking.
And other analysts tend to agree.
Rich Greenfield of LightShed makes a very valid point that investors in both companies need to really comprehend.
Anyone who thinks Netflix is buying Roku does not understand Roku's biz model and how it cannot work inside Netflix. Forgot about what Roku employees want, think about Roku's biz model vs. Netflix. Not to mention the importance to Netflix of remaining platform agnostic.
A good part of Roku's revenue comes from very detailed and specific ad revenue sharing deals from the streamers on its platform. That's what kept HBO Max and Peacock off Roku for so long – their parent companies didn't want to share the pot and the data that comes with it.
So now with that mind, imagine that Netflix does buy Roku, what that means is that, in its current form, that revenue and internal (often proprietary) information would be going to Netflix.
In other words its rivals would be funding their competition.
Greenfield continues –
Can you imagine Netflix selling 15% of HBO Max or Disney+ or Peacock or Paramount+'s ad inventory. Then NFLX for ROKU cannot work.
In some ways it's similar to the early days of streaming where linear networks would sell its content to streaming for insane prices. While it may have seemed like they were making money hand over fist, they were really just feeding the beast that would turn around and try to eat them.
I don't see them making the same mistake – or a variation of that mistake - twice.
And as Greenfield wrote – there's importance to Netflix of remaining platform agnostic.
Should Netflix pick a side (so to speak), it could easily impact those very carefully negotiated deals and how readily available the service is with other devices and platforms… leading to less subscribers, not more.
I've also seen some suggest that Roku could help Netflix recoup some of the subscribers its lost – while also expanding its catalog. Roku's catalog is Quibi + This Old House and a few one-offs… both of which if Netflix really wanted would have already had.
Yes, a deal could very happen and maybe there's a grander plan in the works that we don't know about it, but on the surface this type of deal would create more problems than it would solve. Netflix doesn't need to spend billions to jump-start its ad business and Roku does not need to pump the breaks on its streaming ventures.
Keep in mind all of this conversation is because of rumors from a few employees – there has been no concrete connective proof. But this is the nature of things, as streaming is a Wild West realm with no rules and this underscores that more than ever.