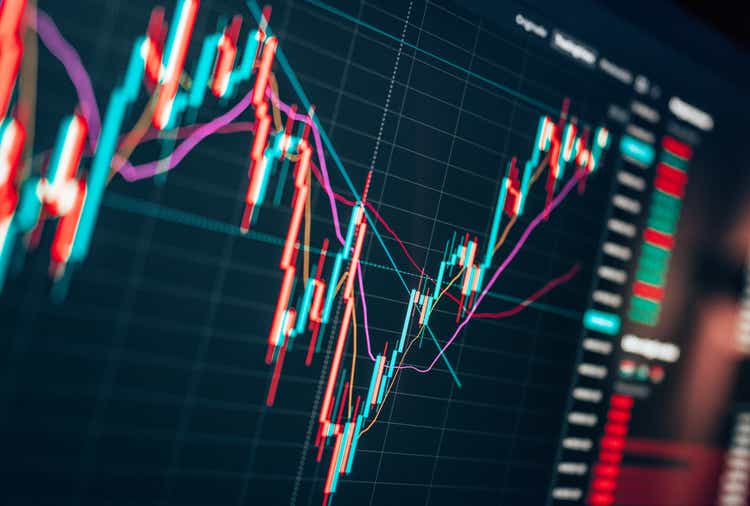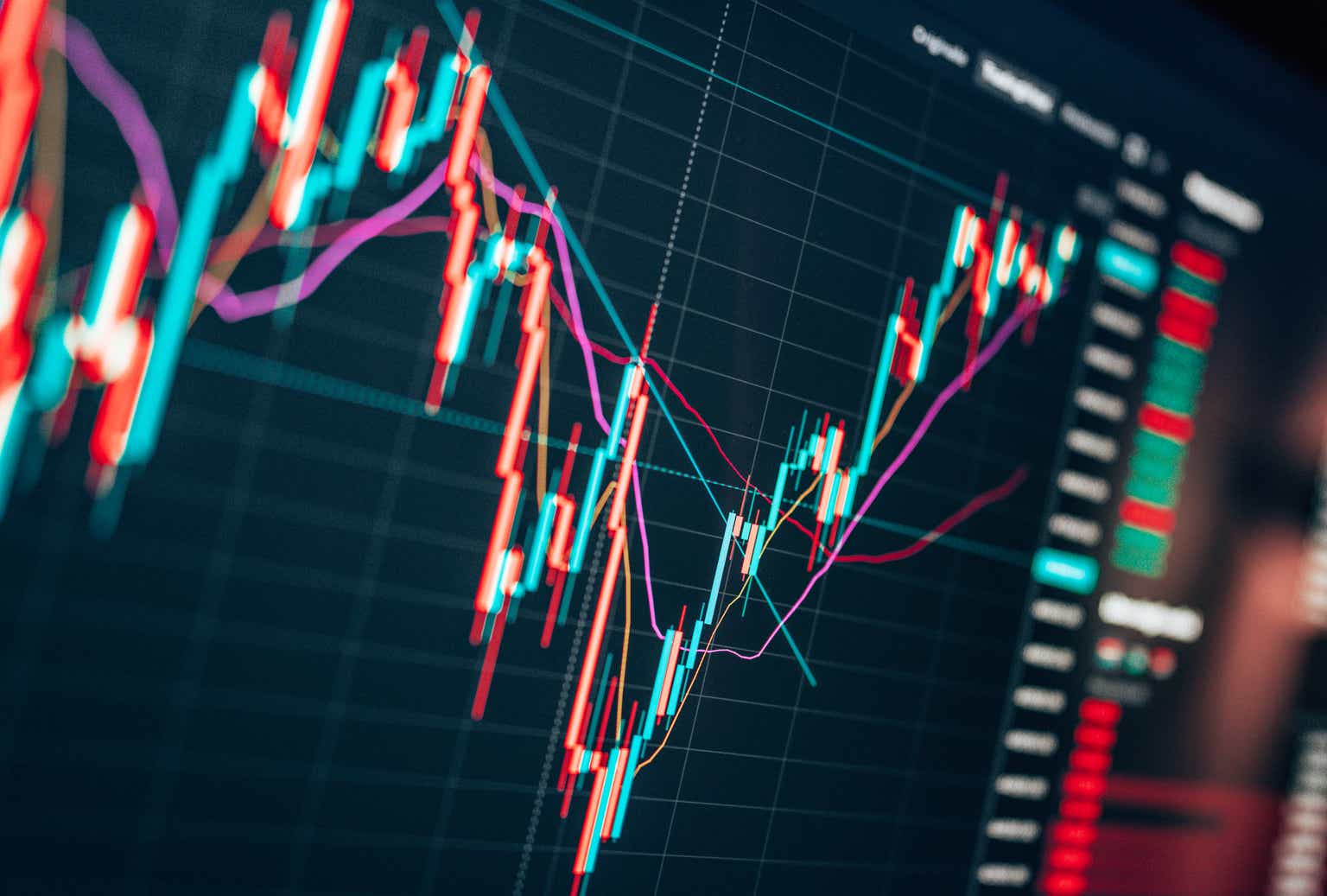 Written by Nick Ackerman, co-produced by Stanford Chemist. This article was originally published to members of the CEF/ETF Income Laboratory on June 8th, 2022.
Eaton Vance Enhanced Equity Income Fund II (NYSE:EOS) is in the same position as many diversified funds. Their heavy reliance on tech has provided us, investors, with strong returns over the year. Now we've been in a meaningful decline for the last eight months or so. EOS has heavy allocations to the MAMAA stocks, so they've held up relatively better than some growth CEFs and ETFs. However, it still has been under significant pressure nonetheless.
This is particularly noteworthy for EOS since they were one of the several Eaton Vance funds that finally raised their distributions last year. The fund sponsor seemed to have held many of their equity fund payouts steady since 2008/09. EOS received a raise in 2019, but last year's raise was much more meaningful. Now with capital gains harder to come by in this environment, they might have raised them just to have them cut sooner rather than later.
Additionally, EOS is put in another interesting situation where the fund's valuation hasn't come down meaningfully. For CEFs, we look for discount expansion or premium declines to justify when buying a CEF would be the most attractive. EOS had a premium, and this declined to a discount recently, but relatively speaking, we are still at a rather shallow discount.
Despite these two negatives of the fund, I believe that it is still worth holding at this point. Even buying some here as the price has come down considerably could make sense too.
The Basics
1-Year Z-score: -1.34
Discount: 0.55%
Distribution Yield: 9.15%
Expense Ratio: 1.08%
Leverage: N/A
Managed Assets: $925.5 million
Structure: Perpetual
EOS's primary investment objective is "to provide current income, with a secondary objective of capital appreciation." To achieve this, "the fund invests in a portfolio of primarily large- and mid-cap securities that the investment advisor believes have above-average growth and financial strength and writes call options on individual securities to seek to generate current earnings from the option premium."
They typically target around 50% of their portfolio being overwritten. The less the portfolio is overwritten, the more positions left to "fly higher" in a bull market. Utilizing a covered call strategy in a bull market can generate lagging returns relative to a non-option strategy fund. As assets are rising, the underlying positions either get called away or have to close the position, resulting in some losses.
For this reason, while they use the Russell 1000 Growth Index as a benchmark, we won't see this fund outperforming in most periods. Over the longer run, it will typically underperform this "benchmark." That is often the case with most of these call-writing funds. So when seeing these funds, think of benchmark as an idea of what the underlying holdings will sort of line up with, not expecting to outperform it.
This is also a bit of a different approach from the other Eaton Vance funds that write calls against indexes. For that reason, we will typically see less return of capital in their distributions. They don't have the "tax-managed" approach as the others. That doesn't mean we won't see any. They can still pay out more than the fund has earned in income and realized capital gains.
Performance - Valuation Signifies A Hold
For the type of fund EOS is, it could work best in a mostly flat market. They can also work in a market that might be slightly downward, too, as it is a somewhat defensive strategy. These instruments are for generating regular distributions to shareholders, and for that, they do a stellar job.
However, when compared against the iShares Russell 1000 Growth ETF (IWF), I'd say it isn't having a material impact at this time. The reason for this can be quite easily summed up that despite this being an ETF tracking this fund's benchmark, it doesn't really hold the same positions.
IWF holds 498 positions. EOS runs a significantly tighter portfolio with only 59 positions at the end of Q1 2022. Since I've owned and followed this fund, this has been quite common.
This fund flirts between a discount and premium regularly. That means that its latest discount is actually attractive relative to over the last year. However, it isn't quite attractive yet, relative to the last decade's average. I'd say we are right where we should expect during normal times. During times of volatility that we are experiencing now, I would have hoped for a discount to appear.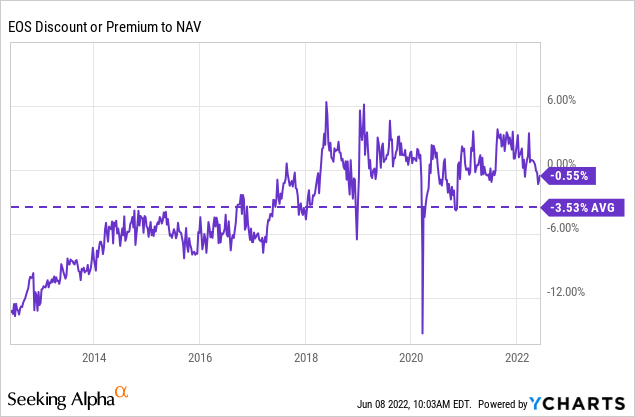 Overall, the fund's discount isn't attractive, and I'm disappointed by this year's options strategy. It is only a slightly defensive strategy, but other funds we've covered recently from the Eaton Vance line-up showed better results relative to their benchmark. At the same time, the declines in this area of the market have been more rapid, which negates some of the defensiveness of the covered call writing strategy.
Distribution - Attractive But Cautious
The fund currently sports a 9.15% distribution rate. With the share price trading almost at parity with its NAV, the NAV rate comes in at a similar 9.10%. The fund cut three times shortly after the 2008/09 GFC.
This is quite attractive, but the fund relies entirely on capital gains to fund its distribution. After the expenses are paid out of the dividends and interest pulled in, there are only net investment losses left over.
With that being the situation, I would start looking to expect a cut if we don't get a rebound at some point through this year.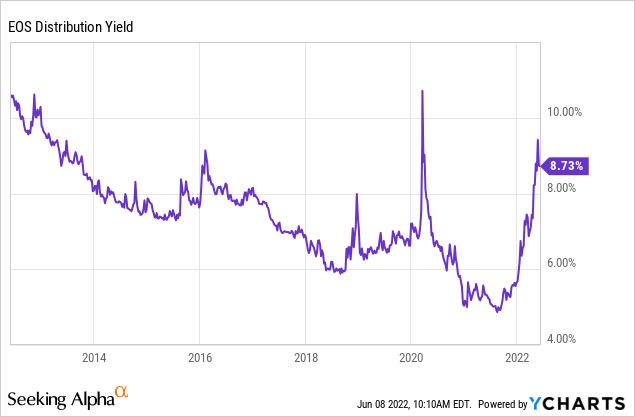 EOS's Portfolio
As I mentioned, the fund runs a really tight portfolio of only 59 positions at the moment. They target around 50% of their portfolio being overwritten by covered calls. They averaged 28 days to expiration with 7% out-of-the-money.
At the end of 2021, their portfolio was dominated by the tech sector. This isn't unusual since the fund's benchmark is also similarly weighted. They just do it through significantly fewer holdings. Unsurprisingly, the Russell 1000 Growth Index has a "growth" tilt. That's often synonymous with tech holdings, so it makes sense we see a lot of the tech sector represented.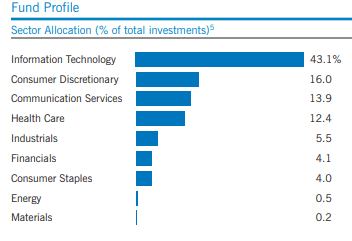 For EOS, mega-cap tech names make up a lofty portion of their portfolio. Of the MAMAA names, we have Microsoft (MSFT), Alphabet (GOOG), Amazon (AMZN) and Apple (AAPL). We don't have the Meta (META)(FB) holding in there despite it being a top position in the IWF.
Just as Netflix (NFLX) was frequently dropped out of CEFs of FAANG, I've noticed that Meta is often dropped out from the MAMAA names and is not being held by these actively managed funds. At least not to the degree that benchmarks would suggest. For EOS, it still came in as a holding but was dropped down to the 15th largest position.
With that being said, Meta was the worst performer on a YTD basis. They are acting much more like a new tech start-up that isn't profitable than they are a mega-cap tech name. Since CEFs don't rebalance on a set schedule, these sorts of changes to weightings via share price gyrations can have meaningful impacts. In this case, the active managers would have to step in and adjust by lower allocations elsewhere and/or putting cash back into Meta to prop it back up.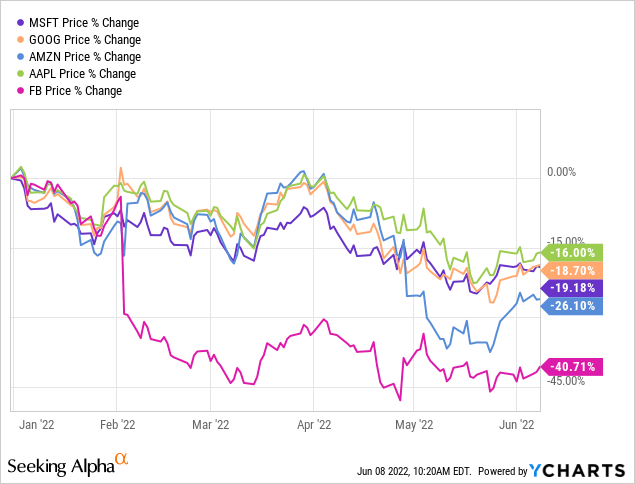 Conclusion
EOS hasn't been having a pleasant year with its heavier weighting to tech. At the same time, I don't plan to sell my position in the fund. Based on the valuation, I don't think there is a strong case to start buying today. That being said, the fact that tech has declined so far makes it a more attractive price overall. So I can see the case being made that picking up some at today's price makes sense. Dollar-cost averaging into this type of position for a long-term investor makes a lot of sense.