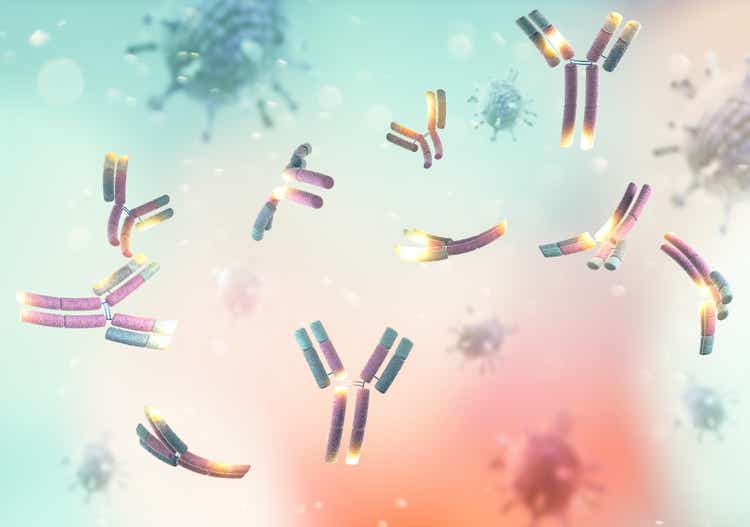 Genmab (GMAB) has a unique business model that provides recurring royalties and milestones through licensing of their innovative and state-of-the-art technology. Genmab continues to report steady revenue growth, which the company expects to maintain over the remainder of 2022 and into the future. Furthermore, Genmab has an imposing pipeline of proprietary and partnered programs that will be powerful growth drivers to be unleashed in the coming years. As a result, I have designated GMAB as one of the top picks in my Seeking Alpha Marketplace Service, Compounding Healthcare.
I intend to provide a brief overview of the company and its long-term outlook. In addition, I will discuss my strategy for managing this position through the remainder of 2022.
Background on Genmab
Genmab focuses on the development of antibody therapeutics for cancer and other diseases. The company has become a regarded expert in monoclonal antibodies "mAbs", which they either have partnered with or wholly own. Their partnered products have either been developed by the company, or partner-owned products have been developed with Genmab's antibody technologies.
The company has a number of platforms including their DuoBody, HexaBody, DuoHexaBody, and HexElecttechnologies, which are on display throughout the company's pipeline. Their pipeline programs range from pre-clinical that could be promising mAb, to fully-approved products that have reached blockbuster status.
DARZALEX from Janssen Biotech of Johnson & Johnson (JNJ), is a human mAb for multiple myeloma "MM", non-MM blood cancers, and AL amyloidosis. This product was an instant success and has delivered 36% growth year-over-year.
Tivdak (tisotumab vedotin) is an antibody conjugate that is targeting tissue factor. Tivdak is partnered with Seagen (SGEN) and is approved to treat cervical cancer. In addition, the company is testing Tivdak in a Phase II clinical trial in solid cancers.
Amivantamab is a fully human bispecific antibody that is targeting EGFR and cMet. The product is approved for NSCLC and is also being pushed by Janssen.
Teclistamab (JNJ-64007957) is another Janssen partnered program for R/R MM. Janssen is also pushing Talquetamab (JNJ-64407564) for R/R MM.
Ofatumumab, is a human monoclonal antibody that is partnered with Novartis (NVS) and is approved for relapsing multiple sclerosis "RMS". Novartis and Genmab worked on Arzerra for CLL, however, Novartis decided to offer it for no-cost in the United States. In return, Novartis paid Genmab a $30M lump sum for lost royalties.
Teprotumumab is partnered with Horizon Therapeutics (HZNP) and Roche (OTCQX:RHHBY) is approved for thyroid eye disease. In addition, it is being tested in a Phase I trial for diffuse cutaneous systemic sclerosis.
Epcoritamab is partnered with AbbVie (ABBV) for B-cell malignancies including R/R diffuse large B-cell lymphoma. In addition, they are pushing it in a Phase II trial against B-cell non-Hodgkin lymphoma and a Phase I trial against R/R chronic lymphocytic leukemia and Richter's Syndrome.
DuoBody-PD-L1x4-1BB for solid tumors and NSCLC is partnered with BioNTech (BNTX).
Genmab has also partnered with Global Blood Therapeutics (GBT) for Inclacumab works against P-selectin for sickle cell disease.
Camidanlumab tesirine (ADCT-301) links Genmab's HuMax-TAC antibody and the PBD-based warhead plus linker technology from ADC Therapeutics (ADCT) to target R/R Hodgkin lymphoma.
Novo Nordisk (NVO) has partnered with Genmab on the development of Mim8, a novel next-gen factor VIII mimetic human bispecific antibody for Haemophilia A.
PRV-015 binds to Interleukin-15 and is in a Phase II trial for Celiac disease. PRV-015 was originally developed by Amgen (AMGN) but is now being developed by Provention Bio (PRVB).
Lu AF82422 is a human mAb that targets the toxic alpha-synuclein protein for the treatment of multiple system atrophy "MSA". This program is partnered with H. Lundbeck A/S (OTC:HLUKF).
In terms of company programs, Genmab has GEN3014, a Hexabody-CD38 for hematological malignancies, and GEN1047, a DuoBody-CD3xB7H4 for solid tumors.
Genmab's approach has generated 5 approved products with multiple revenue streams from milestone payments and royalties. Genmab's business model permits astounding profitability, margins, and free cash flow.
Plus, the company has a strong balance sheet, with over $2.973 billion in cash and short-term investments.
Growth Outlook
I believe Genmab's long-term outlook should be centered on the company's business model and their track record of producing cutting-edge therapeutics. The company's platform technologies have produced mAbs that go after a broad range of targets and an assortment of diseases. Looking at the long list of pipeline programs and distinguished partners, I can say with confidence that company will have a multitude of revenue streams in the coming years.
For the near term, we should expect DARZALEX to continue to be the primary growth driver. In fact, the company has updated their lower-end guidance for 2022 from 10.8B DDK (~$1.5B) to 11B DDK (~$1.6B), which is attributable to projected growth from DARZALEX royalties.
Accordingly, I anticipate Genmab to maintain this growth trajectory over the next several years as their approved drugs penetrate their markets.
Indeed, the Street expects Genmab to report strong double-digit growth in the coming years and surpass $4B in annual revenue, which would be roughly 0.5x forward price-to-sales. Considering the industry's average price-to-sales is around 5x, we can say GMAB should deliver above-average market returns for the remainder of the decade. Therefore, I have designated GMAB as one of the top picks in my Seeking Alpha Marketplace Service, Compounding Healthcare.
DARZALEX Setback
Genmab recently stated that a tribunal determined by a majority opinion in favor of Janssen Biotech relating to two DARZALEX issues.
"The first issue concerned the question as to whether Janssen's obligation to pay royalties on sales of the licensed product extends, in each applicable country, until the expiration or invalidation of the last-to-expire relevant Genmab-owned patent or the last-to-expire relevant Janssen-owned patent covering the product, as further defined and described in the license agreement."
The tribunal determined that royalties to Genmab "extends through the expiration or invalidation of the last-to-expire relevant Genmab-owned patent" and not the Janssen-owned patent for DARZALEX. The Genmab patents for the U.S., European, and Japan "will expire in the late 2020s and early 2030s." Whereas the Janssen patents would go into the mid to late 2030s. So, Genmab is going to be missing out on several years of peak or near-peak royalties.
"The second issue concerned the question as to whether Genmab is required to share in Janssen's royalty payments to Halozyme Therapeutics, Inc. for the Halozyme enzyme technology used in the subcutaneous formulation of daratumumab (marketed as DARZALEX FASPRO® in the U.S.)." At the moment, reduced its royalty payments to Genmab by what it claims to be Genmab's share of Janssen's mid-single-digit royalty payments to Halozyme (HALO).
The tribunal determined that Janssen "is permitted to continue reducing its royalty payments to Genmab as an offset against a share of Janssen's royalty payments made to Halozyme Therapeutics." However, Genmab had already assumed that Janssen would continue to withhold royalty in their estimated 2022 revenue guidance.
Genmab did state that they have the right to seek review and they are "currently considering its options." Nonetheless, it appears as if we will have to accept that Genmab will continue to receive a reduced DARZALEX royalty from Janssen, and they will most likely stop receiving some DARZALEX royalties near the end of this decade. Obviously, this is a significant hit to Genmab, however, this is not a fatal wound to the company's growth narrative. I believe the company's GEN3014 Hexabody-CD38 candidate for hematological malignancies could ultimately compete against DARZALEX. Moreover, Genmab has an exclusive worldwide license and option agreement with Janssen to develop and commercialize HexaBody-CD38, which is currently in Phase I trials. I have to imagine if GEN3014 shows enough promise, Janssen is going to opt-in on a potential predecessor of one of their top-performing products. Therefore, I am not panicking over the DARZALEX news.
My Strategy
In my previous GMAB article, I discussed that I'm willing to make periodic investments as long as the share price trades under $72 per share in an attempt to "gradually amass a full-sized position and only to sell portions of my position when the ticker is trading over $100 per share. Long-term, I plan on being "involved with the ticker for the remainder of the decade in anticipation the company will be recognized as one of the industry's leaders in mAb and/or the company is acquired for a premium price."
Well, that article was back in December just a couple of weeks before the market's all-time high. Admittedly, I only pulled the trigger on a couple of buys before the elevated volatility prevented me from making any additions. Now, I have adjusted my strategy as well as my buy and sell targets to adjust for current market conditions. Moving forward, I am going to stick to a multifaceted strategy that involves multiple buy targets and sell targets to take advantage of the current share price while limiting some risk.
I have moved my "Buy Threshold" from $72 per share to $28.25 per share. This will be the maximum price I am willing to pay for GMAB in these conditions. In terms of sell targets, I am bringing it down from $100 per share to $42 per share. This will be where I will be looking to book a small number of profits that will be reapplied down the road.
One might think is a change in sentiment, but I am simply making adjustments to take advantage of the current market environment. Overall, I still believe it is "hard to find another company of this size capitalization that has a mAb pipeline that is on par with Genmab's."