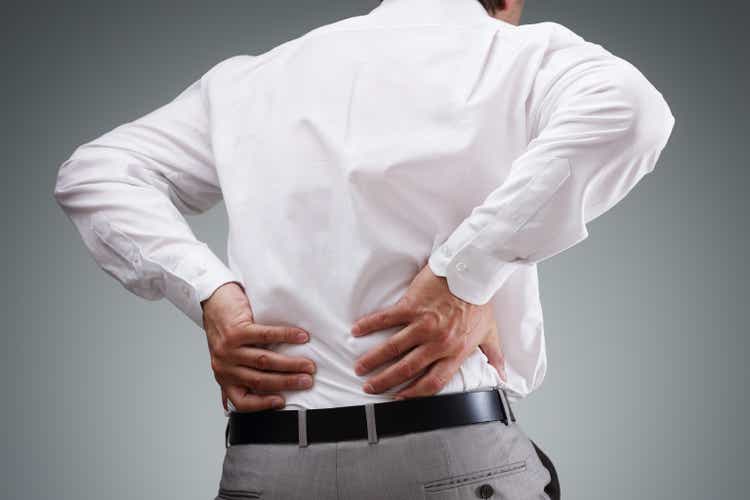 Nevro (NYSE:NVRO) is an intriguing stock. It has been struggling to escape the downdrafts endemic to pandemic era medicine. It has interesting, state of the art, FDA approved SCS medical device systems, but has yet to parlay these into an attractive business.
Surely, it has a bright future. How bright and how far in the future are the questions of the moment.
NEVRO has made its mark as a top SCS competitor
The SCS market is a quadropoly. It is made up of three diversified medical device companies:
Boston Scientific (BSX), the smallest of the bigger SCS players has a market cap of $56 billion; its SCS business, part of its neuromodulation group, is a bit player with net sales of $209 million in Boston's Medical Surgical division as shown by slide 4 in its Q1, 2022 earnings presentation.
Medtronic (MDT), with its $127 billion market cap is a giant; it also houses its SCS business with neuromodulation, the smallest of three players in its neuroscience group generating $451 million in Q4, 2022, per slide 8 of its Q4, 2022 earnings presentation.
Neuromodulation is the smallest reported subsegment of Abbott's seven listed subsegments in its medical device segment.
Nevro, the fourth SCS player in the quadropoly, is the only pure play SCS company. It is all about SCS. With its market cap of $1.67 billion, Nevro is a true minnow. Its total Q1, 2022 revenues of $87.84 million show that not only is it the smallest overall company, but also its SCS revenues are less than half those of Abbott, the next smallest SCS player.
Nuvectra an even smaller pure play SCS pure play company, was a hot stock in its day, but after limping along for several years it succumbed to Chapter 11. Cirtec Medical, a privately held provider of goods and services to the neuromodulation industry bought its assets out of the bankruptcy.
Nevro's Senza SCS system's specific labeling to treat PDN and NSRBP, was an industry first
SCS has been used as an effective means of pain relief for several decades in treatment of a variety of different types of pain. In 07/2021, Nevro was the first to obtain FDA approval for its 10 kHz high frequency SCS therapy for treatment of chronic pain associated with PDN.
Nevro's PDN approval came in the midst of the pandemic undercutting Nevro's launch of its PDN indication. Additionally, the FDA's unexpected 01/2022 approval of Medtronic's PDN treatment was unwelcome. Nevro never got a good shot at establishing first mover advantage in this indication.
In 01/2022 Nevro announced it had received expanded labelling for its proprietary Senza SCS system in treatment of NSRBP. This approval was specific to Nevro's Senza 10 kHz Therapy system. It was supported by the largest randomized controlled clinical trial in this indication.
While its FDA approved SCS system paves the way for Nevro's mid to long term success, management has been careful to temper investor's short term expectations. Patient adoption of SCS is not a simple process like starting a regimen of pills.
Once patients and their doctor elect to proceed with the Senza System the next step is to conduct a trial during which:
...a thin flexible wire (stimulator lead) is typically placed through a needle into the epidural space within the spinal column.
The purpose of the trial is to allow the patient to test the system to see how it relieves their pain. Nevro estimates its future earnings trajectory by the number of trials that it has outstanding. During its Q1, 2022 earnings call (the Call") CEO Grossman gave the following report:
...Despite the significant Omicron impact in January and into early February, Q1 total U.S. permanent implant procedures increased 2% compared to prior year and 14% compared to Q1 of 2019, while trial procedures increased 10% compared to prior year and 13% compared to Q1 of 2019. I'm encouraged by the recovery in trial and permanent implant volumes we saw in the second half of the quarter. And as I said, that has continued in the second quarter to date.
He went on to note that Nevro's internal data confirmed a positive trend in patients' acceptance of SCS as the pandemic starts to abate. Accordingly Nevro believes:
...the SCS market has taken the first encouraging steps toward recovery and is positioned to return to solid revenue growth in the second half of the year as the funnel of trial procedures refills in the first and the second quarters, and this is reflected in our guidance that we reiterated today.
Despite its product approvals, the pandemic has kept Nevro from financial success
Nevro has had a complicated pandemic as revealed by its price chart below. Over the last year its shares have taken a vicious hit.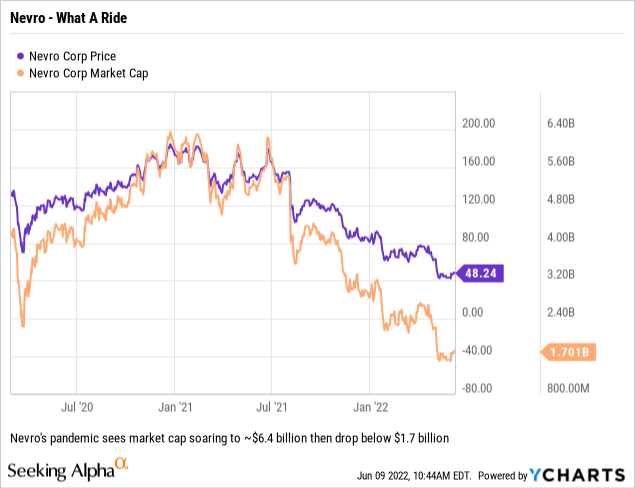 Initially against the backdrop of a pandemic induced market crash, Nevro dropped heavily in mid to late March, 2020. On 03/23/2020 it traded as low as $65.05, a drop of more than 57% in less than a month.
Nevro's recovery from this horrific fall was spectacular albeit short-lived. After hitting its 03/23/2020 low, Nevro popped right back up. It closed over triple digits within two weeks and continued rising; bam by Christmas 2020, Nevro shares were gift wrapped at >$180!
Thereafter, Nevro pretty much meandered during H1, 2021 staying comfortably in triple digits. Its comfort was shaken on 08/05/2021 when it opened at $114.50 after having closed at $147.88 the previous afternoon. The disruption was in clear response to its disappointing Q2, 2021 earnings guidance for Q3, 2021.
During Q2, 2021, Nevro experienced an 8% drop in trial volume compared to 2019. During the quarter patients were so preoccupied with pandemic threats to their lives and livelihoods that patient visits to primary care doctors for chronic pain dropped by 76%.
In response, Nevro cut its guidance. CFO MacLeod advised:
We expect third quarter of 2021 worldwide revenue of approximately $90 million to $93 million. This guidance represents a 14% to 17% decrease over prior year and a 7% to 10% decrease compared to Q3 2019. As you'll recall, Q3 of 2020 benefited from the recovery of canceled perm procedures from the initial COVID shutdown in the first half of 2020, while it's challenging to determine exactly how much of an impact that recovered backlog had on Q3 of 2020. We believe it negatively impacts this year's Q3 growth number by more than 500 basis points.
Its guidance cut was not well received by the analysts participating in the call, nor by the market. Senior Wells Fargo analyst Biegelsen expressed his concern in his Q2, 2021 earnings call question below:
...it would be helpful, if you can get a bridge from Q2 to Q3 guidance, down 11% sequentially. And it's still on a year-over-year basis, adjusting for that pent-up demand a year ago would be down 9% to 12%. So it's hard to understand why despite your comments, we had COVID last year. Why it would be down so much year-over-year and thinking ahead, when do you think PDN can offset the decline to the core SCS implants and sales. When do you think you can start to grow again?
Management's response were vague. Subsequently during the same call, Bank of America analyst Robert Hopkins asked another uncomfortable question. He asked why Nevro's outlook was darker than he was hearing from others. He fretted that he must be missing something.
Again the response was not terribly helpful. CEO Grossman opened his response as follows:
...we're giving you the facts and we've done a lot of work to try and figure out what is going on in the pain treatment markets, what's happening in claims data, what's happening with patients. I think the reason our remarks went almost 40 minutes tonight was because we were trying to download as much information, Bob, as possible that support what's – what we believe is happening in the market.
And so it went. Nevro continues on its downward share path. Its Q1, 2022 earnings and management's upbeat prognosis during the Call have not stemmed the drop. The good news for Nevro is indeed good. It is developing its PDN and NSRBP markets, both of which are huge markets. The issue is that this development is taking longer than optimists had hoped.
Conclusion
At the outset of this article, I set up the query for Nevro investors as to how bright and how long it would take for Nevro to reach its potential. The pandemic has slowed Nevro's progress. Now realism is setting in.
The following reminder during the Call is reason enough for bulls to think twice before opening their wallets. In response to an analyst question as to when Nevro might reach breakeven as it continues spending to build its market, Grossman advised:
...from an adjusted EBITDA perspective, we anticipate that we hit that breakeven around $110 million in quarterly sales. And we as we look at the year, particularly the second half, we're anticipating that we're going to be into that positive adjusted EBITDA territory in the second half. So we're continuing to manage our expenses. We're going to have a bias towards investing in future growth, whether that's the PDN opportunity, NSRBP, building our product pipeline, but we're also doing that with a really strong eye towards driving leverage organizationally and watching our spend. So we're really kind of targeting that $110 million figure as we move forward from an adjusted EBITDA perspective.
As matters now stand, Nevro is busting its tail to get to breakeven. It has yet to realize on the glorious future that seems to be assured... in time. In the current market, where medical companies are struggling across the board, Nevro is a definite show-me mode.
As a read through from its revised guidance for 2022 discussed during the Call, core SCS revenues are lagging its prior guidance, with PDN making up the difference.
Nevro's day is coming. It will be a good one when its PDN and NSRBP treatments get full recognition in the market. In the meantime, its downward bias marches on.