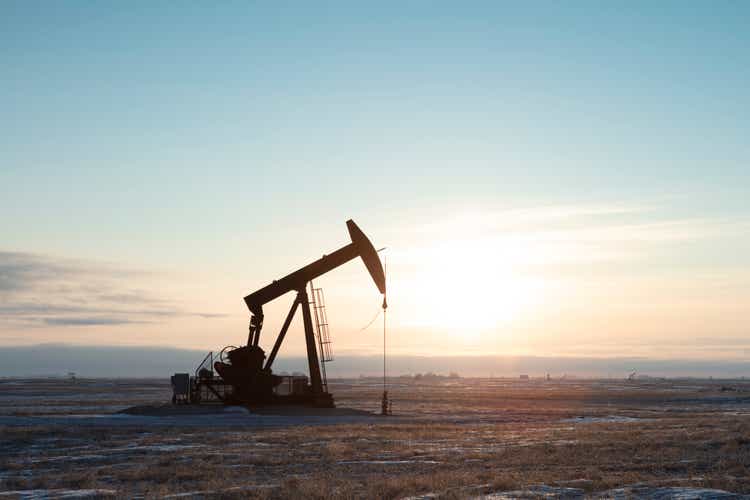 A guest post by Ovi
Below are a number of crude oil plus condensate (C + C) production charts for Non-OPEC countries created from data provided by the EIA's International Energy Statistics and updated to February 2022. This is the latest and most detailed world oil production information available. Information from other sources such as OPEC, the STEO and country specific sites such as Russia, Brazil, Norway and China is used to provide a short-term outlook for future output and direction for a few countries and the world.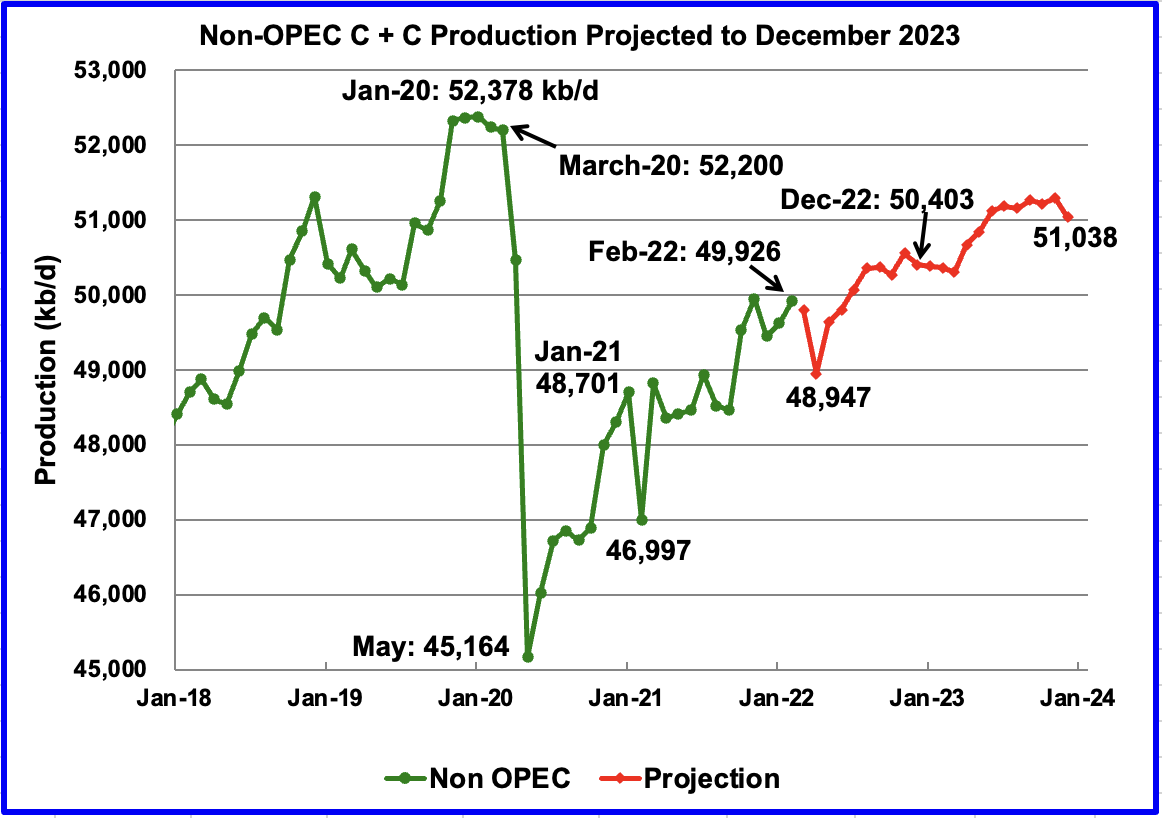 February Non-OPEC production increased by 303 kb/d to 49,926 kb/d. Of the 303 kb/d increase, the biggest increase came from Canada 225 kb/d. Offsetting the increase were decreases from Brazil 116 kb/d and China 92 kb/d. The February 2022 output of 49,926 kb/d is 2,274 kb/d lower than the March pre-COVID rate of 52,200 kb/d.
Using data from the June 2022 STEO, a projection for Non-OPEC oil output was made for the time period March 2022 to December 2023 (red graph). Output is expected to reach 51,038 kb/d in December 2023. This is a 536 kb/d increase over the level reported in the previous report. Note the production drop of 848 kb/d to 48,947 kb/d in April in the red graph is associated with a production drop in the former Soviet Union.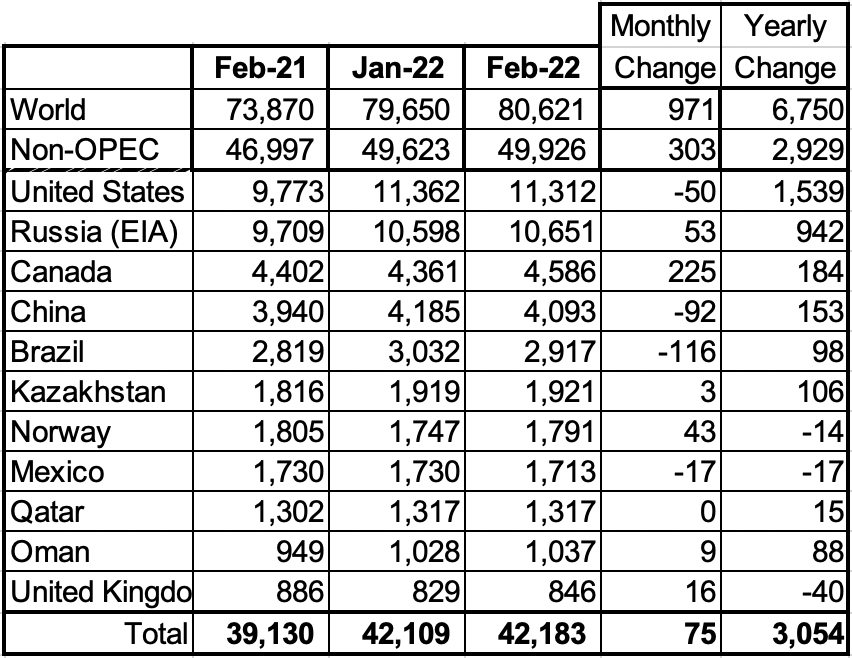 Above are listed the world's 11 largest Non-OPEC producers. The original criteria for inclusion in the table was that all of the countries produced more than 1,000 kb/d. The UK has been below 1,000 kb/d since January 2021.
In February 2022, these 11 countries produced 84.5% of the Non-OPEC oil. On a YoY basis, Non-OPEC production increased by 2,929 kb/d while on a MoM basis it increased by 303 kb/d. World YoY February output increased by 6,750 kb/d.
Production by Country
The EIA reported Brazil's February production decreased by 116 kb/d to 2,917 kb/d. Brazil's National Petroleum Association reported that April's output increased by 18 kb/d to 2,999 kb/d, reversing February's decline (red Markers).
The chart indicates that Brazil continues to experience difficulties in increasing its yearly output. However, according to the IEA, production in 2022 is expected to increase.
Two major oil fields, Tupi and Buzios producing at 900 kb/d and 550 kb/d, respectively, accounted for approximately half of Brazil's crude output last year. We forecast production will average 3.1 mb/d in 2022.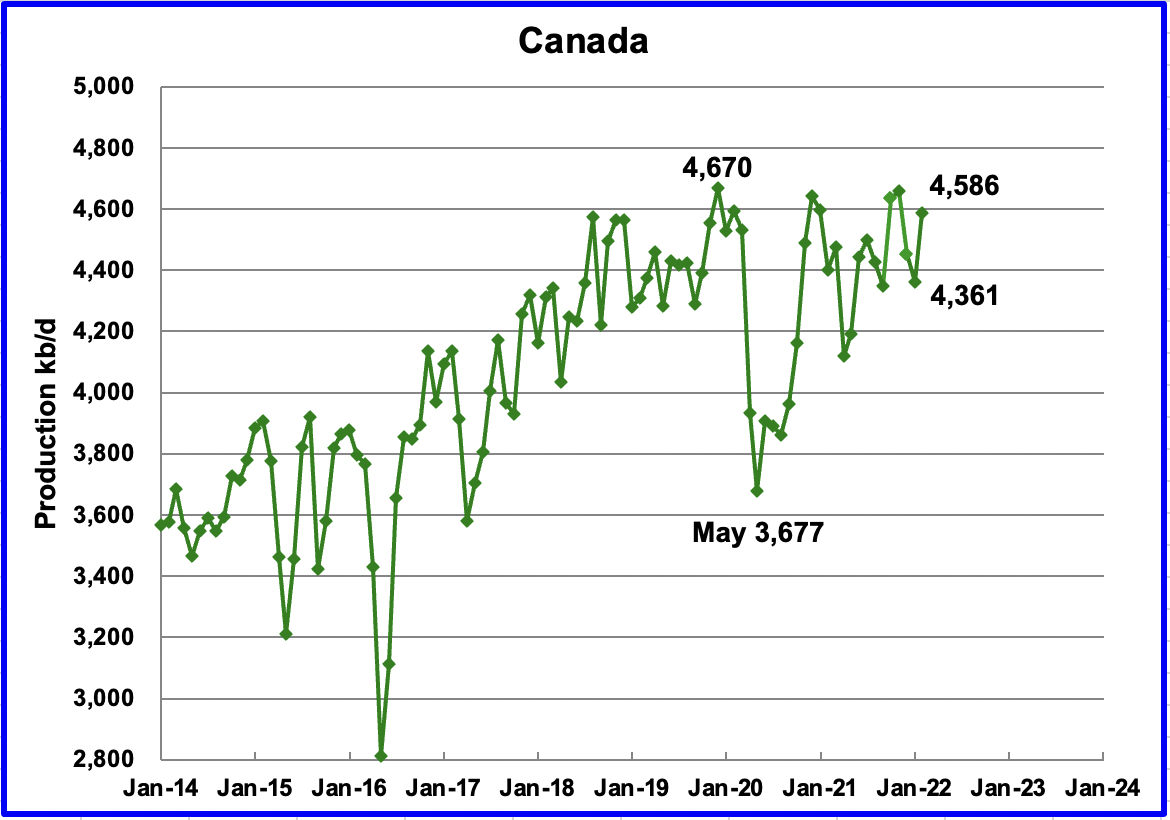 According to the EIA, Canada's February output increased by 225 kb/d to 4,586 kb/d. The increase was mostly Bitumen production recovery after January's extreme weather.
Cenovus to restart West White Rose offshore oil project
According to this source, Cenovus Energy Inc. (CVE) plans to restart the West White Rose oil project off the coast of Newfoundland and Labrador after construction was halted in 2020 as energy prices plunged during the pandemic. (In the source site, a video of an oil analyst is shown where he says that $180 oil is inevitable.)
Cenovus said peak production is anticipated to reach approximately 80,000 barrels per day, 45,000 of which net to Cenovus, by the end of 2029.
West White Rose is located in the Jeanne d'Arc Basin, 350 kilometres east of Newfoundland and Labrador in approximately 120 metres of water.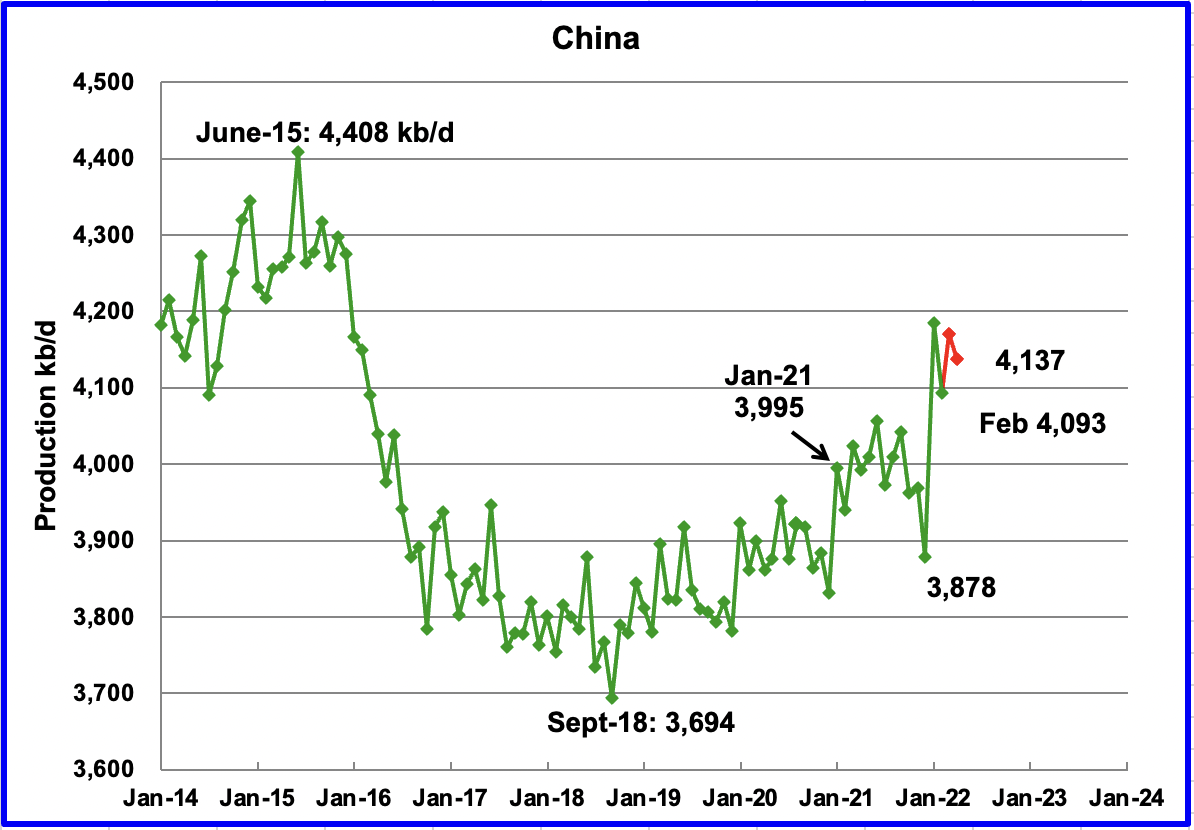 The EIA reported China's output decreased by 92 kb/d to 4,093 kb/d in February. China reported that its output increased in March but dropped in April to 4,137 kb/d (red markers).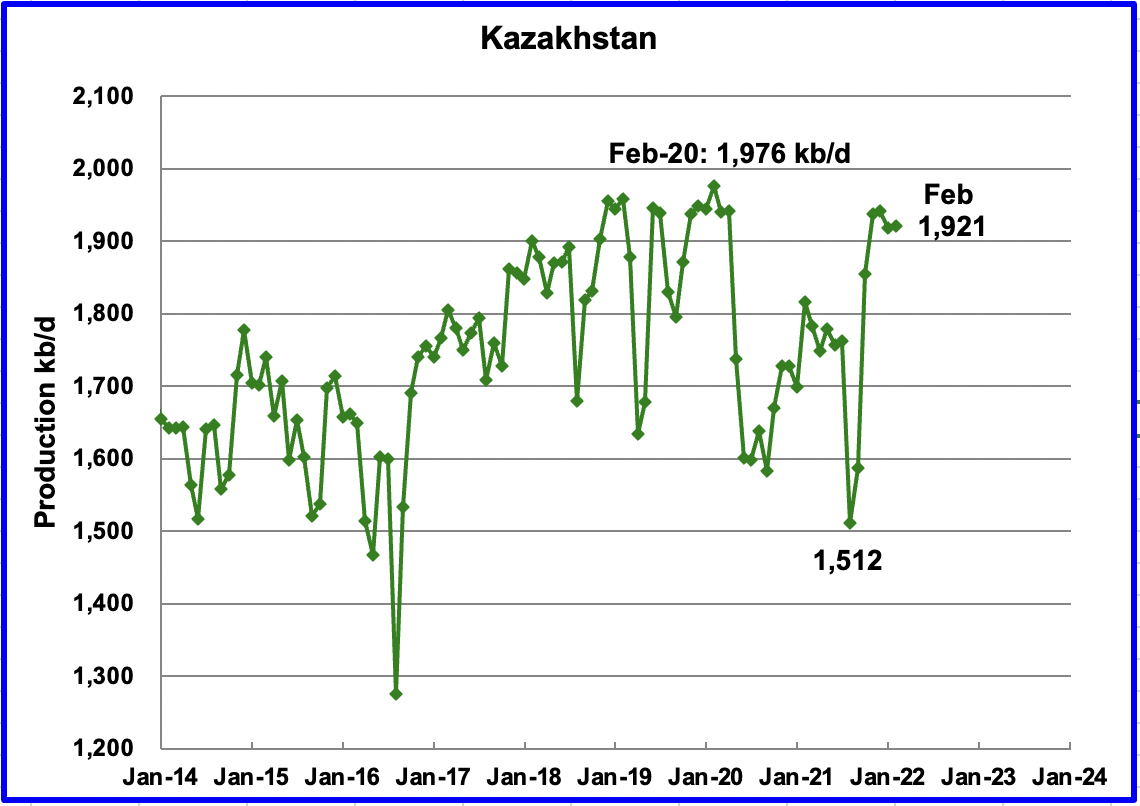 Kazakhstan's output increased by 3 kb/d in February to 1,921 kb/d.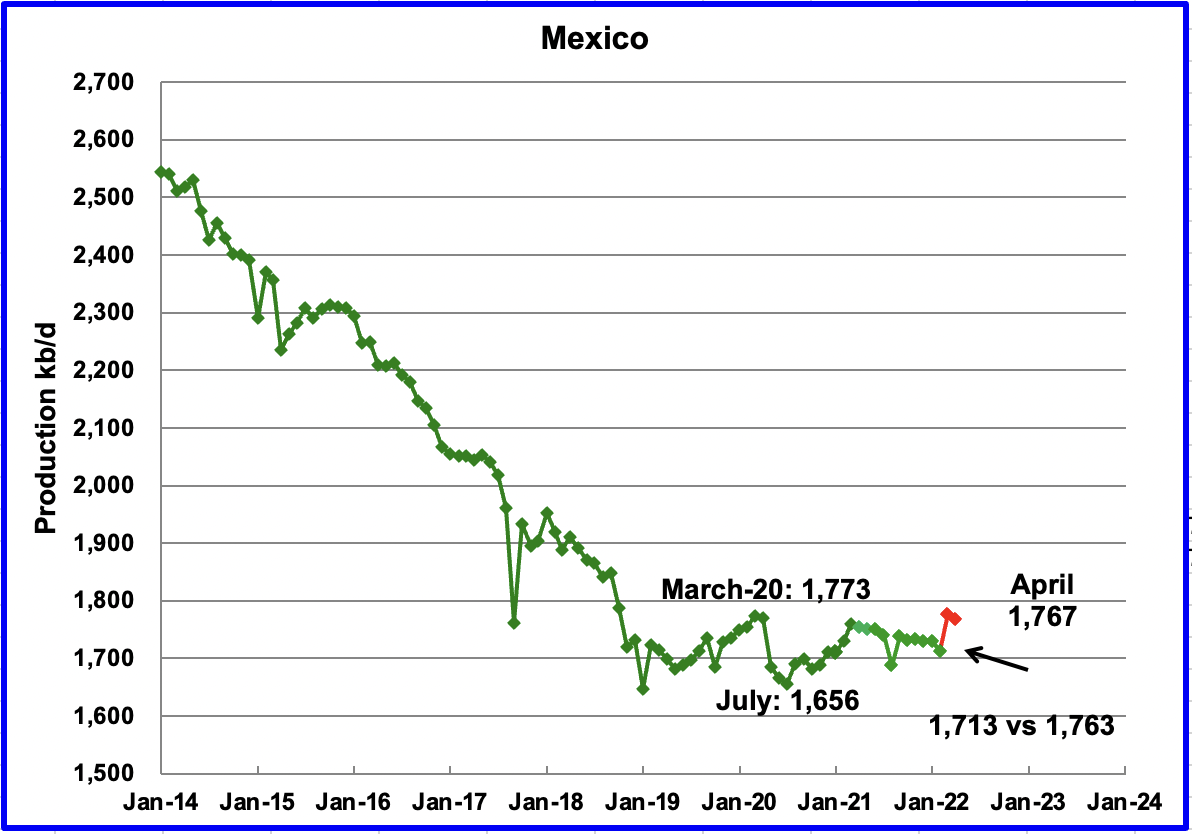 Mexico's production as reported by the EIA for February dropped by 13 kb/d to 1,713 kb/d.
Data from Pemex showed that April's output was 1,767 kb/d. However, for some unexplained reason, the EIA reduces Mexico's official C + C production by close to 50 kb/d each month. A possible explanation is that Mexico's definition of condensate may be different than the EIA's.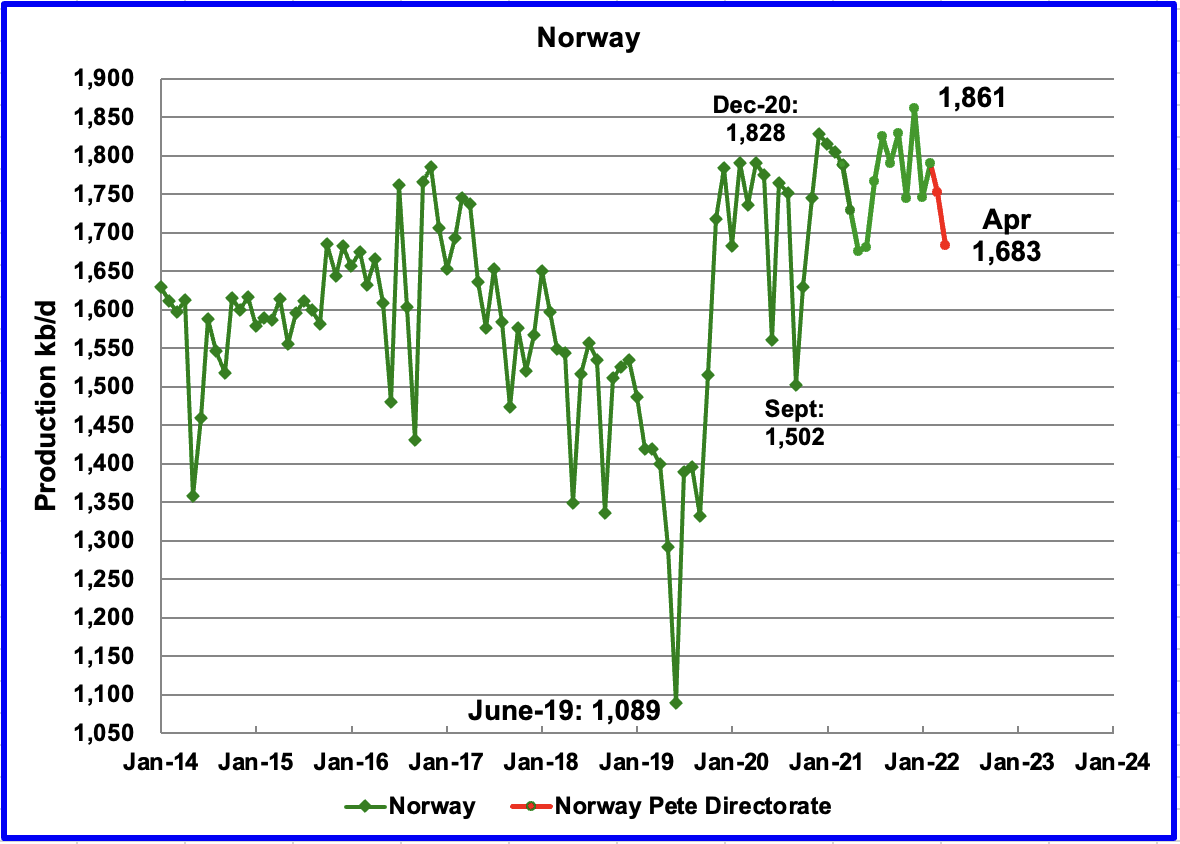 The EIA reported that Norway's February production increased by 44 kb/d to 1,790 kb/d. The Norway Petroleum Directorate (NPD) reported that production decreased in March and again in April to 1,683 kb/d (red markers). According to the NPD: "Oil production in April was 10.6% lower than the NPD's forecast and 5.4% lower than the forecast so far this year."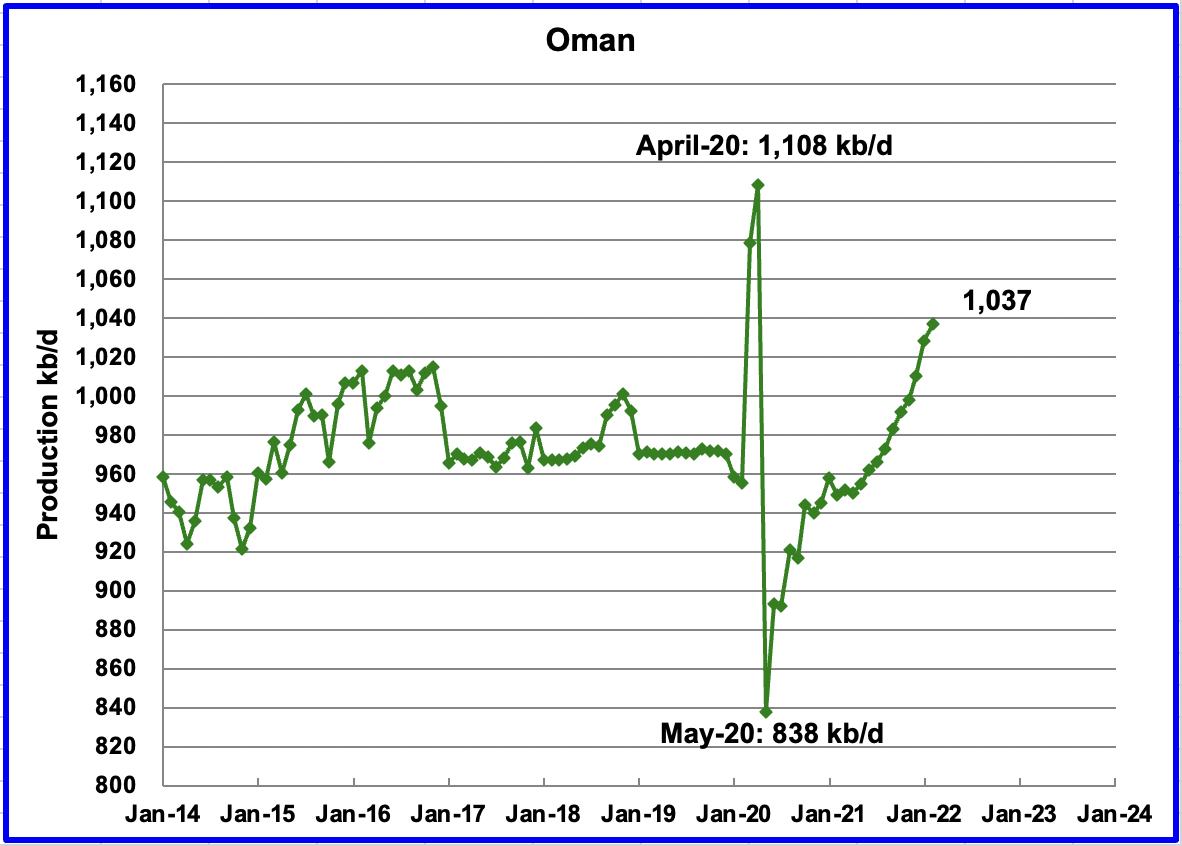 Oman's February production increased by 9 kb/d to 1,037 kb/d.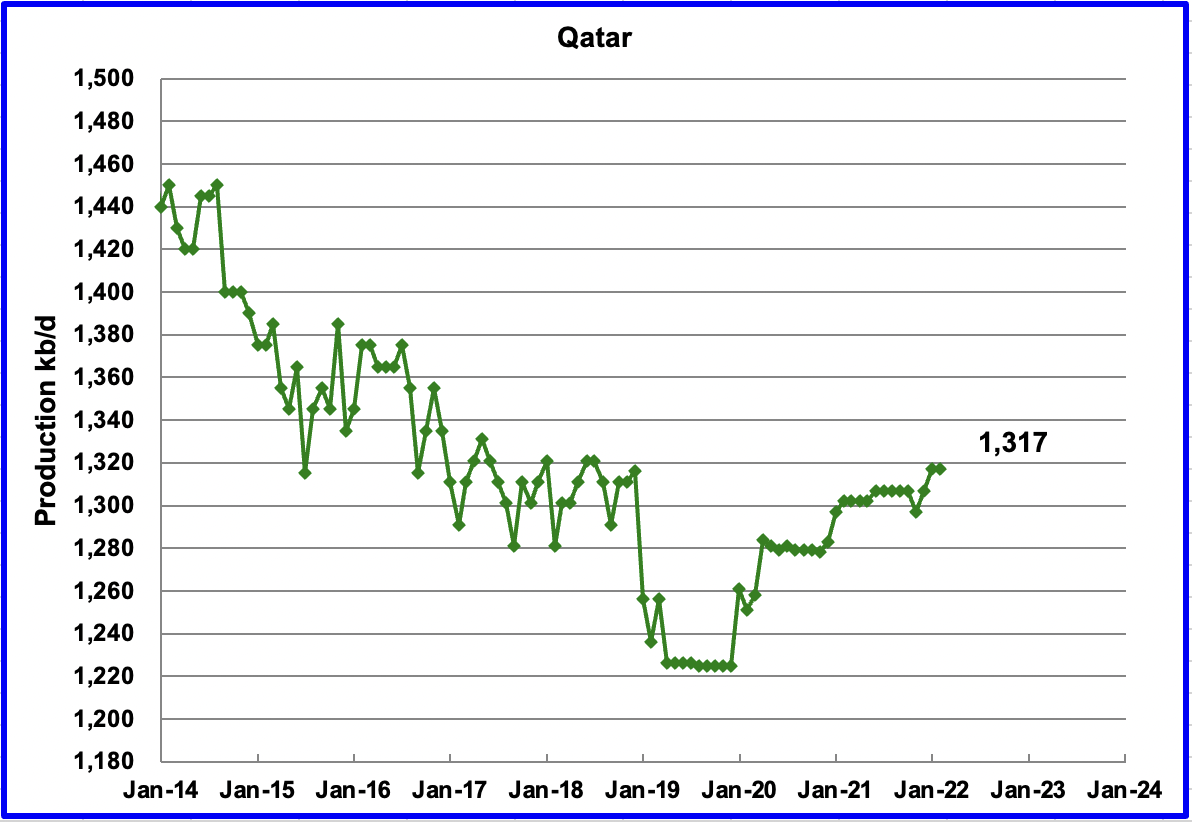 February's output was unchanged at 1,317 kb/d.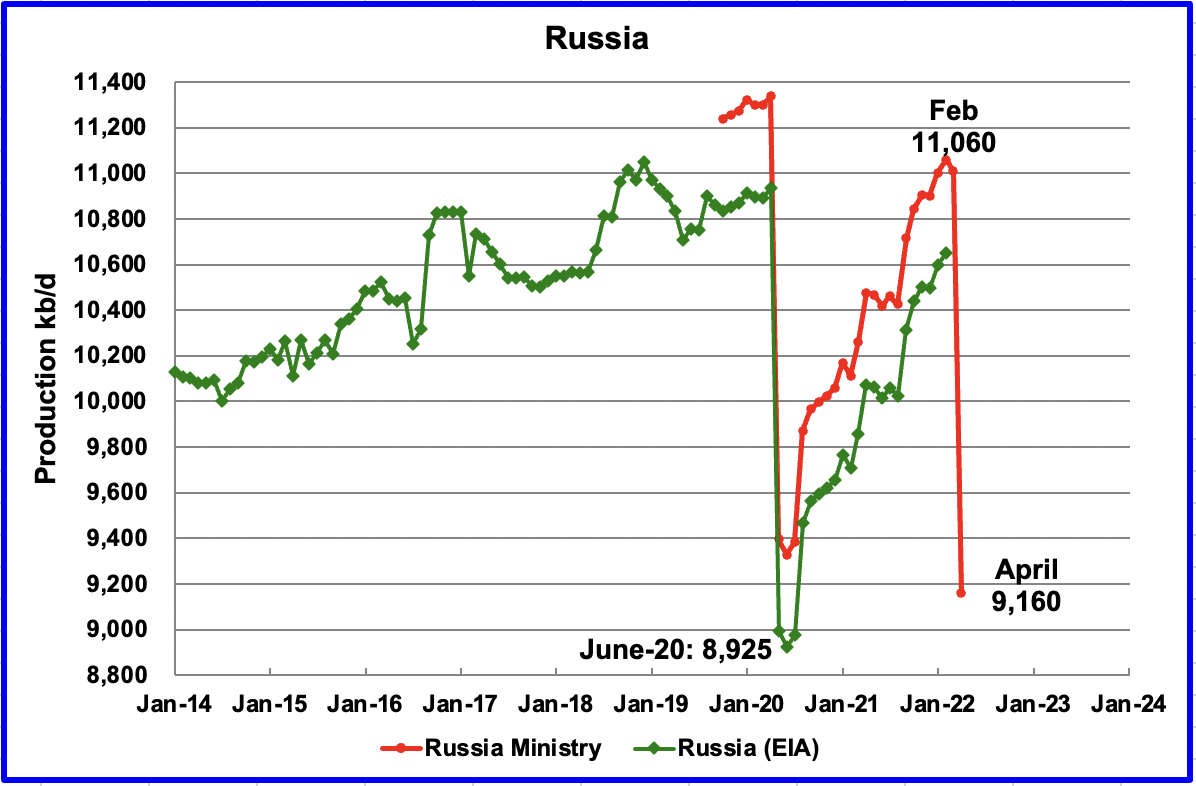 The EIA reported that Russian output increased by 53 kb/d in February to 10,651 kb/d. According to this source, April's production decreased to 9,160 kb/d.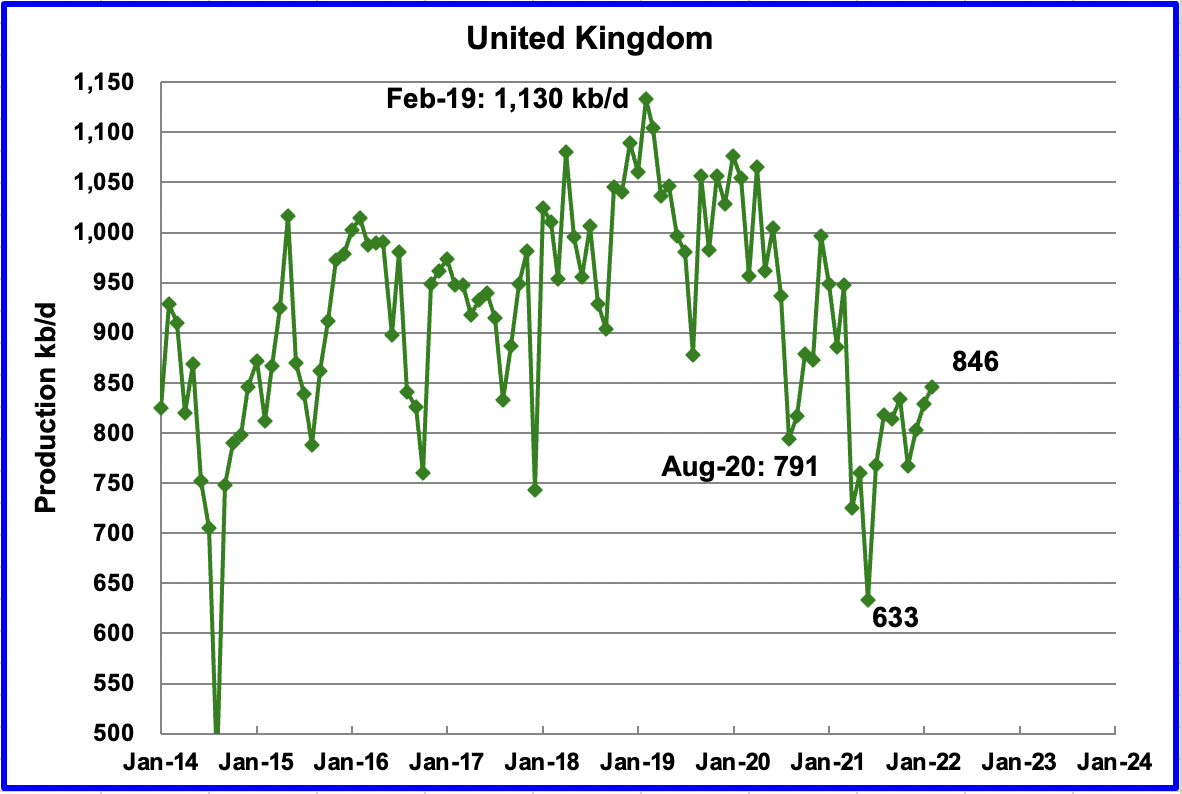 UK's production increased by 16 kb/d in February to 846 kb/d. The chart indicates that UK oil production entered a steep decline phase starting in February 2019.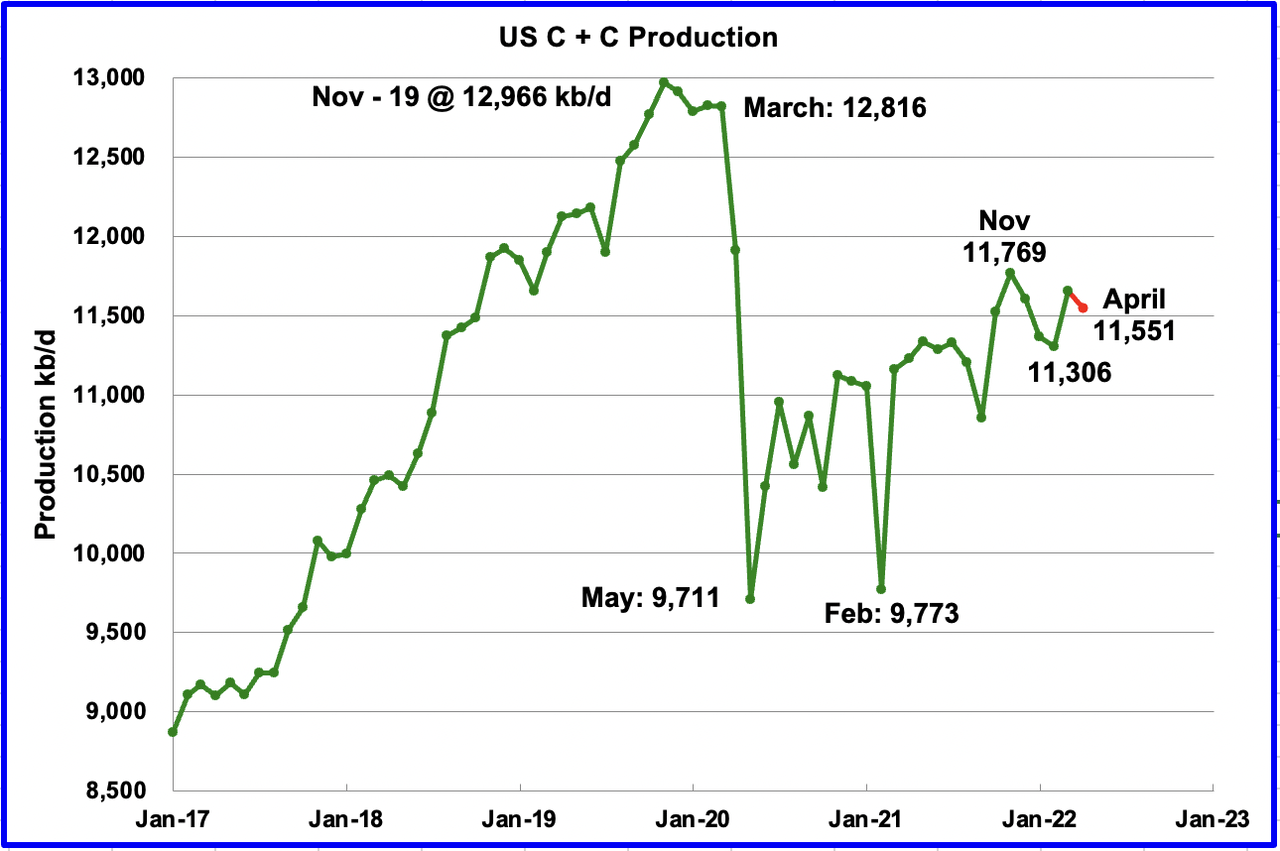 U.S. March production increased by 349 kb/d to 11,655 kb/d. Relative to November's 2021 production of 11,769 kb/d, March is still 114 kb/d lower. The main increases came from Texas at 147 kb/d, ND 66 kb/d and the GOM 75 kb/d. Note that the June STEO is forecasting lower April production of 11,551 kb/d primarily due to a production drop in North Dakota (red marker).
In the On-shore lower 48, March production increased by 284 kb/d to 9,525 kb/d but April dropped by 232 kb/d, according to the STEO.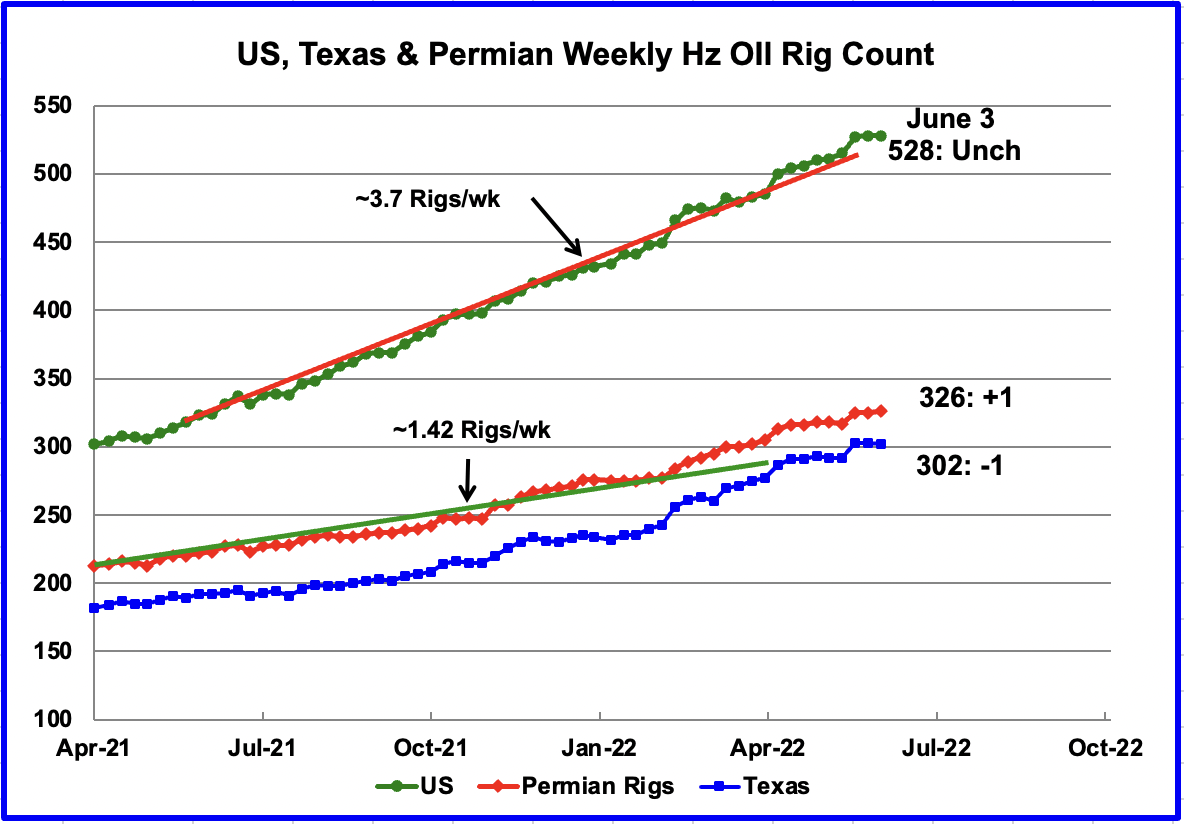 From the beginning of May 2021 to the end of April 2022, the US has been adding horizontal oil rigs at an average rate of close to 3.7 rigs/wk. The primary destination for rig additions appears to be the Permian and Texas.
For the week ending June 3, the US horizontal oil rig count was unchanged at 578. The Permian added 1 while Texas dropped 1.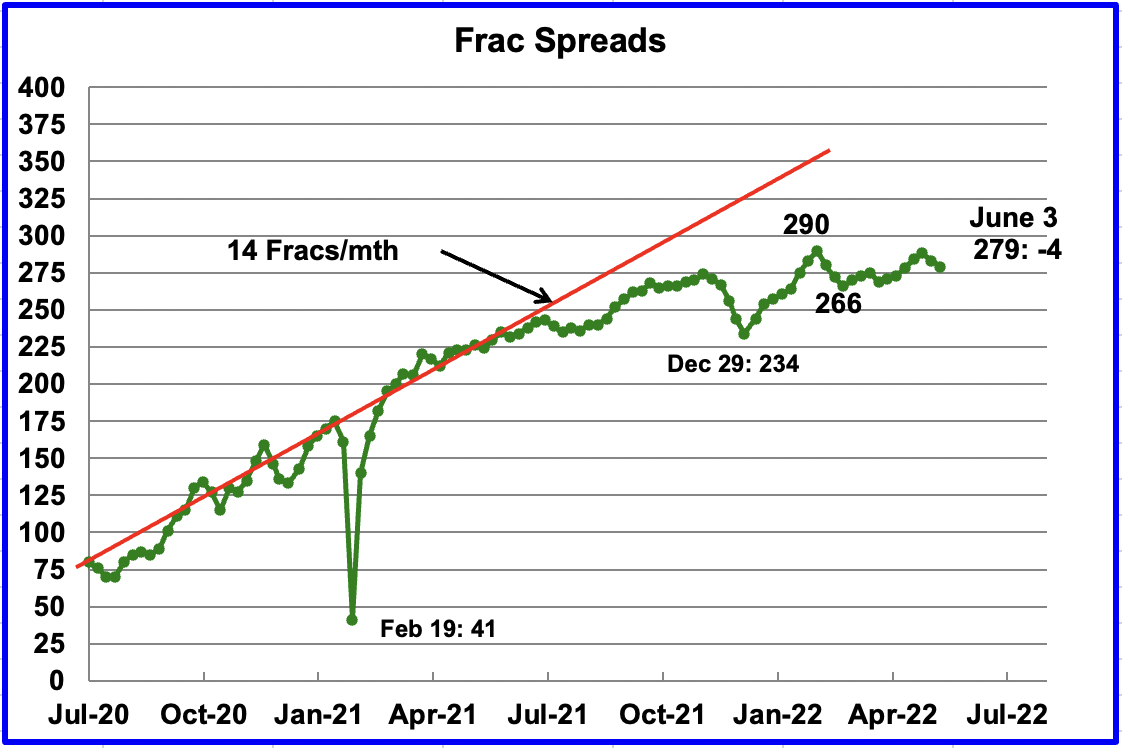 For the past few months, the growth in frac spreads has not been keeping up with the growth in rigs. During the last two weeks, the frac spread count has dropped. In the week ending June 3, 4 frac spreads were decommissioned. In the week ending November 26, 274 frac spreads were operating, 5 fewer than the latest week ending June 3. As noted in the US production chart above, relative to November's 2021 production of 11,769 kb/d, March is still 114 kb/d lower. At the end of March, there were 273 operational frac spreads. This indicates that more frac spreads are required to raise production.
Note that these 279 frac spreads include both gas and oil spreads, whereas the rigs information is strictly oil rigs.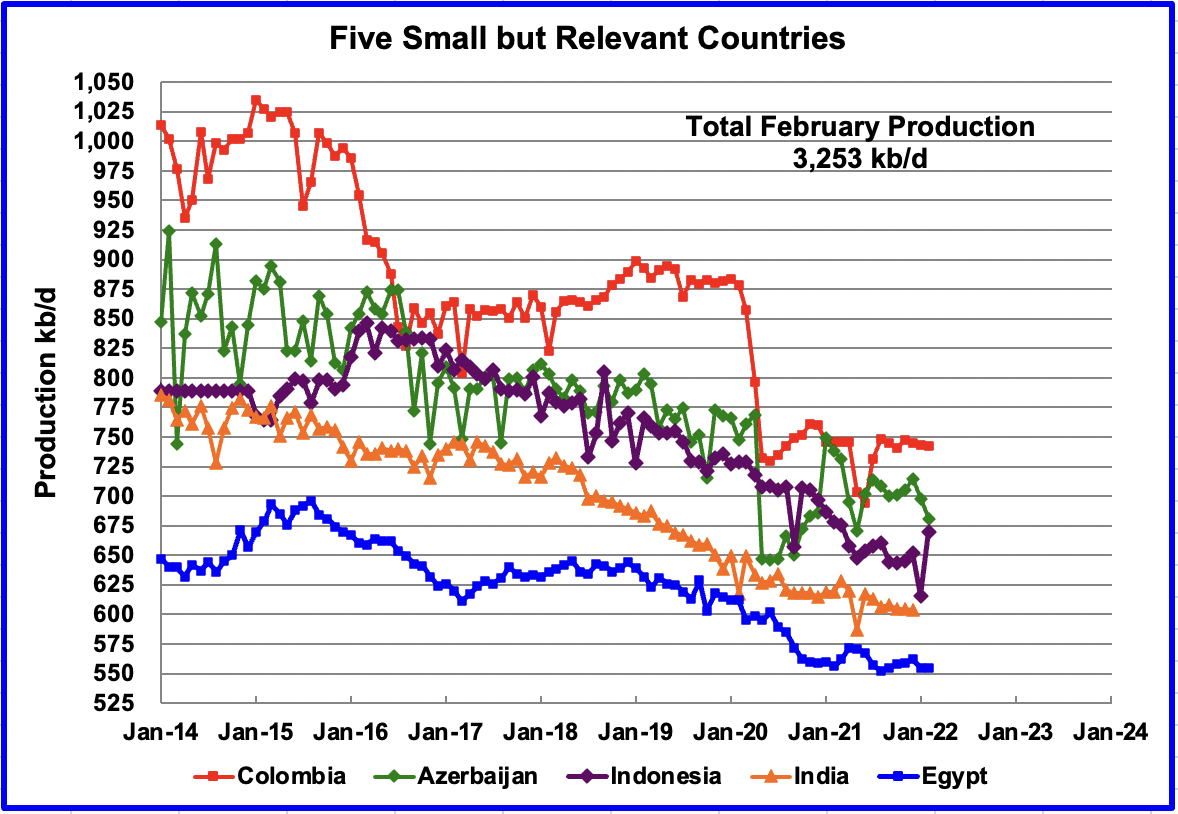 These five countries complete the list of Non-OPEC countries with annual production between 500 kb/d and 1,000 kb/d. Their combined February production was 3,253 kb/d, up by 37 kb/d from January's 3,216 kb/d.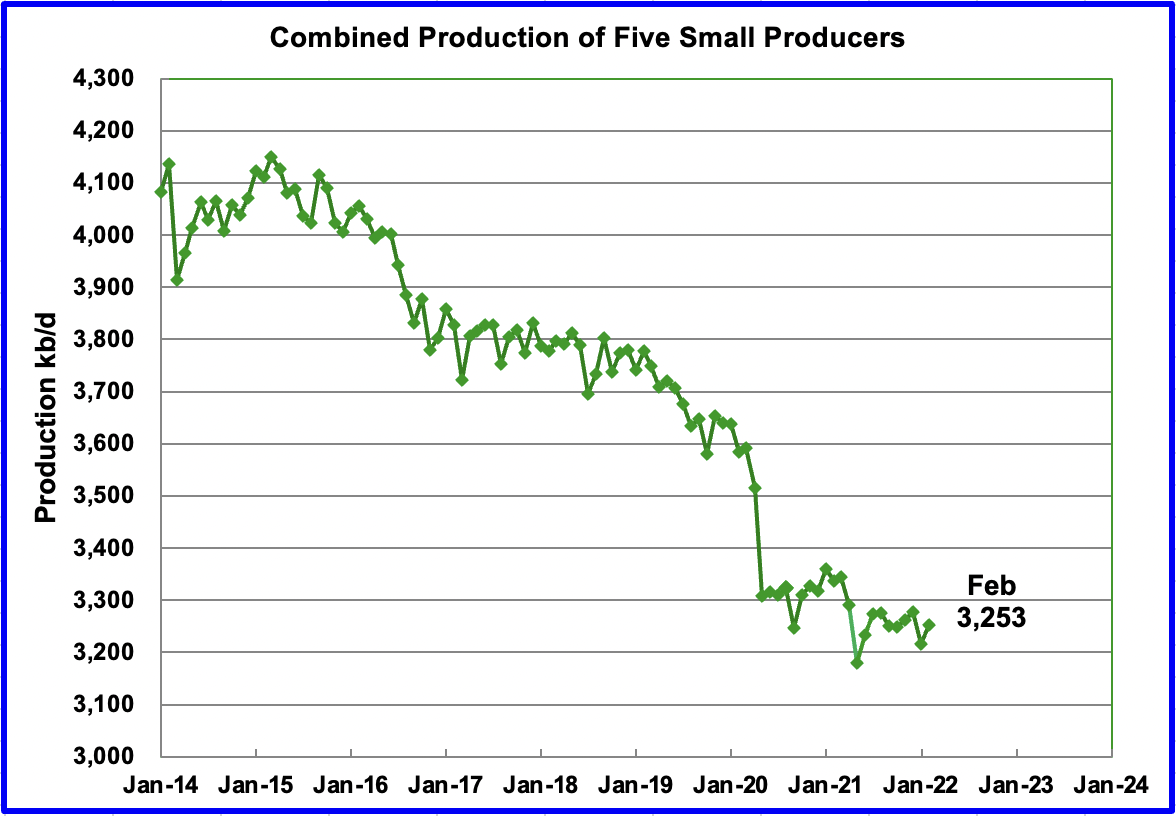 The overall output from the above five countries has been in a slow decline since 2015. The drop in May 2020 from 3,500 kb/d to 3,300 kb/d was primarily due to Colombia and Azerbaijan, 125 kb/d, which is a member of OPEC 10 +.
OPEC 10 + Production vs. Commitment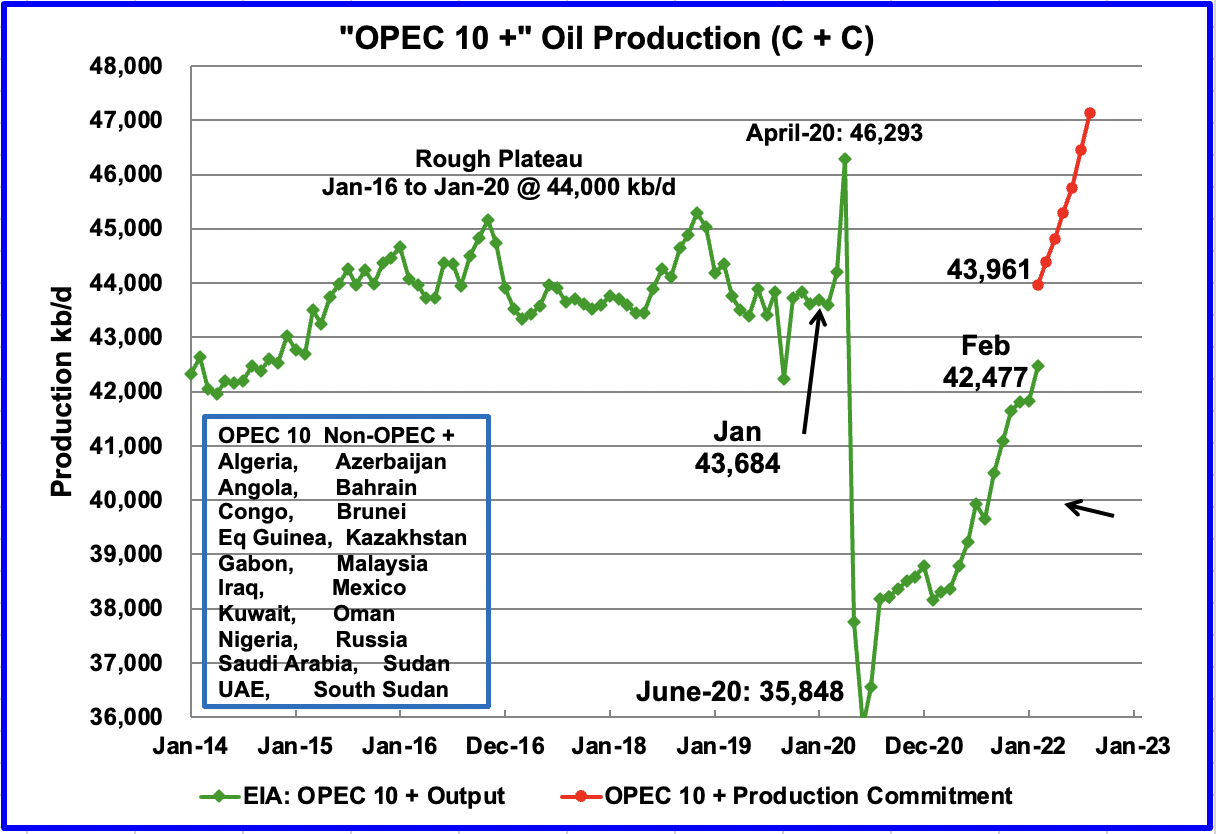 This chart compares OPEC 10 + production with their commitment. For February, the gap between production and commitments is approximately 1,484 kb/d of C + C.
To develop this chart some assumptions had to be made. The OPEC + 10 commitments are for only crude oil production, no condensate. While that information is available for the OPEC countries from the OPEC report, it is not readily available for the Non-OPEC participants. On the other hand, the EIA monthly production information is for both crude and condensate. To get an estimate for the OPEC commitments in terms of C + C, OPEC crude production was compared with EIA C + C production.
For the last six months, September 2021 to February 2022, the ratio of EIA C + C production data to the OPEC crude data was calculated. Over that period, the EIA C+C production was 7.5% higher on average than the OPEC crude values. To get the OPEC 10 + commitments in terms of C+C, (red graph above), this percentage was applied to the OPEC +10 commitments made from February 2022 to August 2022.
To check the 7.5% estimate, the IEA OPEC 10 + crude production reported in the February 2022 report was compared to the EIA C + C production. For January 2022, the IEA reported OPEC 10 + output was 39,480 kb/d. This indicates that using 7.5% to translate crude commitments to C + C commitments is low because the composition of the OPEC 10 countries' oil output is not representative of the full OPEC 10 + countries.
While the OPEC + commitments from February to June ranged from 400 kb/d to 432 kb/d, the July and August commitments were increased by 50% over the June commitment to 648 kb/d. Note that the main purpose of these increases is to let those countries that can increase production increase their production while treating all members equally.
World Oil Production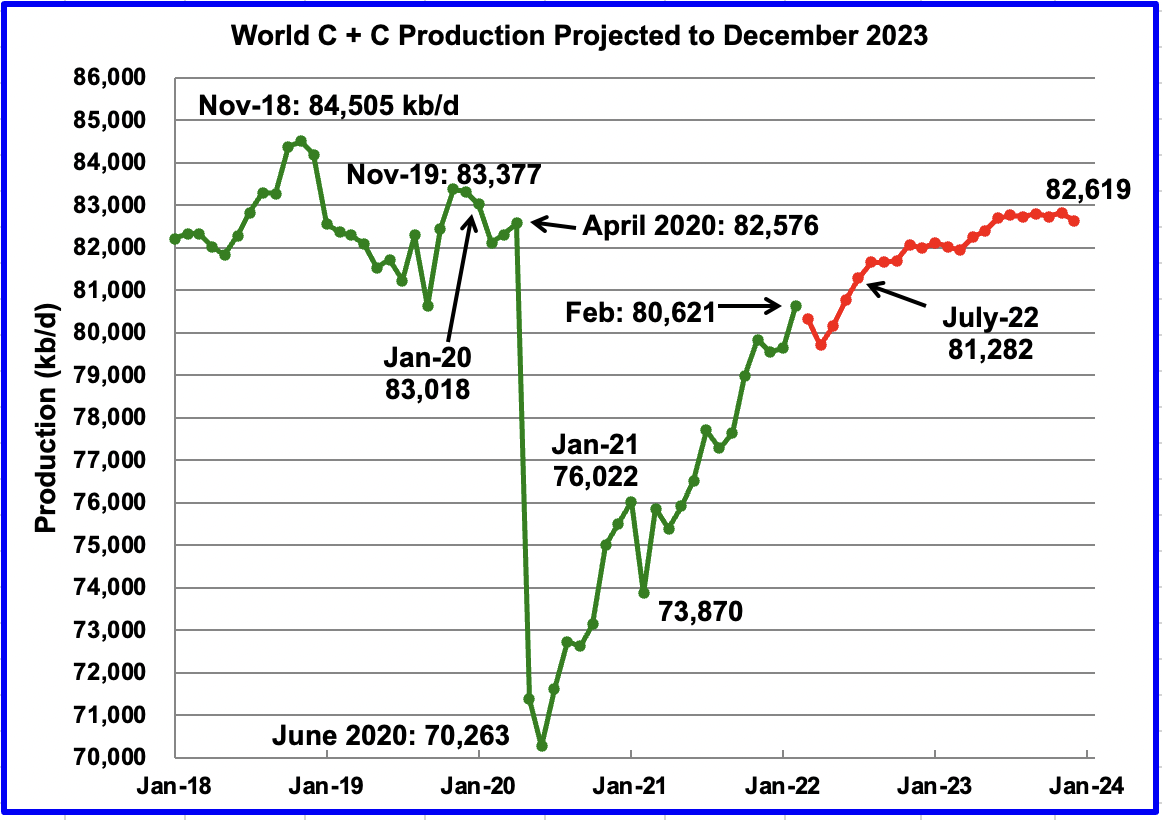 February's world oil production increased by 971 kb/d to 80,621 kb/d according to the EIA (green graph).
This chart also projects world C + C production out to December 2023. It uses the June 2022 STEO report along with the International Energy Statistics to make the projection (red markers).
It projects that world crude production in December 2023 will be 82,619 kb/d, 638 kb/d higher than projected in the May report. It is also 399 kb/d lower than the January pre-COVID rate of 83,018 kb/d and 1,886 kb/d lower than the November 2018 peak.
Could the plateauing shown in the latter half of 2023 be an early confirmation that peak oil occurred in November 2018 at 84,505 kb/d?
Editor's Note: The summary bullets for this article were chosen by Seeking Alpha editors.