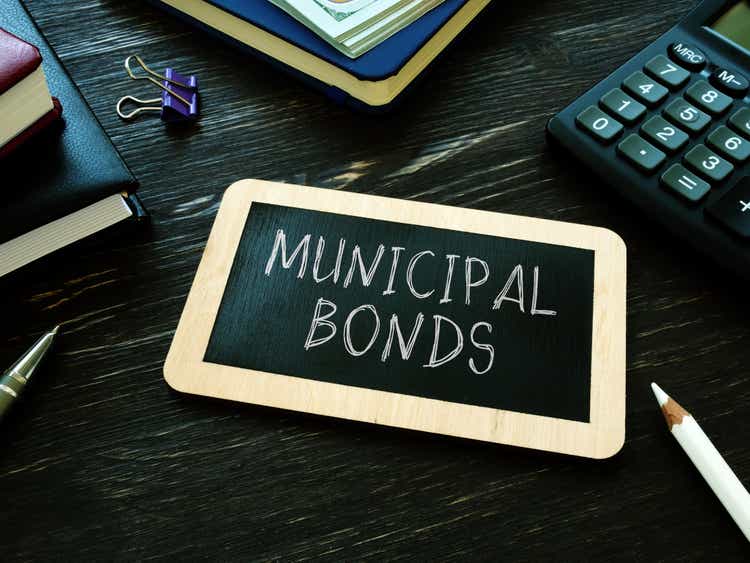 By Peter Hayes; James Schwartz; & Sean Carney
Market overview
Municipal bonds rebounded in May alongside rallying interest rates as softening economic data stoked recession fears and tempered the market's expectations for future U.S. Federal Reserve policy tightening. Weakness persisted early in the month, but attractive valuations and anticipation of more favorable supply-and-demand dynamics prompted strong total returns and considerable outperformance versus comparable U.S. Treasuries into month-end. The S&P Municipal Bond Index returned 1.48%, bringing the year-to-date total return to -6.73%. Longer-duration (i.e., bonds more sensitive to interest rate changes) and higher-rated bonds performed best.
Like performance, supply-and-demand technicals were bifurcated in May. Mutual fund outflows, exacerbated by tax-loss swapping, totaled $23 billion but moderated as performance turned positive. Issuance was manageable at $34 billion, 9% above the five-year average, and was increasingly well received. Deals were four times oversubscribed on average, but 11 times oversubscribed during the last week of the month. At the same time, bid wanted activity fell dramatically, and broker-dealers lightened inventories into strength.
If interest rates maintain some stability, we think the market can sustain positive momentum. While the recent performance snapback has removed the extreme cheapness from the asset class, valuations remain historically attractive, with municipal-to-Treasury ratios near their five-year averages. In addition, we anticipate that the market will benefit from upcoming favorable seasonal dynamics in which reinvestment income typically outpaces issuance and drives strong performance during the summer months.
Strategy insights We maintain a modest long duration stance on municipal bond positioning while targeting moderate cash balances. We favor intermediate maturities given that 88% of the full yield curve can be captured by extending out just 10 years. We prefer higher-quality bonds overall, with a neutral allocation to non-investment grade bonds.
Overweight
Essential-service revenue bonds.
Select the highest quality state and local issuers with the broadest tax support.
Flagship universities and diversified health systems.
Select issuers in the high yield space.
Underweight
Speculative projects with weak sponsorship, unproven technology, or unsound feasibility studies.
Senior living and long-term care facilities in saturated markets.
Yielding opportunities
Municipals tend to benefit from seasonal strength during the months of June, July, and August. During this period, issuance has historically been outpaced by elevated reinvestment income from calls, coupons, and maturities. This net negative supply environment has often spurred strong total returns for the asset class. For example, the period of June through August has produced positive performance during each of the past five years, with total returns averaging 1.42%. This year we expect the market to follow this seasonal trend once again. We are forecasting $34 billion in net negative issuance during the period, just slightly below the $37 billion average over the past five years, and we expect this technical tailwind to be supportive of performance in 2022.
Separately, credit markets improved during the second half of May after yields and spreads spiked to levels not seen since the start of the COVID-19 pandemic. The yield on the S&P Municipal High Yield Index peaked at 5.35% on May 18 before retracing 51 basis points (bps) to where it started the month. This enabled the index to outperform the S&P Municipal Bond Index by 24 bps on the month. Year to date, municipal high yield has underperformed the broader municipal market by 167 bps, led lower by the tobacco, multi-family housing, and life-care sectors. We continue to view forced selling due to negative fund flows, like what was experienced in early May, as an opportunity to source cheap bonds in the secondary market. However, amid the concerns of a potential economic slowdown, robust due diligence and careful security selection will be key drivers of performance.