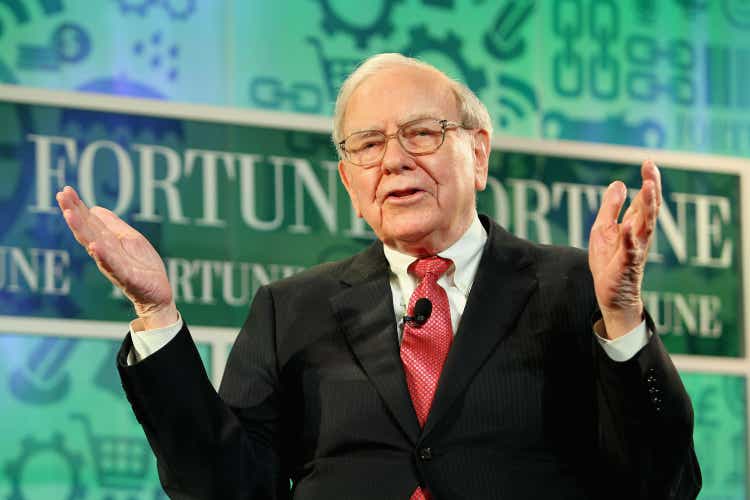 This article was prepared by Ubaidulla Sathar, CFA in collaboration with Dilantha De Silva.
Based on publicly available sources, Occidental Petroleum Corporation (NYSE:OXY) ranks as the 7th largest holding of Berkshire Hathaway, Inc. (BRK.A) (BRK.B) led by Warren Buffett, and this stake represents over 15% of the oil and gas company's outstanding shares. OXY stock has beaten the S&P 500 this year following the rally in oil and gas prices which has been aided by the Russia-Ukraine crisis. In this analysis, we will look at the interesting history of Warren Buffet's involvement with Occidental and determine whether now is a good time to be betting on Occidental stock or to book profits on the back of a 110% price gain this year.
History of Berkshire's involvement with Occidental
Berkshire's involvement with Occidental started in 2019 when the conglomerate invested $10 billion in Occidental to fund its purchase of Anadarko Petroleum. The deal was in the form of 100,000 shares of preferred stock paying an 8% annual dividend to Berkshire while also issuing warrants to purchase 84 million shares at a strike price of $59.624 per share. However, the deal to acquire Anadarko ultimately shackled Occidental as it increased the debt level of the company by around $39 billion. The rationale, however, was to gain exposure to the Permian basin assets of Anadarko, which is the largest petroleum-producing basin in the United States. Fast forward to March 2022, to the surprise of many investors, Berkshire aggressively started purchasing common stock of Occidental and currently owns around 143 million shares of the company. Below is a timeline of the investments of Berkshire in Occidental Petroleum stock.
| | | | |
| --- | --- | --- | --- |
| Date | Shares Bought | Total Shares Owned | Ownership % |
| 1-Mar-22 | 29,811,177 | 29,811,177 | 3.18% |
| 2-Mar-22 | 14,988,287 | 44,799,464 | 4.78% |
| 3-Mar-22 | 12,365,666 | 57,165,130 | 6.10% |
| 4-Mar-22 | 33,997,865 | 91,162,995 | 9.73% |
| 9-Mar-22 | 24,136,074 | 115,299,069 | 12.30% |
| 10-Mar-22 | 2,971,315 | 118,270,384 | 12.62% |
| 14-Mar-22 | 7,277,649 | 125,548,033 | 13.40% |
| 15-Mar-22 | 5,738,377 | 131,286,410 | 14.01% |
| 16-Mar-22 | 5,086,590 | 136,373,000 | 14.55% |
| 2-May-22 | 5,867,118 | 142,240,118 | 15.18% |
| 3-May-22 | 20,500 | 142,260,618 | 15.18% |
| 10-May-22 | 716,355 | 142,976,973 | 15.26% |
| 12-May-22 | 185,419 | 143,162,392 | 15.28% |
Source: Public filings of Berkshire Hathaway
As per the latest filings, Berkshire owns 15.3% of the common shares outstanding of Occidental and also the right to purchase approximately 84 million shares at an exercise price of $59.624 per share, which means Berkshire could potentially own more than 22% of Occidental Petroleum. The above sequence of events prompts the question, is Warren Buffett trying to acquire Occidental Petroleum?
Will Berkshire try to acquire Occidental?
At the end of the March quarter, Berkshire Hathaway had $106 billion in cash and cash equivalents which is a decrease from $147 billion at the end of the December quarter. This massive cash pile reflects a sizeable cash position that could be utilized to fund any potential transaction the company would try to work out. Occidental's positive developments given the favorable industry conditions coupled with the interest in the company shown by Berkshire in the recent past gives reason to believe Buffett may well be eyeing Occidental.
As mentioned by Warren Buffet himself, the main factor to be considered in an investment in the oil and gas industry would be the oil price movements in the global market. In the Q1 earnings call, Occidental management made their expectations clear for continued industry tailwinds through the end of this year.
We recognize the possibility of softer product prices later in the year but still expect the third and fourth quarters to be exceptionally strong by historical standards. Our original budget included a forecast of $73 for Brent while our revised guidance reflects a Brent average price of $95 for 2022.
Underlying macro factors also support this expectation with industry inventories at a low level and demand expected to increase with the U.S. entering the driving season, the expected easing of lockdown measures in China, and a continuation of the Russia-Ukraine crisis further aggravating supply-side challenges.
Exhibit 1: Oil inventories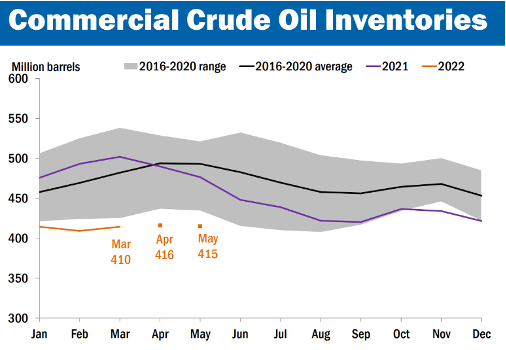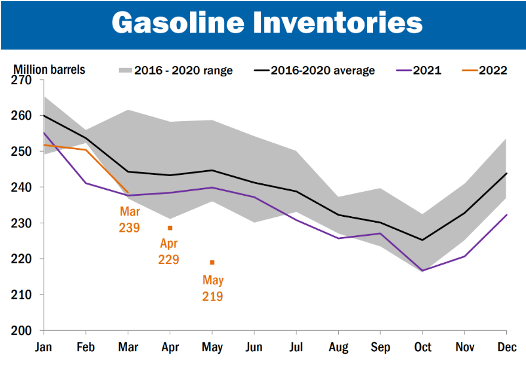 Source: Federal Reserve Bank of Dallas
Although there are a lot of positives, Occidental is now valued at close to $68 billion, meaning that a sizeable investment would be required for an outright acquisition. Given the massive pile of debt accumulated by Occidental over time that surpasses $27 billion along with the 9.8 billion in preferred shares, the enterprise value of the company comes to over $100 billion today. With a debt+ preferred share to capital ratio of 60%, Occidental carries substantial balance sheet risk in comparison to its closest peers. Despite the short-term positivity surrounding the oil and gas industry, we believe the chances of Berkshire Hathaway going for an outright acquisition of Occidental is a low probability event.
Is Occidental Petroleum truly a low-cost oil driller?
If Berkshire's investment in Occidental is purely to capitalize on rising oil prices, understanding the breakeven oil price of the company is important to identify the profitability and also survivability of Occidental. Investors who have followed Buffett into Occidental may also want to have a thorough understanding of the expected profitability of the company to determine whether now is a good time to be booking profits.
As an overall industry, shale oil has witnessed a considerable drop in its cost structure since the last oil rally in 2016 and many high-cost operators have exited the industry. Shale oil producers have been able to bring down the breakeven price for oil from $65 in 2015 to $46 in 2020 for new wells within just five years, demonstrating the improving efficiency of the industry. The breakeven price will vary with new shale oil wells in the U.S. producing at a cost of around $50 while existing wells produce at a cost of around $30. It is, however, generally believed that Permian assets have a breakeven price of just over $50.
Exhibit 2: Breakeven oil prices
Source: Statista
Eagle Ford has the lowest cost for both new and existing wells at $48 and $23, respectively. It should also be noted that the Permian basin is the most productive oil basin in the United States with roughly 5 million crude oil barrels produced per day vs other regions which operate at or below 1 million barrels per day. Occidental is a major operator in the Permian region with 2.9mm acres which accounts for around 62% of its U.S. onshore production.
Exhibit 3: Crude oil production by region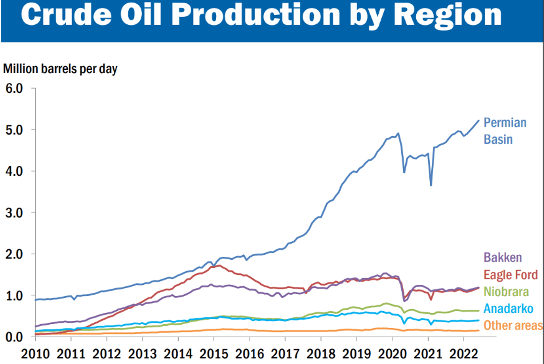 Source: Federal Reserve Bank of Dallas
Of the Permian Basin assets, Delaware realizes the lowest cost and the deepest of the Permian sub-basins with the thickest deposits of rock. Occidental is the top operator in the region and therefore is able to keep production costs low. As per company filings, 72% of operating inventory realizes a breakeven price of less than $40. Based on the company's dividend policy and previous guidance, we believe the company-level breakeven oil price for Occidental is below $35. This ranks the company at the high end of the profitability scale in the industry, meaning Occidental is well-positioned for strong earnings growth in the next few quarters.
Is Occidental in good financial health?
Having discussed the investment rationale for Occidental and profitability concerns, assessing the financial health of the company is important to understand the recent investments by Berkshire and also to determine the best course of action for investors today. Going by recent filings, Occidental holds c. $28 billion in total debt while total equity accounts for c. $25 billion. This results in a 53% debt to capital ratio vs the peer range of 25%-30%. Taking into account the preferred stock capital with an 8% interest component, it seems reasonable to conclude that Occidental's financial position needs to improve to catch up with its peers.
Occidental, however, is able to overcome this risk given the favorable oil price environment today and the company can also mitigate the risks in the short run by prioritizing repayment of its debt obligations over other uses of capital. The perception of the company toward growth has anyways improved with a renewed focus on deleveraging plans and explicit targets have been set to reduce gross debt with the objective of regaining investment-grade credit ratings. The below table highlights the fact that the company has come a long way since 2019 in terms of improving its balance sheet health, and based on these current trends, we believe the company is on the right track to achieving its medium-term balance sheet improvement goals.
| | | | |
| --- | --- | --- | --- |
| Date | RATING | OUTLOOK | ACTION |
| 25-May-22 | BB+ | Positive | Affirmed |
| 16-Dec-21 | BB+ | Stable | Upgrade |
| 6-Oct-21 | BB | Positive | Affirmed |
| 22-Jun-21 | BB | Stable | Affirmed |
| 25-Jun-20 | BB | Stable | Upgrade |
| 14-May-20 | BB- | Negative Watch | Downgrade |
| 20-Mar-20 | BB+ | Negative Watch | Downgrade |
| 12-Aug-19 | BBB+ | Stable | Downgrade |
Source: Fitch Ratings
Takeaway
We believe the rationale behind Berkshire's investment in Occidental Petroleum is to gain exposure to the improving dynamics of the oil and gas industry through a low-cost oil producer that is on the right track to reporting stellar earnings growth. We also believe that supply-chain pressures will persist through mid-2023 in our base-case scenario, leaving ample room for Occidental to grow. However, at these stretched valuation levels, we do not plan to initiate a new investment in Occidental common shares.