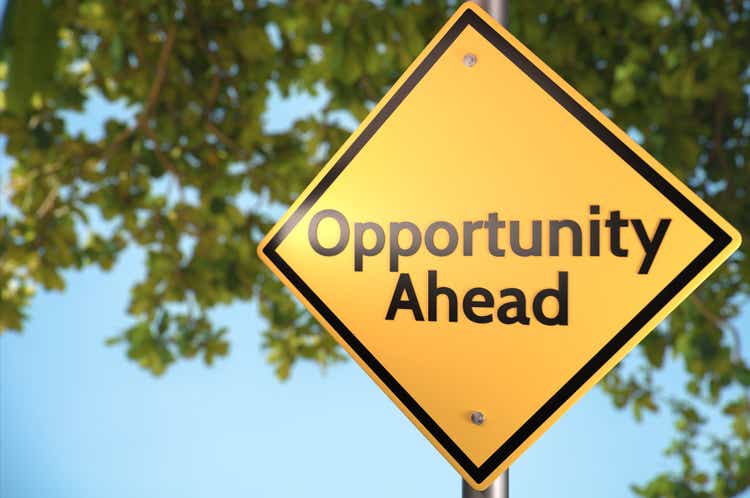 Most people invest the majority of their capital in traditional investments like stocks and bonds.
The 60/40 portfolio, popularized in the 1950s, aims at maximizing returns while minimizing volatility by pairing stocks with bonds, and it has been remarkably successful over the past decades: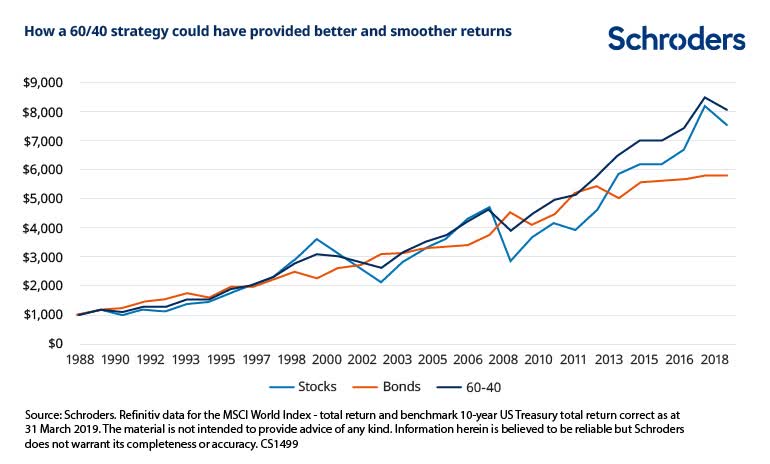 But past returns are not indicative of future performance, and what worked well in the past may not work so well in the future.
Today, bond yields are deeply negative when adjusted for inflation and taxes. As such, you are guaranteed to earn a negative real return, and despite that, you'll still pay some taxes to Uncle Sam.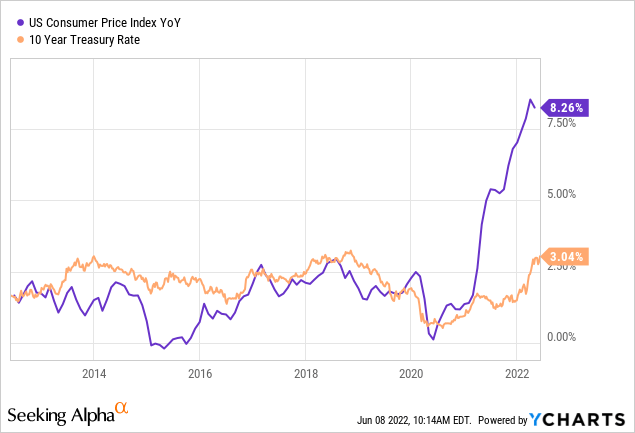 Stocks, on the other hand, may offer positive returns but at what risk?
The world bank just announced that a global recession is almost inevitable at this point. Inflation is being felt at every level, from gas to food, and it is forcing consumers to spend less.
At the same time, the Fed is trying to cool down inflation by hiking rates at the fastest pace in decades. It just announced the first 50 basis point hike in 20 years, and several more are expected in 2022.
Adding fuel to the fire... China is still putting entire cities on lockdown, causing huge supply chain issues; and Russia illegally invaded Ukraine, causing a humanitarian crisis of massive scale and putting world peace in jeopardy.
Any one of these factors alone would be enough to cause a recession, but combined together, they are a perfect mix for an economic disaster according to some legendary investors like Ray Dalio and the 'Big Short' Michael Burry.
Burry recently explained on Twitter (TWTR) that:
"US Personal Savings fell to 2013 levels, the savings rate to 2008 levels – while revolving credit card debt grew at a record-setting pace back to the pre-Covid peak despite all those trillions of cash dropped in their laps. Looming: a consumer recession and more earnings trouble."
He added the following two charts from Bloomberg that show the sharp drop in U.S. personal savings coupled with a steep rise in consumer credit outstanding: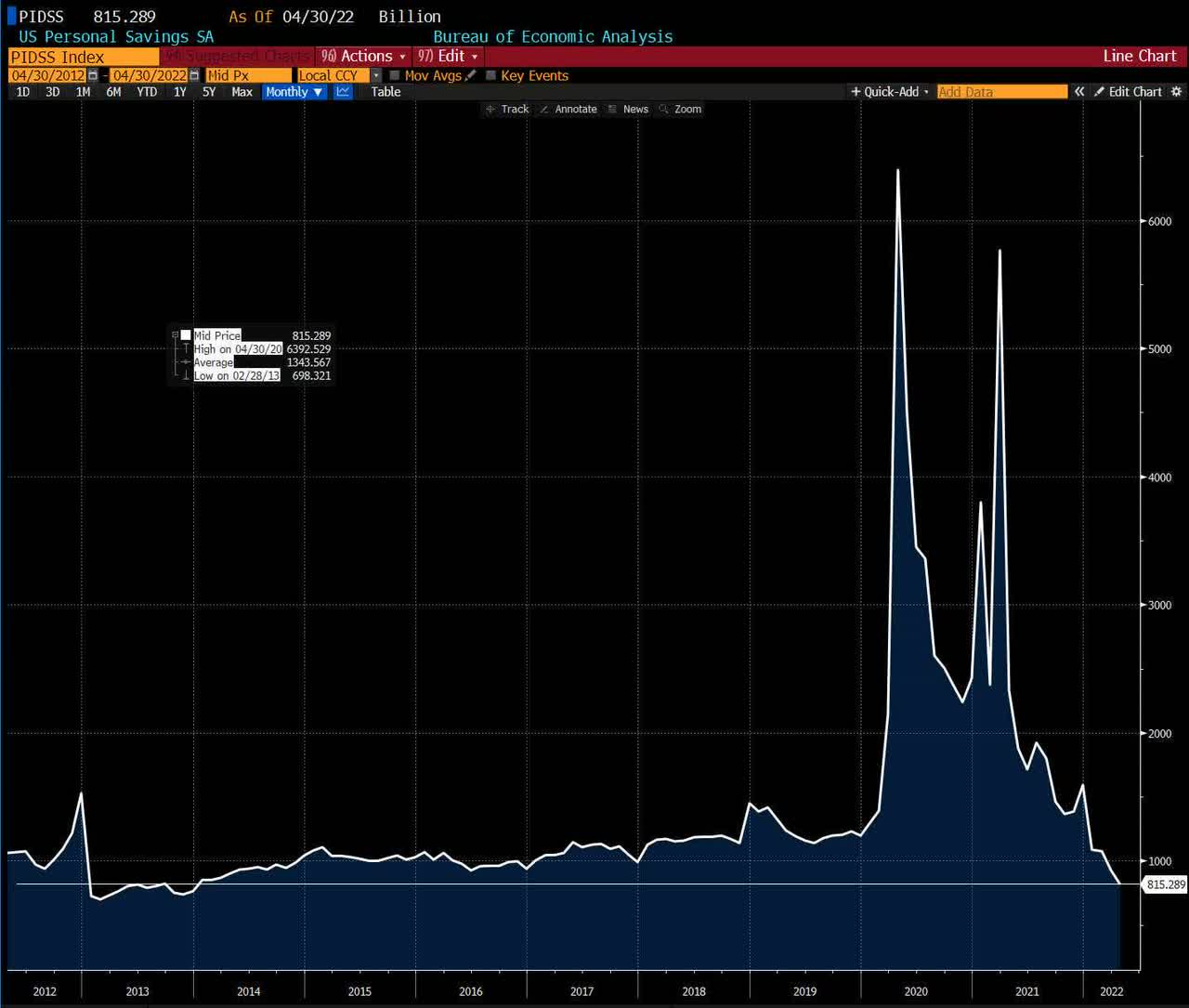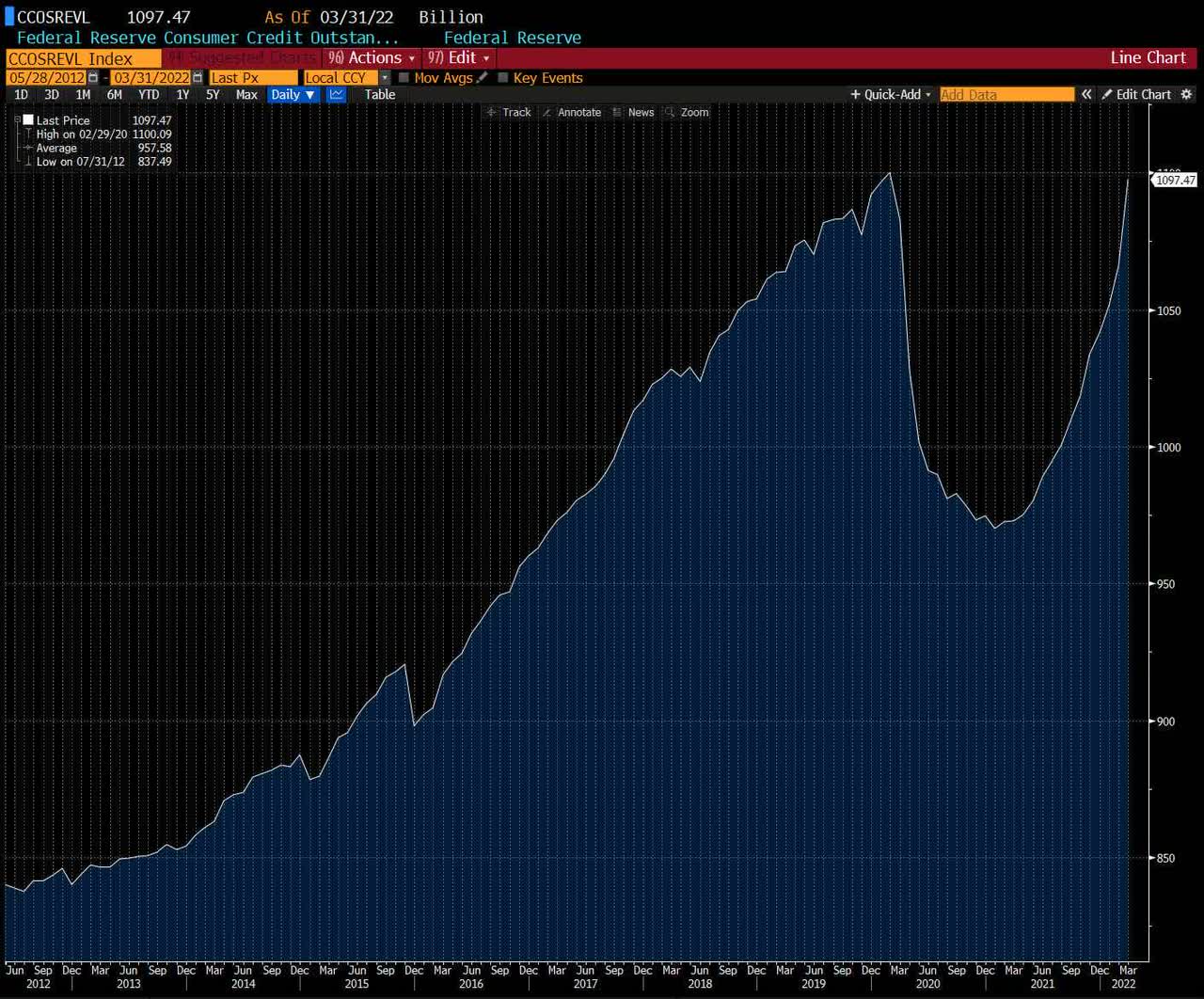 Again, that's a perfect recipe for a consumer recession and more earnings misses.
If stocks were valued cheaply, perhaps they could cope with a recession, but with the S&P 500 (SPY) still trading at a historically multiple even as we enter a season of troubled earnings, there's little margin of safety: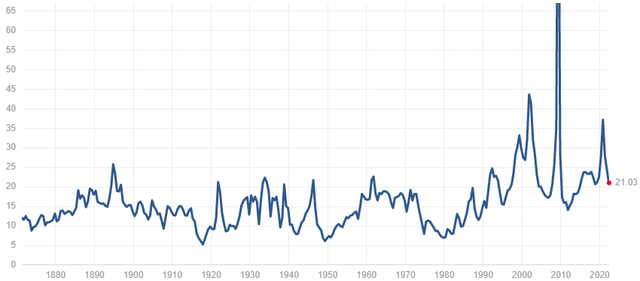 To be clear, this doesn't mean that stocks will do poorly going forward, and I am still heavily invested in some specific stocks.
But I think it's fair to say that the risk-to-reward offered by the market isn't particularly compelling, and I probably wouldn't invest the bulk of my portfolio in stocks.
There's a real possibility that we face a lost decade, according to Ray Dalio, the biggest hedge fund manager in the world, and if you look at history, we are long overdue for one to occur: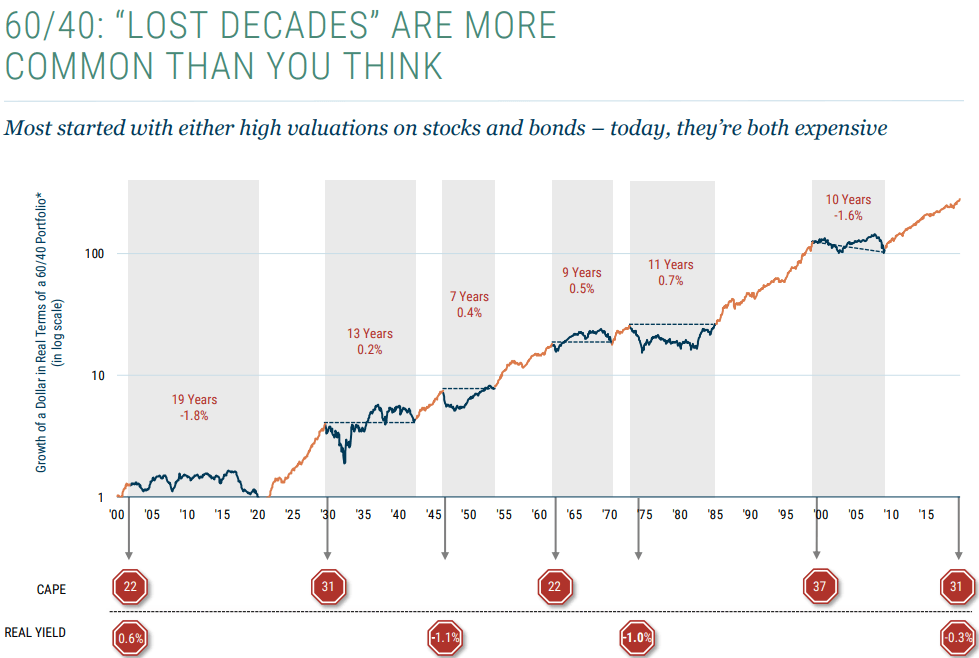 What's The Solution Then?
Let me start by saying that there's no perfect solution and what works for me may not work for you.
With this disclaimer out of the way, I am heavily investing in alternative investments like farmland, private lending, REITs, and private equity.
My portfolio is unique in that most of it is invested in such alternative investments, and I only use traditional assets like stocks and bonds for diversification. Most investors do the opposite.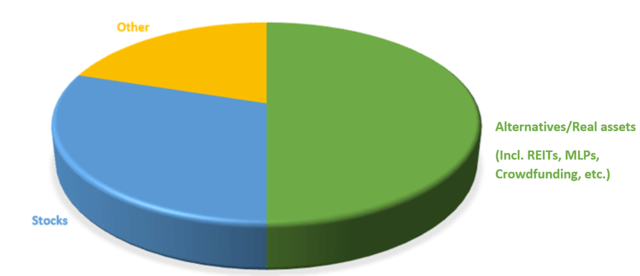 Why Do I Invest So Heavily In Alternative Assets?
In short, I believe that they offer materially better risk-to-reward than stocks and bonds in today's environment, and here are 5 reasons why:
#1) Profit from high inflation: Real assets are resilient to inflation because they are real, essential, and limited. To give you an example, apartment rents are currently rising the fastest in 15 years, resulting in rapid property price appreciation. Meanwhile, the debt used to finance these investments is being inflated away.
#2) Recession-resilience: Regardless of how the economy is doing, people need food, energy, housing, and transportation. If you own this vital infrastructure, you enjoy steadier and more predictable returns. This explains why farmland values are typically resilient to recessions and why REITs have historically provided nearly 2x better downside protection during recessions.
#3) High income generation: It is not uncommon for alternative assets to pay 6-8% yields while you wait for growth and appreciation. This is important today as we may face a lost decade.
#4) Lower volatility: Many alternative assets provide steady returns. Farmland is a great example as it kept appreciating even in 2008/2009. Moreover, they also provide uncorrelated returns. Farmland is uncorrelated to the returns of private equity investments for instance.
#5) Upside from democratization: Alternative assets are rapidly growing in popularity. Just 20 years ago, few invested in them. But today, they already represent ~1/4 of investors' portfolios, and by the end of the decade, Brookfield (BAM) expects institutional investors to invest up to 60% of their capital in alternatives. As this massive capital shift takes place, I expect the valuation multiples of alternative assets to rise, unlocking upside for those who make the shift early: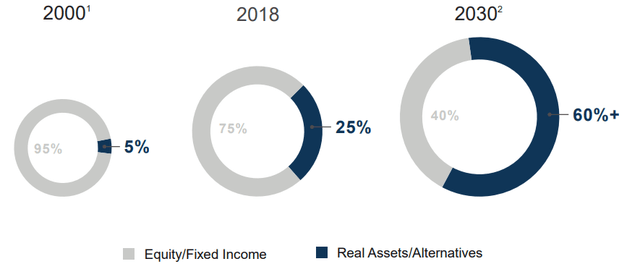 But not all alternative investments are created equal.
A lot of investors are heavily betting on Cryptocurrencies like Bitcoin (BTC-USD) and Ethereum (ETH-USD) or even investing in NFTs, fine art, and other collectibles.
Technically, those are alternative assets, but they are not what I am interested in. I invest mainly in productive "real" assets (or backed by real assets) that are essential to our society and able to generate significant income.
Below, I highlight 3 alternative asset classes in which I invest particularly heavily.
Farmland
Historically, farmland has arguably been the best investment you could have made. It generated higher returns with lower risk than the stock market (SPY), bonds, real estate, gold (GLD), and even REITs (VNQ):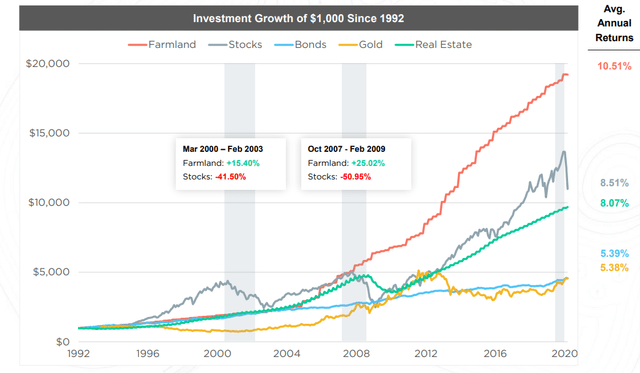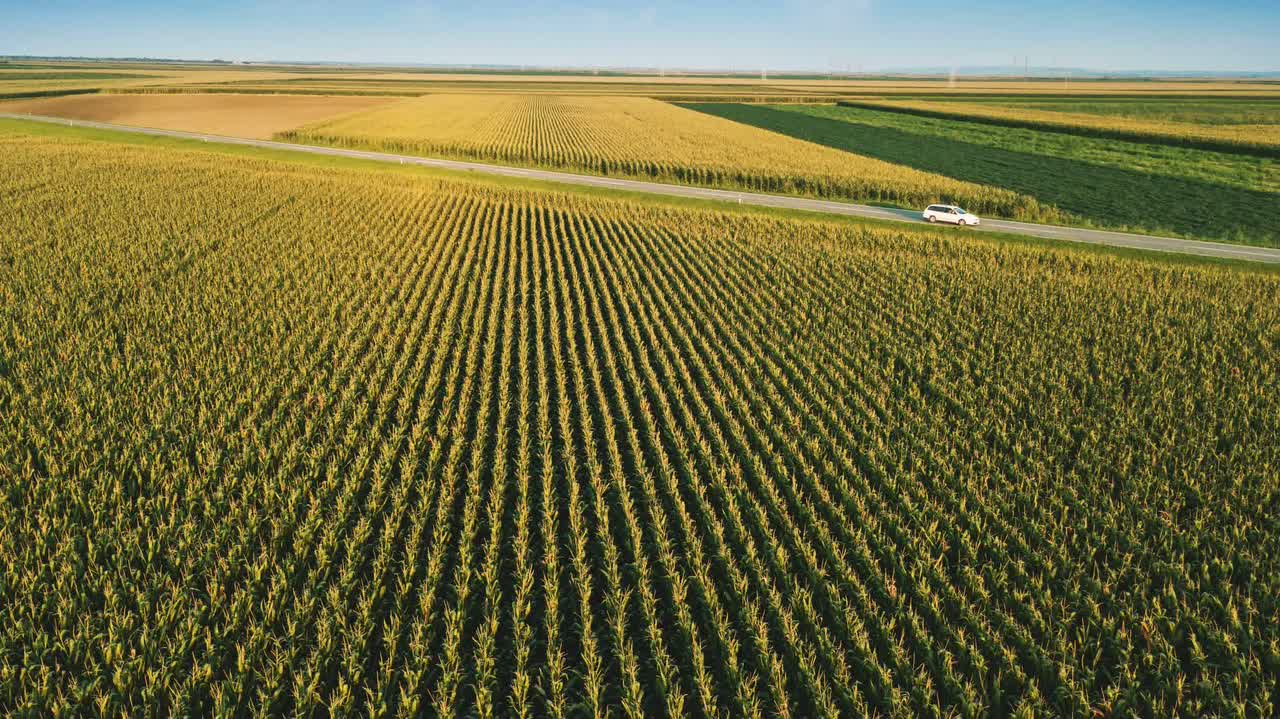 Farmland has historically been such a great investment because its supply is limited, but its demand is always growing. Not only is the global population getting bigger, but just as importantly, the middle class is getting larger, resulting in more consumption. Moreover, unlike other real estate investments, there are no broken toilets or leaking roofs to deal with and the demand for farmland is almost perfectly recession-proof. It is the only asset class with a 100% occupancy rate. Just think about that.
Here's what Warren Buffett said about his farmland investment in his 2014 Berkshire Hathaway (BRK.B) investor letter:
"I needed no unusual knowledge or intelligence to conclude that the investment had no downside and potentially had substantial upside. There would, of course, be the occasional bad crop, and prices would sometimes disappoint. But so what? There would be some unusually good years as well, and I would never be under any pressure to sell the property. Now, 28 years later, the farm has tripled its earnings and is worth five times or more what I paid. I still know nothing about farming and recently made just my second visit to the farm."

All of this remains true today, and therefore, I would expect farmland to continue delivering attractive returns in the long run (rent + appreciation), especially relative to its low-risk profile.
Despite that, most people have never considered investing in Farmland.
Why is that?
Well, until recently, it was almost impossible to invest in the asset class. Unless you had $10s of millions to invest, it would have been impossible for you to build a well-diversified and professionally-managed portfolio.
This changed over the past 2 decades with the IPO of two farmland REITs, Gladstone Land Corporation (LAND) and Farmland Partners (FPI), and the recent creation of crowdfunding platforms.

LAND is today quite expensively valued, trading at a 60% premium to NAV, but FPI is undervalued in our opinion, trading at a 10% discount and offers attractive growth prospects. It is currently hiking rents by ~15% and with crop prices on the rise, we can expect growing farm profits in the coming years.
I invest in FPI, and on top of that, I also use the crowdfunding platform, FarmTogether, to complete my farmland allocation: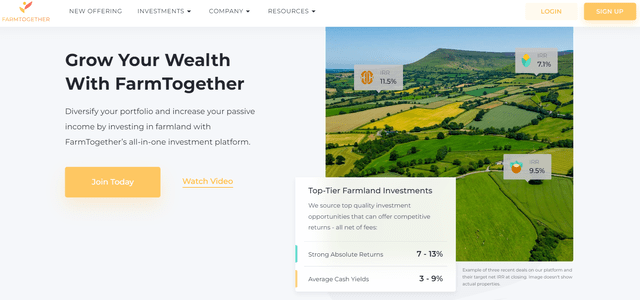 Crowdfunding comes with pros and cons.
On one hand, you get to earn higher yields and potentially, higher total returns over time. As an example, deals on these platforms commonly pay a 6-8% yield compared to just 1.5% for the farmland REITs. But on the flip side, most deals have a 10-year term and offer no liquidity so you need to be patient. Unless you have a long-term outlook, this isn't for you.
REITs
REITs are publicly listed commercial real estate investments. Research has shown that they are more rewarding and less risky than private real estate investments. Here are the results of 3 different studies on this topic: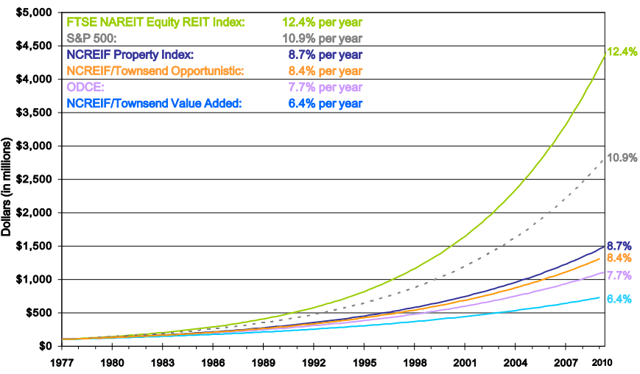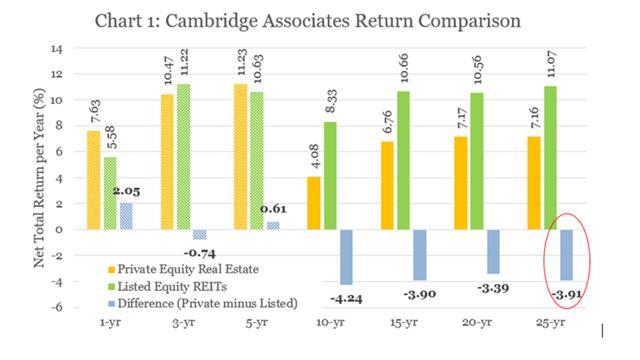 These results may shock you. After all, how can REITs be so much more rewarding if they are investing in the same asset class, commercial real estate.
But it actually makes sense when you think about it. I have discussed this topic at length in separate articles, but in short, here are 5 reasons why REITs outperform private real estate investments:
And best of all, since there are 100s of REITs across the globe, you can be picky and build a portfolio of undervalued companies to boost your yield, returns, and lower your risk.
At High Yield Landlord, we invest in 1 REIT out of 10 on average and currently hold 24 of them in our Core Portfolio: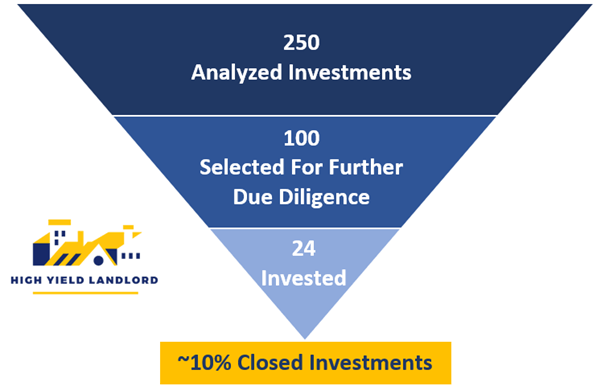 Some of our Top Picks include: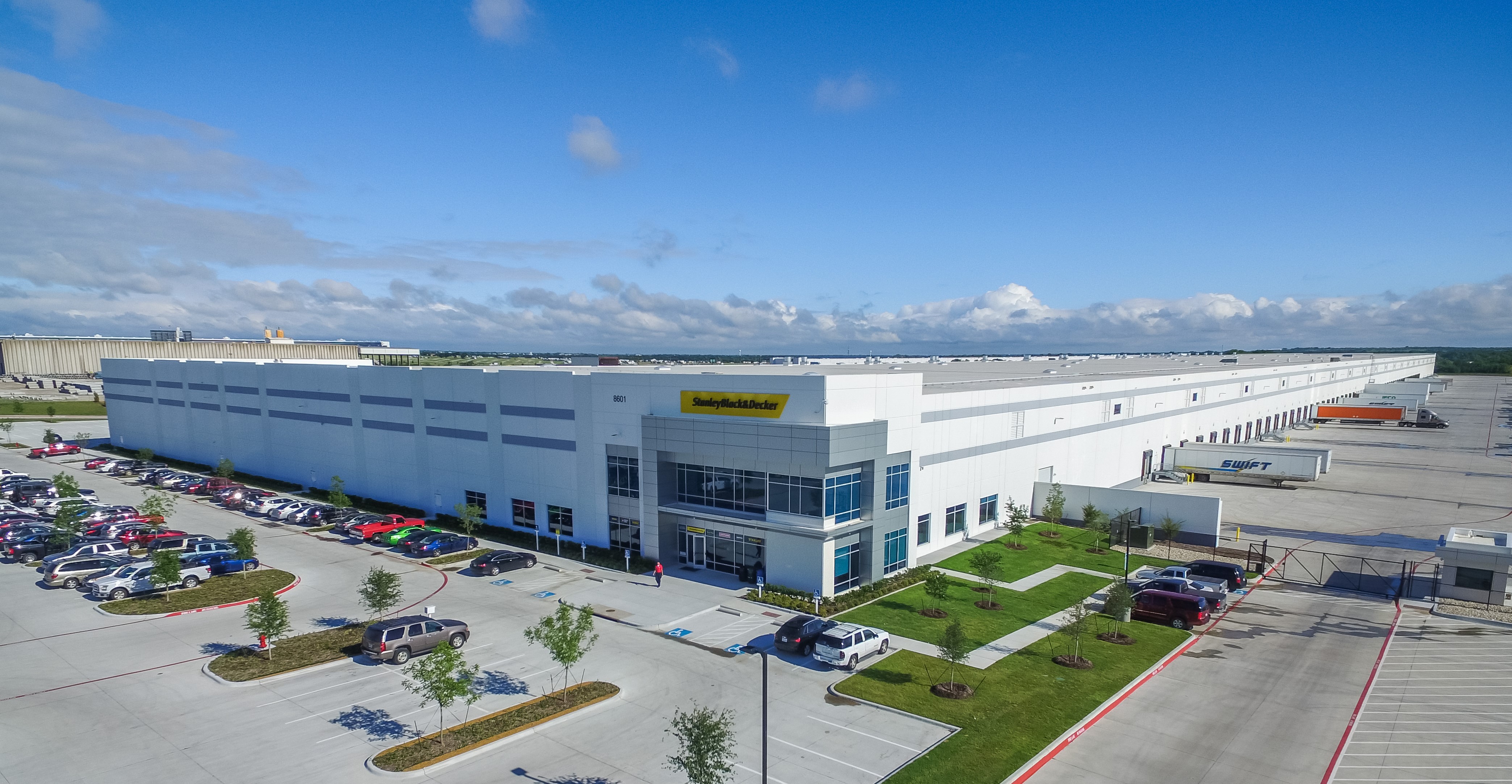 REITs have historically outperformed the broader stock market during times of high inflation, rising rates, and recessions. As we are facing all three, we think that REITs are very likely to outperform in the coming years, and this warrants a higher allocation.
Private Equity
The public equity market is quite efficient these days, but there are lots of opportunities on the private side of the equity market, especially in foreign markets. Smaller private companies tend to trade at smaller multiples because they are riskier and aren't liquid, but higher risk can lead to higher returns.
A few decades ago, most of these investments were reserved for high net worth investments, just like farmland, but these days, you can enjoy private equity returns by investing in some publicly listed vehicles.
Here you have two options:
You could invest in a company like Compass Diversified(CODI) which invests in private companies just like a private equity fund. We think that it is currently undervalued, trading at 4.1% dividend yield, and it has historically done far better than the S&P500: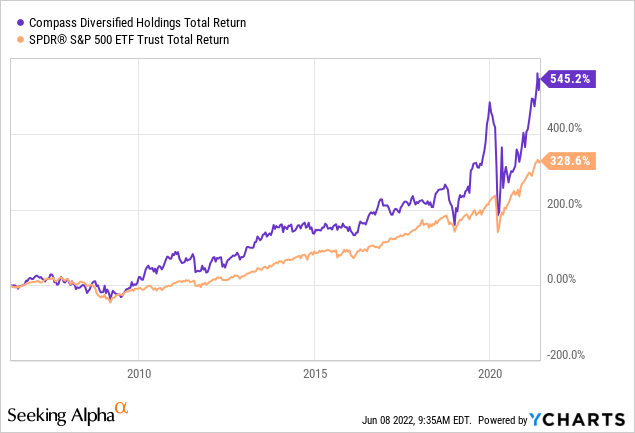 Alternatively, you could buy shares of a private equity asset manager like Blackstone (BX). These companies typically co-invest in their own funds and then they also earn fees for managing them. They have also been very rewarding investments over time: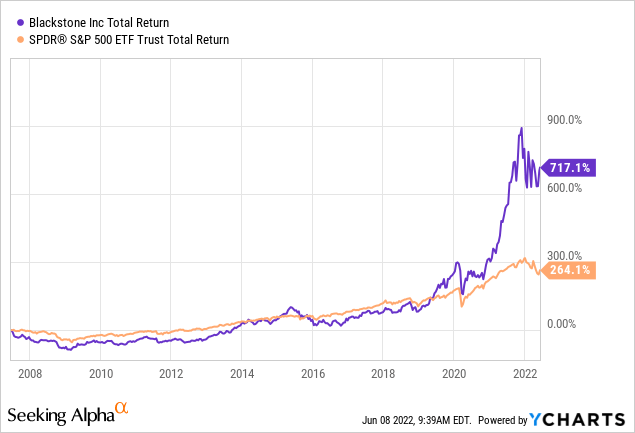 Currently, one of our favorite private equity opportunities is Patria Investments (PAX), which is the leading private equity asset manager in Latin America. It pays a 5.5% dividend yield and I believe that it offers 50% upside to its fair value.
Bottom Line
Most investors invest the majority of their wealth in stocks and bonds.
I prefer to invest the majority of my wealth in alternative investments like farmland, private equity, and REITs.
This approach has served me well in the past, and I believe that it will do particularly well in an environment of high inflation, rising rates, and high risk of a recession.
Many of these alternative assets benefit from inflation, aren't materially affected by rising rates, and offer recession-resilience. Best of all, their valuations are generally more reasonable than that of the broader stock market.
Editor's Note: This article discusses one or more securities that do not trade on a major U.S. exchange. Please be aware of the risks associated with these stocks.