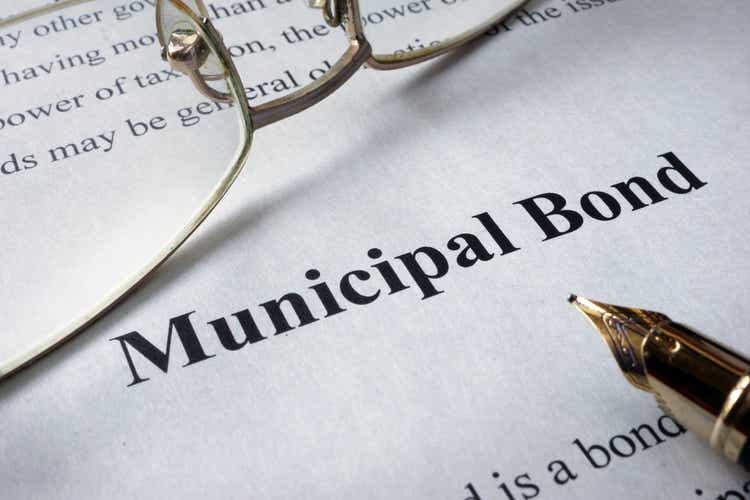 **NOTE: This article was released to subscribers of CEFs: Income + Opportunity earlier***
How is it that the PIMCO national municipal bond CEFs can have some of the highest NAV yields and yet continue to trade at some of the highest market price premiums?
Does anybody understand that the higher the NAV yield, the harder it is for a fund to cover its NAV yield? Maybe in a rate cutting environment that might make sense to go with the higher-leveraged and higher-yielding funds, but certainly not now.
And because of those high market price premiums, if you compare the three PIMCO national municipal bond funds, i.e. the PIMCO Municipal Income Fund II (PML), the PIMCO Municipal Income Fund III (PMX) and the PIMCO Municipal Income Fund (PMF) with the four largest Nuveen national municipal bond funds, i.e. the Nuveen AMT-Free Quality Municipal Income Fund (NEA), the Nuveen AMT-Free Muni Credit Income Fund (NVG), the Nuveen Quality Municipal Income Fund (NAD) and the Nuveen Municipal Credit Income Fund (NZF), the end result is that their market yields are really not that much different than the PIMCO funds currently.
Data is as of 6/9/22: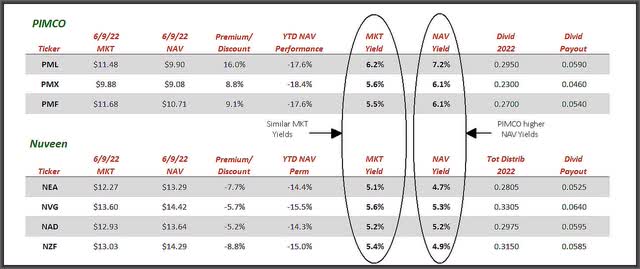 But the fact of the matter is that if a worse-case scenario does arise and short rates rise up to 3.5% or higher, the PIMCO muni bond CEFs are going to be in a FAR more precarious position of trying to cover their NAV yields than the Nuveen muni bond CEFs.
Keep in mind that we are dealing with municipal bond CEFs that are highly leveraged, which is what most fixed-income CEFs use. Non-leveraged CEFs will certainly be less volatile but will generally not offer near as high of a tax-equivalent yield.
For example, a 5% Federal tax-free municipal bond yield could mean as high as an 8%-plus tax-equivalent yield depending on a filer's tax bracket.
Also, this analysis does not take into account each fund's unique portfolio of securities, credit quality, duration or any other variables that municipal bonds include.
But sometimes, you can just disregard all of that and simply compare the funds where the rubber hits the road. And that's NAV total return performance taking into account all distributions.
Let's first look at a one-year total return at NAV for all seven funds: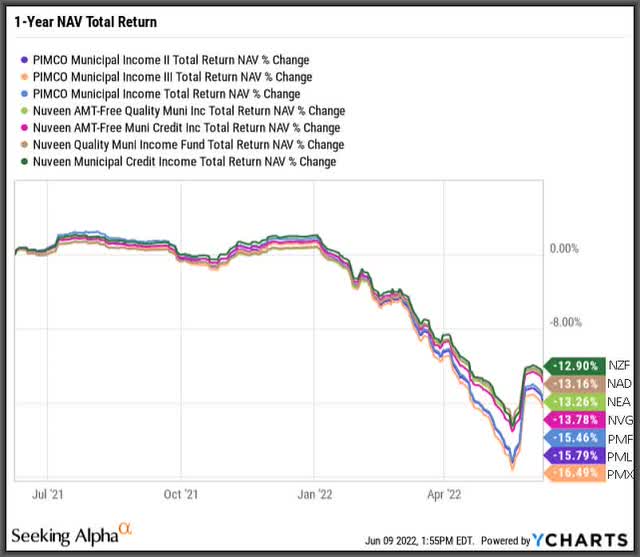 Here we can see that all are negative, which is not a surprise, but the 4 Nuveen funds are clearly beating the PIMCO funds by quite a margin. 200 to 300 bps, or a 2% to 3% difference is HUGE when it comes to municipal bond performances over a year's time, even when using leverage.
Certainly, PIMCO's higher use of leverage has probably contributed to their poorer performance as municipal bond prices have fallen extremely hard but what if we go back three years in which interest rates were more benign to even supportive of municipal bond prices?
Well, here is a three-year NAV total return performance graph: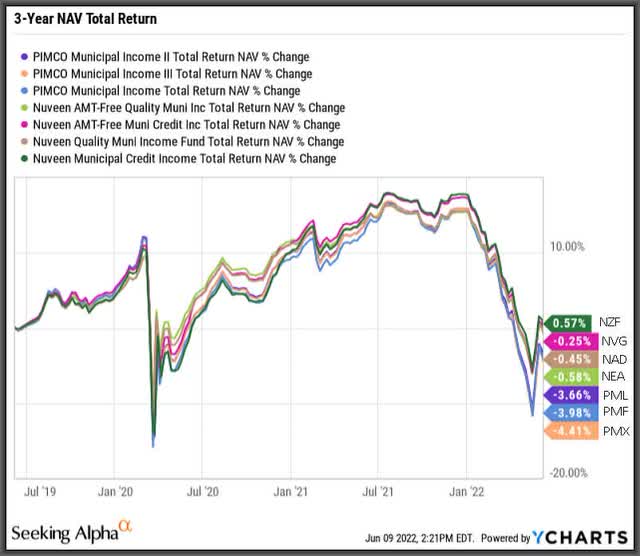 Once again, all four Nuveen funds come out on top with (NZF) actually positive over this time frame which includes COVID-19. And the outperformance by Nuveen over PIMCO over this three-year time frame is more like 300 to 400 bps, or 3% to up to 4%.
Conclusion
The bottom line is that we don't know how high short-term rates are going to go with 50 bp rises now expected from the Federal Reserve in June and then again in July but after that, it really depends on how the economy and inflation react.
But make no mistake. The top four Nuveen national municipal bond CEFs are going to be in a MUCH better position to ride out a worse-case scenario than the PIMCO municipal bond funds.
Though I have no control over where investors will take these fund's market prices if that occurs, what matters is the NAV and from that standpoint, your best bet is to stick with the Nuveen funds.